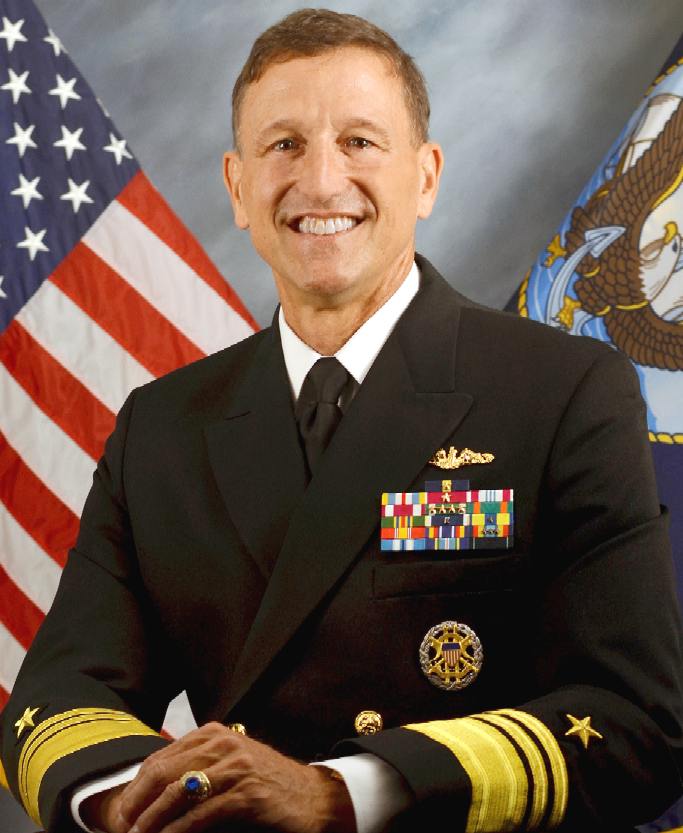 Vice Admiral William H. Hilarides became the 43rd Commander of NAVSEA on June 7, 2013. Rear Admiral Thomas J. Kearney is the current Vice Commander of NAVSEA. William J. Deligne is currently the Executive Director.
The Naval Sea Systems Command (NAVSEA) is the largest of the United States Navy's five "systems commands," or materiel (not to be confused with "material") organizations. NAVSEA consists of four shipyards, nine "warfare centers" (two undersea and seven surface), four major shipbuilding locations and the NAVSEA headquarters, located at the Washington Navy Yard, in Washington D.C.

NAVSEA's primary objective is to engineer, build and support the U.S. Navy's fleet of ships and its combat systems. NAVSEA accounts for one quarter of the Navy's entire budget, with more than 150 acquisition programs under its oversight.

The other Navy systems commands are:

Naval Air Systems Command (NAVAIR)
Space and Naval Warfare Systems Command (SPAWAR)
Naval Facilities Engineering Command (NAVFAC)
Naval Supply Systems Command (NAVSUP)
NAVSEA HISTORY

The Naval Sea Systems Command was established on 1 July 1974 with the merger of the Naval Ship Systems Command with the Naval Ordnance Systems Command. The Naval Ship Systems Command was established in 1966 replacing the Navy's Bureau of Ships (BuShips). Established in 1940, BuShips succeeded the Bureau of Construction and Repair, which had been responsible for ship design and construction, and the Bureau of Engineering, which had been responsible for propulsion systems.
Business with NAVSEA
NAVSEA keeps America's Navy #1 in the world by providing operationally superior and affordable ships, systems and ordnance for today, for tomorrow, and for the Navy after next.
NAVSEA currently contracts for the following services:
- Ships, shipboard weapons and combat systems
- Design and integrating
- Maintenance and repair
- Modernization and conversion
- Technical, industrial and logistic support
- Other professional services, such as engineering, finance and program management
For current procurement opportunities and general contracting information, business should visit:
FedBiz Ops www.fedbizopps.gov
FedBizOpps.gov is the single government point-of-entry (GPE) for Federal government procurement opportunities over $25,000. Government buyers are able to publicize their business opportunities by posting information directly to FedBizOpps via the Internet. Through one portal - FedBizOpps (FBO) - commercial venders seeking Federal markets for their products and services can search, monitor and retrieve opportunities solicited by the entire Federal contracting community.
Seaport Program http://www.seaport.navy.mil/
SeaPort Enhanced (SeaPort-e) is the Navy Virtual SYSCOM Commanders' (NAVAIR, NAVSEA, NAVSUP and SPAWAR) integrated approach to contracting for support services. SeaPort-e has made electronic procurement of Engineering, Financial, and Program Management support services a reality. The SeaPort-e portal provides a standardized means of issuing competitive solicitations amongst a large & diverse community of approved contractors, as well as a platform for awarding & managing performance-based task orders. This unified approach allows SeaPort-e service procurement teams to leverage their best work products, practices and approaches across the Navy's critical service business sector.
NAVSEA Long Range Acquisition Forecast
NAVSEA's Long Range Acquisition Forecast (LRAF), covering FY12 through FY14, is now available. NAVSEA's LRAF creates a demand signal visible to a wider range of industry and should contribute to better support of our requirements including the distinct prospect of fostering increased competition.
Small Business Opportunities
Small Businesses are encouraged to visit the Department of Defense Office of Small Business Programs and the Navy's Office of Small Business Programs.
NAVSEA can assist small businesses, including veteran-owned, service-disabled veteran-owned, HUBZone, small disadvantaged, and women-owned small business concerns in marketing their products and services to NAVSEA.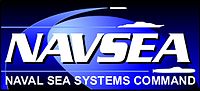 NAVSEA CONTACTS

FOIA requests may be sent to:

Commander
Naval Sea Systems Command
Attention: SEA COS5
1333 Isaac Hull Avenue, S.E.
Washington, DC 20376
FOIA requesters who have questions about their requests, should contact the NAVSEA FOIA Requester Service Center, Public Liaison at 202-781-4124 or NAVSEAFOIA@navy.mil

Inspector General

The Naval Sea Systems Command Inspector General Hotline provides an opportunity to report significant cases of abuse of authority, mismanagement, fraud/waste and abuse.
Toll free: (800) 356-8464

Inspector General Action Request (IGAR)

Fax: 202-685-7748

Naval Sea Systems Command

Attn: Inspector General
1333 Isaac Hull Avenue, SE
Washington Navy Yard, DC 20376

Email: NSSC_NAVSEAIGhotline@navy.mil
For contractual questions contact Lt. Cmdr. Christopher Wilson at christopher.t.wilson@navy.mil or by phone at 202-781-0527, or Tracey Carothers at tracey.carothers@navy.mil or by phone at 202-781-0480.

For technical questions contact the Navy's Peter Scala by email at peter.scala@navy.mil or by phone at 202-781-3360.
NAVSEA SIGNAL PROCESSING - March 2013 MILITARY AEROSPACE

WASHINGTON, 28 March 2013. U.S. Navy researches are kicking off a long-term program to develop advanced acoustic and image signal processing for detecting, tracking, and attacking enemy ships and submarines with advanced anti-submarine warfare (ASW) and anti-ship warfare technologies.

The Naval Sea Systems Command in Washington has issued a presolicitation (N0002413IWS5A01) for the Research Interests In Advanced Undersea Technologies In The Areas Of Submarine And Surface Ship Acoustic, Imaging, And Combat System Signal Processing program.

Researchers will brief industry on details of the program on 16 April 2013 in Manassas, Va. Briefings will be classified secret. The first phase of the program asks companies to submit white paper proposals no later than 21 March 2014.

The program centers on basic and applied research in imaging; passive/active signal processing; automation, contact management, contact followers, and target motion analysis; information management; embedded training; mission planning; sonar tactical decision aide; intuitive operator interface/operator machine interface (OMI); onboard real time reconstruction tool; torpedo detection, classification, and localization; anti-torpedo defense; electronic warfare; and navigation.

Navy researchers say they plan to test these approaches in system prototypes before moving promising technologies quickly to the fleet through a variety of acquisition programs.

The program was in two phases. The first phase invited offerors to submit white papers in each technology area describing technical approach, experience, capabilities, past performance, and cost estimates.
Two Navy ships sinking after torpedo attacks.

Companies were invited to participate in the second phase based on their white paper submissions. The second phase will be over a maximum of five-years, and will include maturing the technology and system prototypes for laboratory and at-sea testing.

Industry-day briefings will be from 8 a.m. to 5 p.m. on 16 April 2013 at Lockheed Martin Corp., Building 102/Management Center, Room K135 9255, in Manassas, Va. Briefings are open only to those with secret clearances.

Although white papers will be accepted until 21 March 2014, Navy researches are encouraging industry to submit white papers by mid-May 2013 for each technology area. The Navy intends to complete its review of white papers for each applicable technology area as early as mid-July 2013.

Send white papers by post to Navy Lt. Cmdr. Christopher Wilson care of Cognizant Contracting Activity: Commander, Naval Sea Systems Command, ATTN: Code 02524, 1333 Isaac Hull Ave., SE, Washington Navy Yard, Washington, DC 20376.

SUBMARINE INDEX
Alvin DSV - Woods Hole Oceanographic Institution
Deepsea Challenger - Mariana Trench, James Cameron 2012
HMS Astute 1st of Class
HMS Vanguard- Trident
INS Sindhurakshak - explosion & sinking
Littoral combat vessels
Lusitania - Torpedo attack
Nuclear submarines lost at sea
Predator - Covert submarine hunter/killer
Seawolf - Autonomous wolf pack deployment of Predator mini-subs
Torpedoes - UUV anti submarine weapons
Trieste - World record depth - Mariana Trench 1960
U20 - Kapitan Leutnant Walther Schwieger
USS Bluefish WWI submarine
USS Bluefish - Nuclear submarine
USS Jimmy Carter - Seawolf class fast attack nuclear submarine
USS Nautilus - 1st nuclear submarine & subsea north pole passage
USS North Dakota - 11th Virginia class submarine
USS Scorpion - Lost at sea with all hands
AIRCRAFT CARRIER INDEX
Gerald Ford Class - USA
Nimitz - USA
Queen Elizabeth - UK
WARSHIPS
Bismarck - Battleship - Germany
HMS Neptune - Leander class cruiser 1941 WWII
Type 23 - Duke class frigate - UK
Type 26 - Global combat ship - UK
Type 45 - Daring class destroyer - UK
Electric prototype - USA
USS Stark Iran-Iraq war & Exocet missiles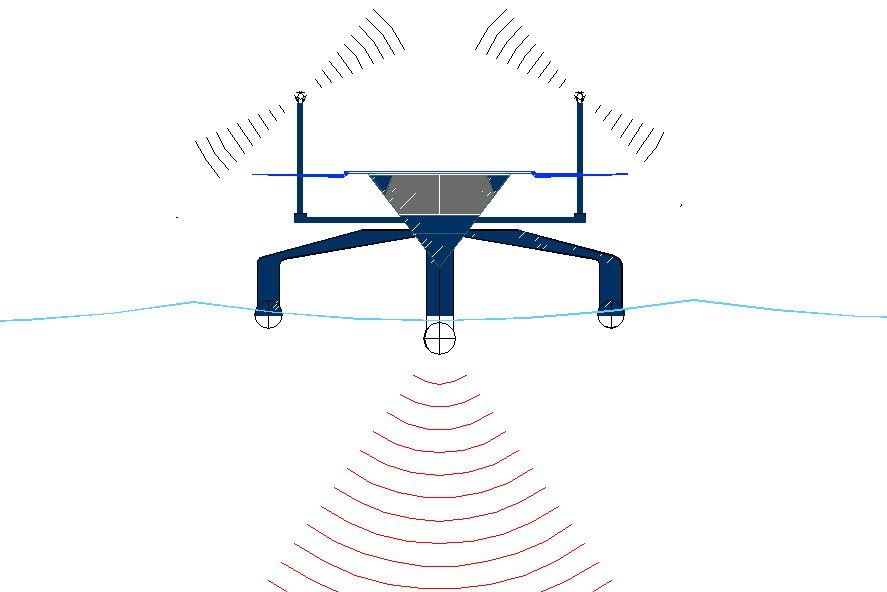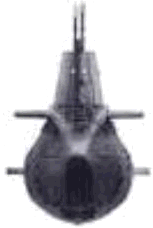 submarine above is in grave danger, because the submarine hunter-killer (HK) on the surface above it is a drone that can either track the submarine and pass information to a network of marine drones, or, in times of hostilities - sink the submarine as soon as it is located with torpedoes or depth charges.

A submarine might get lucky and evade the HK,

wolf pack, but once the position of a submarine is known and transmitted, it will never be safe and from then on the drone HKs will converge upon it. The mission of drone HKs is to find enemy submarines: persistently. The secondary objective of drone HKs is to sink destroyers and aerial drones that may be sent out to hunt them.

COST EFFECTIVENESS - By a process of attrition, drone HKs will decimate an enemy fleet and financially frustrate any state, even a super power. The maths is simple. A drone HK cost only a few $million with no loss of life, compared to a manned destroyer which costs a small fortune and kills hundreds of crew. The traditional investment in huge floating iron

coffins becomes wasted capital.

UNMANNED SUBMARINES - The logical conclusion is to eliminate the crew from submarines and bring in countermeasures. The technology exists to enable this, but submarines, either manned or unmanned will need to be supported by friendly surface drones where aerial and marine drones like that shown could make their situation untenable. Thus, the main reason for maintaining a fleet of nuclear submarines, namely to be able to launch a nuclear strike, is neutralized. Contact BMS to find out more.




LINKS & REFERENCE

NAVSEA Naval Sea Systems Command

Wikipedia Naval_Sea_Systems_Command

Military Aerospace 2013 NAVSEA signal processing

http://www.navsea.navy.mil

http://en.wikipedia.org/wiki/Naval_Sea_Systems_Command

http://www.militaryaerospace.com/articles/2013/03/NAVSEA-signal-processing.html

http://www.army.mil/

http://en.wikipedia.org/wiki/USS_Cole_bombing

http://en.wikipedia.org/wiki/USS_Cole_%28DDG-67%29

http://www.theguardian.com/us-news/2014/oct/05/us-navy-unmanned-drone-boats
http://www.wired.com/2014/10/navy-self-driving-swarmboats/

http://www.lockheedmartin.com/

http://www.lockheedmartin.co.uk/

http://www.ipo.gov.uk/types/patent/p-os/p-find/p-ipsum/Case/PublicationNumber/GB2511731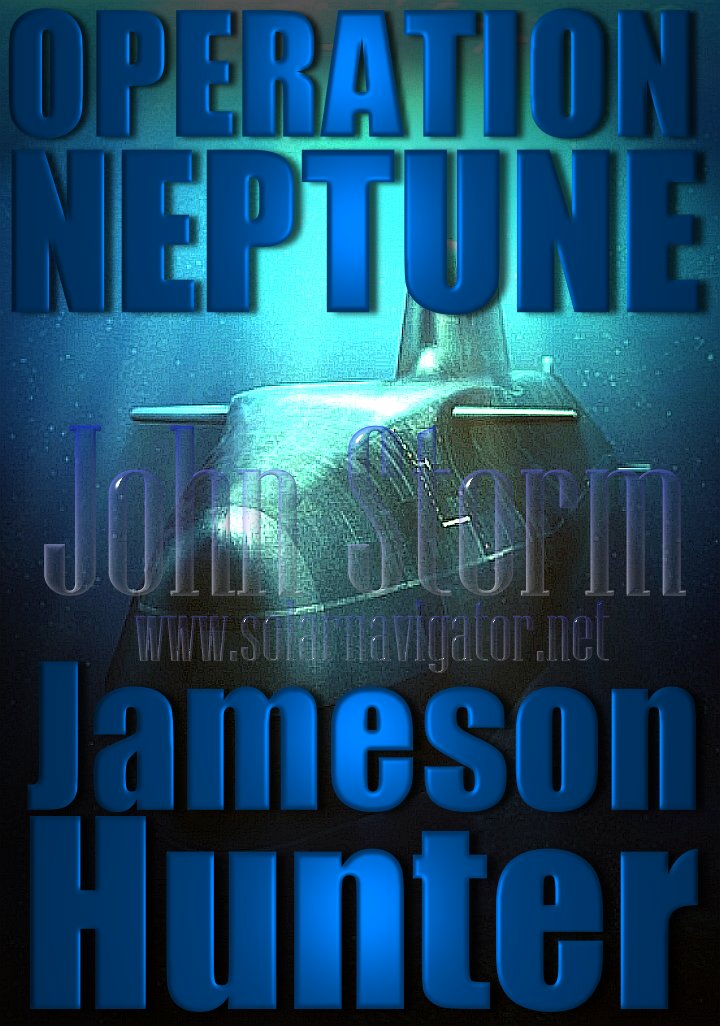 OPERATION NEPTUNE - A naval battle royal with NATO chasing a stolen nuclear submarine captained by environmental terrorists, who destroy another oil rig in the Gulf of Mexico, after Deepwater Horizon, then sink an aircraft carrier and one of the submarines chasing them. Amidst the carnage, Charley Temple and John Storm move their budding relationship up another gear and still manage to save the day. If you enjoyed Battleship, Under Siege, or Pacific Rim, you'll love this story.