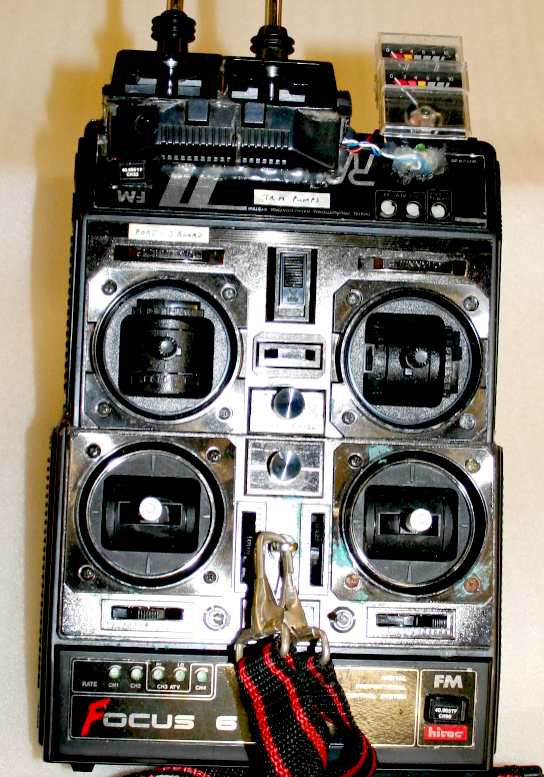 OLD & NEW - Our trusty Hitec radio set is coming to the end of its working life (sniff). We are thus looking around for suitable replacements. We need at least 8 true channels spread over two digital proportional RC sets. In the old days one had to be careful to use the right frequency for surface craft using crystals. The 2.4GHz 'binding' between Tx and Rx solves that problem. These days most handsets are geared for flying, but some are suitable for boats and cars. The cost of such units is now very competitive - but watch range. The combination rig on the left has four sticks and so allows us to perform some neat tricks without getting all hot under the collar as you flick between modes. It's ideal for putting this model of the robot ocean cleaner through its paces in remote control mode. We will report back on the new sets as we discover their good and bad points - during our road shows.
[LEFT] JUMBO SERVO - BS501-054 1/5 Scale 20kg High Torque Steering Servo RC is 58mm (long) x 28mm (wide) x 54mm (high). Measurements exclude the 9mm cog and 8.5mm fixing ledge.
[RIGHT] PLANET 5 FEATURES: Simple one-button transmitter/receiver binding, Precision, adjustable height dual-axis stick units, Low power consumption 4-cell transmitter, Lightweight (6 gram) micro 6-channel receiver, Simple programmable fail-safe function, Convenient crystal-free operation. Note that this receiver can only handle servo loads of 3 amps - so unlikely to be man enough for the Blacksmith big boy above.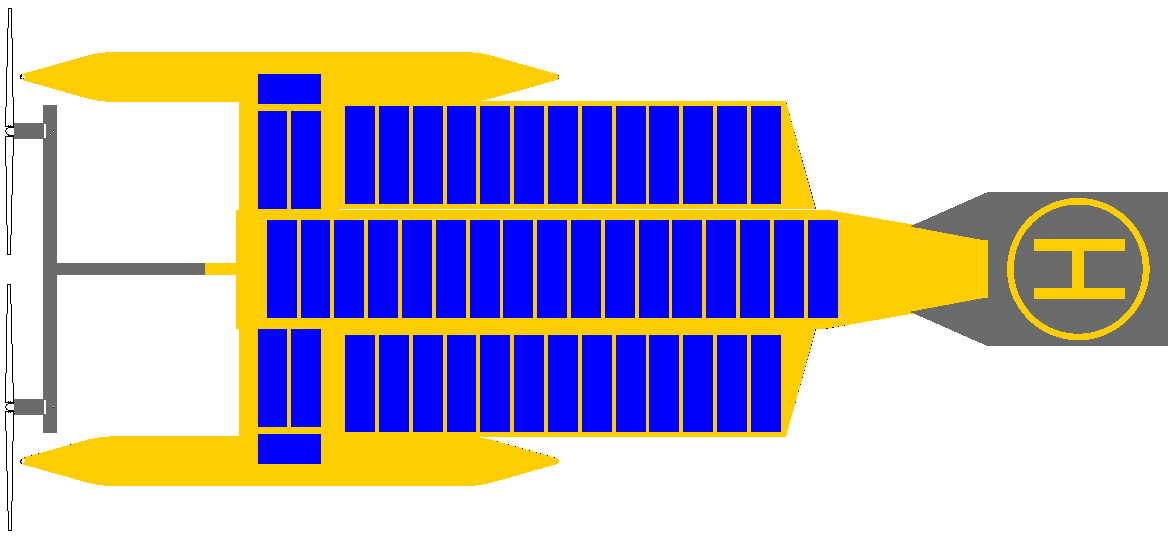 AUTOBOT - The diagram above shows the deck position on the rear of the boat. We will be looking at incorporating electronic/optical guidance methods, such that a drone targets the landing pad, just the same as a modern passenger aircraft can land on a runway without a pilot. This will be a two way information stream, where the feedback helps docking. Until our drones are set up to return to base automatically, our pilot will be trying out a number of helicopters and radio handsets.
SEAVAX SCOUT - Autonomous landings are easier with a rear approach, for the simple reason that the apparent speed is reduced by the forward motion of the vessel. If a drone was approaching head on, there would be that much less time to synchronize airspeed to boat-speed, with an increased apparent speed, tending to collision. Another consideration in the case of the SeaVax, is that we have tall wind turbines at the front of the ship, making it a no-brainer in design terms. We don't want to risk damaging our energy harvesting apparatus as a copter attempts to play leapfrog with our rotary sails. The moveable solar arrays are not shown in this picture - and the solar panels that are waiting in the wings (if you'll pardon the pun) have yet to be installed. Judging from the move by the Indian Navy for similar technology for their fleet, UAVs will soon become the norm for maritime security. We doubt that any military aircraft will be electrically powered.
PLANET T5 2.4GHz TX & RX SET (MODE II) - The Planet T5 transmitter and R6M micro receiver have been designed for crystal-free operation. It's uncomplicated yet sophisticated design makes it an ideal first system or a general purpose sport system for R/C modeling. It uses state-of-the-art computer technology to bind it's transmitter and receiver in such a fashion that, under most conditions, interference that would normally cause loss of control in 35mHz or 27mHz equipment is nearly always rejected - in most cases radio functionality is entirely unaffected. Planet T5 features Advanced 2.4GHz control with a highly sensitive 6 gram micro receiver that makes it ideal for even the smaller R/C indoor models. The new design single aerial micro receiver is ultra-compact and allows for rapid and convenient installation especially when compared with some 2.4GHz twin-unit multi-aerial receiver designs.
Binding - 2.4Ghz technology creates a 'bound' relationship between the Transmitter and Receiver. The 'setup' of this relationship is known as 'binding' and can be achieved simply with one click of the R6M's Binding Microswitch.
In a 'bound' transmitter/receiver state the receiver is exclusively bound to the transmitter and can only respond to signals received from that transmitter. Binding is done at the factory. Once a transmitter is bound to it's receiver, re-binding of transmitter and receiver is not normally required.
The Planet transmitter incorporates full 4-function control via two silky-smooth dual axis control sticks and a 5th function for lights/retracts, etc., as well as adjustable stick spring tensions (convertible between Mode II (throttle left) and Mode I (throttle right)). The transmitter also features a socket for an optional Flight Simulator cable set, servo reversing switches, LCD battery status display.
Important note on equipment range - Planet T5 is not a 'full range' system and should only be used to around 100 metres. Always perform a range check before use! Planet 5 has been tested with many types of models and operated at ranges significantly greater than that recommended. However, 2.4GHz equipment can be affected by terrain, weather and obstacles to a greater degree than conventional 35mHz R/C equipment.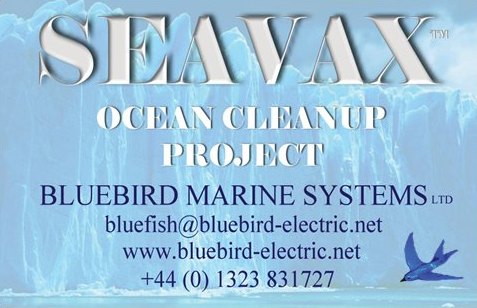 LINKS
Marine Link Indian Navy Drones UAVs
Gizmag Skysense pad charging drone lands
Hunter Systems shop online Sussex UK
Sussex model centre Worthing UK
http://www.sussex-model-centre.co.uk/
http://blacksmithproducts.co.uk/
http://shop.huntersystems.co.uk/
http://www.gizmag.com/skysense-pad-charging-drone-lands/34592/
http://indiannavy.nic.in/
http://www.marinelink.com/news/indian-drones-borne386886.aspx
http://en.wikipedia.org/wiki/Northrop_Grumman_MQ-8_Fire_Scout
http://en.wikipedia.org/wiki/Aeryon_Scout
Youtube
ARCTIC - ATLANTIC - BALTIC - BERING - CARIBBEAN - CORAL - EAST CHINA - ENGLISH CH - GULF MEXICO
GOC - INDIAN - MEDITERRANEAN - NORTH SEA - PACIFIC - PERSIAN GULF - SEA JAPAN - STH CHINA
PLASTIC OCEANS - RISING SEA LEVELS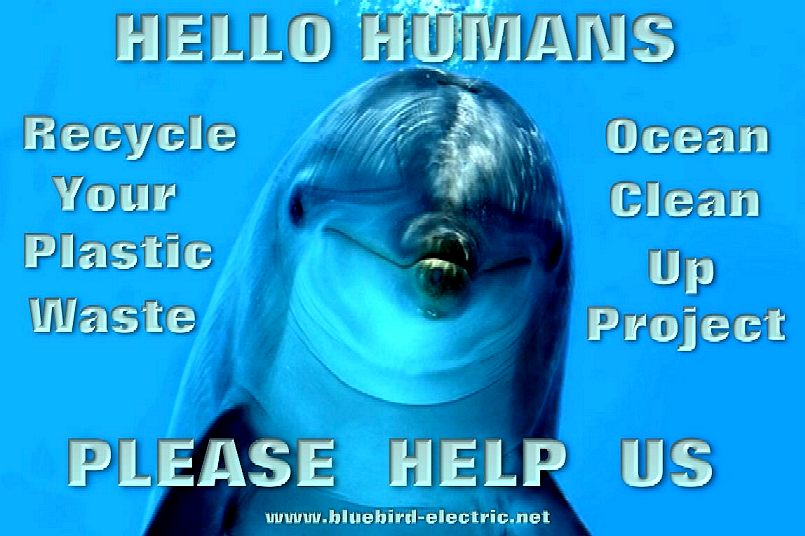 Our love affair with plastic is choking the oceans. Once people know about it, they want to stop it. But how and who? BMS has teamed up with the Cleaner Oceans (Planet) Trust to raise funds to build and test a full size prototype. Cleaner Planet Trust is a charitable, not for profit organization governed by Trustees.