CONFERENCE NEWS ROUND UP - 11 SEPT 2014
Building on the success of the 3rd UAS event at Twickenham in 2014, there have been significant advances in proposals for civilian and military uses. Quadcopters are now an everyday occurrence and standard kit for film makers and newsmen. The military appear to be having difficulty keeping up with civilian take-up, but with submarines and aircraft carriers being built in large numbers in what appears to some to be the start of a fresh cold war, drones are seen to be one hope for keeping such ambitions in check. The Pentagon and DARPA are investigating similar concepts.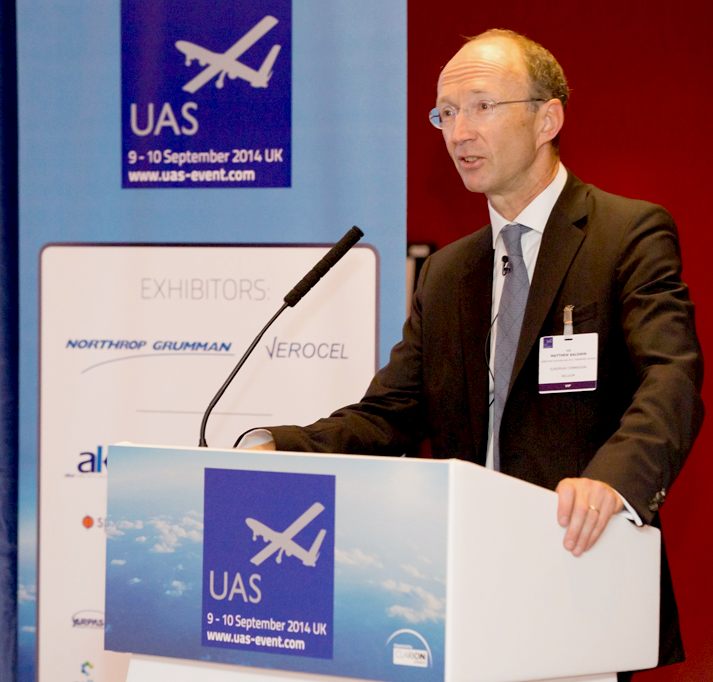 Matthew Baldwin, European Commissioner for air transport speaking at the 2014 UAS event.
AGENDA 2015
The 4th Annual UAS Conference is to take place on the 7-8 July 2015 at Twickenham Stadium, London.

The focus of the 2014 conference was the benefits of unmanned technologies in the civilian domain. The UAS team is currently putting together the content for this year's programme and is inviting conference papers from thought leaders to share their expertise and knowledge with the UAS audience.
UAS 2015 – bridging the gap between military, civilian and commercial unmanned systems, takes place from 7 – 8 July at London's iconic Twickenham Stadium.
The two day Conference seeks to unite UAS professionals, providing an exclusive platform for experts from the military, civil and commercial sector to learn from each other's experiences and requirements.
Building on the success of UAS 2014, the Conference will seek to enhance this exchange of knowledge by introducing three new opportunities, offering you the chance to get involved and have your say:

The deadline for submissions was: Monday, 16 March 2015.

MILITARY LEAD
Last year those that attended this event were given some splendid (mostly civilian) presentations, and could ask panels of industry experts questions relating to real life experience. Guest speakers from Northrop Grumman showed the audience history in the making, with a drone X-47B, a bird some 38 feet long, with a 62-foot wingspan, taking off and landing on an aircraft carrier in May 2013. This year the theme is yet to be decided, but is sure to include many civilian topics and possibly even a peek at what the military might be looking at in the future.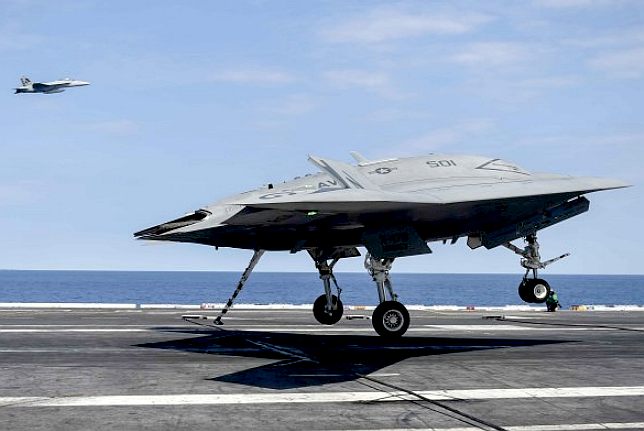 Though the initial cost of developing an autonomous unmanned aircraft might be high, long-term savings could be significant. An autonomous unmanned aircraft only needs to be flown occasionally during peacetime. An autonomous aircraft does not need to fly training sorties or to practice a programme that a computer simply runs. Such an autonomous unmanned aircraft suffers no downtime between deployments, save for depot-level maintenance overhaul. There could also be significant personnel cost savings because a fully autonomous aircraft would not require pilots and the smaller fleet would require fewer maintainers. This theme is further developed by Bluebird Marine Systems with the proposal to make the aircraft carrier itself, autonomous. See the mention at the foot of this page. Also, DARPA are looking at replacing the aircraft carrier with a giant plane like a B52. See Washington Post article below. Thus UAS is moving at a pace.
IMECHE UAS UNIVERSITY CHALLENGE, UNMANNED AIRCRAFT SYSTEMS
The Unmanned Aircraft Systems Challenge (UAS Challenge) bridges the gap between academia and industry in developing applied UAS-related activities; giving you the perfect opportunity to strengthen links with industry and universities in your area and enhance employment opportunities for your graduates in aerospace.
The UAS Challenge asks teams of undergraduates to undertake a full design and build cycle of a UAS with specific mission objectives from September 2014 – before competing in a final 'fly-off' and judging in June 2015.
Given the experience we have from the Institution's globally successful Formula Student competition, our direct links and relevance to both your students and industry are assured.
Throughout the competition, students will get to demonstrate their technical, engineering design and manufacturing skills, learn key team-working, time management, project management, budgeting and presentation skills – and become better equipped for a long-lasting career in engineering. Aspects of the design can constitute their final year project.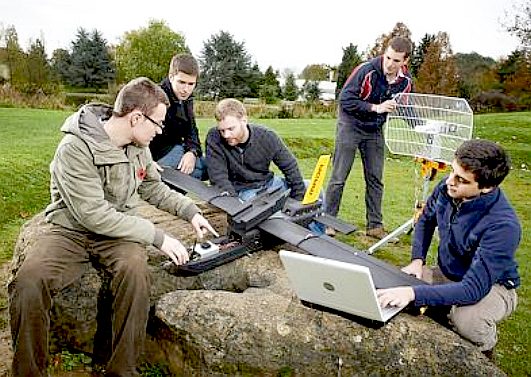 Students from Bath University working on their IMECHE entry. The competition gives students real-world engineering experience before leaving university.
IMECHE COMPETITION OVERVIEW

The competition will engage UK University Undergraduate teams in the design, construction, development and demonstration of an Autonomous Unmanned Aircraft System (UAS).

With a Maximum Take-off Mass (MTOM) limit of 7kg, and operating within Visual Line of Sight (VLOS), the Unmanned Aircraft (UA) will be designed to undertake a representative humanitarian aid mission. The system will be required to operate automatically, performing a series of tasks such as area search, navigating waypoints, accurately dropping a payload and returning to base via a defined route.

The competition will be held annually over the duration of an academic year, with the first competition commencing September 2014, and the flight demonstration being held in June 2015. This period will be structured into design, development and demonstration phases, with a Design Review presentation contributing to the scoring, as well as the flying demonstration.

Teams will be put forward by each University, and will constitute members drawn from undergraduate cohorts in any year of study. A pair of Universities may form an alliance to enter a joint team. Some specialist industry support is to be allowed where specific skills and knowledge are required outside the scope of the undergraduate students
IMECHE CONTACTS

To find out more about the competition contact: Rachel Pearson (organiser of the UAS Challenge)
Email: r_pearson@imeche.org or telephone 020 7304 6867. Website: http://www.imeche.org/
NOTE: Entries to the 2015 UAS Challenge are now closed.
EXHIBITORS 2014

* Alker Optical Equipment Ltd
* Cobham
* Cranfield University
* IMECHE
* Northrop Grumman
* OSG Ltd
* Verocel Limited
PARTNERS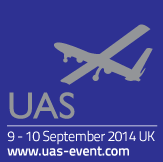 UAS HISTORY
UAS is one of the industry's leading conferences and exhibitions examining the latest military, civil and cross governmental applications of unmanned systems.
Clarion's events portfolio (defence/security) is among the world's leading forums where high level government officials and senior military personnel converge to share ideas, discuss industry developments, conduct business and develop partnerships for future growth. Whilst military technology is at the core of the industry, the sector is adapting to meet the changing needs of the world - where national security can be threatened by humanitarian disasters such as food and water shortages, or pandemic.

With a wealth of experience from operations in segregated airspace, as well as the potential proliferation of unmanned systems in the civilian and commercial market; the time is right to bridge the gap between these two areas by creating a hub for the unmanned community.

The UAS event is in association with the Unmanned Air Systems Capability Development Centre (UAS CDC) and Cranfield University. UAS 2014 offers an opportunity to receive the very latest operational, regulatory and commercial updates from the unmanned community, and dedicated time to do business with more than 300 senior military, government and industry professionals.
Last year UAS was a success with 240+ delegates from 16 countries worldwide in attendance; 47% of whom were military figures including the newly appointed Assistant Chief of the Air Staff.
CONFERENCE PROGRAMME 2015
Day One – Tuesday 7 July 2015*
08.00 - 09.00 Registration, tea, coffee
10.30 - 11.00 Morning Break
13.00 - 14.00 Lunch Break
15.30 - 16.00 Afternoon Break
17.30 - 18.30 Networking Drinks Reception
Day Two – Wednesday 8 July *
08.00 - 09.00 Registration, tea, coffee
10.30-11.00 Morning Break
13.00 - 14.00 Lunch Break
15.30 End of Conference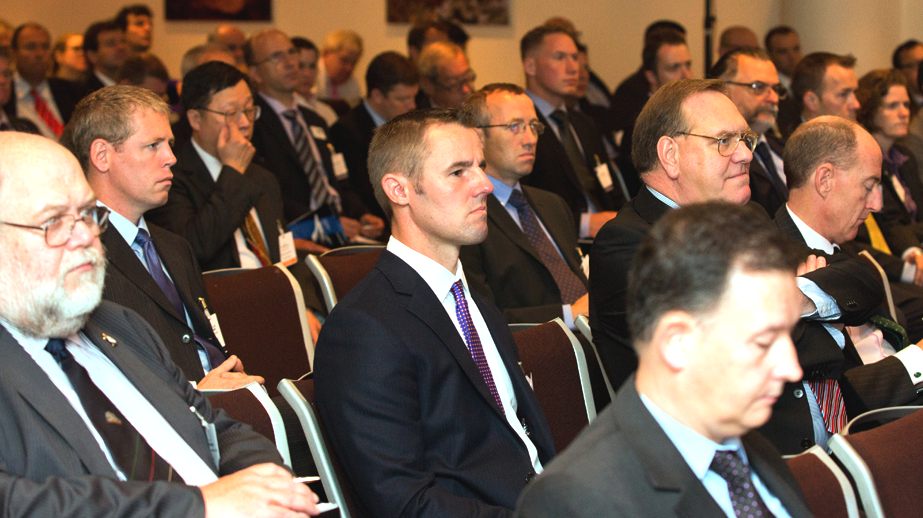 Delegates at the UAS event, Twickenham, London 2014
UAS CONTACTS 2015

The Thales Watchkeeper WK450 (RPAS), Intelligence, Surveillance, Target Acquisition and Reconnaissance (ISTAR) drone.
HOW TO GET TO THE CONFERENCE VENUE 2015
Train/London Underground

The nearest train station is Twickenham, which is a short walk from the stadium. Turn right out of the station, and then continue down Whitton Road. Regular trains run to Twickenham from London Waterloo, Clapham Junction, Reading, Ascot and Windsor & Eton Riverside. Other stations in the vicinity of the stadium are Whitton, St Margarets and Hounslow.

The London Overground service also runs from Richmond to North London and Stratford. The nearest Underground stations are Hounslow East for the Piccadilly Line, and Richmond for the District Line.

By Road
Twickenham Stadium is on the northern side of the A316 into London. From the M25, exit J12 onto the M3. This becomes the A316 and Twickenham Stadium is off the Whitton Road roundabout next to the Lexus/Toyota car dealership. From London, turn right off the A316 at Whitton Road roundabout. Please arrive EARLY to avoid congestion and temporary road closures prior to the event.
Twickenham Car Park

A controlled parking zone operates over an area of approximately one mile around the stadium. Fines and towing are enforced in this area, including Sundays. To pre-book parking at Twickenham please visit www.rfu.com to book online, or download a booking form.

It is recommended that you pre-book a car parking space online via the RFU eTicketing site or using a booking form available in the parking section. Limited parking may be available on the day, but to guarantee a space pre-booking is advised.
WASHINGTON POST - PENTAGON WANTS DRONES LAUNCHED FROM GIANT AIRSHIP - DARPA 10 NOV 2014
In the 2012 movie "The Avengers," Captain America, the Hulk, Iron Man and the rest of the gang flew on a massive aircraft carrier that carried dozens of planes through the air and disappeared from plain view with the help of a cloaking device. The idea that the U.S. military could develop something similar is still seen as far-fetched, but this much is true: a Pentagon agency has just launched a new effort to develop an airship sure to draw comparisons.

The Defense Advanced Research Projects Agency is exploring whether it would be possible to turn an existing plane into a flying fortress capable of launching and recovering numerous drone aircraft. Doing so would extend the range of drones that gather intelligence and perform other missions while saving money and limiting the risks pilots take, DARPA officials said Sunday.

"We want to find ways to make smaller aircraft more effective, and one promising idea is enabling existing large aircraft, with minimal modification, to become 'aircraft carriers in the sky,'" said Dan Patt a DARPA program manager. "We envision innovative launch and recovery concepts for new [unmanned aerial system] designs that would couple with recent advances in small payload design and collaborative technologies."

Unlike the Avengers' heli-carrier, DARPA's sky-carrier would likely use a plane like the B-52 Stratofortress bomber, B-1B Lancer bomber or C-130 Hercules cargo plane, according to a request for information released by the agency on Friday. Companies, universities and other organizations interested in participating must submit ideas by Nov. 26 and include "system-level conceptual designs," including a feasibility analysis.

DARPA also left open the possibility "missile-based approaches" to launching drones in its request for information, and says those interested should provide a sense for how many drones could be launched.

It's not the first time that the U.S. military has dabbled with sky-carriers. In the 1930s, for example, the U.S. Navy launched Sparrowhawk biplanes from helium-filled rigid dirigibles built by the Goodyear-Zeppelin Company.

The two airships that launched planes, the USS Akron and USS Macon, both experienced catastrophic crashes. The Akron crashed in 1933 off the coast of New Jersey, killing 73 of 76 men on board, according to the Navy Historical Center. The Macon crashed two years later off the coast of California. Most of the service members on board survived, but the dirigible sank "effectively ending the Navy's controversial, and trouble-plagued, program of rigid airship operations," Navy officials said.

More recently, the Air Force investigated whether it could use a 747 jet as an aircraft carrier, commissioning a report from Boeing. The defense contractor sketched a concept in which part of the plane would be hollowed out, and "micro-fighters" would be developed to fit inside, according to briefing slides later released by the military.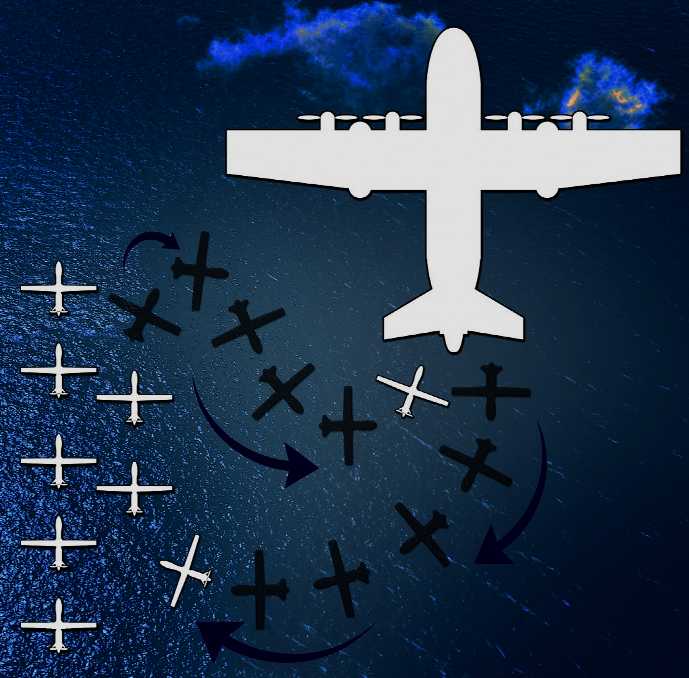 DARPA - Artists impression of Spruce Goose type mothership - as an aerial aircraft carrier that might launch and retrieve smaller drone aircraft. The concept is not that dissimilar to the drone aircraft carrier concept (see below) from Bluebird Marine Systems. Drone fixed wing craft are not so versatile as quadcopters, especially in swarm mode. But, fixed wing craft should have a longer range.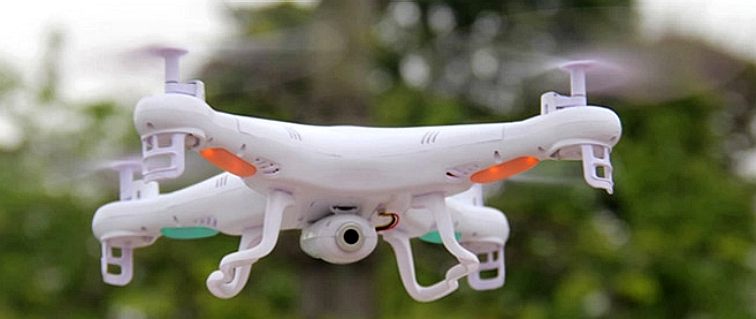 OCEAN PLASTIC PATROLS - The small Syma model quadcopter drone above is being used to develop the landing deck on the 'proof of concept' model of the SeaVax ocean cleaning robot ship, seen below as a CAD diagram. The deck position is on the rear of the boat. BMS will be looking at incorporating electronic/optical, infra-red and other guidance methods, such that a drone targets the landing pad, just the same as a modern passenger aircraft can land on a runway without a pilot. This will be a two way information stream, where the feedback helps docking. The idea is that an onboard UAV may scout ahead for plastic garbage patches, log information about the ocean several miles ahead of the robot ships and stream that data back to HQ to help plan the cleanup programme.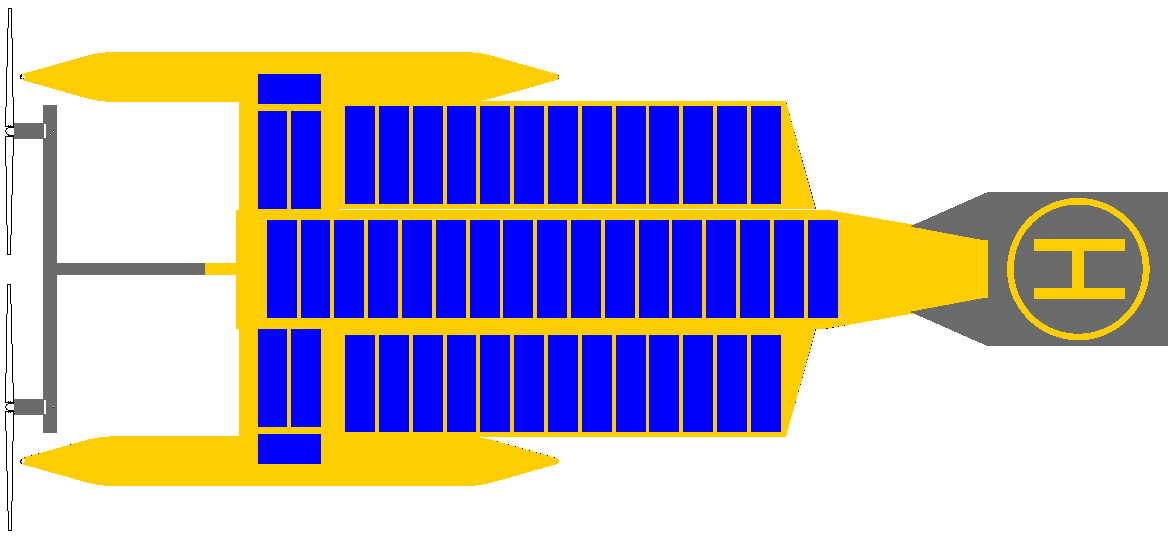 ROBOT SHIP - The host vessel is solar and wind powered, so truly autonomous. Not a whiff of diesel or nuclear power in sight - an object lesson to all those who operate nasty polluting vessels, such as submarines and aircraft carriers. Nuclear power is so dangerous as a long-term contaminant, it is a wonder that it has not been banned under the equivalent of the Geneva Convention for warfare at sea.

MARINISED DRONE - This is thought to be the world's first marinised drone (11-4-15). Bluebird Marine Systems think that they were the first to conceive this leap forward in marine surveillance technology. (Please let us know of any other contenders) The small Syma model was tested in a water basin with a variety of float sizes before the team settled on this relatively large version, that gave a significantly higher margin of safety than smaller test pieces. Then the team took off and landed from the deck on the rear of the SeaVax Enterprise 1. The Syma was chosen because it is very economical to replace if, for example, a ditching in the water were to halt play. The full size drone will have ample range and payload to be able to fend off pirates intent on boarding one of the ocean cleaning robots. We recommend that you watch the the movie 'Captain Phillips' if you are a naval architect - to get a feel for threats that need to countered at the design stage. Every large ocean going vessel could carry an anti-pirate drone. No doubt, eventually they will - UN take note.
THE BASICS - WHAT CONSTITUTES A UAS ?
An unmanned aerial vehicle (UAV), commonly known as a drone and referred to as a Remotely Piloted Aircraft (RPA) by the International Civil Aviation Organization (ICAO), is an aircraft without a human pilot aboard. Its flight is controlled either autonomously by onboard computers or by the remote control of a pilot on the ground or in another vehicle. The typical launch and recovery method of an unmanned aircraft is by the function of an automatic system or an external operator on the ground. Historically, UAVs were simple remotely piloted aircraft, but autonomous control is increasingly being employed.

They are usually deployed for military and special operation applications, but also used in a small but growing number of civil applications, such as policing and firefighting, and nonmilitary security work, such as surveillance of pipelines. UAVs are often preferred for missions that are too "dull, dirty or dangerous" for manned aircraft.
CIVILIAN USES
Beyond the military applications of UAVs with which "drones" became most associated, numerous civil aviation uses have been developed, including aerial surveying of crops, acrobatic aerial footage in filmmaking, search and rescue operations, inspecting power lines and pipelines, and counting wildlife, delivering medical supplies to remote or otherwise inaccessible regions, with some manufacturers rebranding the technology as "unmanned aerial systems" (UASs) in preference over "drones." Drones have also been used by animal-rights advocates to determine if illegal hunting is taking place, even on private property. Drones equipped with video cameras are being used by the League Against Cruel Sports, a British animal-rights group, to spot instances of illegal fox hunting. UAVs are nowadays routinely used in several applications where human interaction is difficult or dangerous. These applications range from military to civilian and include reconnaissance operations, border patrol missions, forest fire detection, surveillance, and search/rescue missions.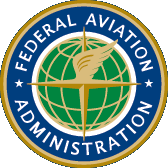 FAA DESIGNATION
In the United States, the Federal Aviation Administration has adopted the name unmanned aircraft (UA) to describe aircraft systems without a flight crew on board. More common names include UAV, drone, remotely piloted vehicle (RPV), remotely piloted aircraft (RPA), and remotely operated aircraft (ROA). These "limited-size" (as defined by the Fédération Aéronautique Internationale) unmanned aircraft flown in the USA's National Airspace System, flown solely for recreation and sport purposes, such as models, are generally flown under the voluntary safety standards of the Academy of Model Aeronautics, the United States' national aeromodeling organization. To operate a UA for non-recreational purposes in the United States, according to the FAA users must obtain a Certificate of Authorization (COA) to operate in national airspace. At the moment, COAs require a public entity as a sponsor. For example, when BP needed to observe oil spills, they operated the Aeryon Scout UAVs under a COA granted to the University of Alaska Fairbanks. COAs have been granted for both land and shipborne operations.

LINKS & REFERENCE
Defense One every-country-will-have-armed-drones-within-ten-years
China-building-army-unmanned-military-drones-rival-U-S
http://www.darpa.mil/default.aspx
http://www.defense.gov/
www.uascdc.com
www.cranfield.ac.uk
www.cranfield.ac.uk
Washington Post December 2014 The Pentagon wants an airborne aircraft carrier for drones
http://www.washingtonpost.com/news/checkpoint/wp/2014/11/10/the-pentagon-wants-an-airborne-aircraft-carrier-for-drones/
http://www.dailymail.co.uk/news/article-2011533/China-building-army-unmanned-military-drones-rival-U-S.html
https://www.icrc.org/en/war-and-law/treaties-customary-law/geneva-conventions
Airforce Technology p1hh-hammerhead-unmanned-aircraft-system-italy
IMechE unmanned aircraft systems challenge uas
http://www.imeche.org/knowledge/industries/aerospace/auasc
http://www.totallyunmanned.com/
http://www.wired.com/2013/11/drone-lasers/
http://en.wikipedia.org/wiki/Unmanned_aerial_system
http://www.uas-event.com/
http://www.uas-event.com/Content/Call-for-papers-now-open/6_11/
http://www.bluebird-uav.com/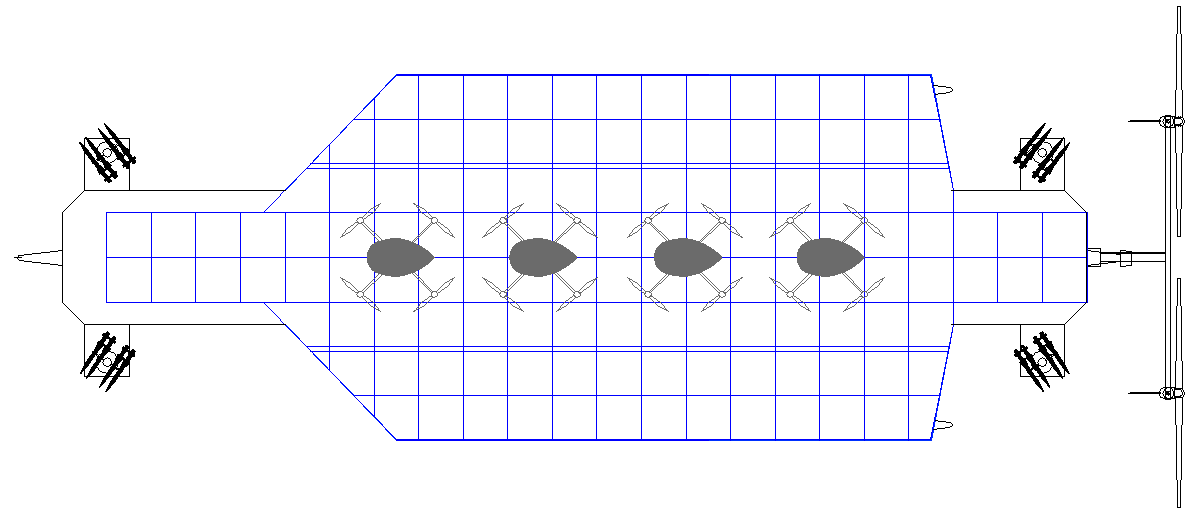 WORLD FIRST - The first ever concept solar powered aircraft carrier, showing a squadron of four 4.7m drone quadcopters (see below for squadron of twelve). This ship could easily carry 12 birds. This is also, probably, the world's smallest ever aircraft carrier and the first unmanned aircraft carrier. A 1/20th scale model of this vessel will take to the water in 2015 for some naval wargaming fun. Will it ever happen in real life? Almost certainly. Why? Because it's the cheapest and safest way of asserting a military presence. You don't need to train and feed a crew at sea, whose lives are on the line, just train a small ground-crew to monitor situations and take the appropriate action as and when required. It's a bit like shopping online and going to the shops. Going to the shops is healthier and a day out, but shopping online gives you more choice at lower prices without leaving GHQ. The concept should be seen in light of the DARPA proposal for an airborne version that launches and retrieves Predator type aircraft. See above.
For simulation purposes the above carrier will feature the 'Future Battleship' drone. This economic model comes with a camera and takes decent pictures, but in comparison, even the most basic mobile phone offers superior picture quality. The camera can be activated via the controller. The important thing to consider here is that this technology is scaleable and affordable.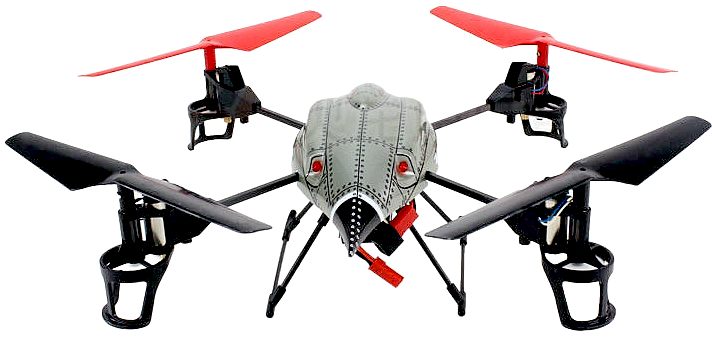 The FBQC comes with a Gatling gun mounted on its belly, and at the flip of the switch it can rain simulated destruction down on an opposing force. This is one of the most exciting things about this drone. The on board gyro helps to provide a smooth flight experience. It also comes with adjustable control sensitivity, so as your experience grows, you can customize it to your preferences. Twelve of these beauties are shown in the diagram below of the proposed HK class aircraft carrier. It is difficult to pigeonhole this design because it has the firepower of a destroyer - and might carry quad fighters at the same time. Yet it is nimble compared to traditional aircraft carriers.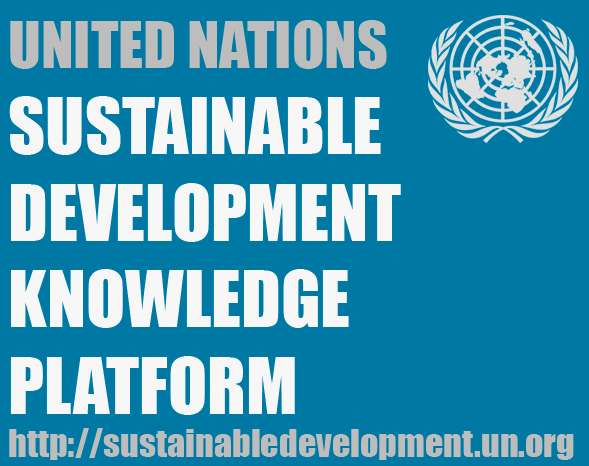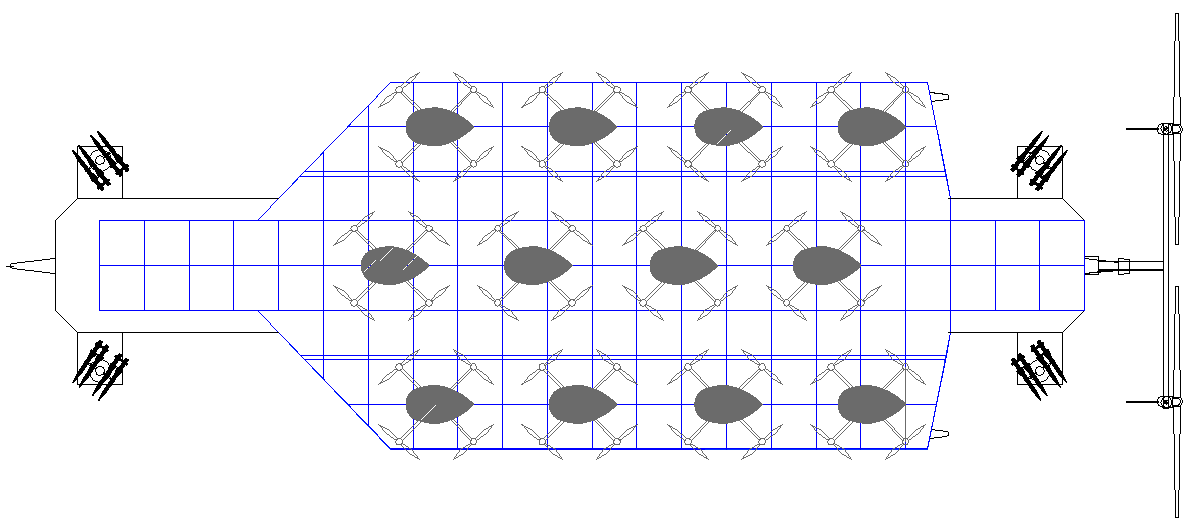 WORLD FIRST - An HK-ZCC class autonomous aircraft carrier / destroyer, showing deployment of a squadron of 12 fighter quadcopter drones. To overcome the potential for communications jamming, in a cyber-warfare situation, the battleship and the quadcopter squadron would be able to operate independently to target and neutralize incoming threats - or indeed, carry out operational attacks. There are no rules in war when dealing with an aggressor who themselves have no rules. Civilised military go all out to safeguard humans from unnecessary suffering. It's a two stage response situation, where, if an enemy breaks the rules of humane engagement, the gloves are off.
Another advantage to this battleship is that it is energy self sufficient in cruise mode. During combat it could swap to IC engines for sprints of 30-35 knots to chase an adversary. But in regular patrol usage there is no fuel cost. The drone squadron could seriously reduce the gap between, for example, target submarines.
CIVILIAN USES - The same basic concept might one day see plastic pollution in the increasing number of ocean gyres, reduced significantly, by a concept vehicle called SeaVax, presently under construction as a small demonstrator and please note that BMS is only building the above carrier for wargaming purposes - not with any intention to become a military supplier.