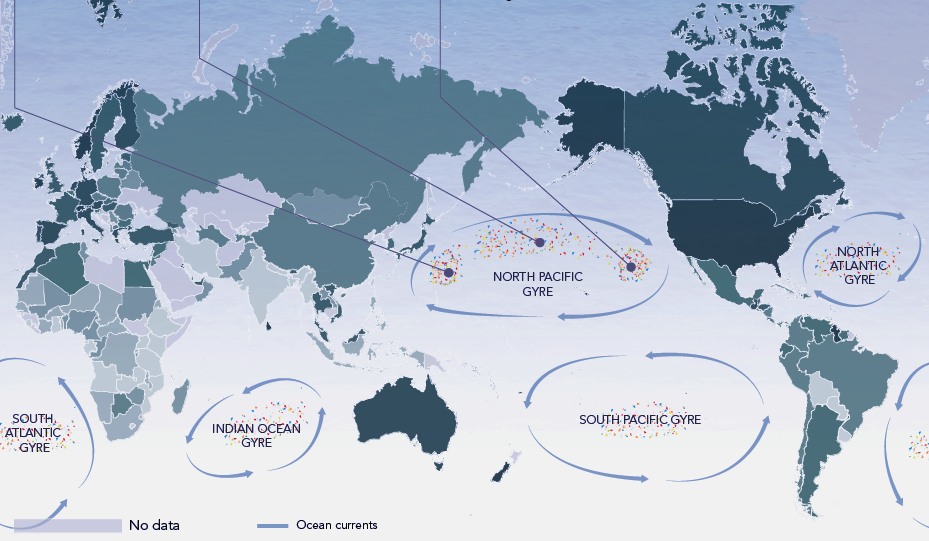 This world map derived from a National Geographic source, shows that the North Pacific Gyre is by far the largest - and divided into three regions, the western, sub-tropical-convergence zone and eastern garbage patches. We estimated these patches collectively to be around 80,000 tons in mass based on UN estimates, but have revised that up to 2.66 million tons based on the latest NCEAS estimates.
PLASTIC OCEAN WASTE
According to a new study by the NCEAS, 4 million to 12 million metric tons of plastic waste is thrown into oceans around the world every year.
The National Center for Ecological Analysis and Synthesis at the University of California, Santa Barbara conducted the study, focusing on marine debris.
Researchers behind the project predict that the volume of plastics found in oceans will double by 2025.

UNIVERSITY OF GEORGIA

Jenna Jambeck, an environmental engineer at the University of Georgia, also contributed her findings to the study. Researchers created an infographic depicting the origin of the waste, showing each country's contribution. They concluded that China and Indonesia are high on the list of plastic waste offenders - ranking first and second place, respectively. And while the U.S. fared better, coming in 20th place, the country still contributed a hefty 110,000 metric tons of waste.

The study indicated that of the almost 200 countries surveyed, some were without a formal waste management system, presenting a challenge in addressing the issue. The rapid expansion of cities due to population growth has outpaced the environmental efforts some countries have in place, such as expanding waste programs.
This work was supported by the National Center for Ecological Analysis and Synthesis, Ocean Conservancy, University of California, Santa Barbara, and the State of California.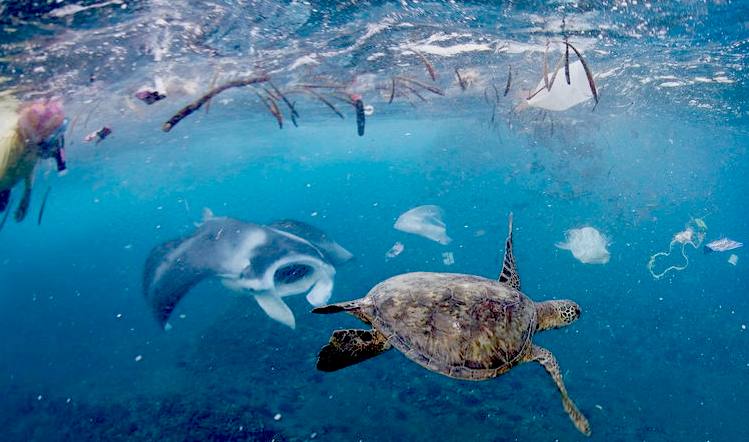 A Manta Ray and Sea Turtle swim in a soup of plastic. The challenge is huge, the garbage is spread over millions of square miles. It is made up mostly of degraded plastic, broken down by sunlight and waves into tiny bits the size of grains of rice. Roughly 2.5 percent of the world's plastic ends up in the sea.
NCEAS REPORT - PLASTIC WASTE INPUTS FROM LAND INTO THE OCEAN
Plastic debris in the marine environment is widely documented, but the quantity of plastic entering the ocean from waste generated on land is unknown. By linking worldwide data on solid waste, population density, and economic status, we estimated the mass of land-based plastic waste entering the ocean. We calculate that 275 million metric tons (MT) of plastic waste was generated in 192 coastal countries in 2010, with 4.8 to 12.7 million MT entering the ocean.
Population size and the quality of waste management systems largely determine which countries contribute the greatest mass of un-captured waste available to become plastic marine debris. Without waste management infrastructure improvements, the cumulative quantity of plastic waste available to enter the ocean from land is predicted to increase by an order of magnitude by 2025.
With increased population and increased per capita consumption, waste will continue to grow if unchecked. Improving waste management infrastructure in developing countries is essential. Subsequently, while these improvements are being developed, it is imperative industrialized countries take immediate action by reducing waste and restricting single-use plastics - and by implementing programs for waste recovery, as soon as a workable solution presents itself.
PLASTIC WASTE INPUTS FROM LAND INTO OCEAN
Jenna R. Jambeck, Roland Geyer, Chris Wilcox, Theodore R. Siegler, Miriam Perryman, Anthony Andrady, Ramani Narayan, Kara Lavender Law

Science, February, 2015, DOI: 10.1126/science.1260352

Sample of Media Coverage:
NCEAS Press Releases:
University of California, Santa Barbara
University of Georgia
Science Education Association
American Chemical Council Plastics Division


More information about this project's research, participants, and publications.

NCEAS CONTACTS

National Center for Ecological Analysis and Synthesis (NCEAS)
735 State Street, Suite 300
Santa Barbara, CA 93101-5504
Telephone: (805) 892-2500
Fax: (805) 893-7451
Email: nceas@nceas.ucsb.edu
Web: https://www.nceas.ucsb.edu/contact
NCEAS is located in the Balboa Building of Paseo Nuevo in the center of downtown Santa Barbara. The Center offers computing infrastructure, meeting rooms for small groups and two larger rooms which accommodate 18 and 25 people, as well as access to several larger conference facilities. A large lounge and kitchen are available for breaks, informal seminars and gatherings. The Center also includes a variety of offices that house resident and visiting researchers and in-house staff.
ABOUT NCEAS
The National Center for Ecological Analysis and Synthesis (NCEAS) is a research center at the University of California, Santa Barbara, in Santa Barbara, California. Better known by its acronym, NCEAS (pronounced "n-seas") opened in May 1995. Funding for NCEAS is diverse and includes supporters such as the U.S. National Science Foundation, the State of California, and the University of California, Santa Barbara.

NCEAS supports cross-disciplinary research that analyzes and synthesizes existing data to address major fundamental issues in ecology and allied fields, and encourages the application of science to natural resource management and public policy decision making. To facilitate synthetic analysis, NCEAS advances new techniques in mathematical and geospatial modeling, dynamic simulation, and visualization of ecological systems through its Ecoinformatics program. Since its inception, the Center has hosted over 5,000 individuals and supported roughly 500 research projects, which have resulted in more than 2,000 publications in 300+ different journals. In addition, NCEAS engages graduate students and grade school children through a variety of outreach and education programs.
NCEAS DIRECTORS

Dr. William Murdoch initially served as the NCEAS director, followed by Dr. O.J. Reichman who directed the center from 1997 to 2007. Dr. Murdoch then returned to NCEAS as interim director until the arrival of Dr. Ed McCauley on January 1, 2010.

On May 11, 2011, it was announced that Dr. Ed McCauley had been appointed as Vice President (Research) at the University of Calgary, effective July 1, 2011, and he was replaced by Dr. Frank Davis at that time. Dr. Davis, who formerly served as NCEAS' Deputy Director from 1995-1999, currently serves as NCEAS' Director.

The NCEAS leadership as of January 2013 includes:

Dr. Frank Davis – Director
Dr. Stephanie Hampton – Deputy Director
Dr. Mark Schildhauer – Director of Computing
Matthew B. Jones – Director of Informatics Research and Development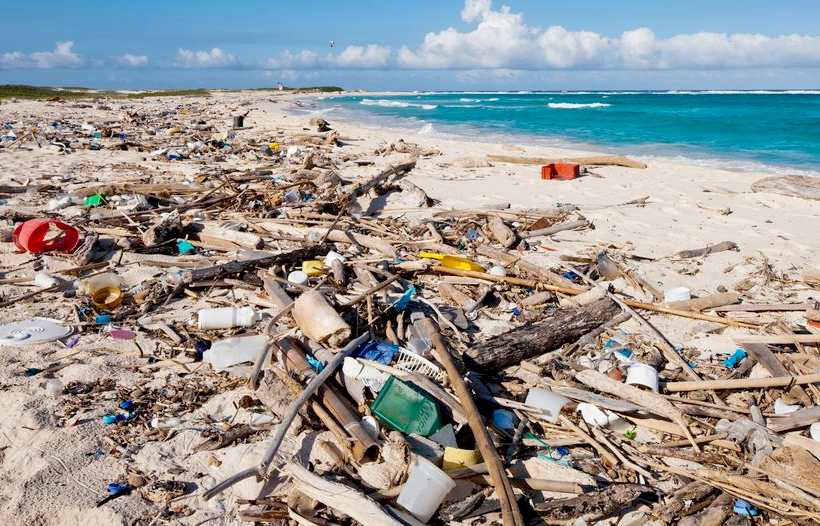 As holiday beaches go, this is an environmental and financial disaster.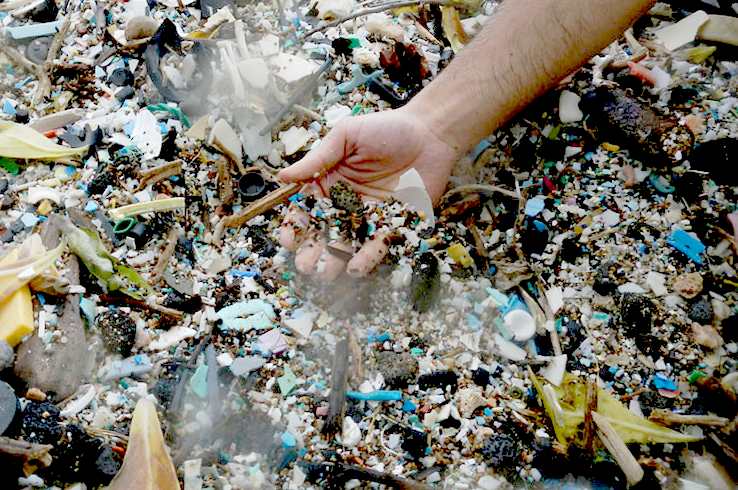 It all goes back to our dependence on oil. The by product, plastic, is so useful that we could not do without it today. For that reason, we need to take responsibility for our needs, by making provision to clean up our mess sustainably. We cannot afford fleets of trawlers manned by humans to scoop up the harmful soup, and that is where semi-autonomous robots could come to the rescue.
Each year, oil companies remove approximately 3.7 trillion gallons of oil from the earth. This oil is transported by barges, ocean going tankers, and pipelines to refineries and storage facilities. It is inevitable that accidental leaks and spills will take place on a regular basis, where oil is mostly transported across vast oceans. That is the first stage of oil pollution. The second stage is oil byproduct pollution from plastic.
NCEAS HISTORY & FUNDING

The origin of the center can be traced to the perception among ecologists that important research themes span wide regions and long time periods. For example, research on marine fisheries must consider information from wide stretches of the ocean, and studies of long-lived forest communities must span decades. Recognizing that research in such areas cannot be accomplished by a single scientist working at one location, the National Science Foundation (NSF) recognized the need for a center whose mission was to foster synthetic research using existing data. In 1994, the NSF solicited proposals to build such a center, and the University of California, Santa Barbara was awarded $12.5 million to establish and operate the center for five years. Subsequent grants were awarded to UC Santa Barbara to continue NCEAS in 2001 ($16.6 million) and 2006 ($18.5 million).

By 2005, ISI Essential Science Indicators recognized that NCEAS ranked #22 out of 38,000 institutions worldwide publishing in ecology and environmental science, in terms of scientific impact. Based on the experience with NCEAS, NSF launched a wider program of synthesis centers, including the National Evolutionary Synthesis Center (NESCent) and National Institute for Mathematical and Biological Synthesis (NIMBioS). Similar efforts based on the NCEAS research approach have been undertaken internationally as well, such as the Australian Center for Ecological Analysis and Synthesis (ACEAS) and the Canadian Institute of Ecology and Evolution. In all, more than 18 centers have been modeled on the NCEAS approach.

Additional support, in particular funds directed toward the Conservation and Resource Management program, comes from federal and state agencies, private foundations, and non-governmental organizations.

Subscribe to NCEAS news to receive the latest updates on NCEAS, new synthesis research papers, informatics developments, employment opportunities, and Calls for Proposals.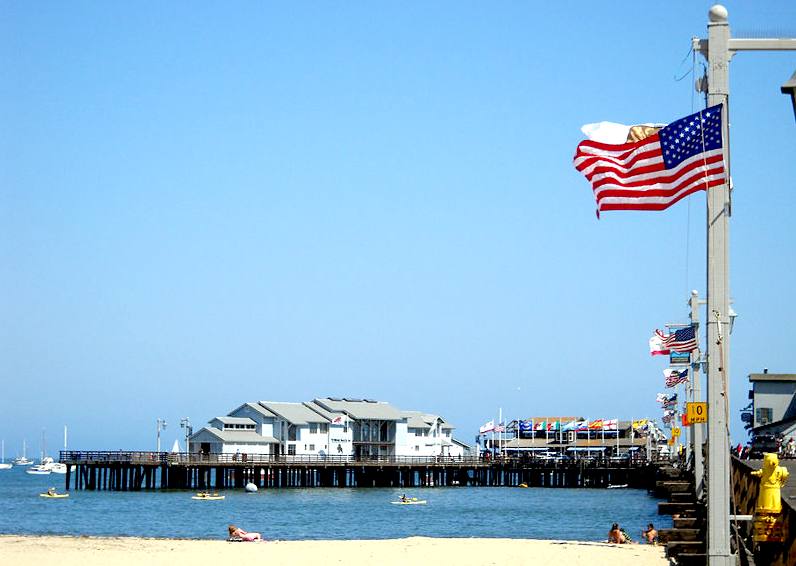 The pier at Santa Babara
SANTA BARBARA
Santa Barbara is the county seat of Santa Barbara County, California. Situated on a south-facing section of coastline, the longest such section on the West Coast of the United States, the city lies between the steeply rising Santa Ynez Mountains and the Pacific Ocean. Santa Barbara's climate is often described as Mediterranean, and the city has been promoted as the "American Riviera". As of the census of 2010, the city had a population of 88,410, a loss of 1,190 from the previous census, making it the second most populous city in the county after Santa Maria while the contiguous urban area, which includes the cities of Goleta and Carpinteria, along with the unincorporated regions of Isla Vista, Montecito, Mission Canyon, Hope Ranch, Summerland, and others, has an approximate population of 220,000. The population of the entire county in 2010 was 423,895.

In addition to being a popular tourist and resort destination, the city economy includes a large service sector, education, technology, health care, finance, agriculture, manufacturing, and local government. In 2004, the service sector accounted for fully 35% of local employment. Education in particular is well represented, with five institutions of higher learning on the south coast (the University of California, Santa Barbara, Santa Barbara City College, Westmont College, Antioch University, and the Brooks Institute of Photography). The Santa Barbara Airport serves the city, as does Amtrak. U.S. Highway 101 connects the Santa Barbara area with Los Angeles to the southeast and San Francisco to the northwest. Behind the city, in and beyond the Santa Ynez Mountains, is the Los Padres National Forest, which contains several remote wilderness areas. Channel Islands National Park and Channel Islands National Marine Sanctuary are located approximately 20 miles (32 km) offshore.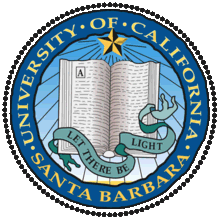 CALIFORNIA UNIVERSITY
The University of California, Santa Barbara (commonly referred to as UC Santa Barbara or UCSB) is a public research university and one of the 10 general campuses of the University of California system. The main campus is located on a 1,022-acre (414 ha) site near Goleta, California, United States, 8 miles (13 km) from Santa Barbara and 100 miles (160 km) northwest of Los Angeles. Tracing its roots back to 1891 as an independent teachers' college, UCSB joined the University of California system in 1944 and is the third-oldest general-education campus in the system.

UCSB is one of America's Public Ivy universities, which recognizes top public research universities in the United States. The university is a comprehensive doctoral university and is organized into five colleges and schools offering 87 undergraduate degrees and 55 graduate degrees. UCSB was ranked 40th among "National Universities", 10th among U.S. public universities and 28th among Best Global Universities by U.S. News & World Report 's 2015 rankings. The university was also ranked 37th worldwide by the Times Higher Education World University Rankings and 41st worldwide (7th worldwide for engineering) by the Academic Ranking of World Universities in 2014.

UC Santa Barbara is a "very high activity" research university and spent $233.9 million on research expenditures in the 2012 fiscal year, 91st largest in the United States. UCSB houses twelve national research centers, including the renowned Kavli Institute for Theoretical Physics. Current UCSB faculty includes six Nobel Prize laureates, one Fields Medalist, 29 members of the National Academy of Sciences, 27 members of the National Academy of Engineering, and 31 members of the American Academy of Arts and Sciences. UCSB was the No. 3 host on the ARPAnet and was elected to the Association of American Universities in 1995.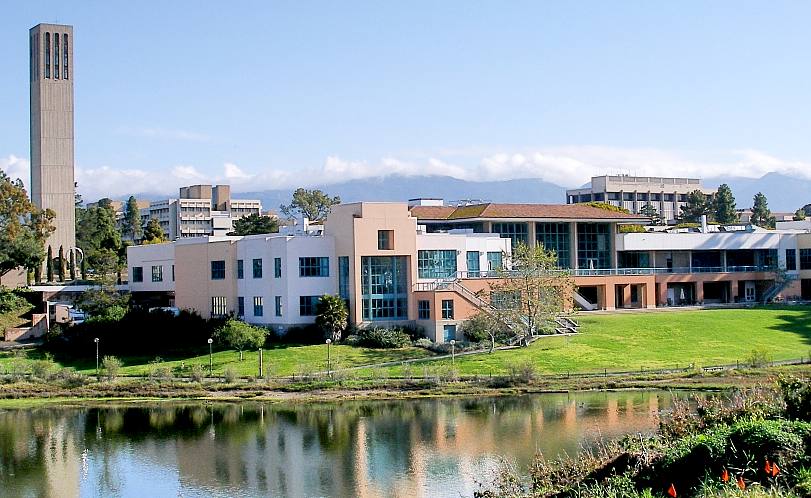 University of California, Santa Barbara
A report by the United Nations gives different figures for ocean waste, significantly undercutting the statistics of the NCEAS researchers. Once thing is for sure, there is a lot of plastic being dumped in our oceans at the expense of wildlife and the food chain that supports humans.
We cannot stand by and do nothing while we poison the oceans and kill thousands of animals every year with our cavalier attitude to waste disposal.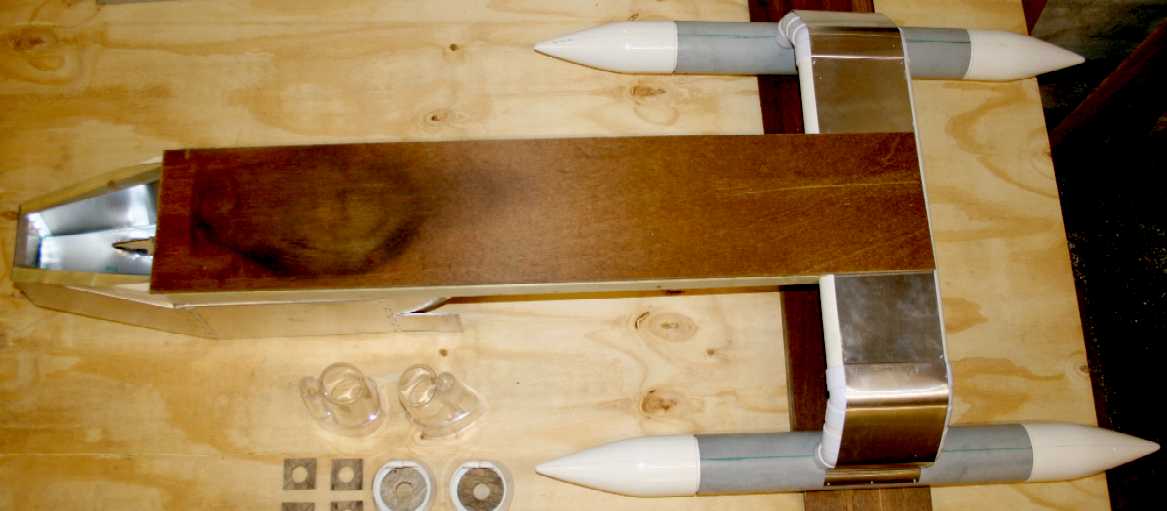 SEAVAX FEASIBILITY - This is a raw proposal for a robot ship that is designed to vacuum up plastic waste from the ocean based on the patent Bluefish ZCC concept. The vessel is solar and wind powered - and shares components with other ZCC variants. The front end (right) is modified so that there is a wide scoop area, into which plastic waste is funneled as the ship moves forward. The waste is pumped into a large holding bay after treatment, then stored until it can be off-loaded at the rear of the ship. The onboard command systems can be semi-autonomous, such that in robot mode they alert HQ to any potential problems and share data as to progress for operators. A whole cleanup mission can be controlled from land, with visuals and data streams. A SeaVax would operate using a search program called SeaNet.
LINKS
National Geographic 2014 ocean garbage patch plastic pacific debris
The Telegraph Great Pacific Garbage Patch has increased 100 fold since the 1970s
Plosone ocean pollution article Fjournal pone 0111913
The Guardian 2014 December full scale plastic worlds oceans revealed first time pollution
Robotics Tomorrow ocean pollution
Daily Dot technology ocean cleaning drone
Interiorholic gadgets ocean robot cleaner
PSFK 2012 marine robots clean oceans
hhttp://www.universityofcalifornia.edu/
http://en.wikipedia.org/wiki/University_of_California,_Santa_Barbara
http://www.nsf.gov/
http://www.nescent.org/
http://www.nimbios.org/
http://www.santabarbaraca.gov/
http://en.wikipedia.org/wiki/Santa_Barbara,_California
http://www.santabarbaraca.com/
http://www.ciee-icee.com/
http://www.aceas.org.au/
http://www.unep.org/
http://www.unep.org/environmentunderreview/
http://news.nationalgeographic.com/news/2014/04/140414-ocean-garbage-patch-plastic-pacific-debris/
http://www.plosone.org/article/info%3Adoi%2F10.1371%2Fjournal.pone.0111913
http://www.roboticstomorrow.com/content.php?post_type=1919
http://www.dailydot.com/technology/ocean-cleaning-drone/
http://www.interiorholic.com/other/gadgets/ocean-robot-cleaner/
http://www.psfk.com/2012/07/marine-robots-clean-oceans.html
http://www.unep.org/environmentunderreview/
Youtube ocean pollution
ACIDITY - ARCTIC - ATLANTIC - BALTIC - BERING - CARIBBEAN - CORAL - EAST CHINA - ENGLISH CH
GULF MEXICO - INDIAN - MEDITERRANEAN - NORTH SEA - PACIFIC - PERSIAN GULF - SEA JAPAN - STH CHINA