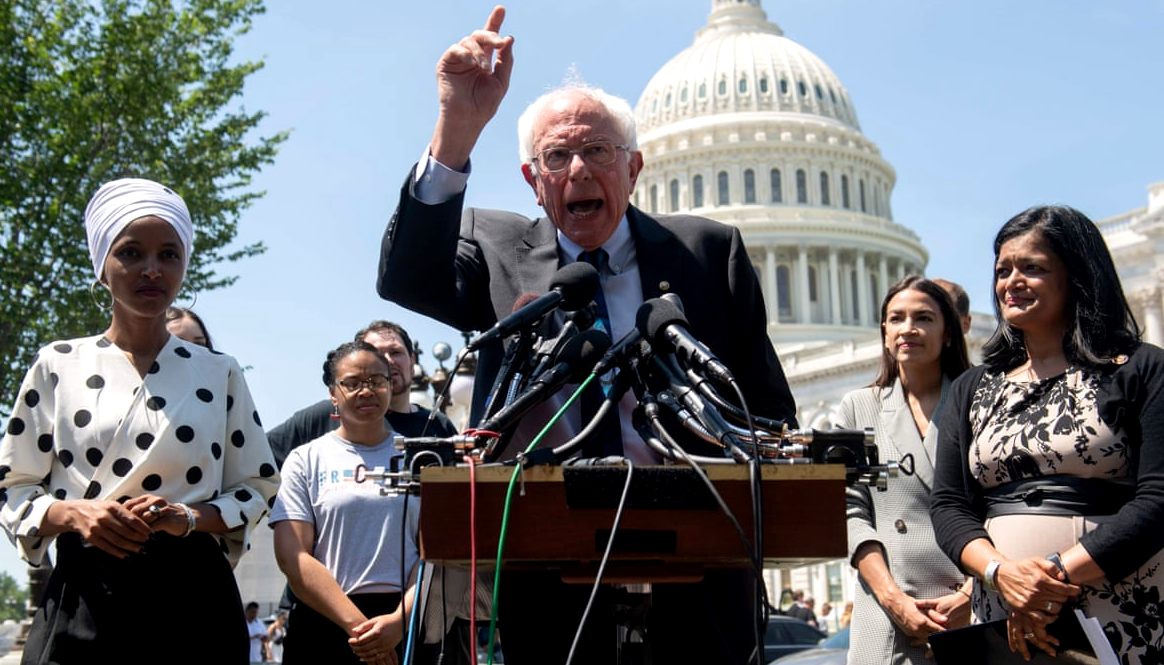 BERNIE SANDERS - USA could declare a climate emergency in light of growing international concerns over rising sea levels, melting ice caps and desertification - not to mention global warming.
THE GUARDIAN 8 JULY 2019 - Sanders and Ocasio-Cortez move to declare climate crisis official emergency

Exclusive: Democrats to introduce resolution in House on Tuesday in recognition of extreme threat from global heating

A group of US lawmakers including the 2020 Democratic presidential contender Bernie Sanders are proposing to declare the climate crisis an official emergency – a significant recognition of the threat taken after considerable pressure from environment groups.

Alexandria Ocasio-Cortez, the Democratic congresswoman from New York, and Earl Blumenauer, a Democratic congressman from Oregon, plan to introduce the same resolution in the House on Tuesday, their offices confirmed.

A Sanders spokesperson said: "President Trump has routinely declared phoney national emergencies to advance his deeply unpopular agenda, like selling Saudi Arabia bombs that Congress had blocked.

"On the existential threat of climate change, Trump insists on calling it a hoax. Senator Sanders is proud to partner with his House colleagues to challenge this absurdity and have Congress declare what we all know: we are facing a climate emergency that requires a massive and immediate federal mobilization."

Climate activists have been calling for the declaration, as data shows nations are not on track to limit the dangerous heating of the planet significantly enough. The UN has warned the world is experiencing one climate disaster every week. A new analysis from the economic firm Rhodium Group today finds the US might achieve less than half of the percentage of pollution reductions it promised other countries in an international agreement.

Sixteen countries and hundreds of local governments, including New York City last month, have declared a climate emergency already, according to the advocacy group the Climate Mobilization. The activist group Extinction Rebellion has said the declaration is a crucial first step in addressing the crisis.

Blumenauer's office said he decided to draft the resolution after Donald Trump declared an emergency at the US border with Mexico so he could pursue building a wall between the two countries.

In Congress, Democrats in control of the House might have enough support for the resolution, but Republicans in the majority in the Senate are not likely to approve.

The resolution says: "The global warming caused by human activities, which increase emissions of greenhouse gases, has resulted in a climate emergency" that "severely and urgently impacts the economic and social well-being, health and safety, and national security of the United States".

It then goes on to say that Congress "demands a national, social, industrial, and economic mobilization of the resources and labor of the United States at a massive-scale."

Trump and his administration have questioned the science showing that humans are causing the climate crisis. They have downplayed the risks of rising temperatures and gutted government efforts to limit the heat-trapping pollution from power plants, cars and other sources.

Despite that record, Trump touted the US as an environmental leader in a speech on Monday at the White House.

Even if the resolution passed and was signed by the president, it would not force any action on climate change. But advocates say similar efforts in Canada and the United Kingdom have served as a leverage point, highlighting the hypocrisy between the government position that the situation is an emergency and individual decisions that would exacerbate the problem.

Several of the Democrats running for president have rolled out partial or full blueprints for cutting emissions. Nearly all have said it is a top issue. Sanders has a history of prioritizing the climate crisis, and has previously suggested specific policy options, but he has yet to release his own proposal.
Climate change threatens 1 million plant and animal species on Planet Earth. Unfortunately, we have no Planet B. If we did many people would leave the politicians to their sinking ship.

Warmer oceans could lose one-sixth of their fish and other marine life by the end of the century leading to food security issues.

Global warming is a major risk to the economy.

The world's leading scientists have made it clear that to prevent the worst effects of climate change, there needs to be "rapid, far-reaching and unprecedented" changes to our energy systems. In simpler terms: We need to stop adding carbon dioxide to the atmosphere.

Federal action to curb greenhouse gas emissions in the U.S. seems unlikely in the near future. The Trump administration is going the other way, rolling back regulations to cut emissions.

"It feels to me like we're headed toward a decarbonized energy system," says Rolf Nordstrom, president of the Great Plains Institute, a nonprofit energy research group. "Now it's just down to how fast and what that energy mix looks like."

Despite the growing push to reach "zero carbon," there are big questions around whether these goals are possible and how much they would actually slow climate change. Here's an attempt to answer some of them.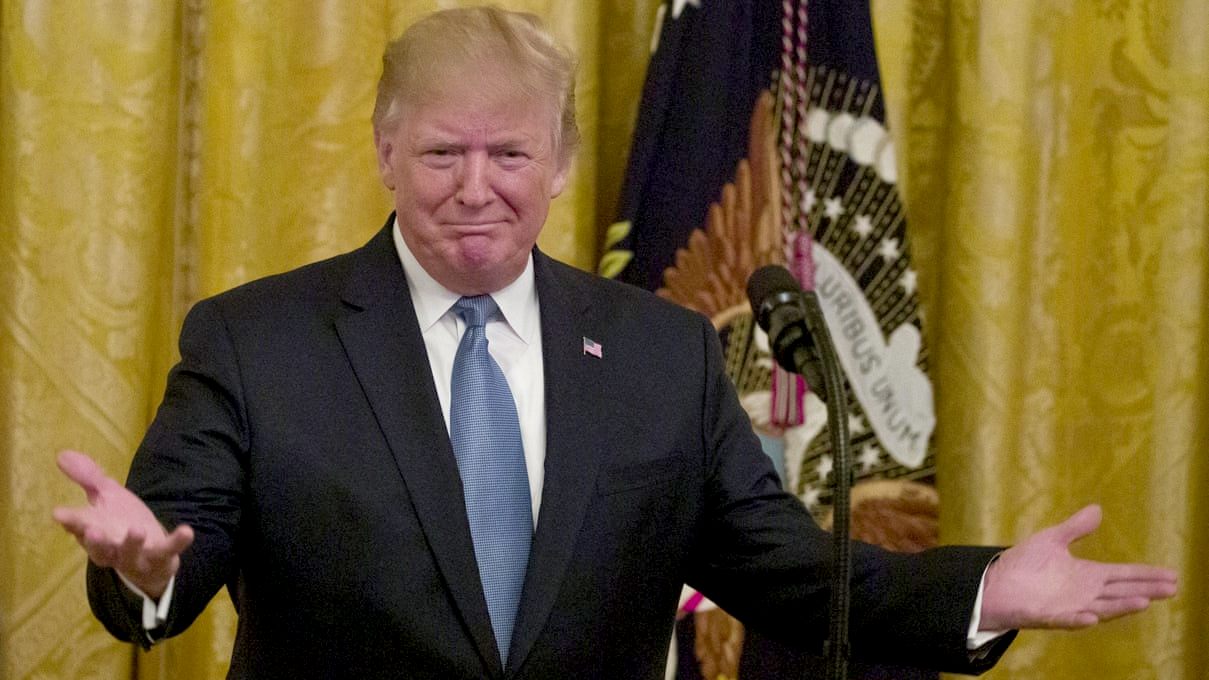 THE GUARDIAN JULY 8 2019 - Trump touts environmental record despite slashing climate regulations

In a White House speech, the president claimed clean air and water has been a priority but voters disapprove of his climate crisis handling

Donald Trump is arguing he has made America an environmental leader, despite moving to gut dozens of rules meant to safeguard clean air and water and rescinding every major US effort to stem the climate crisis.

In remarks delivered at the White House on Monday, Trump said protecting America's "incredible natural splendor" is a "shared obligation that brings us together today".

He claimed the environment has been a top priority since the start of his administration. "We want the cleanest air. We want crystal clean water, and that's what we're doing and that's what we're working on so hard," he said.

Although he never mentioned climate change, Trump said the US has reduced heat-trapping emissions more than any other nation. That is true, although the US remains the biggest historical emitter, contributing to the crisis. The country also increased its climate pollution last year, and a new analysis finds it is far behind on meeting the climate goals it once promised other countries.

The speech could be intended to temper Americans' concerns that his administration is ignoring the climate crisis. Polls show a majority of voters disapprove of his handling of the issue and Democrats competing for the presidential nomination have been rolling out proposals to cut pollution.

The 2020 presidential candidate and Vermont senator Bernie Sanders will this week propose the declaration of a climate emergency.

The US is the only nation in the world that will not back a global agreement to limit the heat-trapping pollution experts say is already linked with weekly disasters.

Trump routinely claims the US has the cleanest air and water in the world, which is not true. One analysis from Yale and Columbia universities ranks the US 27th for overall environmental performance. That analysis does, however, rank the US as No 1 for drinking water.

America has seen significant reductions in pollution since the 1970s but critics say the president is undercutting laws that have provided that progress.

A study from the Massachusetts Institute of Technology found that air pollution kills 200,000 Americans each year, more than those who die from auto accidents or gun violence.

Joe Goffman, a senior lawyer at the Environmental Protection Agency under Barack Obama, said Trump has been stalling environmental efforts since he signed an early executive order, in March 2017, to unwind Obama policies.

"From his very first weeks in office the president has made it a priority to go backwards in terms of air quality and climate protections," Goffman said.

In the last month, Trump's agencies have rescinded an Obama administration rule to limit the heat-trapping carbon dioxide and other pollutants from coal plants and granted a pollution waiver to allow year-round sales of gasoline with more ethanol.

Trump argued that the Obama administration would have let polluting countries off the hook while causing higher gasoline and electricity prices with its climate efforts.

"We are doing a very tough job and not everybody knows it," he said, touting efforts to clean up marine debris and hazardous waste sites and limit childhood lead exposure.

Andrew Wheeler, the EPA administrator, claimed the US is making "tremendous" progress under Trump. And the energy secretary, Rick Perry, called the event "the chance to tell a story that often doesn't get told", before quickly noting that the US is the top oil producer in the world.

Jill Tauber, the vice-president of climate litigation at Earthjustice, told the Guardian: "We are seeing climate progress. We do have important protections in place for clean air and clean water but it is in spite of, not because of, the efforts of his administration."

According to a recent Washington Post-ABC News poll, 62% of Americans disapprove of the president's handling of the climate crisis.

"On the one hand it's just so beyond the pale and completely absurd that he would have the gall to give a speech touting his environmental record," said Tiernan Sittenfeld, the senior vice-president of government affairs for the League of Conservation Voters.

"He must be seeing the polls showing that when it comes to the environment in particular, his polls are really in the toilet. Obviously that's for a very good reason."

Mustafa Ali, the vice-president of the National Wildlife Federation who was the environmental justice liaison under Obama, said: "The president lives in a billionaire bubble and is not dealing with the reality that most communities in our country are dealing with, especially our most vulnerable communities."

He said the electricity rule rollback, as well as weakened rules for pollution from cars and methane from oil and gas drilling, were particularly hurting communities of color.

Trump agencies have also instituted changes to the way they consider science and seen declines in enforcement of environmental crimes.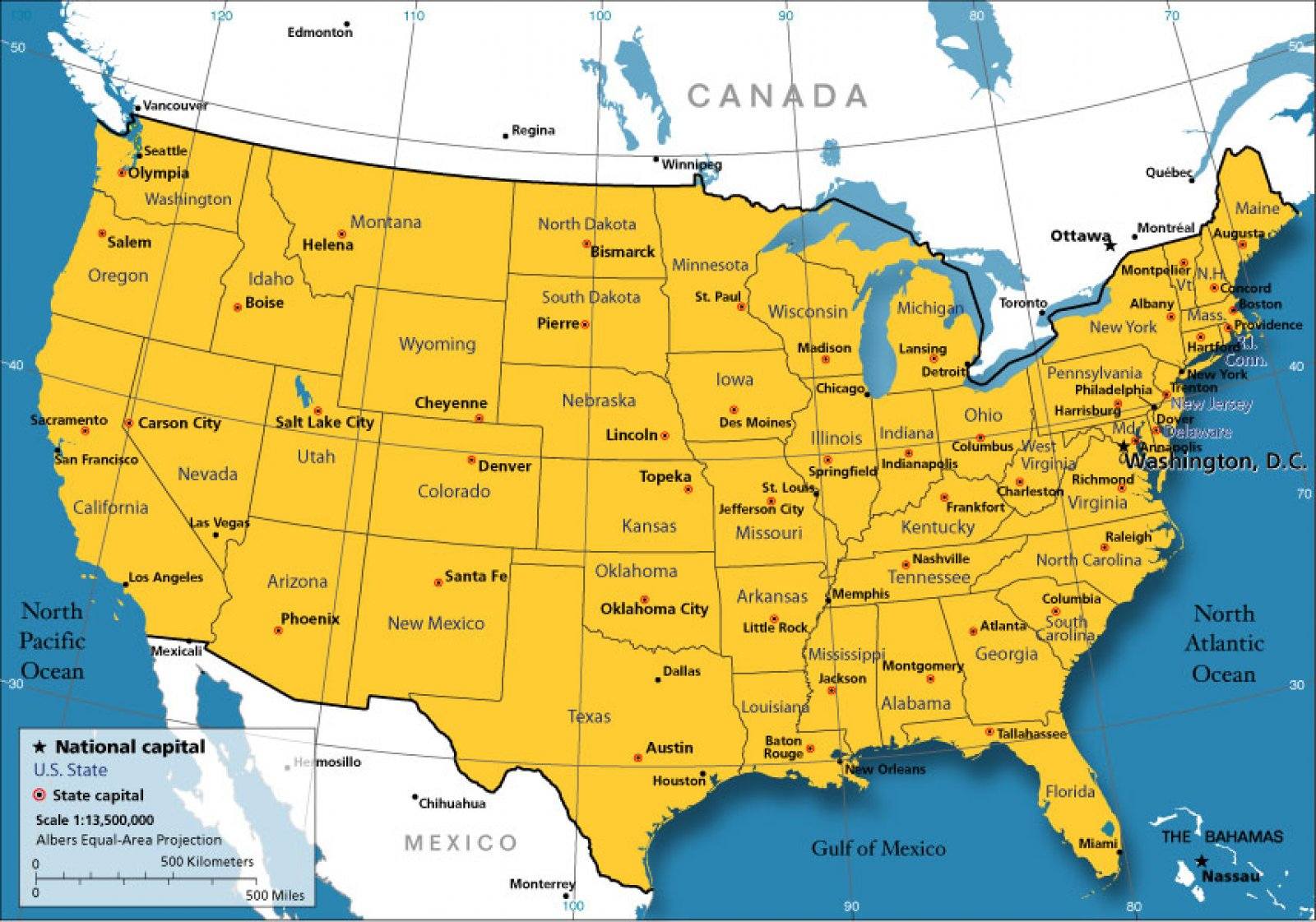 Who's doing it?

Four states — Hawaii, New Mexico, California and Washington — as well as Puerto Rico and Washington, D.C., are leading the decarbonization charge. All of those places have enacted legislation requiring that they get all of their electricity from renewable or clean sources by 2050 at the latest.

Nevada and Colorado went one step short of that, establishing a goal, not requirement, of 100% carbon-free energy by 2050.

At least 9 other states have proposed similar mandates or goals, according to EQ Research, a renewable energy consulting firm.
In the meantime, local governments in those states and others are taking action on their own.
More than 100 localities across the country — from Buncombe County, N.C., to Spokane, Wash. — have committed to getting all of their electricity from clean or renewable sources. The Sierra Club has a nifty list of cities making similar pledges.
Electric utilities, responding to customer demand (and eager to have support for new infrastructure), are getting in on the action, too. Xcel Energy, which serves eight U.S. states, announced its own 100% clean energy goal by 2050. A handful of other utilities have followed suit.
Business is also pushing for clean energy. The group RE100 says that about 180 private companies, including giants like Google, Nike, Facebook and Johnson & Johnson, have committed to 100% renewable goals.
Why are they doing it?

Climate change not only poses a risk to human health and life, but it could cost the U.S. economy hundreds of billions of dollars. State, city and business leaders aren't blind to that fact.

For more on what's at stake, see the United Nations' Intergovernmental Panel on Climate Change report. The threat is real.

Shortly before signing her state's carbon-free goal earlier this year, New Mexico Gov. Michelle Lujan Grisham pointed to that report, which said greenhouse gas emissions need to be sharply reduced by 2030 to avoid the worst effects of climate change.

"We are clear that we have basically a decade to begin to turn things around, and New Mexico needs [to] and will do its part," she said.

But the need to address emissions is hardly the only factor driving the wider shift toward renewable energy sources.

It's a convergence of social, economic, technological and political factors.

The latter being fueled, in no small part, by the inaction at the national level.

"There's the complete abdication of responsibility and leadership at the federal level, within the Trump administration and other leaders in Congress," says Jeff Deyette, the director of state policy in the climate and energy program at the Union of Concerned Scientists. He says cities and states are stepping up to fill that void and, in some cases, score political points.

The "blue wave" of last year's midterms saw cities and states elect lawmakers who vowed to take action on climate change. Environmental groups have been focusing their efforts on the state and local level.

Renewable energy is also becoming more affordable and more popular than fossil fuels in some places. A survey by Consumer Reports last year found that roughly three-quarters of respondents felt that increasing renewable energy is a worthwhile goal.

On the technical side of things, advancements are being made in energy storage and energy efficiency, making an eventual renewable energy grid more realistic.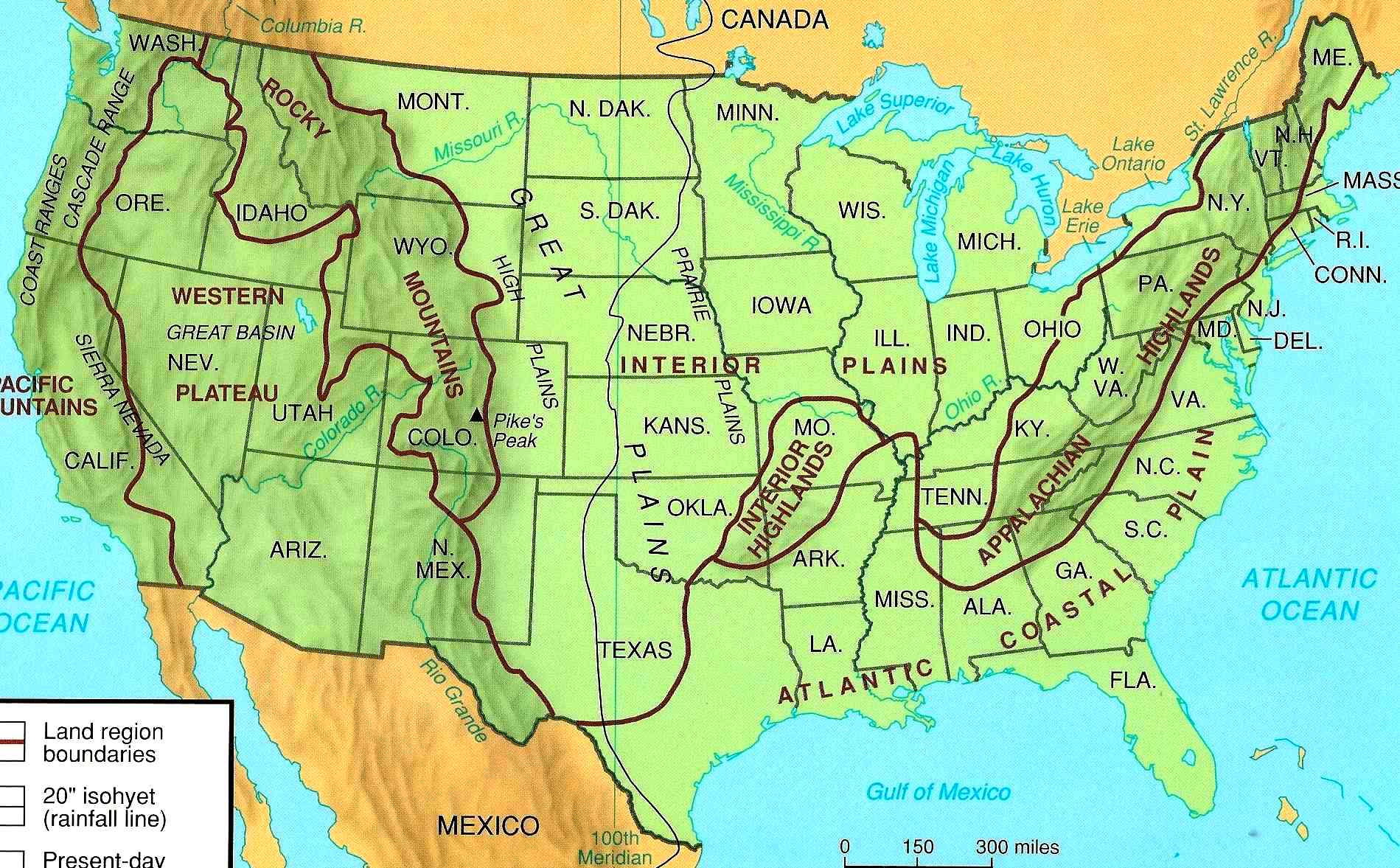 Is "zero carbon" even possible?

This depends on whom you ask. The point here is to have an open mind, for a closed mind will not think on the possibilities.

There are some energy analysts and academics, like Mark Jacobson, director of the Atmosphere and Energy Program at Stanford University, who say the answer is a resounding yes.

Jacobson drew up plans for 139 countries, showing how they could move to 100% renewable energy sources by 2050. He has done the same for all 50 U.S. states.

"It's technologically and economically possible," he says. "But there are social and political barriers."

Jacobson says it would cost the U.S. about $9.5 trillion to transition the country's entire energy economy — transportation, electricity, agriculture and industry — to carbon-free sources.

That may seem like a lot, he says, "but if you actually transitioned to clean, renewable energy for everything, you eliminate the health and climate costs [associated with fossil fuels]." In the long run, he argues, the country would be saving money.

Other energy analysts and academics aren't so sure that it's feasible to reach zero carbon, using only renewable energy, on an economy-wide scale. It's theoretically possible, they argue, but the challenges to get there are many.

Most cities, states and businesses are taking a narrower focus, aiming to just get all of their electricity from carbon-free sources (electric generation being only one piece of the greater emissions pie).

But that's not without challenges too.

Powering an entire state like California, with its nearly 40 million residents, with renewable or clean energy would require huge amounts of energy storage and massive infrastructure projects, which don't always have local support.

For cities or counties making renewable commitments, "many of them don't really have the tools to implement their vision," says Leah Stokes, an assistant professor of political science at the University of California, Santa Barbara. "Utilities often work at the state level, not the local level."

Atlanta is a good example of this.

Are 'zero carbon' goals the most effective way to cut greenhouse gases?

"All evidence points to no," says Sanya Carley, an associate professor at Indiana University's School of Public and Environmental Affairs. "The most efficient and cost-effective way to reduce carbon emissions would be directly pricing carbon and putting a price tag on the cost of those emissions."

In other words, something like a carbon tax would bake the environmental and health costs of greenhouse gas emissions into the existing market economy. It would be a rapid, large-scale way to incentivize reductions across all sectors.

A 2018 study by the Massachusetts Institute of Technology found that putting a price on carbon and returning the revenue from it to the public would reduce greenhouse gas emissions. The higher the cost, the greater the reductions.

Renewable energy goals or zero-carbon commitments are "less efficient, less cost-effective, but usually more politically feasible," Carley says.

That's why we're seeing more of them.
But they should still help slow climate change, right?
Every little bit helps.
But remember that most of these efforts are focused on cutting greenhouse gas emissions from the electric sector, and electricity generation accounts for less than a third of the country's total emissions. Transportation is now a larger source.

The other problem is scale.

"[Climate change] is a global problem, so that's the scale at which you'd want your solution," says Noah Kaufman, an economist at Columbia University's Center on Global Energy Policy. "In lieu of that, second best would be at the national level, but we've pretty much failed to pass any serious climate policy."

A piecemeal approach won't do it, he says.

The overall trends aren't great either. Greenhouse gas emissions continue to rise globally. In the U.S., carbon dioxide emissions are increasing as well, after several years of decline.

An annual statistical review from energy giant BP, released last week, found that global carbon emissions rose by 2 percent in 2018, the fastest growth in seven years.

"My guess is that when our successors look back at Statistical Reviews from around this period, they will observe a world in which there was growing societal awareness and demands for urgent action on climate change, but where the actual energy data continued to move stubbornly in the wrong direction," wrote Spencer Dale, BP's chief economist in a review of the findings.

He described it as "a growing mismatch between hopes and reality."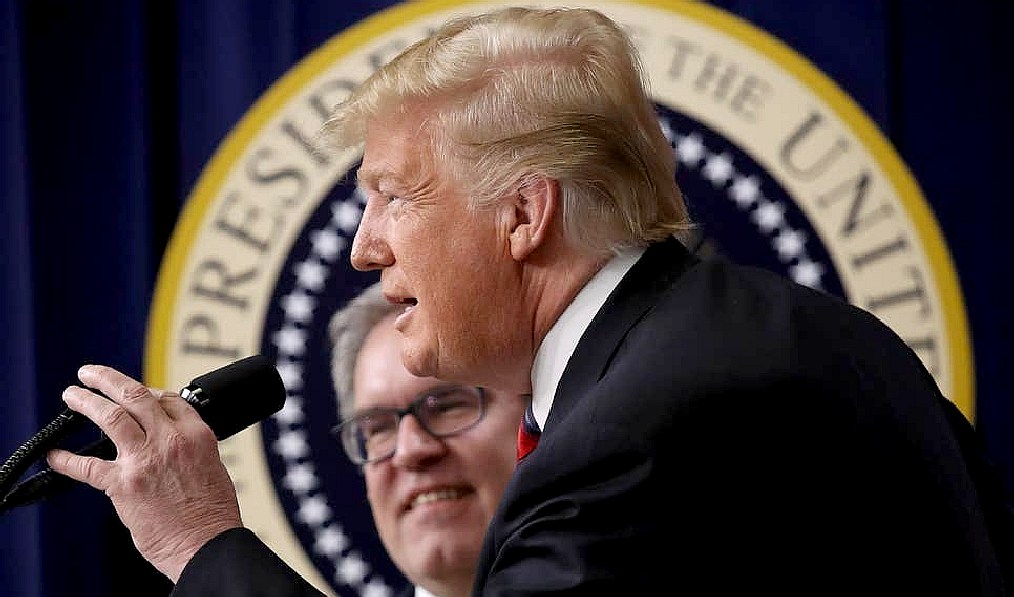 COAL MINERS - Come to think of it, President Trump looks as though his ancestors may have been coal miners. Let's hope he does not get all excited about this and start Tweeting.
The USA is one of the top twenty countries of the world that in our view would benefit from joining an Alliance to clean up our ocean, where President Trump values efficiency over bureaucracy and streamlining operations. Imagine then the complications of overseeing organized ocean cleaning with multiple agencies in every member country - all trying to justify their part, when one dedicated group would go straight to the heart of the matter - without communication delays, to work on the problem, rather than work on ways around the problem; leading us to the brink with acid seas and rising levels.
The President cares about children, hence must be gambling that climate change is bearable for the sake of not disrupting the US economy, that fish will adapt to acid and we don't need our ice caps, where sea levels are another thing to learn to live with. The crunch though is the plastic and toxin build up in our diets as food becomes scarce. Come on Mr President, you may be a billionaire, but what good will that do you if you go down in history as a Climate Criminal. You cannot buy an honourable legacy, you have to earn it - and we know that you like a challenge. Mission Impossible if you will, but your challenge is to persuade your countrymen that it is worth spending on renewables and saving the oil for a rainy day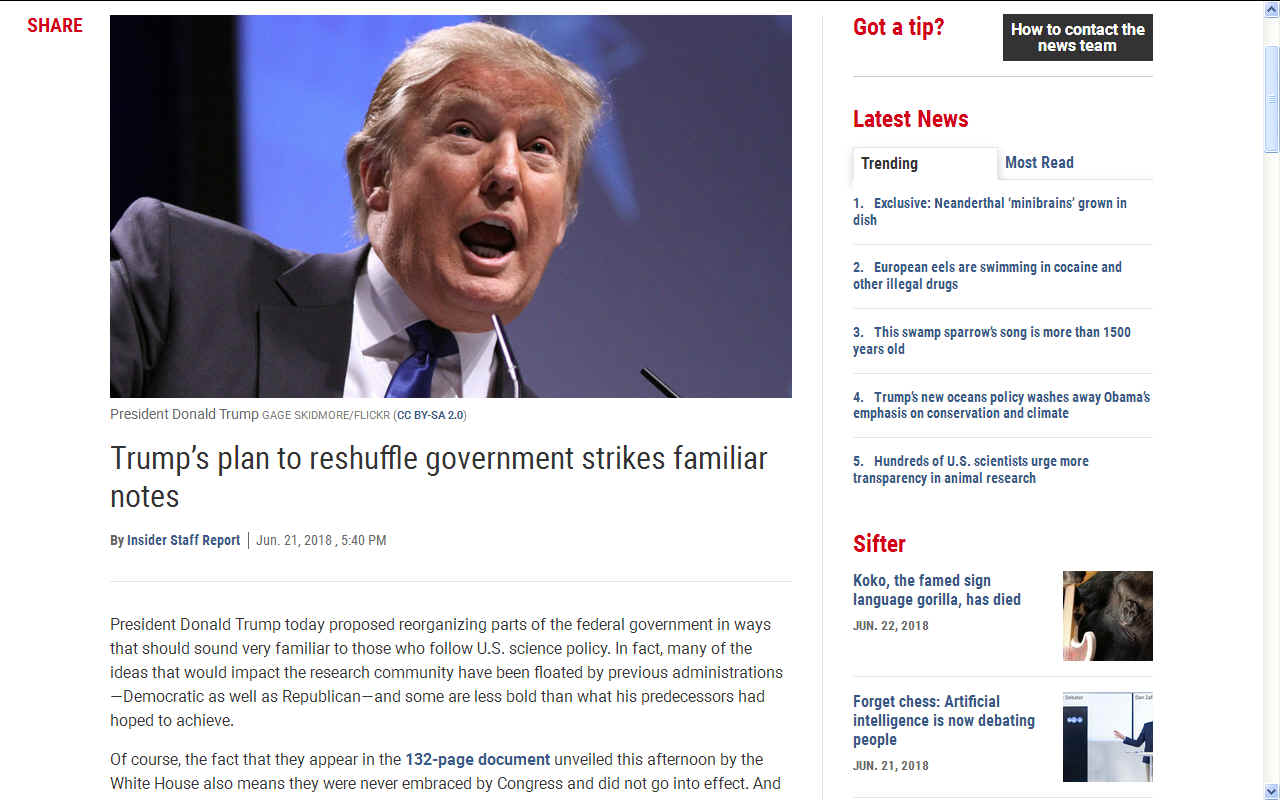 THE WHITE HOUSE - "Outdated technology, organizational constructs, and antiquated processes keep citizens and small businesses tied up in bureaucracy, leaving the American people and Federal workforce frustrated." These are the words of a reshuffle ordered by President Trump. We could not agree more. There must be a way to cut the red tape to get to the blue tape.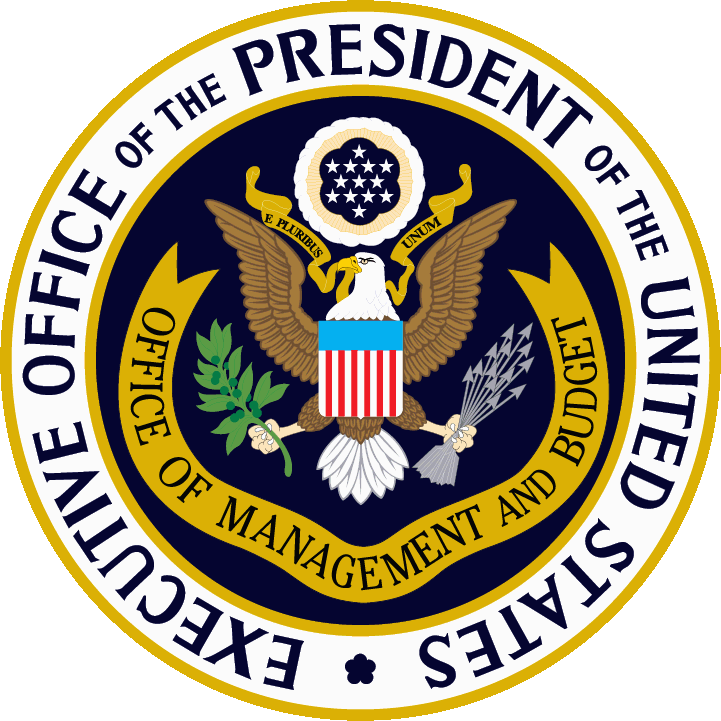 TRUMP'S US GOVERNMENT REFORMS 21 JUNE 2018

These changes appear in a 132-page document unveiled by the White House on 21-06-18. These proposals have not been embraced by Congress and many observers doubt Trump will fare much better in realizing his proposed changes than his predecessors.

The plan, labeled "Delivering Government Solutions in the 21st Century," would affect federal research agencies in ways great and small. Here are highlights from that document, along with some background and preliminary reactions from the communities most affected.

Move the Department of Commerce's National Marine Fisheries Service (NMFS) to the Department of the Interior (DOI), and merge it with DOI's Fish and Wildlife Service (FWS). This idea, which has been proposed in various forms over the past few decades, is aimed at streamlining the administration of two major environmental laws - the Endangered Species Act and the Marine Mammal Protection Act. The White House notes that the "jurisdictions under these two laws is generally split based on habitat type, with FWS covering species that spend time on land or in inland fisheries, while NMFS covers mostly marine species. This split jurisdiction … creates a confusing permitting landscape for project proponents." Dam operators, for example, often have to seek permits from both agencies to operate their facilities.

In 2012 President Barack Obama proposed a more sweeping version of this merger, which would have involved moving NMFS as well as its entire parent agency, the National Oceanic and Atmospheric Administration, from the Commerce Department to DOI. But the effort never gained headway.
| Rank | Country | GDP (billions of US$) | % of World GDP | $M contribution |
| --- | --- | --- | --- | --- |
| . | . | . | . | . |
| 1 | European Union | $18,399 | 23.7% | 1.840 |
| 2 | United States | $17,416 | 22.4% | 1.742 |
| 3 | China | $10,355 | 13.3% | 1.036 |
| 4 | Japan | $4,770 | 6.1% | 0.477 |
| 5 | Germany | $3,820 | 4.9% | - |
| 6 | France | $2,902 | 3.7% | - |
| 7 | United Kingdom | $2,848 | 3.7% | 0.285 |
| 8 | Brazil | $2,244 | 2.9% | 0.224 |
| 9 | Italy | $2,129 | 2.7% | 0.212 |
| 10 | Russia | $2,057 | 2.7% | 0.206 |
| 11 | India | $2,048 | 2.6% | 0.205 |
| 12 | Canada | $1,839 | 2.33% | 0.184 |
| 13 | Australia | $1,531 | 1.94% | 0.153 |
| 14 | Saudi Arabia | $1,358 | 1.72% | 0.136 |
| 15 | South Korea | $1,305 | 1.66% | 0.130 |
| 16 | Mexico | $1,259 | 1.60% | 0.126 |
| 17 | Indonesia | $868 | 1.10% | 0.087 |
| 18 | Netherlands | $853 | 1.08% | - |
| 19 | Argentina | $637 | 0.80% | 0.063 |
| 20 | South Africa | $349 | 0.40% | 0.035 |
| . | . | . | . | . |
| | | | 76.59% | $7,181,000 |
The World needs a Climate Action Plan to coordinate the efforts of member nations that in turn will benefit each other as the temperature of planet earth begins to cool down.
THE G20 (HOT) HEADS OF STATE A - Z
| | | | | |
| --- | --- | --- | --- | --- |
| ARGENTINA | AUSTRALIA | BRAZIL | CANADA | CHINA |
| EUROPEAN UNION | FRANCE | GERMANY | INDIA | INDONESIA |
| ITALY | JAPAN | MEXICO | RUSSIA | SAUDI ARABIA |
| SOUTH AFRICA | SOUTH KOREA | TURKEY | UNITED KINGDOM | UNITED STATES |
The G20 (or G-20 or Group of Twenty) is an international forum for governments and central bank governors from:
Argentina
Australia
Brazil
Canada
China
European Union
France
Germany
India
Indonesia
Italy
Japan
Mexico
Russia
Saudi Arabia
South Africa
South Korea
Turkey
United Kingdom
United States 
Founded in 1999, the G20 aims to discuss policy pertaining to the promotion of international financial stability. It seeks to address issues that go beyond the responsibilities of any one organization.
The G20's membership does not reflect exactly the 19 largest national economies of the world in any given year. The organization states:

"In a forum such as the G20, it is particularly important for the number of countries involved to be restricted and fixed to ensure the effectiveness and continuity of its activity. There are no formal criteria for G20 membership and the composition of the group has remained unchanged since it was established. In view of the objectives of the G20, it was considered important that countries and regions of systemic significance for the international financial system be included. Aspects such as geographical balance and population representation also played a major part."
ABOUT GROSS DOMESTIC PRODUCT
Gross domestic product (GDP) is the market value of all final goods and services from a nation in a given year. Countries are sorted by nominal GDP estimates from financial and statistical institutions, which are calculated at market or government official exchange rates. Nominal GDP does not take into account differences in the cost of living in different countries, and the results can vary greatly from one year to another based on fluctuations in the exchange rates of the country's currency. Such fluctuations may change a country's ranking from one year to the next, even though they often make little or no difference in the standard of living of its population. The figures quoted here are only a guide.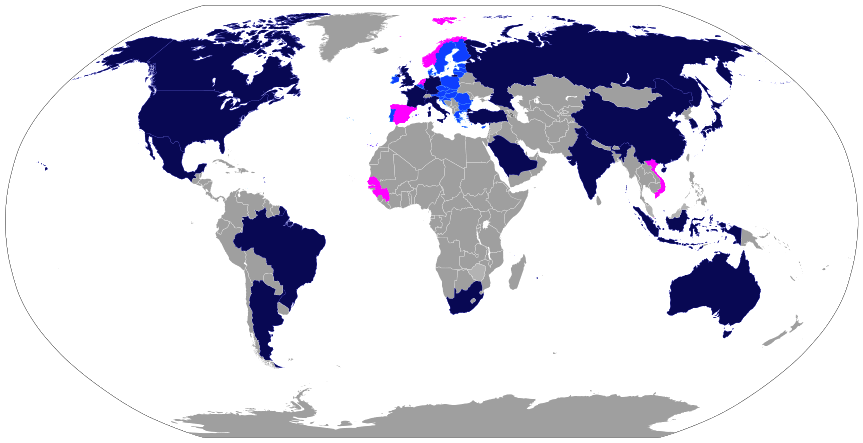 ONE WORLD ONE OCEAN - In the role of guardians of your geographical regions, there is also a responsibility to develop the blue economy for the international circular economies that a sustainable society requires if we are not to burn planet earth out.
STATE LEADERS
Mauricio Macri
Malcolm Turnbull
Michel Temer
Justin Trudeau
Xi Jinping
Emmanuel Macron
Angela Merkel
Narendra Modi
Joko Widodo
Giuseppe Conte
Shinzō Abe
Enrique Peña Nieto
Vladimir Putin
Salman, King
Cyril Ramaphosa
Moon Jae-in
Recep Tayyip Erdoğan
Theresa May
Donald Trump
Donald Tusk
https://www.theguardian.com/environment/2019/jul/08/climate-crisis-sanders-ocasio-cortez-emergency
https://www.theguardian.com/us-news/2019/jul/08/donald-trump-climate-speech-environment
http://www.sciencemag.org/news/2018/06/trump-s-plan-reshuffle-government-strikes-familiar-notes