The ETS highlighted how embracing innovation in technology and low carbon solutions can save money and delivers genuine benefits to businesses, cities and communities. The ECO TECHNOLOGY show that is hosted at the superb Amex Stadium in Brighton was the place to see what is new and up and coming in 2015.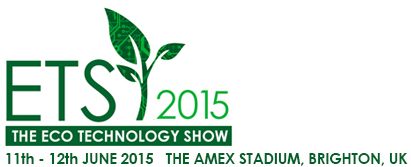 ECO TECH SHOW EXHIBITORS A to Z
BMW CHANDLERS @ BRIGHTON & HAILSHAM - ECO TECH SHOW STOPPERS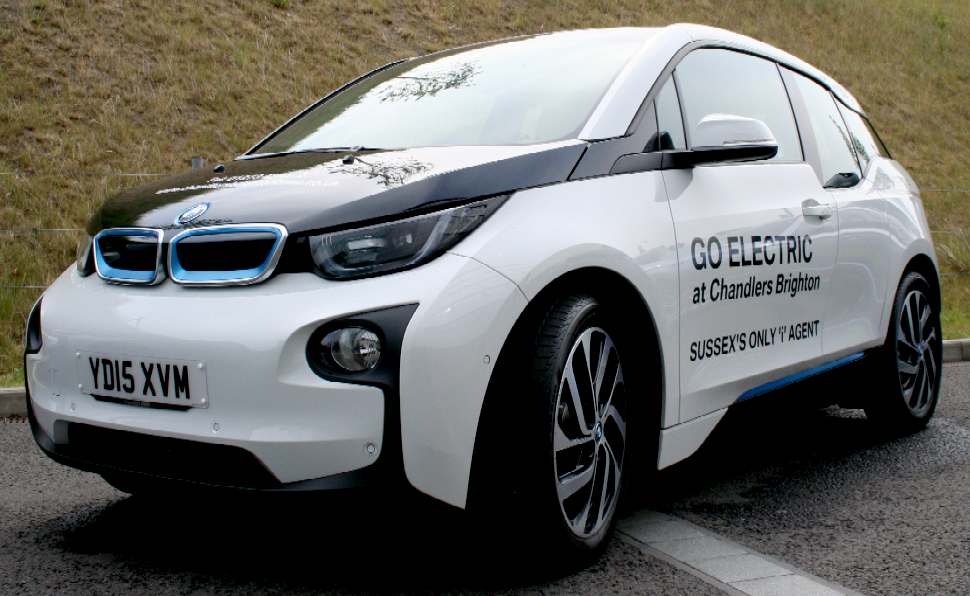 CHANDLERS BRIGHTON - The BMW i3, previously known as the Mega City Vehicle (MCV), is a five-door urban electric car developed by the German manufacturer BMW. The i3 is part of BMW's "Project i" and was launched as a new brand, BMW i. The i3 is BMW's first zero emissions mass-produced vehicle due to its electric powertrain. BMW is the first company to launch a volume production vehicle on the market featuring carbon-fiber-reinforced polymer to improve the vehicle's energy consumption. Chandlers BMW dealers in Sussex were exhibiting the i3 and i8 at the Amex Stadium. These pictures cannot describe the feel of quality and style that these cars have. You should arrange a test drive to really appreciate eco motoring at its best. As to the styling, our designer explained to us how difficult it is to make a compact car look snazzy. Inevitably the aerodynamics will suffer. BMW appear to have made up for this with large diameter wheels, to lower the rolling resistance.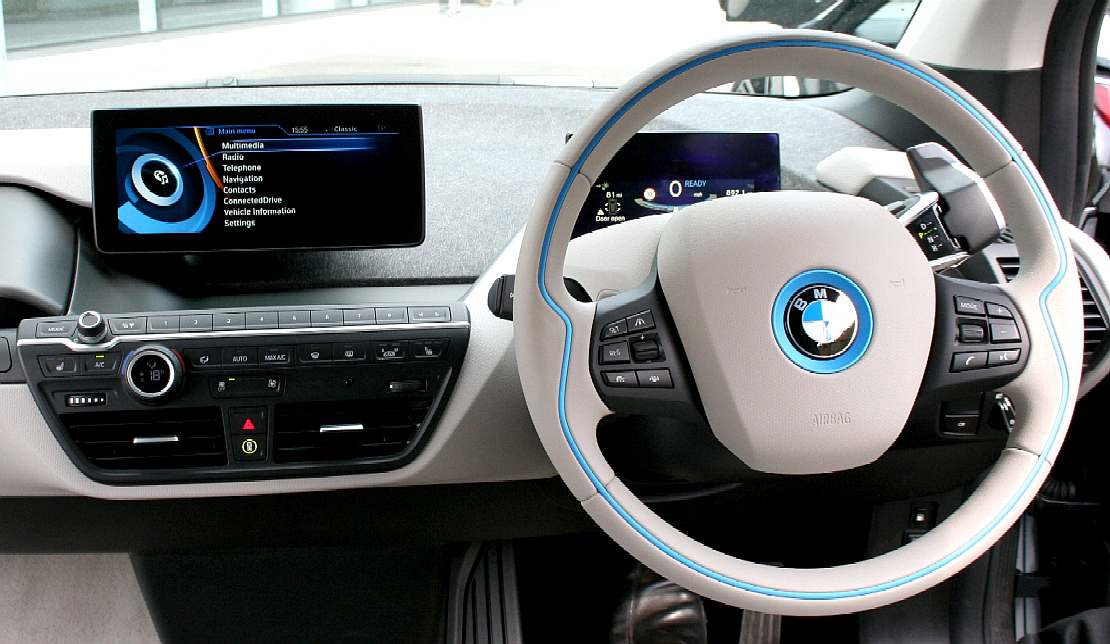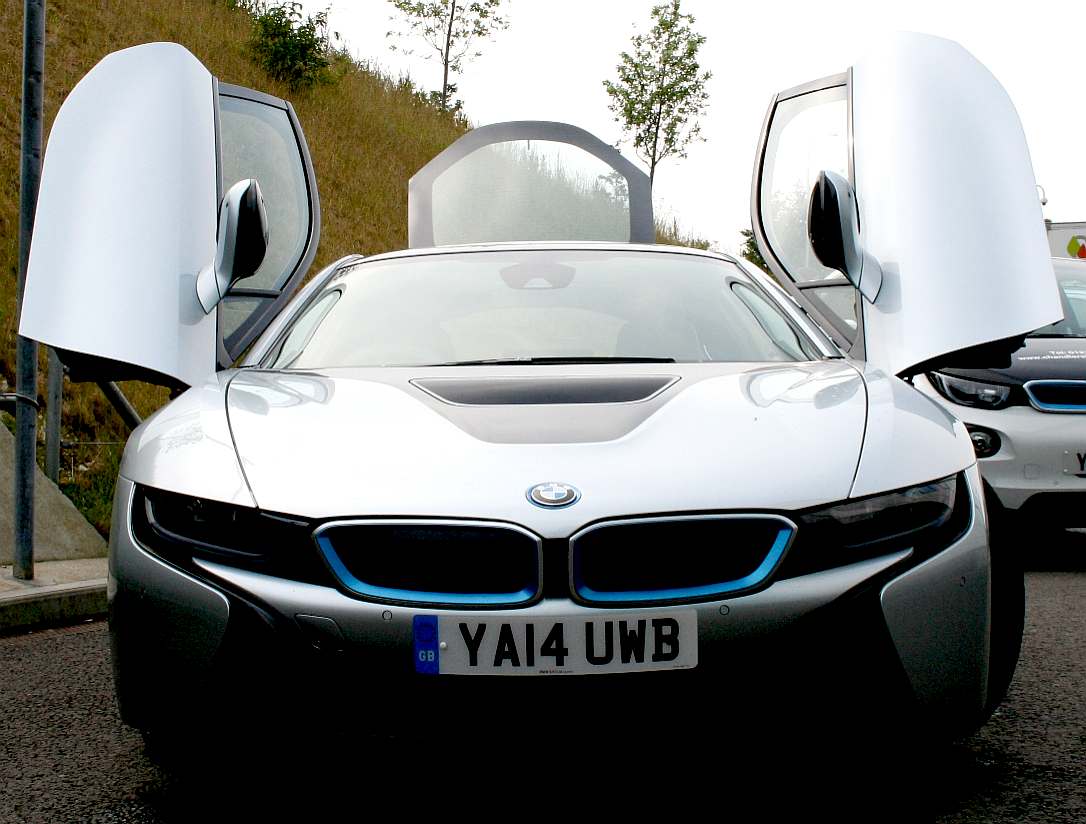 CHANDLERS HAILSHAM - The BMW i8, first introduced as the BMW Concept Vision Efficient Dynamics, is a plug-in hybrid sports car developed by BMW. The 2015 model year BMW i8 has a 7.1 kWh lithium-ion battery pack that delivers an all-electric range of 37 km (23 mi) under the New European Driving Cycle (NEDC). Under the United States Environmental Protection Agency (EPA) cycle, the range in EV mode is 24 km (15 mi) with a small amount of gasoline consumption.

The BMW i8 can accelerate from 0–100 km/h (0 to 60 mph) in 4.4 seconds and has a top speed of 256 km/h (159 mph). The i8 has a fuel efficiency of 2.1 L/100 km (134.5 mpg-imp; 112.0 mpg-US) under the NEDC test with carbon emissions of 49 g/km. EPA rated the i8 combined fuel economy at 76 equivalent (MPG-equivalent) (3.1 L gasoline equivalent/100 km; 91 mpg-imp gasoline equivalent). Not bad for such a stylish ride.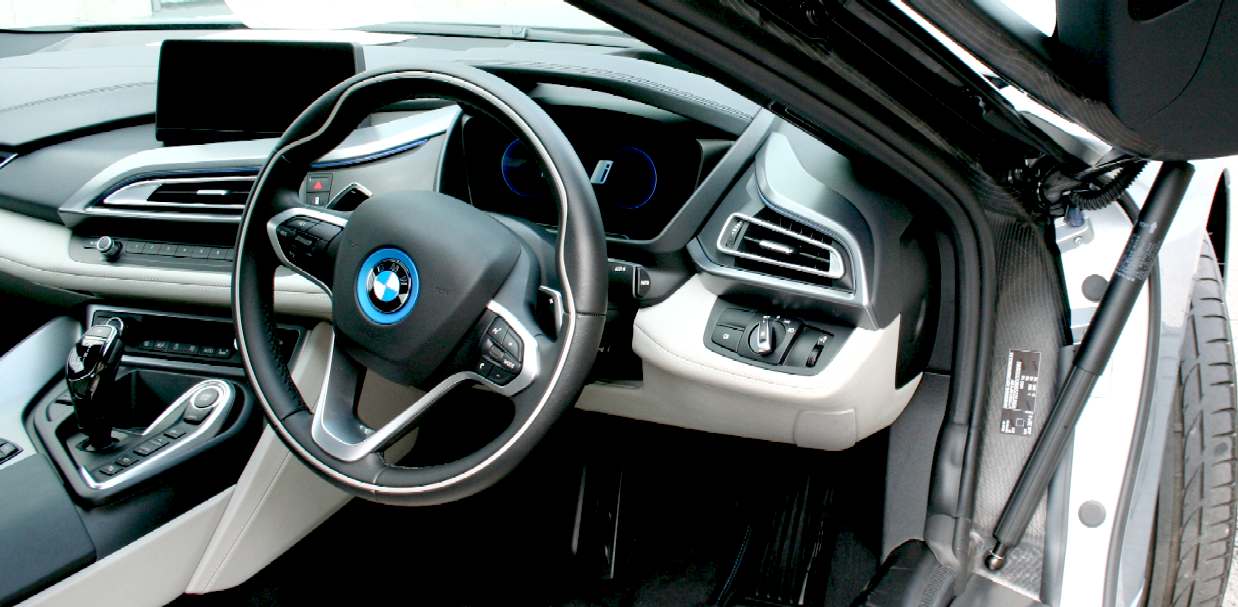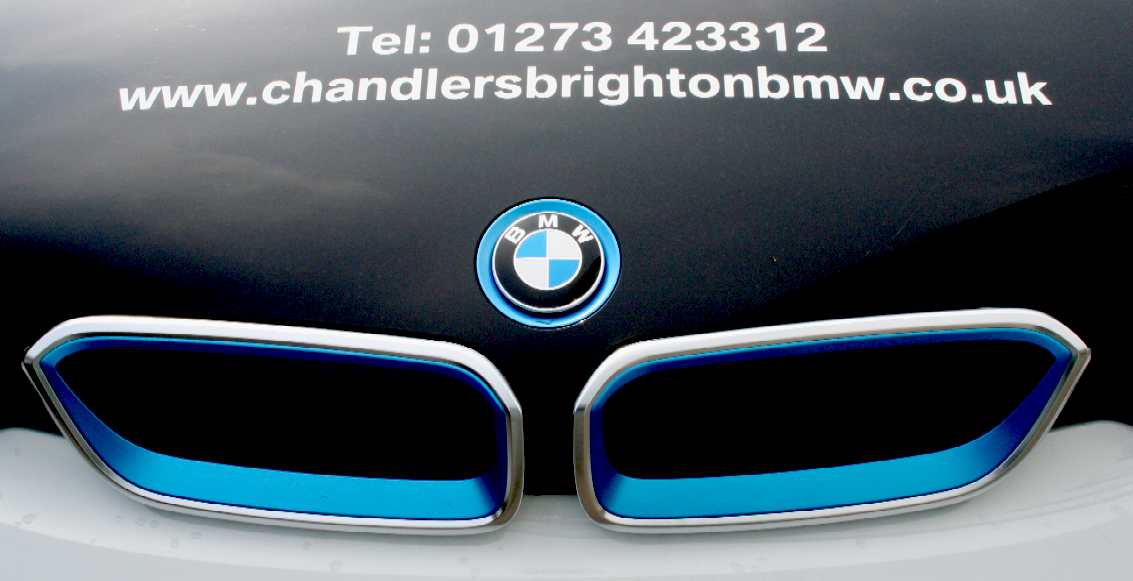 THURSDAY EXHIBITION TALKS - 11 JUNE 2015

The organizers published these speakers for Thursday 11th June 2015. There were three main seminar areas, with Seminar Area 3 being the home for Innovation Zone Speakers.


Seminar Area 1 - Panel discussions, policy & Energy Management 


10.00-10.30 Keynote: How do we engage consumers more?
Hear the latest findings from EST's UK Pulse research which looks at consumer attitudes towards renewables & energy efficiencyPhillip Sellwood, CEO, Energy Saving Trust

10.40-11.10 Case Study: Your Energy Sussex, making energy work for residents and businesses

Learn how YES is developing a pipeline of energy projects in liaison with businesses & community organisations across Sussex.

Colin James, Director of Place, West Sussex County Council

11.20-11.50 Low Carbon economic growth in the Greater Brighton Region

Hear about the ambitions of the Greater Brighton Region for low carbon economic growth

Councillor Warren Morgan, Leader, Brighton & Hove City Council

12.00-12.30 More for Less: Keeping the cost of ESOS compliance down and the benefits up.

Find out how companies across the UK are keeping the cost of ESOS compliance low, yet are managing to get real benefits from a better understanding of their energy use and the opportunities to improve.

Louise Quarrell, Director Carbon Smart & Approved ESOS Lead Assessor and Ben Murray, Managing Director Carbon Smart

12.40-13.10 Panel Discussion: Electric vehicle car clubs & renewable energy solutions

What are the opportunities for linking EVs, community car clubs & on-site renewables?

Robert Llewellyn, Actor & Electric Vehicle advocate, & guests


13.10-13.30 Lunch break


13.30-14.00 Case Study: How to make the business case for investing in energy efficiency

Discover how to sell the case for energy efficiency to your Directors, how to measure return on investment and what interventions have the best paybacks

Julie Allen, Energy Manager, Nandos Restaurants

14.10-14.40 What are the common ESOS topics people are asking the Environment Agency?

Find out whether your organisation needs to comply with the ESOS mandatory energy assessment scheme, & the audits it requires on energy use in buildings, industrial processes & transport

Jo Scully, Project Manager, Environment Agency

14.50-15.20 The Low Energy Company opportunity

Learn how by becoming a LEC organisations can reduce their energy consumption, by strategically embedding energy efficiency training within organisational practices
LEC concept by Rupert Redesdale, CEO, EMA

Tim Beasley, Director, Synergy Energy Services Ltd

15.30-16.00 Case Study: Being an Energy Manager in public & private sector

Understand how the role of an energy manager differs in the private & public sector and what are the challenges, & solutions, in each environment
Roger Low, Chartered Energy Manager, Defence Infrastructure Organisation (Ministry of Defence)

16.10-16.40 Case Study: How to encourage employee behaviour change

Hear how one organisation has approached getting their employees' buy-in to adopt energy efficiency & new technologyRichard Felgate, Director of Enstrat & former
Head of Energy Management at Mitchells & Butlers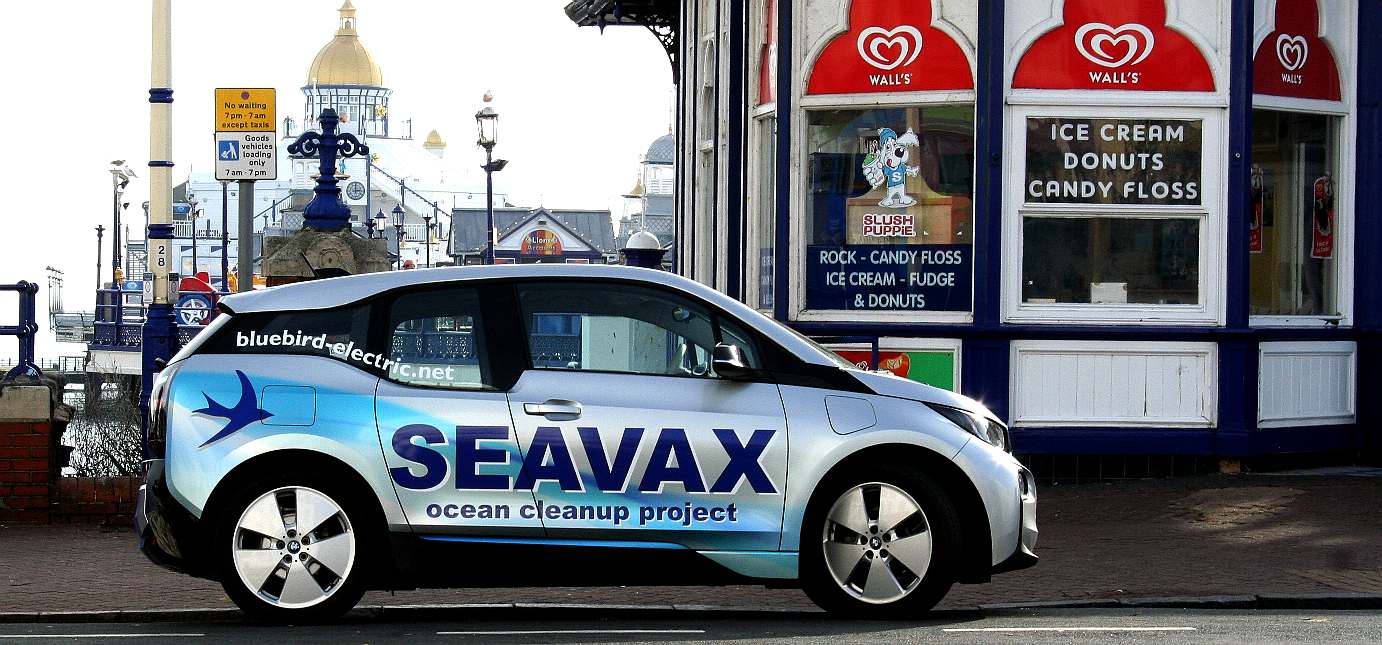 SEAVAX - Here is a lovely i3 with range extender. This is an economical support vehicle for the SeaVax crew, seen here in ocean livery, parked by Eastbourne Pier on the south coast of England. By all reports this BMW is not only kind to your wallet, but also glides like the blue bird on its flanks. Copyright photograph © 1 November 2016 Bluebird Marine Systems Ltd. You will need the permission of BMS Ltd to reproduce this picture.
Seminar 2 – Design & New Build 


10:00-10:30 Case Study: Passivhaus design at Hadlow College

Hear about the award winning Passivhaus design of the visitor centre at Hadlow College, it's energy performance and occupant feedback

James Anwyl, Director, EUROBUILD

10.40-11.10 Case study: Fabric First, closing the gap between design intent and reality using thermal imaging

Find out how thermal imaging was used by ScanTherm to help architects Cedar Rydal close the performance gap between design intent and as-built housing on their Windmill Close project

Mark Colyer, MD, Scantherm Surveys
Mark Watts, MD, Cedar Rydal architects

11.20-11.50 Case Study: Domestic Eco-Renovation - Successes & challenges from local examples

Find out the keys to success for your energy efficiency retrofit project based on recent case studies

Alex Hunt, Partner, Bright Green Homes

12.00-12.30 Case Study: Boxing clever

Hear how shipping containers can add diversity to our built environment through interim use

Ross Gilbert, Director, QED Property

12:40-13.10 Case Study: Combining low cost measures with household behaviours to reduce energy use in affordable housing

Hear how Worthing Homes' multi award winning RELISH energy efficiency initiative has saved their residents money and made their homes more comfortable

Robin Roberts, Director, Worthing Homes


13.10-13.30 Lunch break


13.30-14.00 Custom Build your home 

Understand the growth of Custom Build, the legislative background and what this will mean for improving standards in housing standards from an ECO and thermal perspective

Tim Doherty, Director, Dobanti Chartered Surveyor

14.10-14.40 How can we drive uptake of energy efficiency? 

Hear what we have learned from government initiatives, how data & insight can result in cost-effective targeting and how working with communities, businesses, social landlords and local authorities can be a route to new audiences.

Damian Coulton, Commercial Director, Energy Saving Trust

14:50-15:20 "Bridging the performance gap" – understanding predicted and actual building operational energyOperators of commercial and public buildings need clear and realistic guidance on targeting energy running costs for their properties and on the potential savings available

Andy Lewry, Principal Consultant, BRE

15.30-16.00 Case Study: How to achieve an affordable Code 5 home

Learn how building a home that meets stringent environmental performance criteria can be made affordable

Nicola Thomas, Director, Arch Angels Architects

16.10-16.40 Case Study: ESOS – the benefits of going beyond complianceUnderstand that rather than being a burden, an ESOS audit can open up a range of energy and cost saving opportunities

Sandra Norval, Head of Environment, Thameslink


Seminar Area 3 – Innovation, water efficiency & finance solutions


10.00-10.15 Innovation solution – ReCharge CargoReCharge is a pint-sized courier firm with some big ideas for more efficient logistics in our congested city-centres.

Sam Keam, Founder, ReCharge Cargo

10.20-10.35 Innovation solution - Q-bot

Q-Bot develops intelligent tools for the built environment that turn difficult, disruptive and dirty jobs into clean, efficient and safe processes.

Tom Lipinski, Managing Director, Q-Bot

10.40-10.55 Innovation solution - KnowNow Information
KnowNow Information helps organisations create additional value in real time from their assets and everyday activities through internet connectivity.

Chris Cooper, Director, KnowNow

11.00-11.15 Innovation solution – Hales Water TurbinesHales Water Turbines Ltd is a newly formed R&D company specialising in Renewable Marine Energy, which has several patents on various forms of tidal stream turbine and is very active in pushing the potential of an extremely rugged tidal stream turbine design.

Rodney Bromfield, Director, Hales Water Turbines & Senior lecturer at Kingston University

11.20-11.35 Innovation solution - The Solar Cloth Company

The Solar Cloth Company is the UK's leading innovator in the highly lucrative solar power market, including solar power coverings for non-load bearing roofs and car parking.

Christopher Jackson, Innovation Director, The Solar Cloth Company

11.40-11.55 Innovation solution - CorkSol

More and more painters and plasterers are discovering the advantages of spray cork for inside or outside use and take this solution into their product range. In addition, spray cork is also a suitable product for companies who use industrial coatings and are looking to make buildings more energy efficient.
Jonathan Ward, Founder, CorkSol

12.00- 12.15 Innovation solution - Upside Energy

The electricity grid is under stress. At peak times, it runs dangerously short of capacity. In order to meet demand, it turns on all its oldest, dirtiest, most expensive power stations. It'd be a lot cheaper and greener to pay people to not use electricity at peak times. That's what Upside does.Graham Oakes, Director, Upside Energy

12.20-12.35 Innovation solution - Aquapax

As winner of the International QATRAH 'Best Bottled Water' award, Aquapax is all about facilitating a positive change in an industry with a questionable environmental record. Aquapax allows you to drink water on the go, without the fears associated with plastic toxins or breaking glassNeil Tomlinson, Founder, Aquapax

12.40-13.10 'Why ESCo Services Are A No Brainer'What are the financing options for ESCo services and how do you go about securing them?Diana Davidson, Managing Director, Vertemis


13.10-13.30 Lunch break


13.30-14.00 The electric company car?

Learn about the business case for EVs in business and commercial EV infrastructure

Mike Potter, Managing Director, Fleetdrive Electric

14.10-14.40 Credit where Credit is due

Think you don't qualify for R&D tax relief? Think again, you'd be surprised what activities and costs qualify for this Government backed scheme. We have been helping SME's with their claim for many years £46,000 on average– come and listen to find out moreJane Ollis, Managing Director, RIFT R&D

14.50-15.20 Case Study: The RBS Innovation Gateway

Find out what RBS is offering SMEs, innovators and inventors with pioneering ideas on resource efficiency the opportunity to test their ideas on RBS property.

Neil Woollam, Energy and Innovation Manager, RBS 

15.30-16.00 Understand what support Innovate UK provides to low carbon projects and businesses

Understand what funding schemes & competitions Innovate UK is running to help support & finance low carbon projects & businesses

Nick Cliffe, Lead Technologist, Innovate UK

16.10-16.40 Case Study: Water saving solutions in a school
Hear about the range of water saving interventions that were installed in a Sussex school and the benefits that arose

Ben Earl, Water Efficiency Manager, Southern Water


FRIDAY EXHIBITION TALKS - 12 JUNE 2015

There will be three main seminar areas, with Seminar Area 3 being the home for the Innovation Zone Speakers.
The organizers will be updating their pages as new speakers are confirmed so keep an eye out for the latest news.

Seminar Area 1 - Panel discussions, policy & Energy Generation

10.00-10.30 Keynote: Where now post election?

Hear what are the likely impacts & opportunities for the environmental industries as a result of the General Election?

Matthew Farrow, Executive Director, Environmental Industries Commission

10.40-11.10 Energy management systems – the key to improving energy efficiency 

Learn the benefits of a structured approach to implementing an energy management system

Andy Lewry, Energy Consultant, BRE

11.20-11.50 Renewable Heat – what are the solutions?

Find out how the RHI Schemes work and what are the most energy efficient solutions available

Patrick Allcorn, Head of Scheme, Domestic RHI, DECC

12.00-12.30 Case Study: Care without Carbon

Hear how one NHS Trust has developed a 7 step approach to improving patient wellbeing whilst reducing carbon emissions

Susie Vernon, Head of Environment, Sussex Community NHS Trust

12.40-13.10 Case studies: How to unlock the potential of rooftop solar?

With DECC policy being more favourable to rooftop solar than ground mounted, how do we unlock the potential of the 1.8M commercial properties in the UK?  
Chaired by Panel Gaynor Hartnell, former Chief Executive, Renewable Energy Association    
Adam Hewson, Co-founder and Director, ReEnergise Finance
Will Cottrell, Chair, Brighton Energy Co-op

Christopher Jackson, Director, the Solar Cloth Company


13.10-13.30 Lunch break


13.30-14.00 Case study: Benefits of Energy Performance Contracting

Find out why increasing numbers of organisations are using Energy Performance Contracting as a way of making energy efficiency improvements & paying for them through the savings that result

Alexandra Hammond, Associate Director, Sustainability, Essentia, Guy's and St Thomas' NHS Foundation Trust

14.10-14.40 Case study: District Heating – lessons from Denmark

Danish communities installed significant district heating in the 1970s as a response to the Oil Crisis, hear what the benefits are and what we can apply in the UK

Ian Manders, UK Policy Advisor, Danish Embassy

14.50-15.50 Panel discussion: Where now with energy efficiency?

Debate on what has worked in energy efficiency over the last 10 years, & how we can do things differently in the future
Panel Chaired by Caroline Lucas, MP, Brighton Pavilion
Matthew Farrow, Executive Director, Environmental Industries Commission
Mike Walker, Head of sustainable energy using product policy, DECC
Christoph Harwood, Director, Marksman Consulting

Alex Hunt, Director, The Green Building Partnership

Seminar Area 2 – Energy Efficiency & Retrofit

10:00-10:30 Energy Efficient Cooling Strategies – Trying to save the UK 1% on its electricity bill

Did you know over 1% of the UK's electricity is spent on cooling? Evaporative cooling is an energy efficient alternative to air conditioning, which can reduce cooling costs by 90%. Find out about specific installations of evaporative cooling and where the low hanging fruit exists.

Alan Beresford, Managing Director, Eco Cooling

10.40-11.10 The Energy Express retrofit solution

Find out about the Energy Express solution which brings a 'Kwik Fit' approach to domestic retrofit

Philip Strong, Managing Director, Energy Express

11.20-11.50 Achieving part L and beyond in the face of regulatory uncertainty

Understand how to meet Building Regulations part L on the "Conservation of fuel and power" in a changing regulatory backdrop

Martin Russell Croucher, Consultant & ex Director Sustainability, RICS

12.00-12.30 Case Study: Prioritising and managing energy improvement projects to deliver maximum ROI

Understand the use of tailored software systems to create a holistic energy plan, and how to engage people in the process – from senior management to operational personnel

George Richards, Business & Innovations Manager, JRP Solutions

12:40-13.10 ISO 50001, the Energy Management System
What is a Management System, what is the certification process and how do businesses benefit?

Mark Gouldstone, UK Client Propositions Manager, Small Business Sector, BSI Group

13.10 – 13.30 Lunch break

13.30-14.00 A guide to ESOS – The Energy Savings Opportunity Scheme
Hear how this mandatory energy scheme can benefit your organisation and reduce your energy spend

Dr Kyle Crombie, Senior Consultant, Green Energy Consulting

14.10-15.10 Taiwan Green Products Presentation
We are pleased to have been chosen to feature some of the leading low carbon innovations coming from Taiwan including:

14.10-14.30 eTouch Technology - Versatile FPC (Fibre Particulate Composite) Products

14.30-14.50 Delta Electronics - Lightweight Qumi HD Pocket Projector

14.50-15.10 Paper Shoot Technologies – Creating a New Green Standard for Electronic Products Across the World

Members of the Taiwanese Green Products Delegation, Taiwan Trade Centre

15.20-15.50 Case Studies: The benefits of retrofitting domestic buildings

Speakers from the Eco Open Houses network will talk about their experience of installing energy efficiency measures in their homes

Members of Transition Town Worthing

Seminar Area 3 – Innovation, behavioural change & waste

10.00-10.15 Innovation solution – Planet Feed

The Planet Feed idea is simple: we're going to take the food waste that we throw away every day in our communities and we're going to transform locally it into fantastic, natural fertiliser products that will support better local growing. So could this actually be the most genuinely sustainable solution for our local food waste? We'll explain why we think so…!

Charlie Clarke, Founder, Planet Feed

10.20-10.35 Innovation solution – EHTech

Discover the Obox and save up to 63% on your water heating bill through capturing the heat remaining in grey water

Hugo Durou, Director, EHTech

10.40-10.55 Innovation solution – Novagg

Hear how Novagg Limited have developed a new and highly sustainable or 'green' lightweight structural aggregate construction material - converting domestic, commercial and industrial wastes into a world-leading product suitable for use in iconic buildings.

Bert Bingham, Founder Director, Novagg Ltd

11.00-11.15 Taiwan Green Products Introduction
An introduction to some of the latest products to emerge from across Taiwan's flourishing green industries.

Sam Palmer, Project Manager, Taiwan Trade Centre

11.20-11.50 Case Study: How to turn your idea into a high growth eco tech business
Hear strategies for growing your eco technology business based on 15 years' experience of running SINC

Mike Herd, Executive Director, Sussex Innovation Centre

12.00- 12.15 Innovation speaker – Driving your business growth through innovation with China

The Lancaster China Catalyst Programme provides support worth £70,000 to help ambitious UK companies to grow and access international markets through R&D and commercialisation with Chinese partners.

Jing Lu, UK-China Project Officer, Lancaster University  

12.20-12.35 Innovation speaker – "IP for Cleantech Companies" JA Kemp Patent Attorneys

One of the largest UK and European Patent and Trade Mark Attorney firms, with offices in London, Oxford and Munich. The breadth and depth of their technical knowledge relevant to patents is outstanding, with over 50 science and technology graduates in the firm including at least 25 PhDs. During the event J A Kemp Patent and Trade Mark Attorneys are offering free, informal one-on-one clinics, where delegates can have their questions about intellectual property matters answered. There is no charge to attend and no obligation to take further advice. To book your 20 minute session, please email wsmith@jakemp.com

Steve Unwin, Partner, Patent Attorney, J A Kemp

12.40-13.10 Case Study: The benefits of demand-led innovation networks
Hear how IfS acts as an 'innovation broker' in helping bring low carbon solutions to market
Emma Joy, Director, Innovation Networks, Institute for Sustainability


13.10-13.30 Lunch break


13.30-14.00 Moving to a circular economy - the link between waste & design
Understand how with improved product design downstream waste can be significantly reduced

Professor Rob Holdway, Founder, Giraffe Innovation

14.10-14.40 Smarter driving & greening your fleet
Hear about the actions you & your staff can take to be fuel efficient as well as reducing carbon emissions

Andrew Benfield, Director of Transport, Energy Saving Trust

14.50-15.20 Opportunities for export support
Find out about the ways that UKTI can help your business with it's export ambitions

Stephen Goulding, International Trade Advisor, UKTI South East

15.25-15.40 Innovation solution – Waterblade
The 'Waterblade' is a water saving device for taps, designed to be fitted to virtually any tap. It efficiently wets and rinses hands at a flow rate near around 5-10 times less than a tap with no flow restriction.

Nigel Bamford, Founder, Waterblade

15.45-16.00 Innovation solution – OpenTRV
OpenTRV uses low cost, low power technology from the Internet of Things to cut carbon and save the planet. Find out how, with a smart, connected thermostatic radiator valve (TRV), the company aims to reduce the UK's entire carbon emissions by 10%, for £150 per house.

Damon Hart-Davis, CEO, OpenTRV

GREEN GROWTH PLATFORM - NETWORKING LUNCH

An opportunity to step off the rollercoaster ride that is running your business and be inspired, gain insight from leading entrepreneurs and give time to your aspirations. Take precious time out from your daily schedule and think about what could take you to the next level.

What's involved? - We've brought together business experts from around the UK to share their insights and inspire:

• Michael Ware, Partner at international business consultancy BDO, will give his perspective on a thriving green sector in the UK.

• Syed Ahmed, Director of Savortex, will share insights from taking his smart eco hand dryer technology from R&D to global commercial success.

• Ollie Pendered, Founding Member of Community Energy South, will speak on the quiet explosion of community energy in Sussex and the business model they have followed.

• Andy Wood, Chief Executive of Adnams Brewery, will take us on the journey that saw Adnams become an exemplar of sustainability and give us the business rationale that backed it up.

We have a workshop programme (you choose two from the four):

• Eco Design: Realising the Opportunities of a Circular Economy

Giraffe Innovation, described by the Guardian business pages as one of the UK's top green businesses.

• The Internet of Things: what are the opportunities for business?
KnowNow Information, Brighton based internet of things specialist consultancy

• Marketing and the power of consumer psychology
Prime Decision Marketing, insight and strategy with a behavioural edge

• Procurement and supply chain from a big business perspective


GREEN GROWTH PLATFORM NETWORKING LUNCH 12:00 - 2:00pm
Our two representatives report that the networking lunch proved to be extremely positive. Those present were plied with coffee, orange juice and water and there was a bar - but our guys are teetotal. Chicken, beef and sausages were on the menu, served by very friendly staff. There were other interesting teasers for veggies.
We touched base with Zoë Osmond, Lorraine Bell and Jo Carpenter from the GGP. We also met Sarah Fretwell-Jex (Future-hub), Dr Kyle Crombie (Green Energy Consulting), Nigel Greenwood (Communities Matter), Brian Marsh (Renewable Energy Investments), Bernard Ashford (The Business Mentors), Glen Hackshaw (Sussex Wildlife Trust), Flo Powell & Poppy (Midnight), Nick Christoforou (We Are Neo), Jack Heeley (Chandlers Brighton) and Dean Shackel (Sony DADC). Of course we spoke with many more guests and exhibitors on the day we attended, simply admiring the products on display, chatting and giving out contact details and information of our Cleaner Oceans Project - until we ran out of cards - and that is because we had no idea that the event would be populated by so many interesting people. So well done to the organizers and all those who joined in. For those who cannot read the handwriting on our cards we gave out, the Project Director is Chris Close.
The venue itself was superb. Not having visited the Amex Stadium previously, our crew marveled at the architecture. This is an exceptional football venue that those who conceived the project, and those who made it a reality should be rightly proud. We hope to be exhibiting at least a model of the SeaVax at the next Eco Technology Show, where at 144 feet the full size boat is too large for most venues, the exceptions in the UK being the London Excell (Royal Victoria Dock) and Seawork (Southampton). One slight niggle was the lack of signposting. With Universities on both side of the A27, and turnings before and after Falmer, we would have expected to see a few road signs. There were none! To make matters worse, TomTom did not have the venue listed as a point of interest. Fortunately, the stadium is highly visible, so when you overshoot, you will be able to point your chariot in the right direction - eventually. We would suggest the Brighton and Hove City Council might want to remedy this obvious tourist negative.


NETWORKING LUNCH VENUE

Lifestyle Renault Lounge
American Express Community Stadium
Village Way
BN1 9BL, Brighton
United Kingdom


EXHIBITION STAND MEMBER'S DISCOUNT

Brighton's Eco Technology Show is offering Green Growth Platform members a discount on exhibitor stands.

The Eco Technology Show is the largest of its kind in the South of England and showcases green and innovative technologies. Last year 140 green sector businesses exhibited and the show attracted 3500 visitors, both trade and consumers.

Exhibiting can help raise your business profile, make contacts and generate new business leads.

The show's organisers have offered Green Growth Platform members an exclusive discount on their usual stand prices - 15% off a stand booked and paid for during April 2015.

The University of Brighton's Green Growth Platform supports a thriving and innovative green sector in Sussex through an exciting network of environmentally focused businesses.

The growth journey for every business is different, which is why the Platform is offering its members a unique menu of services delivered by a team of industry experts, business advisors and leading academics.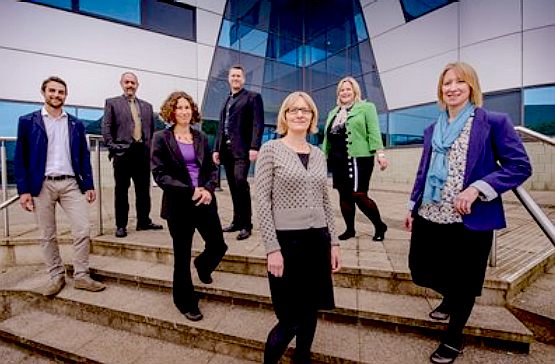 SERVICES:

1-2-1 Business Support

• Business Clinics
• Strategic support
• Specialist advice
• Growth funding

Business Events and Opportunities

• Events and connections
• Tendering support
• Environmental helpline

Innovation, Research & Development

• Innovation clinics
• Product and service development
• Funding for innovation
• Challenge led innovation events

Skills and Training

• Green sector course development
• Graduate internships and student placements
• Apprenticeships
• Training

Businesses are invited to join the Green Growth Platform if they are:

• an environmental sector company or social enterprise operating in Sussex
• a company or social enterprise operating in Sussex from any sector wishing to reduce their environmental impact.
GREEN GROWTH PLATFORM TEAM
Zoë Osmond, Director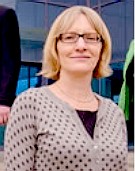 Zoë has over 10 years' experience in developing business opportunities and facilitating innovation in environmental sectors. She has worked extensively as the interface between innovative green companies and specialist university expertise, and has a Masters in Business Administration (MBA). Previously Zoë also set up and ran a design business in Barcelona which pioneered materials re-use long before it became trendy! She is fluent in Italian, Spanish and French and loves yoga and wild swimming.
Rachel Espinosa, Business Forum Manager
Rachel runs the Green Growth Platform Business Forum and has worked in the waste industry for 20 years, working as a consultant and in various roles in local government in London. She has hands on experience of work in a wide range of subject areas including waste collection and recycling service delivery, disposal contract management, procurement, contract negotiation, strategy development and implementation, policy development and securing funding. Rachel is a Chartered Waste Manager and Centre Councillor for the London & South Counties Centre of the Chartered Institution of Wastes Management. Rachel lives in Brighton with her family and enjoys walking on the Downs, the beach and the many fantastic places there are to visit along the south coast.
Lorraine Bell, Business Support Manager

Lorraine's role is to support our eligible businesses members through specialist 1-2-1 support to help them realise their growth potential. Lorraine is an experienced business adviser, having managed many business support and business coaching programmes, run her own consultancy business and founded two social enterprises. She is passionate about business!
Lorraine held a Vice-President position at Brighton Chamber for 3 years, set up the Brighton & Hove business support partnership and currently is a member of the Gatwick Diamond Business Association executive committee. She is PRINCE2 Practitioner, has a CMI Certificate in Business Support (SFEDI) and a BA (Hons) Management & Tourism from University of Brighton. She is also a Development Advisor for the RGF Business Growth Grants.
She lives in East Sussex, has recently reduced her carbon footprint by commuting in her new hybrid car and being a prolific networker, is almost certain to recommend a useful contact or two.
Jo Carpenter, Business Researcher, Waste Management

Jo has been working in local authority waste and recycling for over 12 years, developing new recycling schemes, influencing behaviour change and maximising the value of collected materials. This role is an exciting new challenge and she relishes the opportunity to help local businesses develop innovative waste related products and services, and to support businesses to waste less. Jo has grown up in Sussex, and enjoys spending time with her young family, particularly out and about in their campervan. She also has a passion for trawling local charity shops for bargains.
John Clarke, Business Researcher, Retrofit/ Low Carbon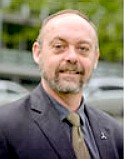 John has worked on a number of low environmental impact buildings and has undertaken funded research in construction waste minimisation. He has also worked in environmental education embedding sustainability across built environment curricula in further and higher education institutions. He has a PhD from Kingston University investigating the theory and practice of the development of sustainable buildings and how sustainable practices and processes impact on the behaviour of a wide variety of stakeholders.
In his spare time John likes to keep fit by swimming and practising yoga, spending time with his family and friends, motorcycle riding and indulging his love of music, cinema and the arts generally. John hopes that this research role will contribute to making sustainable practices more mainstream in the construction and technological and related sectors.
Robb Cunningham, Project and Communications Manager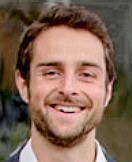 Robb has several years' experience in project management and has overseen a number of large scale projects in the public and higher education sectors. He is responsible for getting the Green Growth Platform message out there and ensuring that the project is on track to achieve its ambitions. Robb lives with his family in a cliff-top cottage powered by a solar panel and a wind turbine and enjoys cycling, furniture making and relaxing.
Dan Baverstock, Project Administrator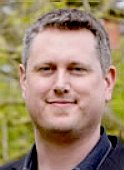 Dan spent 8 years as the Project Administrator for the Economic and Social Engagement department until his move to the Green Growth Platform. His responsibilities include directly supporting the IT systems and team members in delivering and monitoring the project's services, event management/support and working with Robb on marketing and communications.
Dan lives in Lewes with his girlfriend, is a keen cyclist and bicycle/frame builder, gardener, and inventor/up cycler. He regularly involves himself with the Brighton repair café, a local social enterprise, as their bicycle mechanic.
GREEN GROWTH PLATFORM CONTACTS

+44 (0)1273 641949

greengrowthplatform@brighton.ac.uk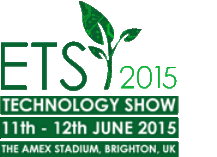 ETS CONTACTS

The Eco Technology Show Ltd
Top Floor
56 Landsdowne Place
Hove, East Sussex, BN3 1FG
Sponsoring at the show:

Billy Mauseth - Event Director
T: 01273 957 725
M: 07776 155 816
E: billy.m@ecotechnologyshow.co.uk
E: billym@brightonmusicconference.co.uk

Michael Yeoman
T: 01273 957 725
M: 07773 766225
E: michael.y@ecotechnologyshow.co.uk
Exhibiting at the show:

Kat Marshall - Account Manager
T: 01273 957 725
E: kat.m@ecotechnologyshow.co.uk

Marketing, and Partnerships:

Nicola Gunstone - Commercial Director
T: 01273 957 726
E: Nicola.g@ecotechnologyshow.co.uk
Media and Press:

Georgia Mathews - Event Manager
T: 01273 957 726
E: georgia.m@ecotechnologyshow.co.uk
Seminar programme:

Damian Tow - Content Director
T: 01273 957 726
E: damian.t@ecotechnologyshow.co.uk
General Enquiries:

T: 01273 957 725
E: info@ecotechnologyshow.co.uk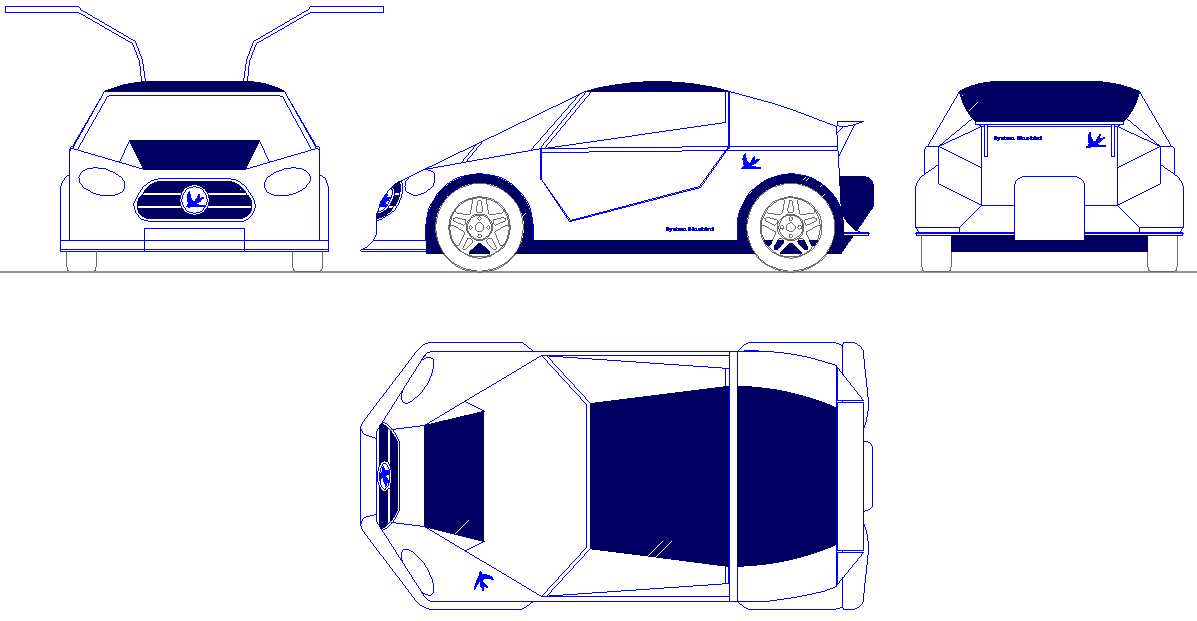 ECOSTAR - The world's most versatile EV design concept now sports skirts at the front and rear. The challenge for the ECOSTAR DC50 (Direct Current motors and 50kW) special, is to reduce the long standing 80 second recharging world record, to less that 30 seconds. We know it is possible to get this down below 10 seconds, but our finances are limited, so we are not aiming as low (or is that high) as we might. Watch this car turn into a motoring gem, as it rises like a Phoenix from the ashes. When complete, the Ecostar will look much like the Autocad drawing above. She will carry solar panels and even though the UK is high latitude (51 degrees), this should bear fruit for users in sunnier climates. This plot is faithful to the new (actual built) roofline, which is Lancia Stratos like, in widening as it goes back. Does anyone remember that Bertone classic apparently due for a re-launch?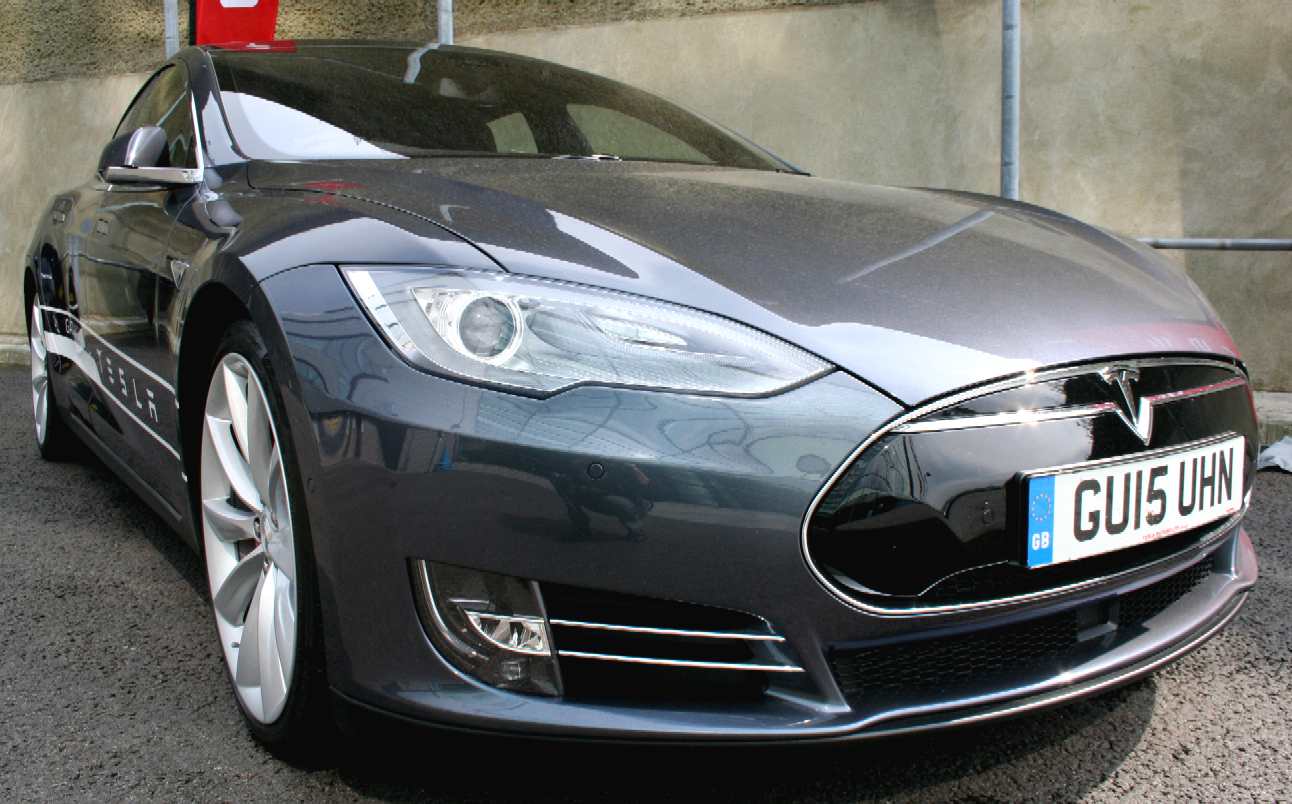 TESLA - Were represented at the Amex Eco Technology Show by this nicely presented coupe. The venue is not (at the moment) ideal to display vehicles that cannot be housed inside for Health & Safety reasons. The daylight conditions outside are variable making the cars difficult to photograph. We're not sure about the radiator design. Smooth flow, yes. But, looks. Hmmmm. The car is a good performer, as witnessed by the Cannonball, California to New York record.
THE AMEX STADIUM, FALMER, BRIGHTON
Falmer Stadium, known for sponsorship purposes as the American Express Community Stadium, or simply The Amex, is a football stadium near the village of Falmer in Brighton and Hove that serves as the home of Brighton & Hove Albion F.C. The stadium was handed over from the developers to the club on 31 May 2011. The first competitive game to be played at the stadium was the 2010–11 season final of the Sussex Senior Cup between Brighton and Eastbourne Borough on 16 July 2011. The first ever league game was against Doncaster Rovers, who were also the opponents in the last ever game played at Brighton's former stadium, the Goldstone Ground, 14 years earlier.

In September and October 2015, the stadium will host matches in 2015 Rugby World Cup. In addition to this, as a trial run pre-world cup, the stadium hosted the England U20's vs France U20's match in the final round of the 2015 Six Nations Under 20s Championship.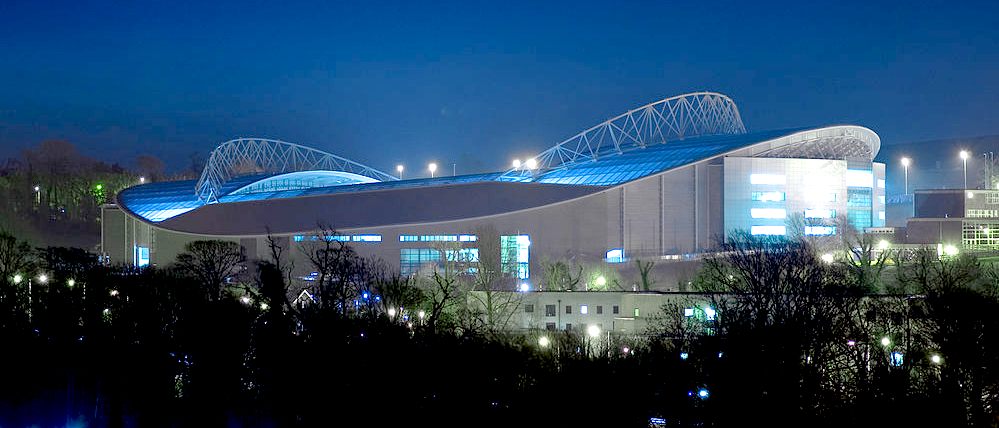 LOCATION & PARKING
The stadium is close to the A27 Brighton by-pass, linking it northbound to the A23 and M23 motorway towards London and southbound to the A270 and the city centre. You will find that signposting is poor and that TomTom does not recognize the venue as a point of interest, or at all. Fortunately, the stadium is highly visible, meaning that having shot past, or turned off for Falmer and found only university signs, you can retrace your footsteps using a common sense approach.
There is pre-paid parking available for 2000 cars on the University of Sussex and the Falmer Academy sites. The club runs several park and ride services to the stadium. One of these is at Mill Road situated at the A23/A27 intersection, which holds 500 cars. Another is at Brighton Racecourse, holding approx. 700 cars. The third site is at Mithras House (Brighton University) on the Lewes Road, holding approx 300 cars. Match tickets include free travel to the stadium by train (from stations as far as Shoreham-by-Sea, Haywards Heath, Lewes and Seaford), bus, and park and ride. The stadium is served by Falmer railway station which is a nine-minute journey from Brighton railway station and seven minutes from Lewes railway station, both of which are served by trains from London.

The Wealden Line Campaign promotes the creation of direct rail services from London via a "Brighton Main Line 2" (BML2). This would mean supporters could reach Falmer without the need to change trains at Lewes station or Brighton's busy main terminus.

The site also includes: a new link road from the A270 through the southern edge of Stanmer Park to the Sussex campus; a new high capacity footbridge over the railway at Falmer station; a transport interchange/coach park to the south of the stadium across Village Way; a 1,000-space car park at Falmer High School; alterations to the A27/A270 road junction, including a new flyover; a combined footpath/cycleway; a 150-space car park for club officials, players and disabled drivers; 220 cycle spaces.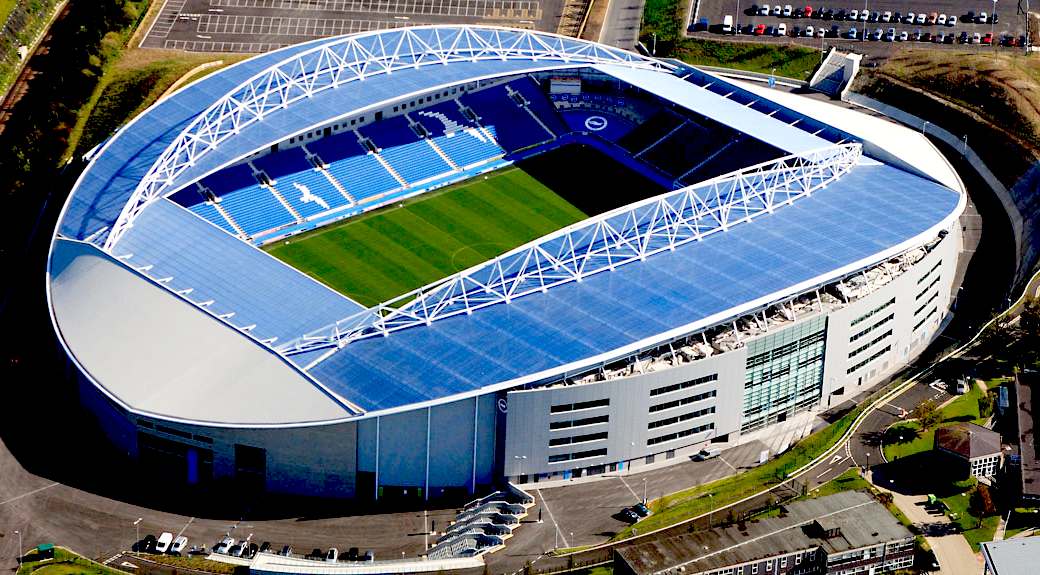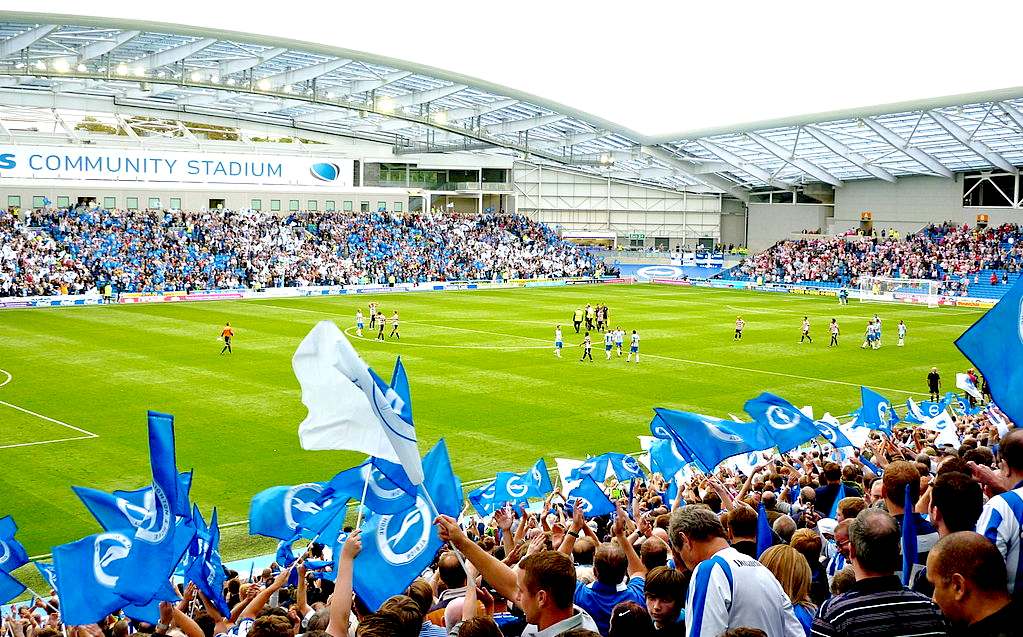 AMEX CONTACTS
American Express Community Stadium
Village Way
Brighton
BN1 9BL, United Kingdom

Conferences and events team: events@bhafc.co.uk
Conference, banqueting & event sales enquiries: 01273 878 272
Christmas parties: christmas@bhafc.co.uk
Wedding enquiries: weddings@bhafc.co.uk
Meetings, exhibitions and parties: events@bhafc.co.uk

For all other enquiries contact Supporter Services on 0344 324 6282
BRIGHTON & HOVE ALBION FOOTBALL CLUB
Brighton and Hove Albion Football Club is an English football club based in the coastal city of Brighton & Hove, East Sussex. It is often referred to just as Brighton. They currently play in the Football League Championship, the second tier of the English football league system, hosting games at the 30,750-capacity Falmer Stadium, known for commercial purposes as the American Express Community Stadium, or simply The Amex.

The team is nicknamed the "Seagulls" or "Albion". The team has historically played in blue and white stripes, though this changed to all white briefly in the 1970s and again to plain blue during the club's most successful spell in the 1980s. Crystal Palace is considered the club's main rival, although the grounds are 40 miles apart.

Founded in 1901, Brighton played their early professional football in the Southern League before being elected to the Football League in 1920. The club enjoyed greatest prominence between 1979 and 1983 when they played in the First Division and reached the 1983 FA Cup Final, losing to Manchester United after a replay. They were relegated from the top division in the same season. Mismanagement brought Brighton close to relegation from the Football League to the Conference which they narrowly avoided in 1997 and 1998. A boardroom takeover saved Brighton from liquidation, and following successive promotions they returned to the second tier of English football in 2002 and have played in the second and third tiers ever since.
Nestled in the South Downs, the multi-purpose American Express Community Stadium offers a wonderful array of naturally lit event spaces and exhibition halls. There are superb transport links, including an on-site main line rail station, complimentary parking for 1000 guests and full accessibility throughout. Friendly, professional staff provide the highest standards of service and food quality, ensuring that the American Express Community Stadium is the ideal location for your next event, big or small.
CONSTRUCTION

On 27 November 2008 the Buckingham Group signed the construction contract for the new stadium and began preparation work on the site on 17 December. The stadium is set three storeys down into the ground. 138,000 cubic metres of chalk was excavated for its construction, which was put on the field on the south side of Village Way. This has been estimated to prevent 22,000 lorry trips taking the chalk to off-site landfill.

Construction at the site officially started on 17 December 2008 and finished in May 2011. The stadium was designed with scope for expansion, and plans were put in place to increase the capacity.

The stadium was designed by London-based Architects, KSS. The stadium capacity has been expanded, with an extra seating tier being installed above the East Stand (Family stand), which increases the stadium attendance to a total of about 30,000 seats. The deal with American Express Europe, Brighton and Hove's biggest private-sector employer, confirming the naming rights of the stadium was announced on 22 June 2010. The Stadium uses Hawks to scare away pigeons. This stops them nesting in the stadium.

PLANNING PERMISSION

Planning permission was given by the unitary authority of Brighton and Hove in June 2002, with the intention of the stadium being ready for the 2005–06 season. The plans for the stadium were fought by neighbouring Lewes District Council and local residents. While the stadium lies completely within Brighton and Hove, part of the north-east of the site is in Lewes. Bennet's field as it is known is now used for parking.

Further complications were due to both vacant fields, and the campus of the adjacent University of Sussex, being included in the South Downs Area of Outstanding Natural Beauty, although outside the National Park. This led to the designation of the stadium plans being the subject of a separate planning inquiry by the Office of the Deputy Prime Minister.

John Prescott, then Deputy Prime Minister, approved the plans on 28 October 2005. However, Lewes District Council immediately mounted a new legal challenge to the stadium plan. In April 2006, Prescott admitted that he had given his approval based on the misconception that only a small part of the stadium site lay on the Lewes side, and withdrew it.

Hazel Blears, the Secretary of State responsible for planning, re-affirmed the approval on 25 July 2007. Her decision went against the advice of planning inspectors. Lewes district council, Falmer Parish council and the South Downs Joint Committee (the three main opponents) announced shortly afterwards that they would not mount a high court challenge. On 4 September 2007, the deadline for appealing the new grant of permission expired and the club received full permission to proceed.


DESIGN

The West Stand is the largest three-tiered stand, which holds 11,833 fans, including 14 luxury boxes and the premium fans' 1901 Club. The East Stand (including the Family Stand) holds 5,404 fans, with 10% reserved for away fans during cup games. The North Stand has 2,688 seats. The South Stand, is for visiting away supporters which contains 2,575 seats.

As well as football matches, the stadium is also designed for other sports such as rugby and hockey, and music concerts, conferences and exhibitions. The stadium's drinking outlets offer real ales from two local breweries, Harveys and Dark Star, both organisations having supported the club's appeal for a new stadium at Falmer, along with special guest beers from breweries local to the away teams.

The stadium also incorporates a banqueting and conference facility, a nursery school/crèche, 720 square metres of teaching space for the University of Brighton, 1,200 square metres of office space, the club shop for tickets and merchandise and above it the 200 capacity bar/lounge named Dick's Bar after the club's life president, Dick Knight.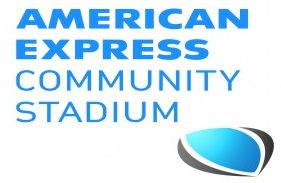 LINKS & REFERENCE
http://www.ecotechnologyshow.co.uk/
Eco connect events next level thinking green growth platform
Events at Brighton and Hove Football Club
Wikipedia Brighton and_Hove_Albion_FC
Greengrowthplatform
Ecotechnologyshow blog
GatwickDiamond resource centre events listings June 2015 next level thinking a green growth platform conference
http://www.greengrowthplatform.co.uk
http://www.ecotechnologyshow.co.uk/blog
http://www.gatwickdiamond.co.uk/resource-centre/events-listings/2015/06/next-level-thinking-a-green-growth-platform-conference.aspx
http://www.sussexchamberofcommerce.co.uk/
http://www.ecoconnect.org.uk/events/next-level-thinking-green-growth-platform/
http://www.falmervillage.co.uk/
http://www.lewes.gov.uk/
http://www.seagulls.co.uk/
http://www.eventsatbhafc.co.uk/
http://www.amexstadium.co.uk/landing-page/index.html
http://www.amexstadium.co.uk/
http://en.wikipedia.org/wiki/Falmer_Stadium
https://en.wikipedia.org/wiki/Brighton_%26_Hove_Albion_F.C.
DSEI - Defence Security Equipment International exhibition and conference, London ExCeL, September 15-18 2015
UDT - Undersea defence technology conference & exhibition, Ahoy, Rotterdam 3-5 June 2015