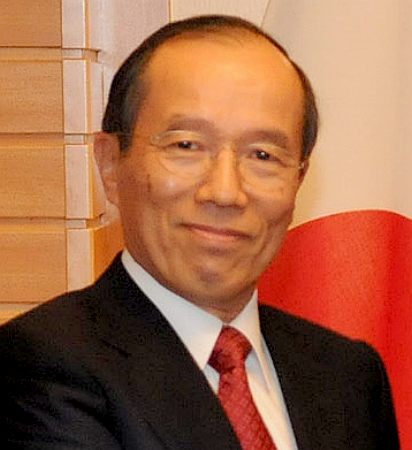 Kaoru Yano - Chairman of NEC
NEC aims to focus on Solutions for Society drawing on 100 years of innovation. Their goal is to lead the advancement of the world's social infrastructure using ICT and new business models.

The world's population is expected to reach over 9 billion people in short order. Explosive population growth is posing serious challenges in the areas of food, energy, natural resources, global warming, natural disasters, regional inequalities and aging infrastructures. To create a brighter future in which people lead better lives, society must find ways to resolve these pressing issues.

NEC are committed to using cutting-edge ICT (information and communications technology) to resolve various societal issues to help the world overcome transitional challenges and build a sustainable future.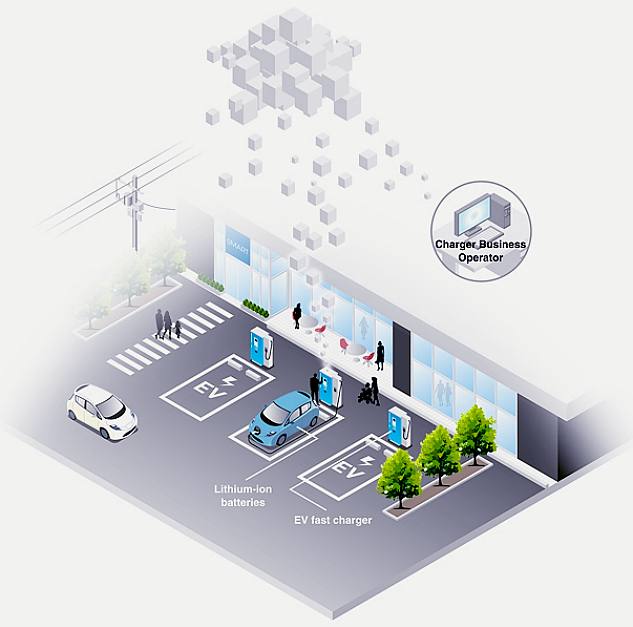 NEC ICT EV INFRASTRUCTURE
As a zero-emissions mode of transport, EVs are expected to gain popularity in the future. But at present, fully charging them is a time-consuming process that can take several hours using a household power supply. In addition, EVs are only able to drive short distances compared to gasoline-engine vehicles. To resolve these issues, a charging infrastructure on a national scale is essential.

In the future, EV fast chargers will expand beyond existing service stations. We will find them in roadside locations like convenience stores and shopping centers, at leisure facilities like theme parks and stadiums, and public facilities like airports and train stations. NEC will support the electric vehicle charging infrastructure with Smart Charging Stations.

* Smart Charging Stations Supporting Electric Vehicle (EV) Charging Infrastructure

The Electric Vehicle (EV) fast charging infrastructure is expected to become a completely new social infrastructure on a national scale.

In order for Service Operators nationwide to smoothly operate charging stations at service stations and other roadside locations, they will need Smart Charging Stations based on ICT to be an integral part of the infrastructure.

* NEC's Initiatives

By developing and providing systems that utilize EV fast chargers, and ICT, NEC is contributing to the popularization of a convenient charging infrastructure that is easy to use.

* EV Fast Chargers

Takasago Ltd., a subsidiary of NEC Corporation, developed a high-output (20kw-50kw) EV fast charger that complies with the CHAdeMO standard. The unit keeps electromagnetic radiation low and realizes a power efficiency of 90% or higher. Charging to 80% capacity can be achieved in about 30 minutes with the EV fast charger. This would normally take several hours using a household power source.

* Participation in Field Trials

"Projects to Standardize and Promote Network Integration Control Systems" Smart Network Project, Ministry of Internal Affairs and Communications

NEC are conducting field trials for the standardization of cloud services that support the charging infrastructure.

EV fast chargers will be installed at field sites including Yokohama City's Minato Mirai 21 district, JX Nippon Oil & Energy Corporation's Hatsuyama Service Station (in Miyamae-ku, Kawasaki City) and NEC's Tamagawa Plant (Nakahara-ku, Kawasaki City). NEC are evaluating self-service charging systems that can be remotely operated and maintained. They are also conducting tests on electric vehicle map displays showing charging stand information and how to link member authentication between different cloud services.
The Earth Simulator (ES) (地球シミュレータ Chikyū Shimyurēta?), developed by the Japanese government's initiative "Earth Simulator Project", was a highly parallel vector supercomputer system for running global climate models to evaluate the effects of global warming and problems in solid earth geophysics. The system was developed for Japan Aerospace Exploration Agency, Japan Atomic Energy Research Institute, and Japan Marine Science and Technology Center (JAMSTEC) in 1997. Construction started in October 1999, and the site officially opened on March 11, 2002. The project cost 60 billion yen.

Built by NEC, ES was based on their SX-6 architecture. It consisted of 640 nodes with eight vector processors and 16 gigabytes of computer memory at each node, for a total of 5120 processors and 10 terabytes of memory. Two nodes were installed per 1 metre x 1.4 metre x 2 metre cabinet. Each cabinet consumed 20 kW of power. The system had 700 terabytes of disk storage (450 for the system and 250 for the users) and 1.6 petabytes of mass storage in tape drives. It was able to run holistic simulations of global climate in both the atmosphere and the oceans down to a resolution of 10 km. Its performance on the LINPACK benchmark was 35.86 TFLOPS, which was almost five times faster than its predecessor, ASCI White.

ES was the fastest supercomputer in the world from 2002 to 2004. Its capacity was surpassed by IBM's Blue Gene/L prototype on September 29, 2004.

ES was replaced by the Earth Simulator 2 (ES2) in March 2009. ES2 is an NEC SX-9/E system, and has a quarter as many nodes each of 12.8 times the performance (3.2x clock speed, four times the processing resource per node), for a peak performance of 131 TFLOPS. With a delivered LINPACK performance of 122.4 TFLOPS, ES2 was the most efficient supercomputer in the world at that point. In November 2010, NEC announced that ES2 topped the Global FFT, one of the measures of the HPC Challenge Awards, with the performance number of 11.876 TFLOPS.

The Earth Simulator Center has several special features that help to protect the computer from natural disasters or occurrences. A wire nest hangs over the building which helps to protect from lightning. The nest itself uses high-voltage shielded cables to release lightning current into the ground. A special light propagation system utilizes halogen lamps, installed outside of the shielded machine room walls, to prevent any magnetic interference from reaching the computers. The building is constructed on a seismic isolation system, composed of rubber supports, that protect the building during earthquakes.

2014 VISION FOR A NEW ENERGY SOCIETY

As the world's population and economies continue to grow, energy demand and CO2 emissions continue to increase. This has been placing a significant burden on our global environment.

Replacing conventional fossil fuels with renewable sources of energy such as solar and wind power is viewed as one promising solution to this challenge.

In addition, storage technology, which temporarily stores surplus energy, and Information and Communications Technology (ICT) which maintains a balance between energy supply and demand, are also expected to play an increasingly vital role in the effective utilization of diversified energy sources.

In a New Energy Society, people will be able to live comfortably and without worries about a stable energy supply, even when their energy comes from a diverse range of sources. To realize this society, NEC will continue pursuing a variety of initiatives.

* NEC's Role in a New Energy Society

In a New Energy Society, new energy components such as electric vehicles, EV chargers, solar panels, and storage batteries will increase in addition to the conventional electrical products that surround us.

NEC enables energy management by linking energy components within a network to optimally control energy use in individual units such as housing, office buildings and stores. We also support a range of convenient services for business operators and users.

As networks extend and link regions and countries, the volume of information being circulated will show explosive growth.

By enhancing its capability for quickly and accurately handling large volumes of information, NEC provides a system that accumulates, extracts and utilizes data in real time.

With such technology, NEC will continue working toward a New Energy Society.
NEC HISTORY
NEC Corporation (日本電気株式会社 Nippon Denki Kabushiki Gaisha) is a Japanese multinational provider of information technology (IT) services and products, with its headquarters in Minato, Tokyo, Japan. NEC provides information technology (IT) and network solutions to business enterprises, communications services providers and to government agencies. The company was known as the Nippon Electric Company, Limited, before rebranding in 1983 as just NEC. Its NEC Semiconductors business unit was one of the worldwide top 20 semiconductor sales leaders before merging it with Renesas Electronics. NEC is a member of the Sumitomo Group.
1898 - Kunihiko Iwadare and Takeshiro Maeda established Nippon Electric Limited Partnership on August 31, 1898 by using facilities that they had bought from Miyoshi Electrical Manufacturing Company.

1980s - NEC created the first digital signal processor, the NEC µPD7710. NEC Semiconductors (UK) Ltd. was established in 1981, producing VLSIs and LSIs. NEC introduced the 8-bit PC-8800 series personal computer in 1981, followed by the 16-bit PC-9800 series in 1982. In 1983 NEC stock was listed on the Basel, Geneva and Zurich, Switzerland exchanges. NEC changed its English company name to NEC Corporation the same year. NEC Information Systems, Inc. started manufacturing computers and related products in the United States in 1984. NEC also released the V-series processor the same year. In 1986, NEC delivered its SX-2 super computer to the Houston Advanced Research Center, The Woodlands, Tx. In the same year, the NEAX61 digital switching system went in to service. In 1987, NEC Technologies (UK) Ltd. was established in the United Kingdom to manufacture VCRs, printers and computer monitors and mobile telephones for Europe. Also that year, NEC licensed technology from Hudson Soft, a video game manufacturer, to create a video game console called the PC-Engine (later released in 1989 as the TurboGrafx-16 in the North American market). Its successor, the PC-FX, was released in Japan in 1994. NEC USA, Inc. was established in 1989 as a holding company for North American operations.

1990s - A new head office building, known as the "Super Tower", was completed. Additionally, joint-venture agreements were established to manufacture and market digital electronic switching systems and LSIs in China. In 1993 NEC's asynchronous transfer mode (ATM) switching system, the NEAX61 (Nippon Electronic Automatic Exchange) ATM Service Node, went into service in the United States. NEC Europe, Ltd. was established as a holding company for European operations the same year. The NEC C&C Research Laboratories, NEC Europe, Ltd. were opened in Germany in 1994. NEC (China) Co, Ltd. was established as a holding company for Chinese operations in 1996. In 1997 NEC developed 4Gbit DRAM, and their semiconductor group was honored with one of the first Japan Quality Awards. In 1998, NEC opened the world's most advanced semiconductor R&D facility.

2000 - 2014 NEC celebrated their 100th anniversary in 1999. NEC Electronics Corporation was separated from NEC in 2002 as a new semiconductor company. NEC Laboratories America, Inc. (NEC Labs) started in November, 2002 as a merger of NEC Research Institute (NECI) and NEC USA's Computer and Communications Research Laboratory (CCRL). NEC built the Earth Simulator Computer (ESC), the fastest supercomputer in the world from 2002 to 2004, and since produced the NEC N343i in 2006.

In 2007, NEC and Nissan Co. Corp. started evaluating a joint venture to produce lithium ion batteries for hybrid and electric cars.

On April 23, 2009, Renesas Technology Corp and NEC Electronics Corp struck a basic agreement to merge by around April 2010. On April 1, 2010 NEC Electronics and Renesas Technology merged forming Renesas Electronics which is set to be fourth largest semiconductor company according to iSuppli published data.

On January 27, 2011, NEC formed a PC joint venture with Chinese PC maker Lenovo, the fourth largest PC maker in the world. In February 2011, Bloomberg News said the joint venture would allow Lenovo to expand in the field of servers, and NEC's Masato Yamamoto said NEC would be able to grow in China.

On January 26, 2012 NEC Corporation announced 10,000 job losses globally due to the economic crisis in Europe and the drop in the development of smartphones in the domestic market, compared to Apple and Samsung. In January 2009 NEC had cut about 20,000 jobs, due to slow demand for semiconductor and liquid crystal display related products. It is not hard to see why NEC are now looking to direct their expertise to potential growth markets, such as zero emission transport.

CORPORATE INFO
Head Office

7-1, Shiba 5-chome
Minato-ku, Tokyo 108-8001
Japan
Phone: +81-3-3454-1111

Established

July 17, 1899

Representative Directors

President Nobuhiro Endo
Senior Executive Vice President Takashi Niino
Senior Executive Vice President Junji Yasui


Capital

¥397.2 billion (As of Mar. 31, 2013)

Consolidated Net Sales

¥3,071.6 billion (Fiscal year ended Mar. 31 2013)

Major Operations of the NEC Group

Public Business, Enterprise Business,
Telecom Carrier Business, System Platform Business

Employees

NEC Corporation
23,361 (As of Mar. 31, 2013)
NEC Corporation and Consolidated Subsidiaries
102,375 (As of Mar. 31, 2013)

CONTACTS
NEC Europe Ltd (UK)

(Head Office) Athene
Odyssey Business Park, West End Road
South Ruislip, Middlesex
HA4 6QE, U.K.
Telephone: (Head Office) +44 (0)20 8836 2000

(Cambridge Office) 1000
Cambridge Research Park
Cambridge, CB25 9PD

Telephone: (Cambridge Office) +44 (0)1223 468000
LINKS
NEC GB EV charging smart infrastructure
NEC GB environment energy future
http://en.wikipedia.org/wiki/Earth_Simulator
http://en.wikipedia.org/wiki/NEC
http://www.nec.com/
http://uk.nec.com/en_GB/global/environment/energy/charge.html
http://uk.nec.com/en_GB/global/environment/energy/future.html
http://horizon2020projects.com/sc-transport-interviews/storing-energy-in-horizon-2020/
http://horizon2020projects.com/sc-transport-interviews/powering-the-future/
http://cordis.europa.eu/fp7/ideas
http://ec.europa.eu/programmes/horizon2020/en/
http://ec.europa.eu/transport/themes/research/horizon2020_en.htm
ECOSTAR LINKS A-Z
COMPETITION: BETTER PLACE - TESLA
COMPETITON: SUZUKI ALTO & NISSAN LEAF
MECHANICS, SUSPENSION, STEERING, BRAKES
SERVICES STATION INFRASTRUCTURE
SLEP - SOUTH EAST LOCAL ENTERPRISE PARTNERS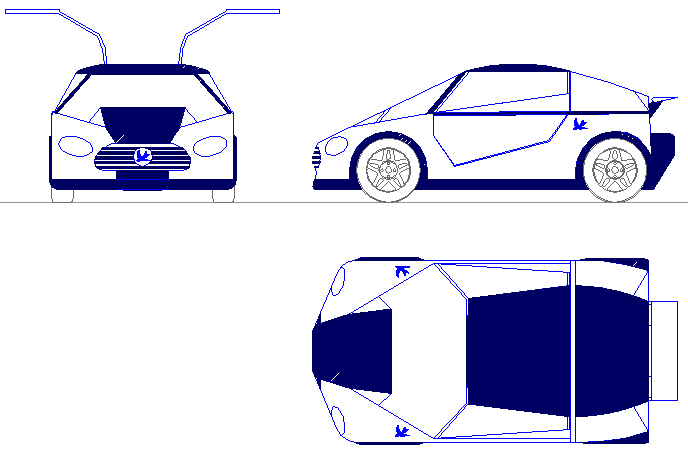 The ECOSTAR DC50 (Project BE4) is a two seat sports car project with front wheel drive and 50kW direct current (DC) electric motors. The roof will carry solar panels to supplement the lithium ion batteries or hydrogen fuel in cartridges as a range extender between instant energy transfer pit-stops. The cartridge may contain batteries, fuels cells, or a mix of batteries and fuel cells. The technology future proofs vehicles against battery and/or fuel cell advances - as an aid to the transition to a zero carbon lifestyle. The challenge for the ECOSTAR is to reduce the long standing 1 minute recharging world record, to less that 30 seconds. If that is achieved before the end of 2015, the Bluebird™ cartridge system will be three times faster than the Tesla. Investor/partnerships are invited.