THE DEVONSHIRE PROJECT: Shown here is a Bluebird™ 3.6 - 7.68MW solar assisted service station containing 96 cartridges on a continuous charge cycle. Five of these stations (38.4MW) can recharge (refuel) up to 10 cars a minute. Next time you visit your BP or Tesco fuel pump, count the number of cars leaving the station in a minute. You will find that an electric forecourt holds the potential to be quicker. During rush hour, 300 cars might be serviced in one hour. During an eight hour day 2,400 cars might be serviced more conveniently than plug in curb-side charging and we start every morning with 96 slow charged cartridges from off-peak supplies. The same forecourt might be used to service fuel-cell cars powered by liquid hydrogen. One size fits all. The secret is to KISS the design (keep it simple silly). There are only 28* moving parts in this station, not including the gearbox for the solar powered drive motor. This is possible because the cars load the cartridges themselves. Learn more about this concept.
HORIZON 2020 – WORK PROGRAMME 2014-2015

Specific challenge: The competitiveness of European road vehicle manufacturers is based on technological leadership particularly on system optimisation and affordability, particularly with respect to powertrains. The challenge is to recover a leading position in hybrid technology. The technology will also have positive effect on the reduction of CO2 emissions from road transport and air quality.

Scope: Proposals should develop new knowledge on hybrid components (storage system power electronics, etc.) and system engineering, simulation and technology integration with the aim of achieving hybrid powertrain weight and cost reduction, increased functionality, simplification of complex systems, efficiency and affordability while decreasing emissions and improving performance, comfort and functional safety. For light vehicles, preference would be given to concepts providing significant zero emission ranges. The research should be validated through at least one demonstrator for each platform subject of research.

The Commission considers that proposals requesting a contribution from the EU of between EUR 10 to 20 million each would allow this specific challenge to be addressed appropriately. Nonetheless, this does not preclude submission and selection of proposals requesting other amounts.

Expected impact: The research will achieve a 20% powertrain efficiency improvement and a 20% powertrain weight and volume reduction with respect to the best in-class full hybrid vehicles on the market in 2013, while having a maximum 10% cost premium on the conventional model on which the demonstrator is based. To meet air quality targets, the research will prove, by independent testing real driving emissions at least below upcoming Euro 6 or Euro VI limits respectively. The research for light vehicles will develop technologies needed to progress towards the establishment of a future 'Super Low Emission Vehicles' standard with emission targets which are ambitiously lower than Euro 6.

Type of action: Innovation Actions
Planned Opening date
11-12-2013
Publication date
11-12-2013
Deadline Date
28-08-2014 17:00:00 (Brussels local time)
Total Call Budget
€129,000,000
Main Pillar
Societal Challenges
Status

Open

OJ reference
OJ C 361 of 11 December 2013
Topic: Hybrid light and heavy duty vehicles
GV-4-2014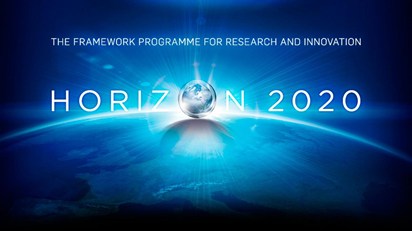 Horizon 2020 is the financial instrument implementing the Innovation Union, a Europe 2020 flagship initiative aimed at securing Europe's global competitiveness. Running from 2014 to 2020 with a budget of just over €70.9 billion, the EU's new programme for research and innovation is part of the drive to create new growth and jobs in Europe.
Horizon 2020 provides major simplification through a single set of rules. It will combine all research and innovation funding currently provided through the Framework Programmes for Research and Technical Development, the innovation related activities of the Competitiveness and Innovation Framework Programme (CIP) and the European Institute of Innovation and Technology (EIT).
These are grand objectives that will hardly scratch the surface if seeking to encourage genuine innovation by cash starved start up companies and independent innovators. Most of the money will go toward funding universities and their staff, without producing genuine lateral thinking.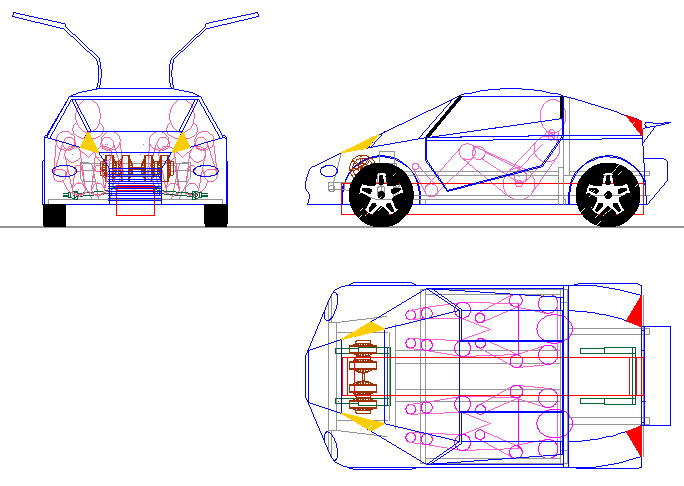 In the cutaway drawing above you can see how all the components come together to produce a really snug driver experience. The prototype may be developed to be much lighter, using thinner gauge steel for chassis components, aluminium and more exotic composites to replace the wood, etc. The picture below shows solar panels on the bonnet, roof and boot-lid to give 19.2 sq ft or 1.78 m2 - which could provide up to 340 watts of energy by way of solar assistance. The Ecostar has a 20Kw/hr cartridge for a 200 mile range. Charging by solar power alone would take 59 hours of sunshine - or six days. Thus, if you travel less than 200 miles a week, your car could be charged free by nature, assuming reasonable weather. Now that is what we call sustainable motoring. One point eight square meters of solar panels will cost you around £130 DIY. That is 23.6 gallons of petrol, or 945 miles @ 40mpg, an average good yield. 945 miles divided by 200 miles per cartridge charge = just 4.7 weeks of free solar motoring. We think you will agree from this example that solar assistance makes a lot of sense.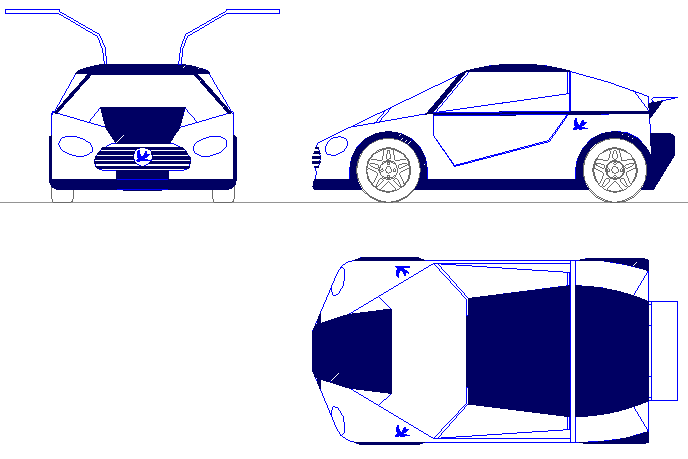 LINKS
http://www.2020visionnetwork.eu/sme/
http://erc.europa.eu/funding-schemes
http://ec.europa.eu/research/horizon2020/index_en.cfm
http://hawaii.edu/
http://hinmrec.hnei.hawaii.edu/
http://ship.snu.ac.kr/
http://www.amc.edu.au/
http://www.gavia.is/
http://www.strath.ac.uk/na-me/