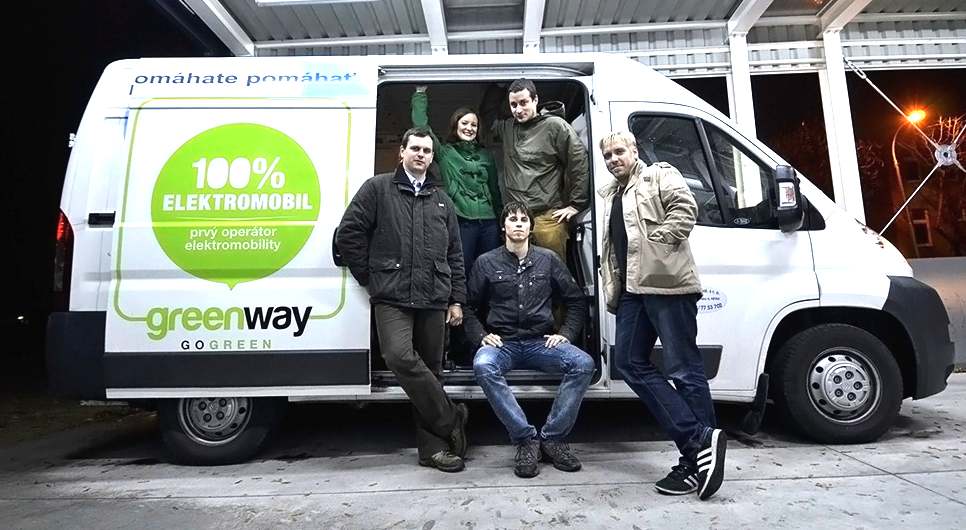 Fully automated battery-swap company Better Place is gone, but the concept of battery swapping is still alive. In Slovakia, European company GreenWay is using a semi-automated battery swapping concept it launched in 2012. The system is based on converted Citroen electric drive delivery vans. A small fleet of Citroen vans has been converted to electric power, their batteries taking the shape of a large black box taking up some of the load bay. Logically, this large pack sits on a rail system. When stopping at one of the Project's swap stations, the old battery can be disconnected (via a simple lever), slid onto a forklift, and another battery slid into place. It makes the side door rather useless for any other purpose than battery swapping, but the whole process takes only seven minutes (once you've mastered the technique) far quicker than stopping to recharge. It's around the same amount of time a driver might stop to fill up a regular van with diesel or gasoline. A realistic daily distance of over 155 miles is said to be achievable with the system. Now imagine how much faster the turnaround would be with a van that loads and unloads batteries itself - and - without the cargo space being absorbed by the batteries.
GREEN MECHANICS

If you think that using electric vehicle is not viable yet, leasing maybe a good start. Leasing might hedge you against the risk of inability to make full use of the vehicle due to slow adaptation and lack of infrastructure.

One of the reasons people are slow in adopting or using electric vehicles (EV) is that the charging infrastructure does not come with the vehicle. A typical EV can travel only around 300 km before needing a recharge. The time needed to fully recharge can be as long as 3 hours. Add these things together and you get a potentially limiting operating experience that in not good for business.

But, what if you don't need to recharge, just swap the drained battery at any of the recharging points? Then, as an added incentive you are given the option to lease rather than purchasing the vehicle. That sounds like a plan.
Slovakia's GreenWay, is building cheap charging stations for delivery vans. If GreenWay succeeds, it will demonstrate another rule of the new-technology business cycle, which is that a pioneer isn't necessarily the one who enjoys a concepts fruition.
GreenWay, which supplies fully electric vans for business-to-business (B2B) customers in return for a monthly fee, says the vans it leased to pharmaceuticals and medical supplies company Med-art travelled an average of 38,502 km – the equivalent of a round-the-world trip – in six months.

The Bratislava-based electric vehicle (EV) company operates a string of battery replacement stations ensuring drained batteries can be replaced instantly rather than having to be recharged to keep vehicles on the move.

GreenWay says Med-art reported the running costs of its EVs were 'significantly lower' than those of its conventional vehicles because of the long distances travelled – one of the reasons GreenWay targets B2B clients with its 40,000 km and 70,000 km packages. Med-art also reported no interruption to vehicle availability during the six-month period, proving the vans' reliability, according to GreenWay.

According to GreenWay's website, there are 10 battery changing stations across Slovakia as well as in Budapest, Hungary; Brno, in the Czech Republic; and Vleden, Austria, with a further six Slovakian locations in the pipeline.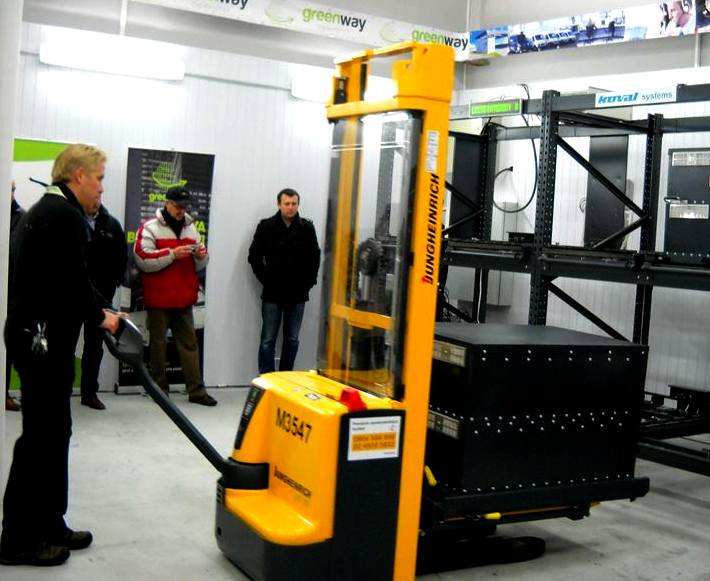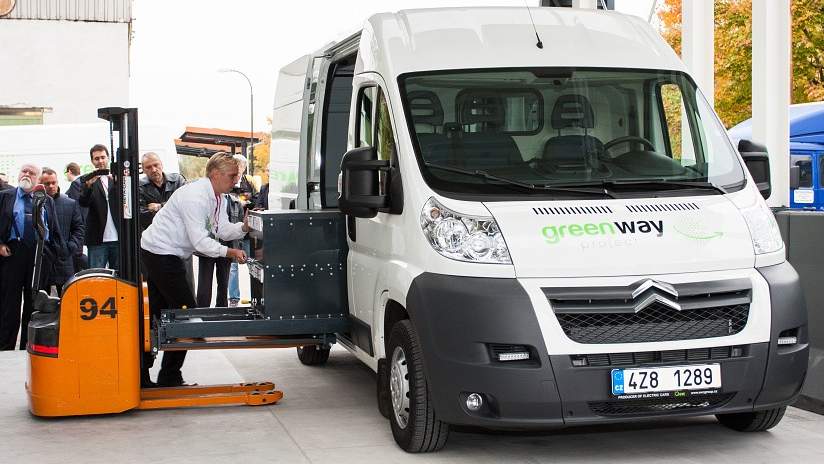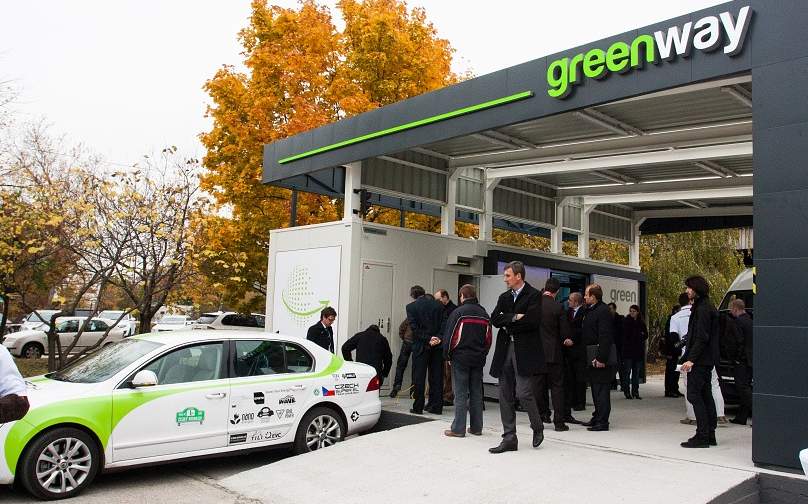 The manual battery changing sequence in illustrated in these pictures. The main thing is that it works rather well. It is simple in KISS terms. It could of course be improved with automation, such as with a van that self loads cartridges, and possibly, a racking systems that delivers quickly without all the backbreaking effort. It is far more innovative than charging points at Corby and meets with CARB requirements.
WORLD RECORD
GreenWay claims the two vans it leased to its first customer in May have traveled further in a six-month period than any other electric vehicles.
The battery-swapping station operator has unofficially set a new world record for the most distance traveled in an electric van in a 24 hour period, covering an amazing 2,048.2 kilometres (1,272 miles).

Currently, the official record for the longest distance covered in 24 hours by an electric vehicle stands at 1,200 kilometres (745 miles)-almost half of that achieved by Greenway. The firm plans to repeat it can repeat its success in the near future under the watchful eyes of independent verifiers to set a new world record.

In its record-breaking trial, Greenway used a specially-converted Citroen Jumper vans (known as the Citroen Relay over here) which runs on electric power alone and is compatible with its battery-swapping system. With a range of around 124 miles per charge, a recharge of the van would take around 6 hours, but downtime is cut to less than 10 minutes by opting to swap the battery instead-essential for achieving as many miles as possible in just one day.

Taking the van on a journey back and forth between Bratislava and Nitra, a team of drivers managed to cover an extra 848.2 kilometres (527 miles) more than the old record, only making brief stops of less than 7 minutes to swap the battery for a fully charged one-about the same time it takes to fill a van's fuel tank. A much faster system is seen in a converted Rover Metro from 1999 - long forgotten, but recently revived project, should funding incentives make development attractive. The conversion was paid for privately previously, eventually causing the failure of an enterprise that was too forward thinking to achieve backing from the Dti evaluators of the day. Indeed, the inventor was sent a letter from the then (Dti) SMART operators telling him there was no future for battery-electric vehicles. Perhaps, not so smart after all, if in refusing to recognise home-grown talent, that the technology lead is passed to another geographically competing domain!

Greenway now hopes it can replicate this unofficial record breaking achievement in the presence of independent testers and the public to claim a new world record.

The company was set up by MyEnergy to build battery-swapping infrastructure across Slovakia, successfully opening its first station back in October 2012 in the capital of Bratislava. The firm hopes to expand into neighbouring European countries in time, to help electric vehicles provide a true alternative to Europeans to the convenience and fast-refuelling internal combustion vehicle.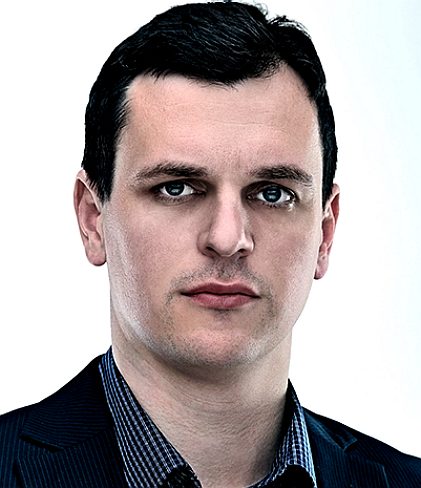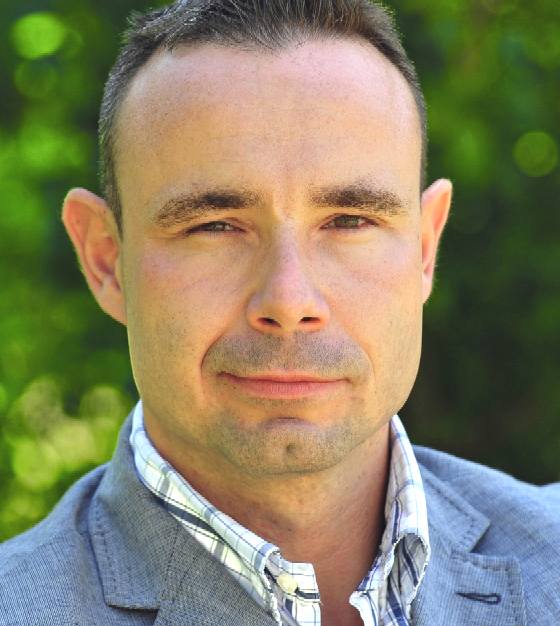 Peter Badik and Juraj Ulehla - co-founders of GreenWay
FOUNDERS
Peter Badik is one of the founders of the GreenWay Operator, with strong entrepreneurial and business experience. He has been dealing with electric mobility for 5 years and longer with clean energies.
Peter is MoBD in company MyEnergy, which he co-founded in 2007 and which made 12 industrial scale renewable energy power plants in Central and Eastern Europe. He successfully managed some of the very first solar projects in Czech Republic, helping towards the latter solar boom.
Prior to Peter's swap to clean energies, he worked in the banking sector, particularly in risk management, asset and liability management, treasury, security and FX trading. He managed the Central and Eastern Europe largest government bonds portfolio (over €200 billion) in Erste Bank, Vienna.
Peter has co-founded two clean energy associations, director of Slovak Electric Vehicle Association, mentors National strategy for electric mobility in Slovakia, and is active member of several charitable foundations.

Co-founder, Juraj Ulehla, received his PhD at the Economic University of Bratislava specialising in risk management. In his career he created and led various teams and projects as the Slovak representation of major foreign banks in Slovakia.
Juraj is one of the founders of MyENERGY, the Photovoltaic Industry Association SAPI (Slovak Association for the Photovoltaic Industry) and the key member of the Slovak Banking Association. He currently works as a partner and managing director in MyEnergy and is the chairman of the board of directors in SAPI.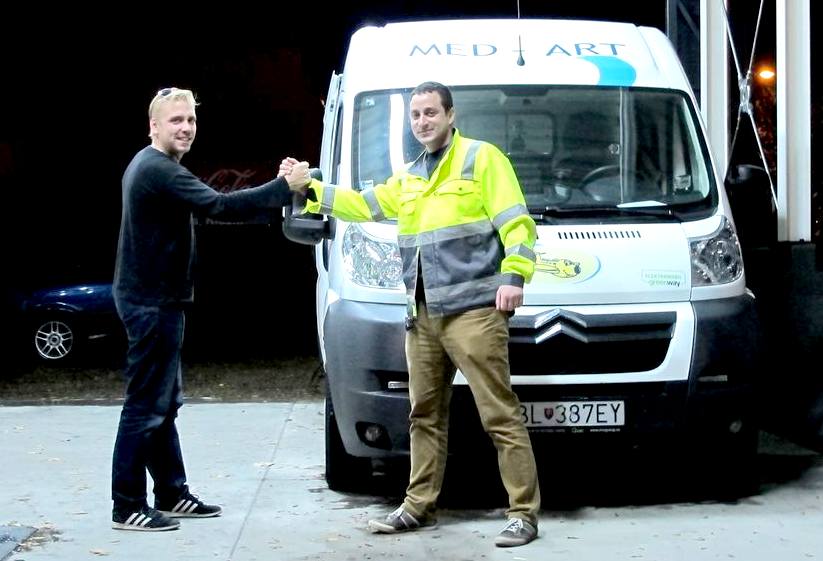 Technology has progressed to the point that electric vehicles can now provide their owners with typically more range than is actually needed each day. Not just in everyday life but also under more demanding conditions in business deliveries. To prove this GreenWay attempted to break the world record for greatest distance travelled within 24 hours by an electric van. The Guinness Book of World Records currently lists 1,200 kilometres as the maximum."

During the second weekend of November 2013, three drivers took turns behind the wheel of our pure-electric van on the route between Bratislava and Nitra in an attempt to break the official record currently held in the Guinness Book of Records, first as a trial run without an audience. To achieve this attempt, quick battery swaps were carried out after repeated journeys between the capital and Nitra. Such battery swaps are easily handled by any driver in less than 7 minutes, which incidentally is roughly the time it takes to refill a vehicle's tank and pay at a gas station. On the 24-hour journey Greenways drivers managed to cover a total of 2,048.2 kilometres, exactly 848.2 kilometres more than the official record. Greenways plan to turn the unofficial record breaking achievement into an official time in the presence of independent testers and the public.

GREENWAY PARTNERS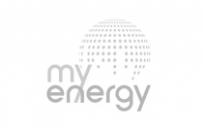 Anasoft is one of the ten largest software houses in Slovakia, with branches in the Czech Republic, Germany and the US. Their development centre in Bratislava employs over 100 experts. The company developed and supplied software solutions to GWO's central system.
CONTACTS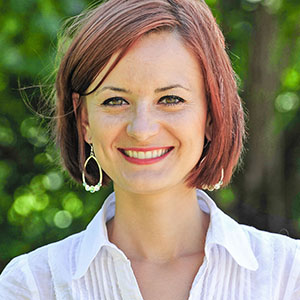 Emília Šoltésová - Administration
info@greenway.sk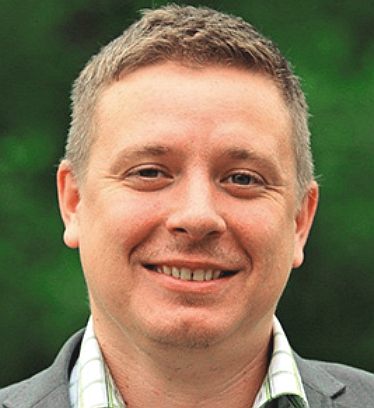 Juraj Kubis - Finance and Sales Manager
+421 (0) 911 668 350
juraj.kubis@greenway.sk

GreenWay Operator a.s.
Registered office:
Bajkalská 5/B, 831 04 Bratislava

Company registration number: 45 301 727
Registered in the Commercial register of the District Court Bratislava I,
Section: Sa, File No. 5524/B.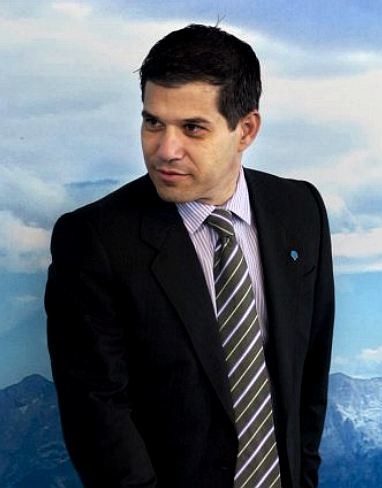 Shai Agassi - Battery-swap pioneer with his Better Place company - using a rather more complex loading system, when perhaps KISS is the name of the game. Keep it simple dudes. On that front GreenWay scores big time. But the system could be improved to make it internationally attractive.
START-UP NATION addresses the trillion dollar question: How is it that Israel - a country of 7.1 million, only 60 years old, surrounded by enemies, in a constant state of war since its founding, with no natural resources - produces more start-up companies than large, peaceful, and stable nations like Japan, China, India, Korea, Canada and the UK. It's something that our Technology Strategy Board and the European Commission should take seriously - if we want to remain competitive. Is it because we only encourage companies with a track record, which of course also means protecting vested interests, or is it just that banks will not lend capital to start up companies? Plough your fields and scatter the seed - or starve.
HORIZON 2020 - TRANSPORT RESEARCH & INNOVATION
Horizon 2020 is the European Commission's proposal to generate ideas, growth and jobs through the world's largest collaborative programme for research and innovation (2014-2020).
In the transport sector, the EC will seek a balanced implementation that takes account of: Rail, Road, Waterborne and Air transport - to balance competitiveness with sustainability and which invests both in technology and relevant socio-economic research.
The four priorities for Horizon 2020 transport research are:
1. Making transport more sustainable: resource-efficient transport that respects the environment.
2. Making transport and transport systems seamless: better mobility, less congestion, greater safety and security.
3. Keeping transport competitive: the European transport industry as a global leader.
4. Making transport research responsive: socio-economic research and forward-looking activities for policy-making.
Work carried out in the framework of the Strategic Transport Technology Plan (STTP) will contribute to focusing the transport European research and innovation activities through Horizon 2020.

ECOSTAR LINKS A-Z
COMPETITION: BETTER PLACE - TESLA
COMPETITON: SUZUKI ALTO & NISSAN LEAF
MECHANICS, SUSPENSION, STEERING, BRAKES
SERVICES STATION INFRASTRUCTURE
SLEP - SOUTH EAST LOCAL ENTERPRISE PARTNERS
EXTERNAL LINKS
http://insideevs.com/greenway-sets-new-24-hour-distance-record-for-battery-swapable-ev-wvideo/
http://www.thegreencarwebsite.co.uk/blog/index.php/2012/10/30/electric-vans-join-the-battery-swap-craze/
http://www.greenway.sk/en/content
http://www.thegreencarwebsite.co.uk/electric-van-unofficially-sets-new-record-for-distance-travelled-in-one-day
http://www.thegreenmechanics.com/2014/01/commercial-electric-vehicles-pioneer.html
http://www.pv-magazine.com/news/beitrag/commercial-electric-vehicles-hit-landmark
http://www.ted.com/talks/shai_agassi_on_electric_cars.html
http://en.wikipedia.org/wiki/Shai_Agassi
http://www.greenway.sk/en/o-projekte-greenway
http://qz.com/88871/better-place-shai-agassi-swappable-electric-car-batteries/
http://www.nytimes.com/2009/02/09/business/09electric.html?_r=1&scp=3&sq=electric%20cars&st=cse
http://www.betterplace.com/the-solution-switch-stations
http://forums.industryweek.com/showthread.php?t=2209
http://cordis.europa.eu/fp7/ideas
http://ec.europa.eu/programmes/horizon2020/en/
http://ec.europa.eu/transport/themes/research/horizon2020_en.htm
http://www.agnimotors.com/site/
http://www.engadget.com/2012/11/13/mclaren-to-supply-ev-groundwork-for-formula-e-cars/
http://ibnlive.in.com/news/bernie-ecclestone-laughs-off-formula-e-comparisons/302635-5-24.html
http://www.wired.com/autopia/2012/09/formula-e/
http://www.telegraph.co.uk/finance/The-electric-cars-of-the-future.html
http://www.greencardesign.com/site/galleries/racing-drayson-b1269ev