Gary Gamelich, was born in San Pedro, California, on 29 August 1940. He set a world land speed record of 622.287 mph in the rocket-powered Blue Flame. The record was set over a measured mile at Bonneville Salt Flats in Utah, on October 23, 1970 and stood for thirteen years.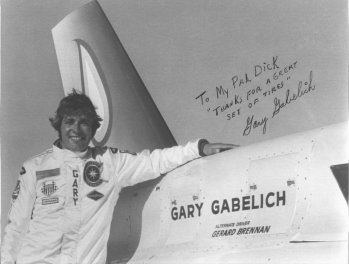 The record was also listed in the Guiness Book of Records. In his initial competition at age sixteen, Gabelich won first place in the stock eliminator drag racing class at Santa Ana, California. In 1959, when he was only seventeen, Gabelich won world's first side-by-side jet dragster race, topping 250 mph. Other accomplishments included his winning the first United Drag Racing Association in 1963 and being first man to break into drag racing's seven second bracket, driving a Double A Fuel dragster at 7.05 seconds, in 1967.
In 1969, he drove the Beac City Chevrolet Corvette funny car to speeds over 200 mph, a first for a Chevrolet funny car. Gabelich also took second place in Mickey Thompson's off-road race at Riverside, California in 1975; first place in the Toyota Charity Slalom at the Rose Bowl in 1979 and second place in the Toyota Pro Challenge Race at the Michigan International Speedway in July, 1980. Twice narrowly escaping death in dragster and boat accidents, Gabelich ironically died in an automobile accident in Long Beach, California in January, 1984.
In 1985 the Long Beach City Council named a park in his memory, Gabelich Park. In 1975 at Turlock Lake in California, the drag boat piloted by Gary Gabelich disintegrated at 180 mph. Although he was best known for his land speed exploits, Gabelich won both the American Power Boat Association Blown Fuel and Gas National Drag Boat championship. He was also the first person to win them both in the same eyar. In 1969 Gabelich was the first man to surpass 200 mph in a quarter mile drag boat.
A lover of high speeds and dangerous challenges, Gabelich was working for North American Aviation in the early 1960s when he volunteered to do some sky diving from a 30,000 foot altitude to film some of the early Apollo space capsule drops.
Gary Gabelich (born August 29, 1940) is a Croatian-American who won the land speed record with his rocket powered automobile "Blue Flame" on October 28, 1970, achieving the average speed of 622.287 miles/h (1001.452863 km/h) on dry lake bed at Bonneville Salt Flats in Wendover, Utah. This record was unbeaten for as long as 13 years.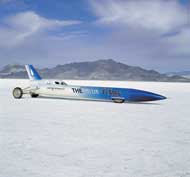 Gabelich did some hot rod racing in high school and at nineteen he traveled 356 mph at the Bonneville, UT, Salt Flats in a jet car, probably a record for a teen-ager. Then he went to work in the mail room at North American Rockwell, eventually becoming a test astronaut for the company.
He was offered a desk job because of budget cutbacks, but he decided to get back into racing, both on water and on land. He won the American Power Boat Association fuel hydro championship in 1968, set a National Drag Boat Association record of 200.44 mph in 1969, and also raced go-karts and automobiles.
Reaction Dynamics, Inc., was looking for a driver about that time for the Blue Flame, a 37-foot-long, 4,950-pound vehicle powered by a liquid natural gas-hydrogen peroxide rocket engine. Craig Breedlove, holder of the land speed record, wanted too much money. A drag racer, Chuck Suba, came to terms but was killed in a racing accident shortly thereafter. Gabelich was the third choice, and he jumped at the chance.
The Blue Flame was the high-performing, ultra high-speed, rocket-powered vehicle which achieved the world speed record on Bonneville Salt Flats in Utah on October 28, 1970. The record 1065.8 km/h lasted for 13 years and was set as an average of achieved speed in both ways (617.601 + 627.207= 617.602 miles/h). The driver, Gary Gabelich, was of Croatian origin and native of San Pedro, California.