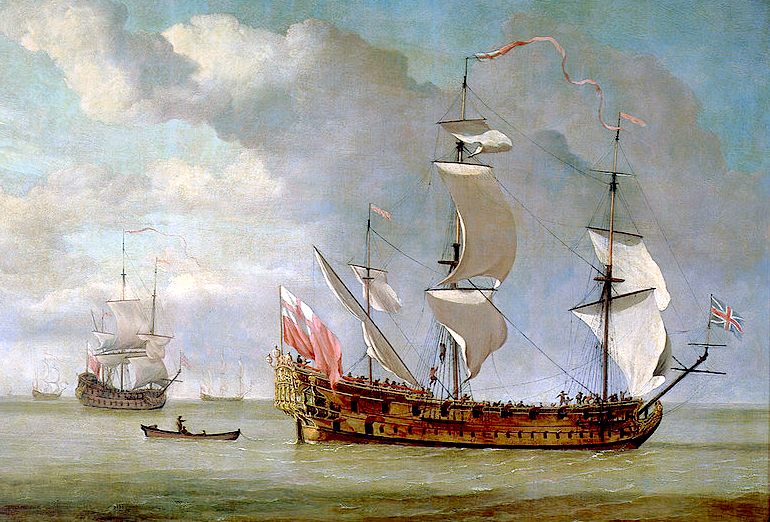 ADVENTURE GALLEY - also known as Adventure, was an English sailing ship. She was a type of hybrid ship that combined square rigged sails with oars to give her manoeuvrability in both windy and calm conditions. The vessel was launched at the end of 1695 and was acquired by Kidd the following year to serve in his privateering venture. Between April 1696 and April 1698, she travelled thousands of miles across the Atlantic and Indian Oceans in search of pirates but failed to find any until nearly the end of her travels. Instead, Kidd himself turned pirate in desperation at not having obtained any prizes. Adventure Galley succeeded in capturing two vessels off India and brought them back to Madagascar, but by the spring of 1698 the ship's hull had become so rotten and leaky that she was no longer seaworthy. She was stripped of anything movable and sunk off the north-eastern coast of Madagascar. In 1999–2000, a wreck believed to be that of Adventure Galley was found alongside several other sunken pirate vessels.
The seafloor of the Mediterranean covers nearly a million square miles and is said to contain as many as 300,000 wrecks. It's a similar situation to the English Channel, the ocean floor is literally littered with potential treasure trove. Think then on the possibilities for the Atlantic and Pacific oceans, in terms of treasure just waiting to be found.
BBC NEWS 7 MAY 2015 - CAPTAIN KIDD'S TREASURE FOUND IN MADAGASCAR
Underwater explorers in Madagascar say they have discovered treasure belonging to the notorious 17th-Century Scottish pirate William Kidd.

A 50kg (7st 9lb) silver bar was brought to shore on Thursday on the island of Sainte Marie, from what is thought to be the wreck of the Adventure Galley.

The bar was presented to Madagascar's president at a special ceremony.

US explorer Barry Clifford says he believes there are many more such bars still in the wreck.

Capt Kidd was first appointed by the British authorities to tackle piracy but later became a ruthless criminal and was executed in 1701.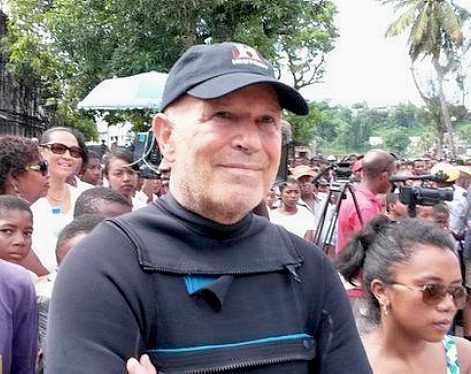 SILVER INGOT - In 2015, a 110-lb. silver ingot was found in a wreck off the coast of Île Sainte-Marie in Madagascar by a team led by Barry Clifford (top), and is believed to be part of Captain Kidd's treasure. Well done Barry.
'SCEPTICISM'

Mr Clifford is quoted as saying: "Captain's Kidd's treasure is the stuff of legends. People have been looking for it for 300 years. To literally have it hit me on the head - I thought what the heck just happened to me. I really didn't expect this."

"There's more down there. I know the whole bottom of the cavity where I found the silver bar is filled with metal. It's too murky down there to see what metal, but my metal detector tells me there is metal on all sides."

The BBC's Martin Vogl tweets that there is much excitement in Madagascar about the discovery and Mr Clifford's team has no doubt that the discovery is genuine.

The team believes the bar, marked with what appears to be a letter S and a letter T, has its origins in 17th-Century Bolivia.

It believes the ship it has found was built in England, however there is bound to be scepticism and calls for more proof that the bar was linked to Capt Kidd, our reporter says.

One option would be to take samples of wood from the ship to analyse, he says.

The location of the ship, thought to have sunk in 1698, has been known about for many years but the silver bar was only discovered earlier this week.

Mr Clifford said that while diving in the wreck, his metal detector picked up signals but it was too muddy for him to see anything.

UK ambassador to Madagascar Timothy Smart, who attended the ceremony, said he hoped that Mr Clifford's latest discovery would raise Madagascar's profile as a tourist destination. The plan is to exhibit the bars in a museum.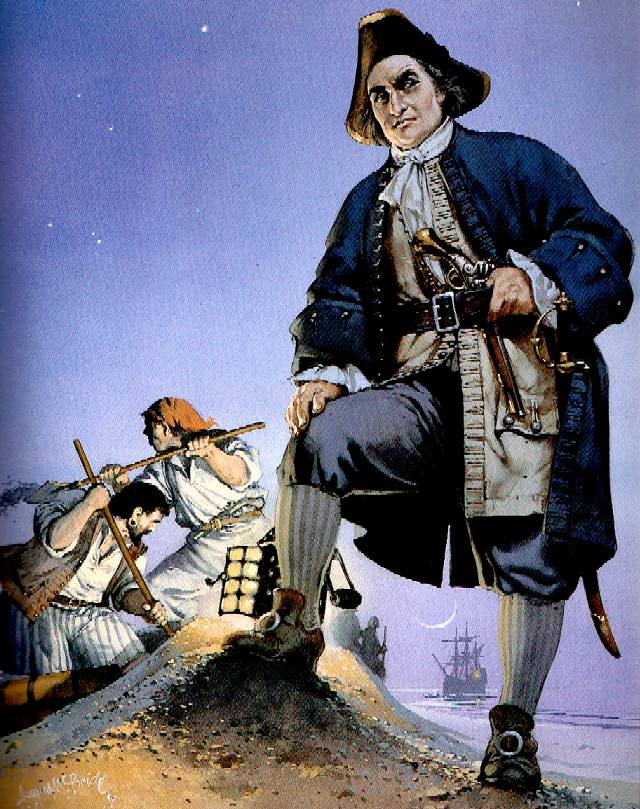 ANGUS McBRIDE - A superb illustration of Captain Kidd overseeing the burying of his treasure. Fortunately, gold and silver is relatively impervious to moisture. Don't try this with your banknotes. You will be disappointed.
CAPTAIN KIDD IN LEGEND

He is thought to have been born in Scotland's Greenock or the Dundee area in about 1645. He was appointed by the Crown to tackle piracy and capture enemy French ships, but turned to piracy himself.

In 1698, he looted the Armenian ship the Quedagh Merchant, which was apparently sailing under a French pass. The Quedagh Merchant had been carrying satins, muslins, gold and silver. Unfortunately for Kidd, the captain of the ship was an Englishman, and it is thought that a large amount of the cargo belonged to the British East India Company.

Capt Kidd was captured and brought back to London. He was found guilt of piracy and the murder of one of his crewmen during a row in 1697, and sentenced to death. During his execution in Wapping in 1701, the first rope put around his neck broke, so he was strung up a second time. That rope also snapped, but the third one held.

Afterwards, his body was dipped in tar and hung by chains along the River Thames to serve as a warning to would-be pirates. Legend had it that Capt Kidd hid much of his loot, which has prompted numerous treasure hunts around the world and inspired author Robert Louis Stevenson when writing Treasure Island.
The belief that Kidd had left buried treasure contributed considerably to the growth of his legend. The 1701 broadside song Captain Kid's Farewell to the Seas, or, the Famous Pirate's Lament lists "Two hundred bars of gold, and rix dollars manifold, we seized uncontrolled". This belief made its contributions to literature in Edgar Allan Poe's "The Gold-Bug"; Washington Irving's The Devil and Tom Walker; Robert Louis Stevenson's Treasure Island and Nelson DeMille's Plum Island. It also gave impetus to the constant treasure hunts conducted on Oak Island in Nova Scotia; in Suffolk County, Long Island; in New York where Gardiner's Island is located; Charles Island in Milford, Connecticut; the Thimble Islands in Connecticut; Cockenoe Island in Westport, Connecticut; and on the island of Grand Manan in the Bay of Fundy.

Captain Kidd did bury a small cache of treasure on Gardiners Island in a spot known as Cherry Tree Field; however, it was removed by Governor Bellomont and sent to England to be used as evidence against Kidd.

Kidd also visited Block Island around 1699, where he was supplied by Mrs. Mercy (Sands) Raymond, daughter of the mariner James Sands. The story has it that, for her hospitality, Mrs. Raymond was bid to hold out her apron, into which Kidd threw gold and jewels until it was full. After her husband Joshua Raymond died, Mercy moved with her family to northern New London, Connecticut (later Montville), where she bought much land. The Raymond family was thus said to have been "enriched by the apron".

On Grand Manan in the Bay of Fundy, as early as 1875, reference was made to searches on the West side of the island for treasure allegedly buried by Kidd during his time as a privateer. For nearly 200 years, this remote area of the island has been called "Money Cove".

In 1983, Cork Graham and Richard Knight went looking for Captain Kidd's buried treasure off the Vietnamese island of Phú Quốc. Knight and Graham were caught, convicted of illegally landing on Vietnamese territory, and assessed each a $10,000 fine. They were imprisoned for 11 months until they paid the fine.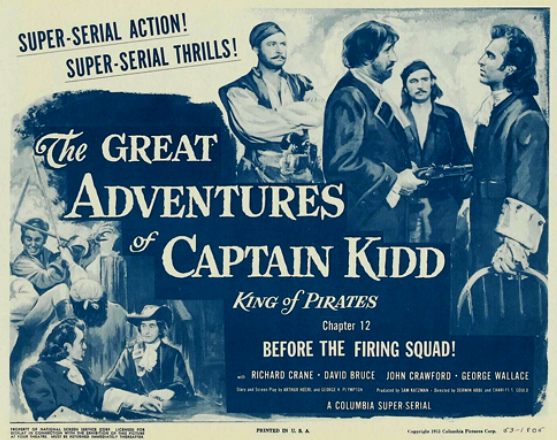 COLUMBIA SERIAL - More swashbuckling fun with a series of short films depicting the adventures of Captain Kidd. Privateer or pirate? He had no chance at a trial in London, where evidence was not available to prove him a privateer, and where he had made enemies of his crew, who were only too willing to do a deal to save their skins.
QUEDAGH MERCHANT VESSEL FOUND 2007

For years, people and treasure hunters have tried to locate Quedagh Merchant. It was reported on 13 December 2007 that "wreckage of a pirate ship abandoned by Captain Kidd in the 17th century has been found by divers in shallow waters off the Dominican Republic." The waters in which the ship was found were less than ten feet deep and were only 70 feet (21 m) off Catalina Island, just to the south of La Romana on the Dominican coast. The ship is believed to be "the remains of Quedagh Merchant". Charles Beeker, the director of Academic Diving and Underwater Science Programs in Indiana University (Bloomington)'s School of Health, Physical Education, and Recreation, was one of the experts leading the Indiana University diving team. He said that it was "remarkable that the wreck has remained undiscovered all these years given its location," and given that the ship has been the subject of so many prior failed searches. Captain Kidd's cannon, an artifact from the shipwreck, was added to a permanent exhibit at The Children's Museum of Indianapolis in 2011.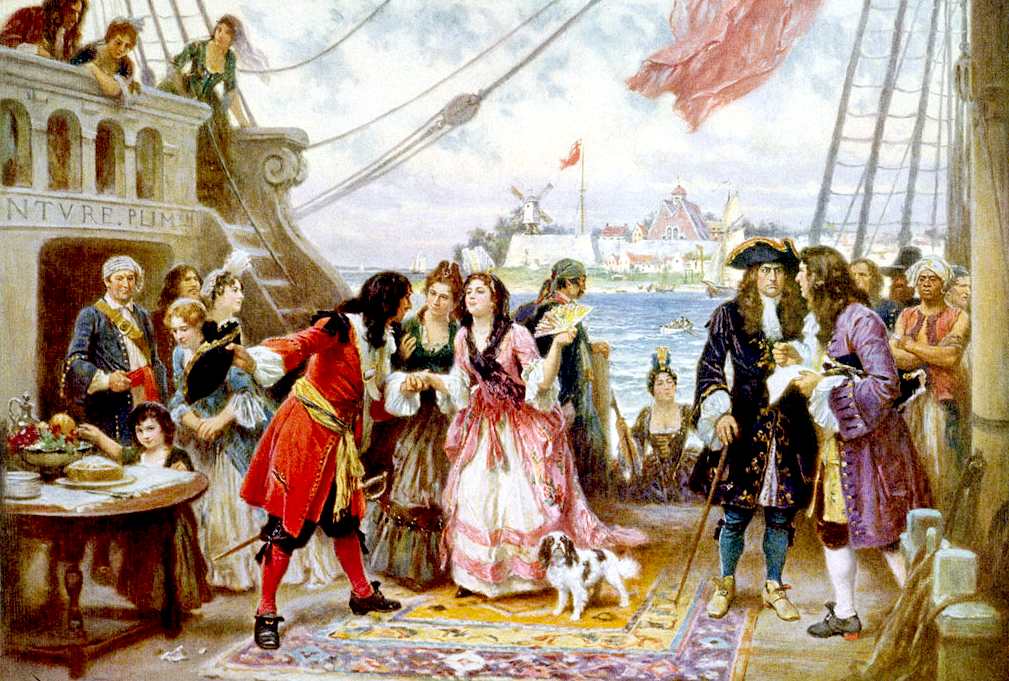 CAPTAIN KIDD'S BIO
Captain William Kidd was either one of the most notorious pirates in the history of the world, or one of its most unjustly vilified and prosecuted privateers, in an age typified by the rationalisations of empire.

Despite the legends and fiction surrounding this character, his actual career was punctuated by only a handful of skirmishes, followed by a desperate quest to clear his name.

Kidd was born in Dundee, Scotland, January 1645. He gave the city as his place of birth and said he was aged 41, in testimony under oath at the High Court of the Admiralty in October 1695 or 1694. Researcher Dr David Dobson later identified his baptism documents from Dundee in 1645. His father was Captain John Kyd, who was lost at sea. A local society supported the family financially[citation needed]. Richard Zacks, in the biography The Pirate Hunter (2015), says Kidd came from Dundee. Reports that Kidd came from Greenock have been dismissed by Dr. Dobson, who found neither the name Kidd nor Kyd in baptismal records. The myth, that his "father was thought to have been a Church of Scotland minister", is also discounted. There is no mention of the name in comprehensive Church of Scotland records for the period. A contrary view is presented here. Kidd later settled in the newly anglicized New York City. It was here that he befriended many prominent colonial citizens, including three governors. There is some information that suggests he was a seaman's apprentice on a pirate ship, much earlier than his own more famous seagoing exploits.

By 1689 he was a member of a French-English pirate crew that sailed in the Caribbean. Kidd and other members of the crew mutinied, ousted the captain off the ship, and sailed to the British colony of Nevis. There they renamed the ship Blessed William. Kidd became captain, either the result an election of the ship's crew or because of appointment by Christopher Codrington, governor of the island of Nevis. Captain Kidd and Blessed William became part of a small fleet assembled by Codrington to defend Nevis from the French, with whom the English were at war. In either case, he must have been an experienced leader and sailor by that time. As the governor did not want to pay the sailors for their defensive services, he told them they could take their pay from the French. Kidd and his men attacked the French island of Mariegalante, destroyed the only town, and looted the area, gathering for themselves something around 2,000 pounds Sterling. During the War of the Grand Alliance, on orders from the provinces of New York and Massachusetts, Kidd captured an enemy privateer, which duty he was commissioned to perform, off the New England coast. Shortly thereafter, Kidd was awarded £150 for successful privateering in the Caribbean. One year later, Captain Robert Culliford, a notorious pirate, stole Kidd's ship while he was ashore at Antigua in the West Indies. In 1695, William III of England replaced the corrupt governor Benjamin Fletcher, known for accepting bribes of one hundred dollars to allow illegal trading of pirate loot, with Richard Coote, Earl of Bellomont. In New York City, Kidd was active in the building of Trinity Church, New York.

On 16 May 1691, Kidd married Sarah Bradley Cox Oort, an English woman in her early twenties, who had already been twice widowed and was one of the wealthiest women in New York, largely because of her inheritance from her first husband.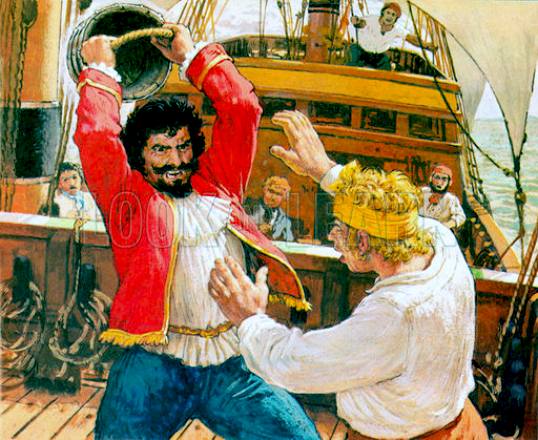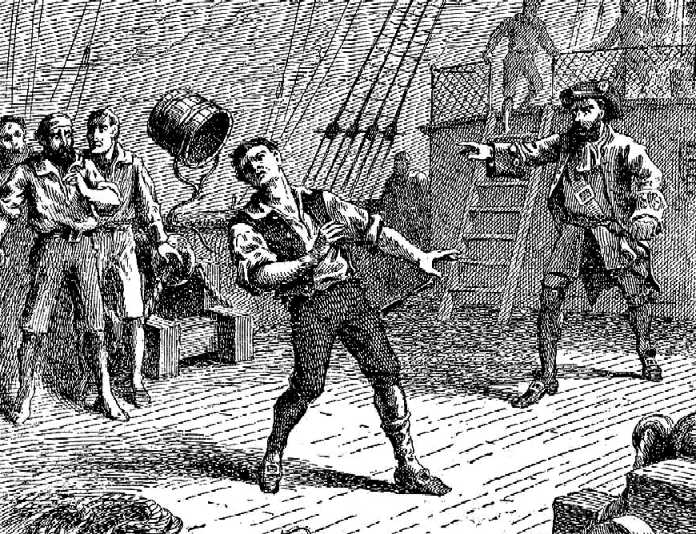 MANSLAUGHTER OR MURDER - Life onboard a ship, whether privateer or pirate, was always difficult. An unruly crew could quite easily drive a captain to lose his temper - especially a captain with a temper.
EXPEDITION PREPARATIONS

On 11 December 1695, Belmont, who was now governing New York, Massachusetts, and New Hampshire, asked the "trusty and well beloved Captain Kidd" to attack Thomas Tew, John Ireland, Thomas Wake, William Maze, and all others who associated themselves with pirates, along with any enemy French ships. This request, if turned down, would have been viewed as disloyalty to the crown, the perception of which carried much social stigma, making it difficult for Kidd to have done so. The request preceded the voyage which established Kidd's reputation as a pirate, and marked his image in history and folklore.

Four-fifths of the cost for the venture was paid for by noble lords, who were among the most powerful men in England: the Earl of Orford, the Baron of Romney, the Duke of Shrewsbury and Sir John Somers. Kidd was presented with a letter of marque, signed personally by King William III of England. This letter reserved 10% of the loot for the Crown, and Henry Gilbert's The Book of Pirates suggests that the King may have fronted some of the money for the voyage himself. Kidd and an acquaintance, Colonel Robert Livingston, orchestrated the whole plan and paid for the rest. Kidd had to sell his ship Antigua to raise funds.

The new ship, Adventure Galley, was well suited to the task of catching pirates; weighing over 284 tons burthen, she was equipped with 34 cannon, oars, and 150 men. The oars were a key advantage as they enabled Adventure Galley to manoeuvre in a battle when the winds had calmed and other ships were dead in the water. Kidd took pride in personally selecting the crew, choosing only those he deemed to be the best and most loyal officers.

As the Adventure Galley sailed down the Thames, Kidd unaccountably failed to salute a Navy yacht at Greenwich, as custom dictated. The Navy yacht then fired a shot to make him show respect, and Kidd's crew responded with an astounding display of impudence - by turning and slapping their backsides in [disdain].

Because of Kidd's refusal to salute, the Navy vessel's captain retaliated by pressing much of Kidd's crew into naval service, this despite rampant protests. Thus short-handed, Kidd sailed for New York City, capturing a French vessel en route (which was legal under the terms of his commission). To make up for the lack of officers, Kidd picked up replacement crew in New York, the vast majority of whom were known and hardened criminals, some undoubtedly former pirates.

Among Kidd's officers was his quartermaster, Hendrick van der Heul. The quartermaster was considered 'second in command' to the captain in pirate culture of this era. It is not clear, however, if van der Heul exercised this degree of responsibility, because Kidd was nominally a privateer. Van der Heul is also noteworthy because he may have been African or of African-American descent. A contemporary source describes him as a "small black Man." If van der Heul was indeed of African ancestry, this fact would make him the highest ranking black pirate so far identified. Van der Heul went on to become a master's mate on a merchant vessel, and was never convicted of piracy.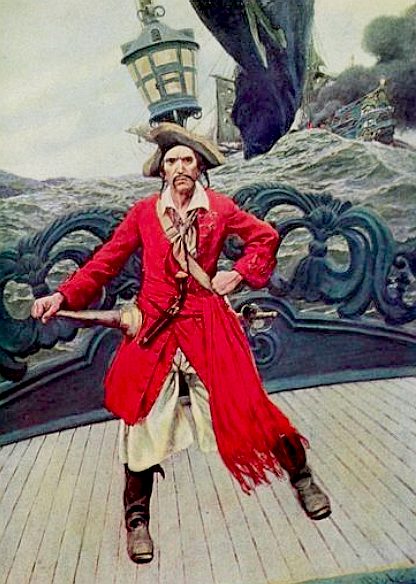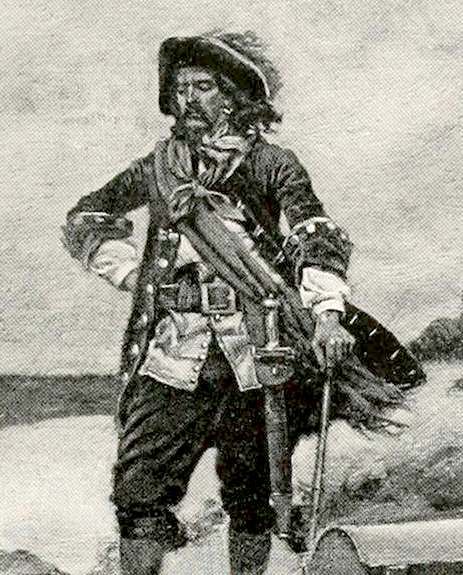 PIRATE HUNTING

In September 1696, Kidd weighed anchor and set course for the Cape of Good Hope. A third of his crew soon perished on the Comoros due to an outbreak of cholera, the brand-new ship developed many leaks, and he failed to find the pirates he expected to encounter off Madagascar. Kidd then sailed to the Strait of Bab-el-Mandeb at the southern entrance of the Red Sea, one of the most popular haunts of rovers on the Pirate Round. Here, he again failed to find any pirates. According to Edward Barlow, a captain employed by the English East India Company, Kidd attacked a Mughal convoy under escort by Barlow's East Indiaman, and was repelled. If the report is true, this marked Kidd's first foray into piracy.

As it became obvious that his ambitious enterprise was failing, Kidd became understandably desperate to cover its costs. But, once again, he failed to attack several ships when given a chance, including a Dutchman and a New York privateer. Some of the crew deserted Kidd the next time Adventure Galley anchored offshore, and those who decided to stay on made constant open-threats of mutiny.

Kidd killed one of his own crewmen on 30 October 1697. While Kidd's gunner, William Moore, was on deck sharpening a chisel, a Dutch ship appeared in sight. Moore urged Kidd to attack the Dutchman, an act not only piratical but also certain to anger the Dutch-born King William. Kidd refused, calling Moore a lousy dog. Moore retorted, "If I am a lousy dog, you have made me so; you have brought me to ruin and many more." Kidd snatched up and heaved an ironbound bucket at Moore. Moore fell to the deck with a fractured skull and died the following day.

While seventeenth-century English admiralty law allowed captains great leeway in using violence against their crew, outright murder was not permitted. But Kidd seemed unconcerned, later explaining to his surgeon that he had "good friends in England, that will bring me off for that."
HOLLYWOOD - Captain Kidd has inspired dozens of writers and movies. One famous story is Treasure Island by the Scottish lawyer: Robert Louis Stevenson.
ACCUSATIONS OF PIRACY

Acts of savagery on Kidd's part were reported by escaped prisoners, who told stories of being hoisted up by the arms and drubbed with a drawn cutlass. On one occasion, crew members ransacked the trading ship Mary and tortured several of its crew members while Kidd and the other captain, Thomas Parker, conversed privately in Kidd's cabin. When Kidd found out what had happened, he was outraged and forced his men to return most of the stolen property.

Kidd was declared a pirate very early in his voyage by a Royal Navy officer, to whom he had promised "thirty men or so". Kidd sailed away during the night to preserve his crew, rather than subject them to Royal Navy impressment.

On 30 January 1698, he raised French colours and took his greatest prize, an Armenian ship, the 400-ton Quedagh Merchant, which was loaded with satins, muslins, gold, silver, an incredible variety of East Indian merchandise, as well as extremely valuable silks. The captain of Quedagh Merchant was an Englishman named Wright, who had purchased passes from the French East India Company promising him the protection of the French Crown. After realising the captain of the taken vessel was an Englishman, Kidd tried to persuade his crew to return the ship to its owners, but they refused, claiming that their prey was perfectly legal, as Kidd was commissioned to take French ships, and that an Armenian ship counted as French, if it had French passes. In an attempt to maintain his tenuous control over his crew, Kidd relented and kept the prize. When this news reached England, it confirmed Kidd's reputation as a pirate, and various naval commanders were ordered to "pursue and seize the said Kidd and his accomplices" for the "notorious piracies" they had committed.

Kidd kept the French passes of Quedagh Merchant, as well as the vessel itself. While the passes were at best a dubious defence of his capture, British admiralty and vice-admiralty courts (especially in North America) heretofore had often winked at privateers' excesses into piracy, and Kidd may have been hoping that the passes would provide the legal fig leaf that would allow him to keep Quedagh Merchant and her cargo. Renaming the seized merchantman Adventure Prize, he set sail for Madagascar.

On 1 April 1698, Kidd reached Madagascar. Here he found the first pirate of his voyage, Robert Culliford (the same man who had stolen Kidd's ship years before), and his crew aboard Mocha Frigate. Two contradictory accounts exist of how Kidd reacted to his encounter with Culliford. According to The General History of the Pirates, published more than 25 years after the event by an author whose very identity remains in dispute, Kidd made peaceful overtures to Culliford: he "drank their Captain's health," swearing that "he was in every respect their Brother," and gave Culliford "a Present of an Anchor and some Guns." This account appears to be based on the testimony of Kidd's crewmen Joseph Palmer and Robert Bradinham at his trial. The other version was presented by Richard Zacks in his 2002 book The Pirate Hunter: The True Story of Captain Kidd. According to Zacks, Kidd was unaware that Culliford had only about 20 crew with him, and felt ill manned and ill equipped to take Mocha Frigate until his two prize ships and crews arrived, so he decided not to molest Culliford until these reinforcements came. After Adventure Prize and Rouparelle came in, Kidd ordered his crew to attack Culliford's Mocha Frigate. However, his crew, despite their previous eagerness to seize any available prize, refused to attack Culliford and threatened instead to shoot Kidd. Zacks does not refer to any source for his version of events.

Both accounts agree that most of Kidd's men now abandoned him for Culliford. Only 13 remained with Adventure Galley. Deciding to return home, Kidd left the Adventure Galley behind, ordering her to be burnt because she had become worm-eaten and leaky. Before burning the ship, he was able to salvage every last scrap of metal, such as hinges. With the loyal remnant of his crew, he returned to the Caribbean aboard the Adventure Prize.
PIRATE TREASURE - Safer than any bank and far more fun when making a deposit or withdrawal. Pirates buried their treasure on islands all over the world, inspiring many a good yarn. Pictures such as this are popular on the Look and Learn website.
TRAIL AND EXECUTION

Prior to returning to New York City, Kidd learned that he was a wanted pirate, and that several English men-of-war were searching for him. Realizing that Adventure Prize was a marked vessel, he cached it in the Caribbean Sea and continued toward New York aboard a sloop. He deposited some of his treasure on Gardiners Island, hoping to use his knowledge of its location as a bargaining tool. Kidd found himself in Oyster Bay, as a way of avoiding his mutinous crew who gathered in New York. In order to avoid them, Kidd sailed 120 miles around the eastern tip of Long Island, then doubling back 90 miles along the Sound to Oyster Bay. He felt this was a safer passage than the highly trafficked Narrows between Staten Island and Brooklyn.

Bellomont (an investor) was away in Boston, Massachusetts. Aware of the accusations against Kidd, Bellomont was justifiably afraid of being implicated in piracy himself, and knew that presenting Kidd to England in chains was his best chance to save himself. He lured Kidd into Boston with false promises of clemency, then ordered him arrested on 6 July 1699. Kidd was placed in Stone Prison, spending most of the time in solitary confinement. His wife, Sarah, was also imprisoned. The conditions of Kidd's imprisonment were extremely harsh, and appear to have driven him at least temporarily insane. By then, Bellomont had turned against Kidd and other pirates, writing that the inhabitants of Long Island were "a lawless and unruly people" protecting pirates who had "settled among them.".

He was eventually (after over a year) sent to England for questioning by Parliament. The new Tory ministry hoped to use Kidd as a tool to discredit the Whigs who had backed him, but Kidd refused to name names, naively confident his patrons would reward his loyalty by interceding on his behalf. There is speculation that he probably would have been spared had he talked. Finding Kidd politically useless, the Tory leaders sent him to stand trial before the High Court of Admiralty in London, for the charges of piracy on high seas and the murder of William Moore. Whilst awaiting trial, Kidd was confined in the infamous Newgate Prison, and wrote several letters to King William requesting clemency.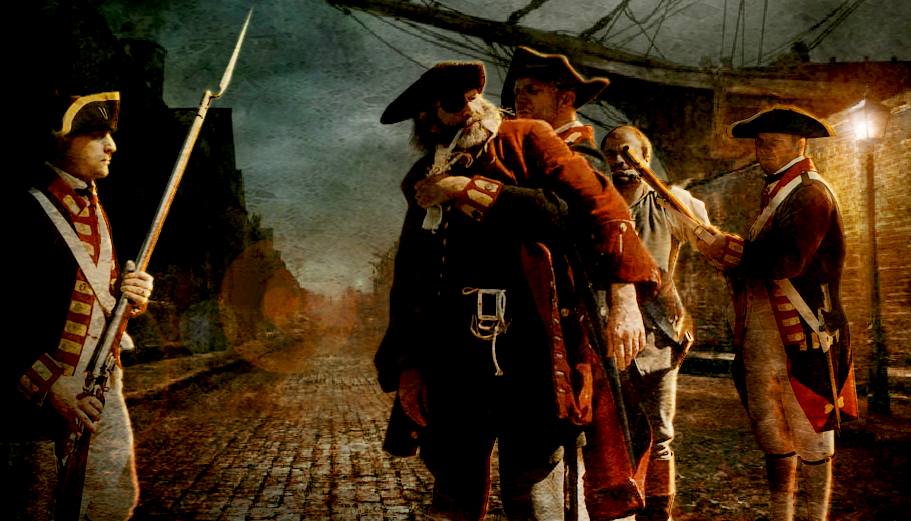 TREACHERY - On the promise of clemency, Kidd gave himself up. He could just as easily settled in another country, or on an island like the mutineers at Pitcairn.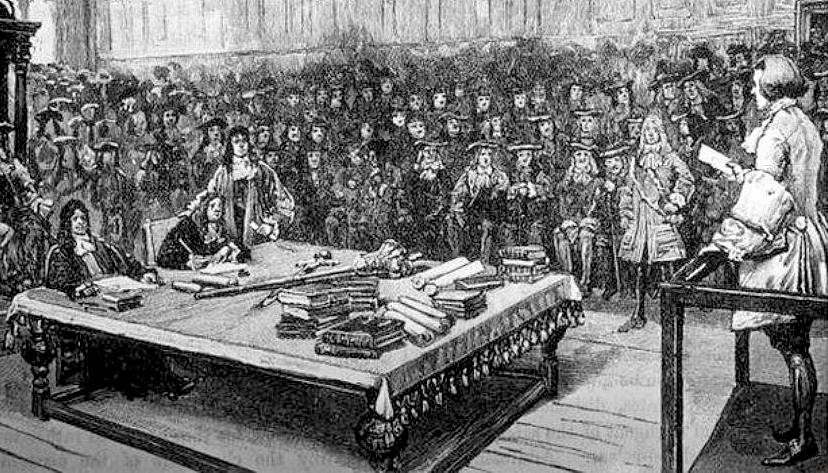 KANGAROO COURT - England has a less than savory reputation when it comes to giving the accused a fair trial. Many innocent men and women were burned at the stake. France was also guilty of such atrocities with Joan of Arc.
Kidd had two lawyers to assist in his defence. He was shocked to learn at his trial that he was charged with murder. He was found guilty on all charges (murder and five counts of piracy). He was hanged on 23 May 1701, at 'Execution Dock', Wapping, in London. During the execution, the hangman's rope broke and Kidd was hanged on the second attempt. His body was gibbeted over the River Thames at Tilbury Point - as a warning to future would-be pirates - for three years.

His associates Richard Barleycorn, Robert Lamley, William Jenkins, Gabriel Loffe, Able Owens, and Hugh Parrot were also convicted, but pardoned just prior to hanging at Execution Dock.

Kidd's Whig backers were embarrassed by his trial. Far from rewarding his loyalty, they participated in the effort to convict him by depriving him of the money and information which might have provided him with some legal defence. In particular, the two sets of French passes he had kept were missing at his trial. These passes (and others dated 1700) resurfaced in the early twentieth century, misfiled with other government papers in a London building. These passes call the extent of Kidd's guilt into question. Along with the papers, many goods were brought from the ships and soon auctioned off as "pirate plunder." They were never mentioned in the trial.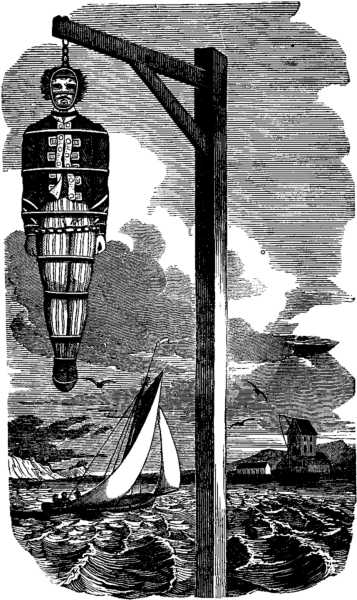 THE GIBBET - Another of man's barbarous acts to his fellow man. As if it were not bad enough taking a person's life. Why not hang up the corpse and tar the poor fellow for good measure. Imagine trying to get that past Health & Safety today.
As to the accusations of murdering Moore, on this he was mostly sunk on the testimony of the two former crew members, Palmer and Bradinham, who testified against him in exchange for pardons. A deposition Palmer gave, when he was captured in Rhode Island two years earlier, contradicted his testimony and may have supported Kidd's assertions, but Kidd was unable to obtain the deposition.

A broadside song Captain Kidd's Farewell to the Seas, or, the Famous Pirate's Lament was printed shortly after his execution and popularised the common belief that Kidd had confessed to the charges.
WALL STREET- Captain Kidd lived in New York, as per the above drawing of his residence. Against this background it seems incredible that he should turn to piracy, when he was backed by the wealthy, to bring pirates to justice - and enjoy those spoils legitimately. It's not impossible of course, but it does sound incredulous.
ADVENTURE GALLEY
The ship was acquired for Kidd by a consortium of investors who backed a scheme to hunt down pirates, recover their booty and redistribute it among the investors. He had enlisted the support of Richard Coote, 1st Earl of Bellomont and governor-general of the British Province of New York and the ambitious Robert Livingston the Younger, who later became the mayor of Albany, New York. With Coote's backing, Kidd obtained a commission from King William III to operate as a privateer. The other investors who came aboard the scheme after it met with the king's approval were the Earl of Oxford, the Earl of Romney, the Duke of Shrewsbury, the Lord Chancellor, Sir Edmund Harrison and John Somers. The king himself was not an investor but was nonetheless entitled to one tenth of the proceeds.

The vessel was purchased for £8,000 (£968,571 today) in August 1696. She had been launched on 4 December 1695 from Captain William Castle's dockyard in Deptford on the outskirts of London. Her design combined sails and oars, an unusual combination for warships at that time, that incorporated three ship-rigged masts and two banks of oars. This allowed her to make 14 knots (26 km/h; 16 mph) under full sail and 3 knots (5.6 km/h; 3.5 mph) under oar. Although rowing was slow it enabled the ship to manoeuvre against the wind, or in calm conditions where other vessels that relied on sails alone could not make any progress. A number of British warships had been built to similar designs following the lessons learned from the wars against the Barbary pirates of North Africa, whose galleys had proved formidable opponents, and trading companies such as the East India Company (EIC) also built oared frigates. Castle's yard, where Adventure Galley was built, was one of the largest private shipyards in England and was a supplier of vessels to the EIC.

Adventure Galley was well-armed with a complement of 32 guns (saker or light cannon). It is not clear whether she was in fact a new vessel or had originally been intended for the navy; she may have been a commercial vessel under refit at Castle's yard before she was acquired by Kidd's consortium. She does not appear to have been particularly well-built, to judge from the problems that Kidd faced with her seaworthiness during her short career in his service. It was not uncommon for shipyards to cut corners and use sub-standard materials, and to pocket the difference in costs as extra profit. Although no picture has survived of Adventure Galley, HMS Charles Galley, which was recorded in contemporary paintings, provides a good example of how the English adapted the oared frigate design for warfare.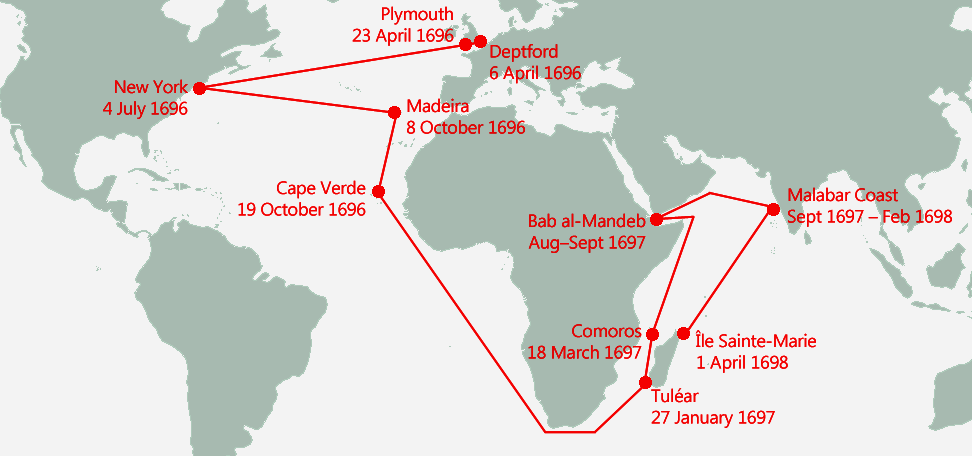 THE VOYAGES OF ADVENTURE GALLEY
After leaving Deptford on 6 April 1696, Kidd brought Adventure Galley along the coast to Plymouth in south-western England. He set sail from there on 23 April, bound for New York, and reached the city around 4 July. The ship was accompanied by a French fishing vessel that Kidd captured during the Atlantic crossing. He had the French boat condemned in New York as prize, and recruited more crewmen and set sail again on 6 September, heading for the Indian Ocean. Adventure Galley called at Madeira (reached on 8 October) and Boa Vista, Cape Verde (on 19 October) to pick up supplies en route. The long voyage down the western coast of Africa and around the Cape of Good Hope took the rest of the year and it was not until 27 January 1697 that Adventure Galley made landfall at Tuléar (now Toliara), Madagascar.

By this time Adventure Galley was in need of fresh sail and rigging. The fact that the ship's existing supplies had barely lasted eight months suggests that the dockyard may have installed substandard equipment. After staying a month in Tuléar, Adventure Galley sailed on to Johanna (now Anjouan) in the Comoros on 18 March, where East India Company ships often refitted. However, Kidd was unable to obtain credit from local merchants to buy new rigging or sails, and chose instead to take Adventure Galley to another island – either Mayotte or Mohéli – for careening, to clean her hull of encrusted barnacles and weeds. This was accomplished successfully over the course of a month but up to a third of her crew died in an outbreak of an epidemic disease, possibly malaria or yellow fever. Kidd sailed back to Johanna to find replacement crewmen and this time was able to raise the credit for new sails and rigging.

According to Kidd's testimony, he "steered for India" on 25 April 1697. By now he was a year out of London and had no prize money to show for his efforts. He had failed to find any pirates and turned his own hand to piracy. Adventure Galley did not go immediately to India but travelled to the Bab el-Mandeb strait at the mouth of the Red Sea, where she is said to have unsuccessfully tried to attack a Mughal convoy. In September 1697, Adventure Galley arrived on the Malabar Coast of India, where Kidd finally managed to capture two ships travelling under French passes – a pair of merchantmen, Rouparelle and Quedah Merchant. Unfortunately for Kidd, the latter ship was captained by an Englishman and when news of her capture reached London he was publicly condemned as a pirate.

Adventure Galley's next and final stage of her voyage took her to the Île Sainte-Marie, a pirate haven off the north-east coast of Madagascar. By now, according to Kidd's narrative, "his gally was very leaky", probably because of a rotten hull. The ship arrived there about 1 April, accompanied by the Rouparelle (renamed November) and Quedah Merchant (renamed Adventure Prize). On arrival, most of the crew promptly deserted to another pirate captain, Robert Culliford and sank November. Kidd was left with only thirteen men to crew Adventure Prize and the now-unseaworthy Adventure Galley. According to one of her crew, William Jenkins, after the rest of the crew had deserted Kidd "run Adventure Galley on shoar in Madagascar. They stript her furnishings and set her on fire to get her iron worke." This is contradicted by Kidd's own account, which stated that his skeleton crew "could not keep the galley from sinking, and went on board of the prize [i.e. Quedah Merchant]."

No more was known about the ship's fate and last position until the Discovery Channel commissioned Barry Clifford, a well-known underwater explorer, to find Adventure Galley as part of its "Quest" series in 1999–2000. Five wrecked pirate ships were discovered, which are believed to be Kidd's Adventure Galley and Rouparelle/November, as well as Culliford's Mocha Frigate, William Condon's Flying Dragon and Captain Chivers' New Soldado. Excavations carried out at the site of what is believed to be Adventure Galley's wreck recovered timbers made from English oak and a few scanty artifacts. So little was found that it appears the ship was completely stripped of almost anything moveable before she sank. In 2015, Clifford recovered a 50 kilograms (110 lb) silver bar from the site. Marked with the letters S and T, the bar may have originated in 17th-century Bolivia. The accuracy of Clifford's conclusions about the wrecks remain debated in the scientific community.
ADVENTURE GALLEY SPECIFICATIONS
Name:

Adventure Galley

Builder:

William Castle, Deptford?

Cost:

8,000 pounds sterling

Launched:

4 December 1695

Fate:

Sunk, April 1698

General characteristics

Class and type:

oared frigate

Tons burthen:

287

Length:

124 ft (38 m) (keel)

Beam:

28 ft (8.5 m)

Draught:

9 ft (2.7 m)

Propulsion:

Sails, one bank of oars

Sail plan:

Ship rig

Speed:

14 knots (16 mph; 26 km/h) under full sail

3 knots (3.5 mph; 5.6 km/h) under oar, without wind

Complement:

160 men

Armament:

34 light cannon
CAPTAIN KIDD LINKS
Treasure Net shipwrecks heartland treasure quest
Marine Link academic treasure hunters
The terramar project capt-kidds-treasure-found-in-madagascar
Wikipedia Adventure_Galley
BBC news world Captain Kidd's treasure ship Africa
Look and learn the best pictures of captain kidd
Examiner on this day New York history Captain Kidd lived on Wall Street
Independent news world africa pirate-captain-william-kidds-treasure-discovered-in-madagascar
http://www.captainkidd.org/
http://www.telegraph.co.uk/news/newstopics/howaboutthat/11588969/Captain-Kidds-treasure-found-in-Madagascar.html
http://www.theguardian.com/world/2015/may/07/captain-kidd-treasure-found-madagascar
http://www.lookandlearn.com/blog/11513/the-best-pictures-of-captain-kidd/
http://www.seafairpirates.org/captain-kidd-use/
http://www.examiner.com/article/on-this-day-ny-history-captain-kidd-lived-on-wall-street-really-part-1-of-2
http://en.wikipedia.org/wiki/William_Kidd
http://theterramarproject.org/thedailycatch/capt-kidds-treasure-found-in-madagascar/
http://en.wikipedia.org/wiki/Adventure_Galley
http://www.bbc.co.uk/news/world-africa-32621444
http://www.maritimeprofessional.com/News/351646.aspx
http://www.treasurenet.com/forums/shipwrecks/1062-heartland-treasure-quest.html
http://www.marinelink.com/news/academic-treasure-hunters351646.aspx
http://www.larsonjewelers.com/Metal-Detecting-for-Beginners.aspx
http://www.wired.com/wired/archive/11.09/shipwreck_pr.html
Brendan Foley shipwreck seeking robots transform maritime archaeology
www.metaldetector.com/marine-salvage-search-recovery/underwater-treasure-hunting-using-rov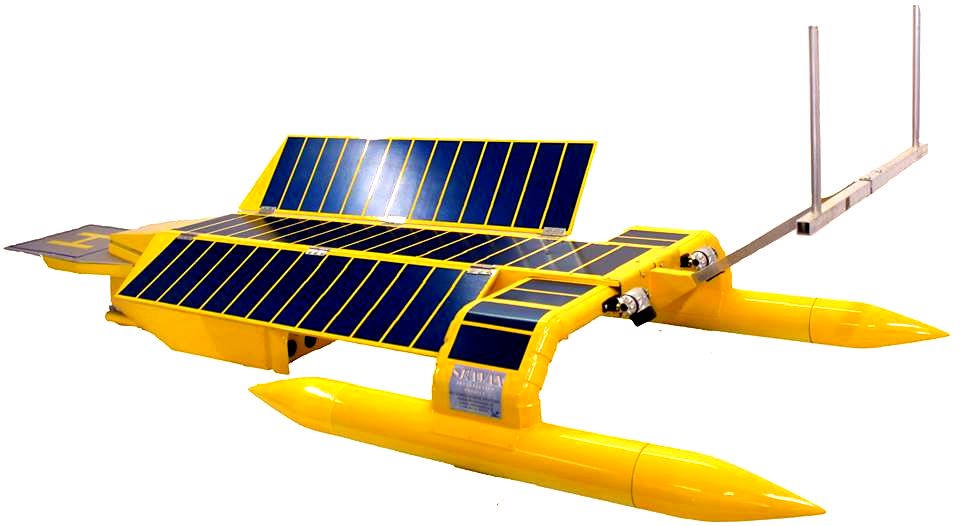 ELIZABETH SWAN - Could this be the ultimate Robot Treasure Hunter, the proposed 'Elizabeth Swan' marine exploration platform would use an advanced active hull design to provide autonomy for archaeological exploration and other data acquisition. The vessel shown above is the SeaVax proof of concept boat that sucks up plastic waste that is polluting our oceans.
ACIDIFICATION - ADRIATIC - ARCTIC - ATLANTIC - BALTIC - BERING - CARIBBEAN - CORAL - EAST CHINA
ENGLISH CH - GOC - GULF MEXICO - INDIAN - MEDITERRANEAN - NORTH SEA - PACIFIC - PERSIAN GULF - SEA JAPAN
STH CHINA - PLASTIC - PLANKTON - PLASTIC OCEANS - SEA LEVEL RISE - UNCLOS - UNEP - WOC - WWF