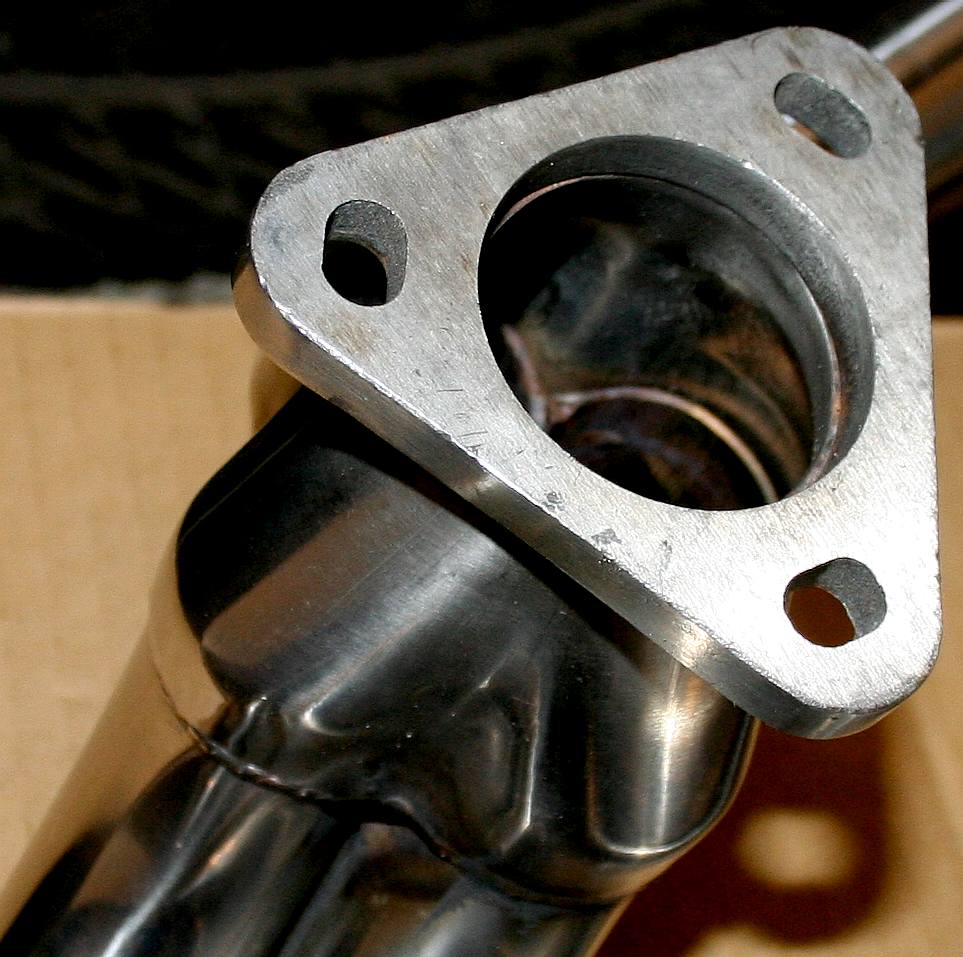 ENDURANCE PARTS - This is the manifold of one of the quieter sporty exhaust systems that you can fit to a type 2. All four pipes lead to this flange, onto which is bolted the silencer. Copyright photograph 30 November 2016 Bluebird Marine Systems Ltd, all rights reserved. You will need the permission of Bluebird Marine Systems Ltd to reproduce this picture except for media review or private research, or educational purposes.
Stainless steel is not only nice to look at, but it does not rust in open air conditions where water makes short work of ordinary steel. The discovery was made by accident when a metallurgist noticed that a high chromium content alloy that had been discarded had not rusted when on the scrap pile.
There are different types of stainless steels: when nickel is added, for instance, the austenite structure of iron is stabilized. This crystal structure makes such steels virtually non-magnetic and less brittle at low temperatures. For greater hardness and strength, more carbon is added. With proper heat treatment, these steels are used for such products as razor blades, cutlery, and tools, but they are difficult to drill with an ordinary high speed steel tool.

Significant quantities of manganese have been used in many stainless steel compositions. Manganese preserves an austenitic structure in the steel, similar to nickel, but at a lower cost.

'J' PIPES - This kit came almost complete with all the parts you need to fit and forget the ductwork for the burnt gasses that exit your air cooled lump at the rate of 1,600 litres @ 2,000 rpm. This is not taking into consideration expansion of the combusted mixture that is of course compressed and trying to escape into the atmosphere to contribute to climate change. Copyright photograph, 30 November 2016, all rights reserved. You will need the permission of Bluebird Marine Systems Ltd to reproduce this picture.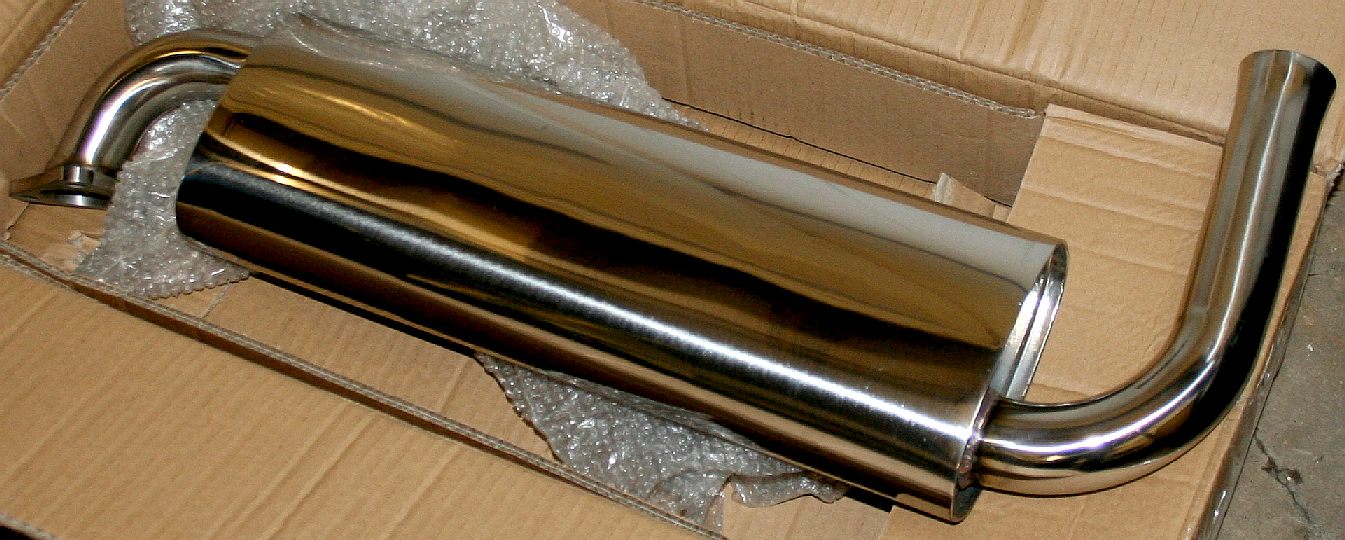 SILENCE - This is the part that absorbs most of the sound energy caused by exploding fuel in a confined space. Copyright photographs, 30 November 2016, all rights reserved. You will need the permission of Bluebird Marine Systems Ltd to reproduce this picture.

HEADERS - On any other engine these would be called headers, but because each cast iron cylinder has a single pipe coming from a different angle and direction to the other three pipes, there is no conventional cast iron exhaust manifold. Copyright photograph 30 November 2016, all rights reserved. You will need the permission of Bluebird Marine Systems Ltd to reproduce this picture.
METALLURGY
In metallurgy, stainless steel, also known as inox steel or inox from French inoxydable (inoxidizable), is a steel alloy with a minimum of 10.5% chromium content by mass.

Stainless steel is notable for its corrosion resistance, and it is widely used for food handling and cutlery among many other applications. Stainless steel is used for corrosion-resistant tools for surgical operations.

Stainless steel does not readily corrode, rust or stain with water as ordinary steel does. However, it is not fully stain-proof in low-oxygen, high-salinity, or poor air-circulation environments. There are various grades and surface finishes of stainless steel to suit the environment the alloy must endure. Stainless steel is used where both the properties of steel and corrosion resistance are required.

Stainless steel differs from carbon steel by the amount of chromium present. Unprotected carbon steel rusts readily when exposed to air and moisture. This iron oxide film (the rust) is active and accelerates corrosion by making it easier for more iron oxide to form. Since iron oxide has lower density than steel, the film expands and tends to flake and fall away. In comparison, stainless steels contain sufficient chromium to undergo passivation, forming an inert film of chromium oxide on the surface. This layer prevents further corrosion by blocking oxygen diffusion to the steel surface and stops corrosion from spreading into the bulk of the metal. Passivation occurs only if the proportion of chromium is high enough and oxygen is present.

Stainless steel's resistance to corrosion and staining, low maintenance, and familiar lustre make it an ideal material for many applications. The alloy is milled into coils, sheets, plates, bars, wire, and tubing to be used in cookware, cutlery, household hardware, surgical instruments, major appliances, industrial equipment (for example, in sugar refineries) and as an automotive and aerospace structural alloy and construction material in large buildings. Storage tanks and tankers used to transport orange juice and other food are often made of stainless steel, because of its corrosion resistance. This also influences its use in commercial kitchens and food processing plants, as it can be steam-cleaned and sterilized and does not need paint or other surface finishes.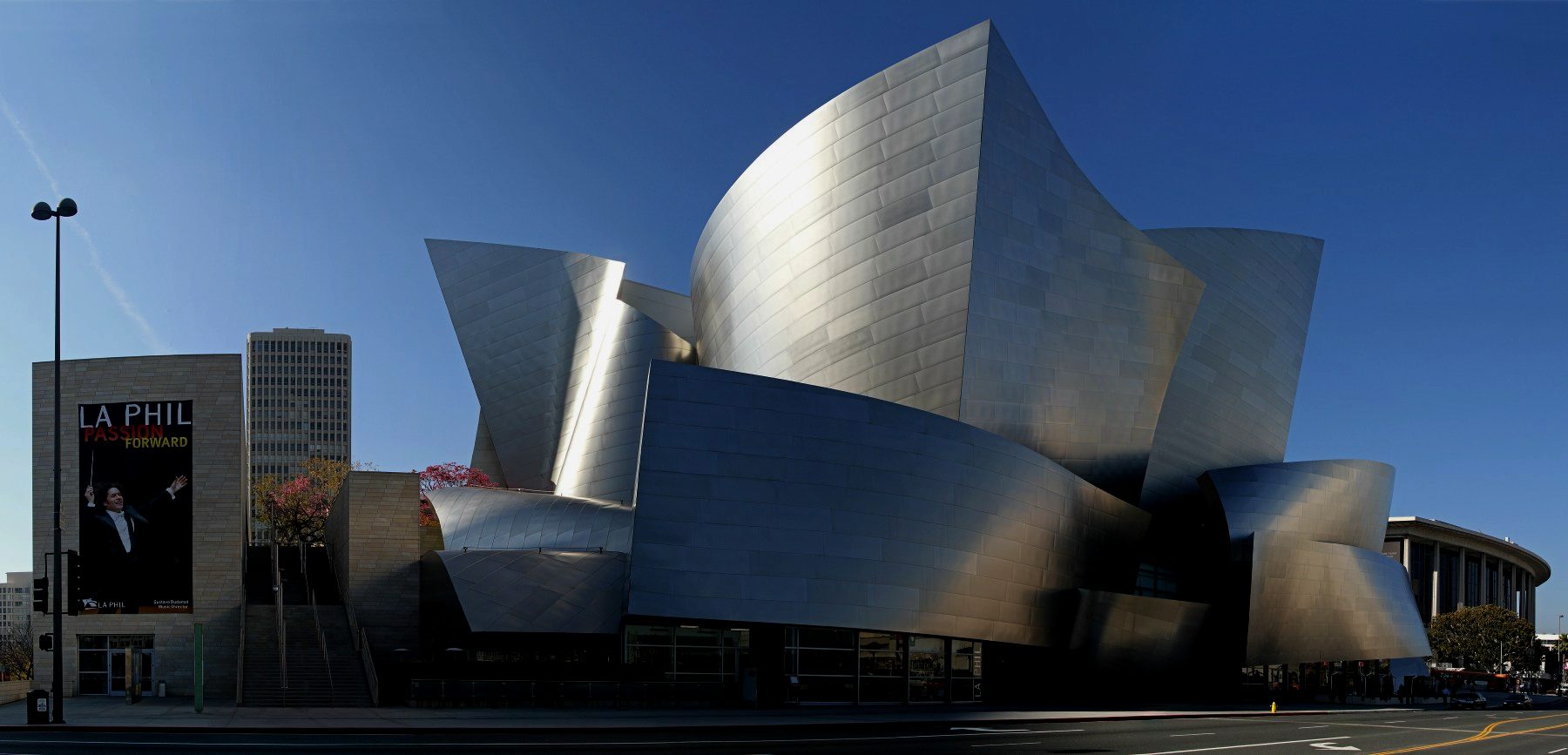 3D PRINTING
Some 3D printing providers have developed proprietary stainless steel sintering blends for use in rapid prototyping. One of the more popular stainless steel grades used in 3D printing is 316L stainless steel. Due to the high temperature gradient and fast rate of solidification, stainless steel products manufactured via 3D printing tend to have a more refined microstructure; this in turn results in better mechanical properties. However, stainless steel is not used as much as materials like Ti6Al4V in the 3D printing industry; this is because manufacturing stainless steel products via traditional methods is currently much more economically competitive.


AUTOMOTIVE

The Allegheny Ludlum Corporation worked with Ford on various concept cars with stainless steel bodies from the 1930s through the 1970s to demonstrate the material's potential. The 1957 and 1958 Cadillac Eldorado Brougham had a stainless steel roof. In 1981 and 1982, the DeLorean DMC-12 production automobile used Type-304 stainless steel body panels over a glass-reinforced plastic monocoque. Intercity buses made by Motor Coach Industries are partially made of stainless steel. The aft body panel of the Porsche Cayman model (2-door coupe hatchback) is made of stainless steel. It was discovered during early body prototyping that conventional steel could not be formed without cracking (due to the many curves and angles in that automobile). Thus, Porsche was forced to use stainless steel on the Cayman.
HISTORY

In 1912, Elwood Haynes applied for a US patent on a martensitic stainless steel alloy, which was not granted until 1919.

In 1912, Harry Brearley of the Brown-Firth research laboratory in Sheffield, England, while seeking a corrosion-resistant alloy for gun barrels, discovered and subsequently industrialized a martensitic stainless steel alloy. The discovery was announced two years later in a January 1915 newspaper article in The New York Times. The metal was later marketed under the "Staybrite" brand by Firth Vickers in England and was used for the new entrance canopy for the Savoy Hotel in London in 1929. Brearley applied for a US patent during 1915 only to find that Haynes had already registered a patent. Brearley and Haynes pooled their funding and with a group of investors formed the American Stainless Steel Corporation, with headquarters in Pittsburgh, Pennsylvania.

In the beginning stainless steel was sold in the US under different brand names like "Allegheny metal" and "Nirosta steel". Even within the metallurgy industry the eventual name remained unsettled; in 1921 one trade journal was calling it "unstainable steel". In 1929, before the Great Depression hit, over 25,000 tons of stainless steel were manufactured and sold in the US.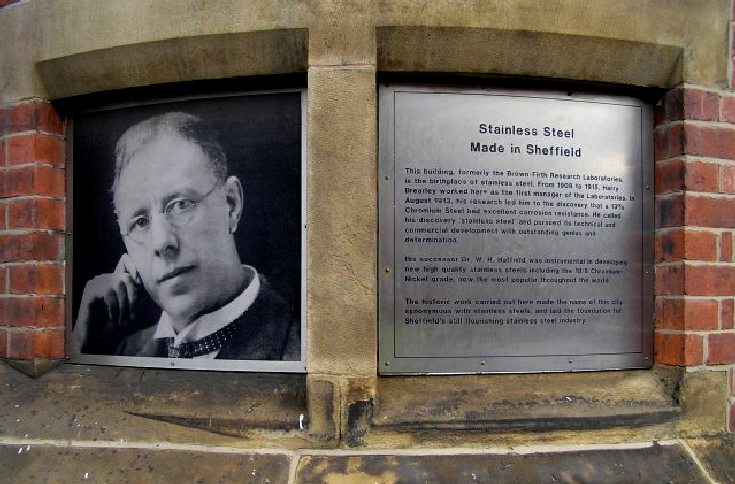 STAINLESS STEEL LINKS
http://www.uksteelcentre.com/
http://www.uksteelcentre.com/
http://www.icifonderia.com/en/
http://www.ebay.com/sch/Brighton-Stainless-Steel-Fashion-Jewelry/10968/bn_2022011/i.html
http://www.screwfix.com/c/screws-nails-fixings/stainless-steel-screws/cat7270018
http://www.aalco.co.uk/products/stainless-steel.aspx
http://www.bssa.org.uk/
https://en.wikipedia.org/wiki/Stainless_steel
http://www.r-techwelding.co.uk/
http://www.alanhschofield.com/
https://www.vwheritage.com/
http://www.coolairvw.co.uk/
http://www.justkampers.com/
http://www.volkszone.com/
http://www.volkswagen.co.uk/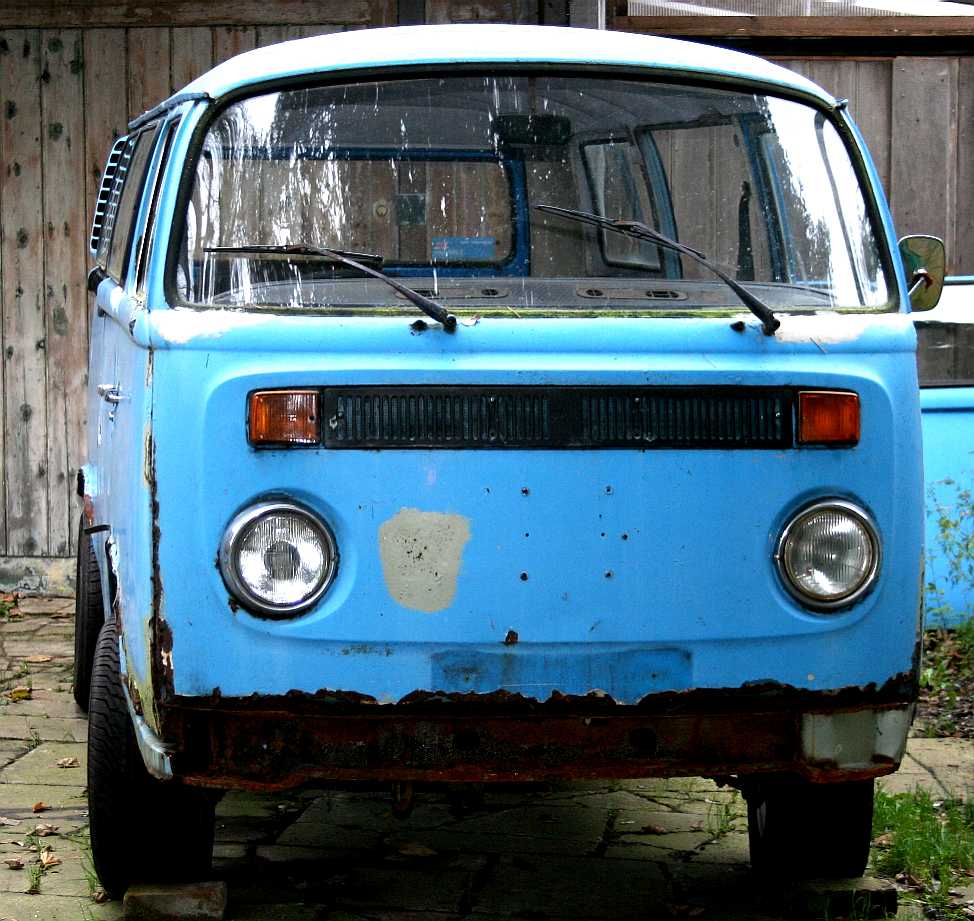 ARCHES - VW HOME - BODYWORK - ENGINE - GOLF - LOGISTICS - STAINLESS STEEL - SUSPENSION & BRAKES - VINYL WRAPPING - WELDING