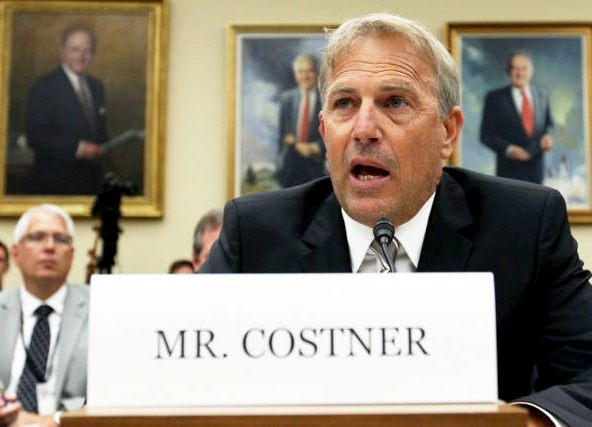 6 Sept 2010 - Kevin Costner testified before the House Committee on Science and Technology. He talked about his Ocean Therapy Solutions water purifiers, that could possibly clean up the BP oil spill.

THE INDEPENDENT 22 MAY 2010 - COSTNER $26 MILLION VACUUM CLEANER FOR BP
Desperate times call for desperate measures. So with hundreds of thousands of gallons of oil still spewing into the Gulf of Mexico each day, and its corporate image starting to resemble the tar-covered sea creatures now washing on to Louisiana's fragile shoreline, BP has called on Kevin Costner to help stave off environmental Armageddon.

The Hollywood star has been bobbing around the Mississippi Delta helping representatives of the British oil firm and US coastguard test-drive a stainless steel device called the Ocean Therapy. In a claim which sounds as unlikely as the plot premise of Waterworld, he says it can quickly and efficiently clean oil from tainted sea water.

Bizarrely, Costner may be on to something. The actor has spent 15 years and roughly $26m (£18m) of his personal fortune developing the patented machine with the help of his elder brother Dan, a scientist. It works like a giant vacuum cleaner, sucking up dirty liquid and then using a high-speed centrifuge to separate it into oil, and heavier water.

When he allowed the local media to see Ocean Therapy in action – albeit on dry land – it appeared to work as advertised. Yesterday, six of the devices were attached to boats and floated into the Gulf, so the organisers of the clean-up operation could see whether they might also be capable of functioning on the high seas.

"This is a technology that we know works, and has worked for a long time," Costner said, adding that 26 of the machines are now in Louisiana ready to be put into action. "I'm just really happy that the light of day has come to this, and I'm very sad about why it is. But this is why it was developed, and like anything that we all face, as a group, we face it together."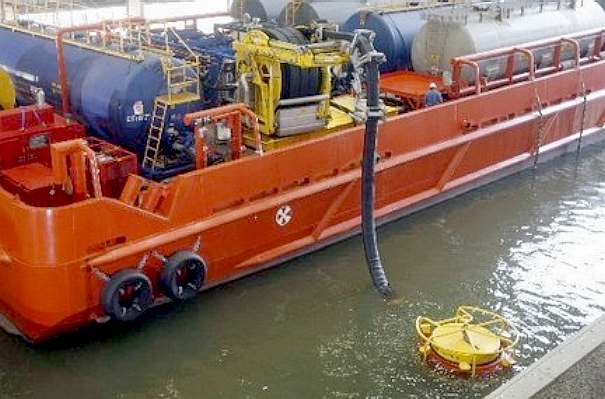 Ocean Therapy Solutions - Water purifier in action cleaning up the BP oil spill.
Costner, 55, has quietly been developing Ocean Therapy since the mid-1990s when he founded the Costner Industries Nevada Corporation, a company which funded eco-friendly research by his brother and a team of scientists. Aside from the water cleaning device, the firm has also invented a non-chemical battery.

Each of the 26 Heath Robinson-style machines now in Louisiana waiting to be deployed can clean between 5 and 200 gallons of water a minute, depending on its size, said Costner's lawyer and business partner, John Houghtaling, which means they could in theory mop up oil at the rate it is currently gushing into the Gulf. Polluted sea water which passes through them comes out 97 per cent clean.

"Kevin saw the Exxon Valdez spill, and as a fisherman and an environmentalist, it just stuck in his craw, the fact that we didn't have separation technology," said Houghtaling. "Kevin wrote all the checks for this project. This was one man's vision. Sometimes it takes a star to come in with their money and time to make a difference."

BP was cautiously optimistic about the machines, saying they could provide a valuable tool in the armoury of clean-up workers, provided they "meet regulations with regard to discharge". The firm could certainly use some good news: a warm ocean current is now transporting the slick from the ruined Deepwater Horizon rig towards the coast of Florida. Roughly six million gallons of oil have already washed into the Gulf, and is starting to hit the fragile coastal swamps of Louisiana, which are home to an array of rare birds and mammals.

In Washington, BP is being accused of underestimating the scale of the leak in an effort to protect its reputation. The firm originally said that 1,000 barrels of oil were spilling each day, but later increased that figure to 5,000. Many scientists believe the real figure is higher still.

Amid growing political pressure, BP has agreed to allow live underwater footage of oil billowing into the ocean to be screened online. Although one relief well was drilled last week, and is said to be capturing 200,000 gallons of oil a day, the firm now admits that it could take until August to plug the leak.

Costner isn't the only Hollywood star taking an interest in the disaster. The Avatar director James Cameron has offered to make his collection of submarines available to clean-up teams, while Robert Redford is starring in a TV ad sponsored by the Natural Resources Defence Council, which uses the spill to call for the US government to promote clean energy.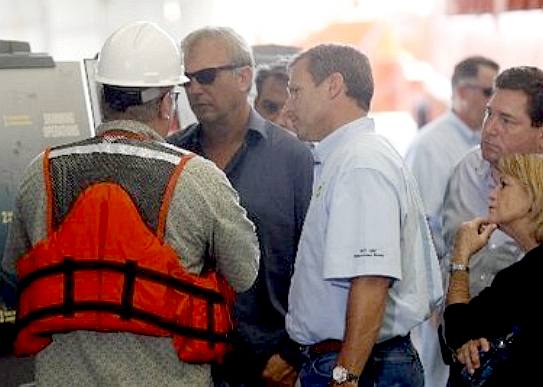 Kevin Costner with BP staff and officials looking at deploying the centrifugal oil separation machines from Ocean Therapy Solutions.
OCEAN THERAPY SOLUTIONS
Ocean Therapy Solutions (OTS) is a company acquired by Kevin Costner from the United States government for US$24 million in 1995. OTS specializes in developing centrifugal oil-water separators. After the Exxon Valdez oil spill in 1989, Costner wanted to find a new way to separate oil from water, so he acquired the company. He found it difficult to promote its products, until BP placed an order for several of the company's devices in the aftermath of the Deepwater Horizon oil spill.

OTS's largest machine, the V20, can clean up to 210,000 US gallons (790,000 l) of oily water per day. On July 8, 2010, OTS reported it had 9 centrifuges deployed in the Gulf of Mexico, with 23 additional machines under construction and scheduled for shipment to Louisiana by the end of August 2010.

The machines developed by the company were of little commercial interest until the Deepwater Horizon oil spill, when BP took six of the machines for testing in late May 2010. On June 9, that order was expanded to 32 of the oil-water separation devices.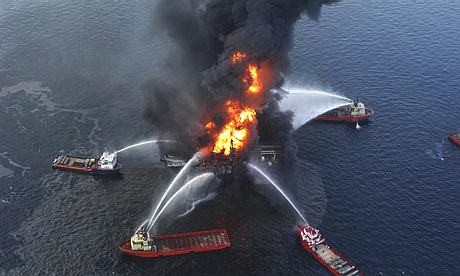 The Deepwater Horizon oil spill (also referred to as the BP oil spill, the BP oil disaster the Gulf of Mexico oil spill, and the Macondo blowout) is an oil spill in the Gulf of Mexico which flowed unabated for three months in 2010, and continues to seep. It is the largest accidental marine oil spill in the history of the petroleum industry.
20 APRIL 2013
La catastrophe pétrolière du Golfe du Mexique, un an après. BP continue toujours de nettoyer les côtes de la Louisiane. En France, le petit chantier naval breton d'Ecocéane surfe sur le changement de mentalités qui s'opère aujourd'hui.
Le 20 avril 2010, la plate-forme de forage Deepwater Horizon explose. Plusieurs millions de litres de pétrole s'écoulent dans la mer chaque jour, par 1500 mètres de fond. Un an après, la nécessité d'une meilleure prévention des risques de marée noire fait son chemin, tant du côté des pouvoirs publics que des pétroliers. Un mouvement qui profite à Ecocéane. Le petit chantier naval breton avait volé au secours de la grande Amérique, en lui livrant ses bateaux nettoyeurs. Cette PME de Paimpol en tire plus d'une carte à jouer, à court comme à long terme.
DE LA VISIBILITÉ

Ecocéane participe à l'effort de dépollution à l'été 2010. Tout se fait en cinq minutes, grâce à un film présenté le 4 mai par Jean-Louis Borloo au gouvernement américain. L'accord est conclu après que la sixième tentative de colmatage par BP échoue, au dernier week-end de mai. Reste pour les navires de la PME bretonne à être validés par les gardes-côtes américains puis acceptés par BP, ce qui est fait le 11 juin.

Si la marée noire aux Etats-Unis n'a pas modifié la stratégie du breton, elle l'a accélérée, indique son patron Eric Vial. Le constructeur n'est pas un inconnu : il a déjà vendu une soixantaine de catamarans en quatre ans sur le globe. Mais surtout, dans le sillage de la catastrophe écologique, Ecocéane a pu créer un bateau d'un nouveau genre.
UN NOUVEAU BATEAU

Fort de son adoubement par les autorités américaines et par BP, le bureau d'études installé dans les Côtes-d'Armor met au point un navire, qui prendra l'eau pour la première fois au mois de mai. Son originalité ? Il permet aux pétroliers de consacrer leur tracteur de pipeline habituel à la dépollution, à tout moment.

Inspiré du workboat, qui permet de tracter des pipelines en mer dans l'industrie pétrolière, le Workglop permet de jouer d'y ajouter du fret, du transport de passagers… et de dépolluer si besoin en masse. Le navire peut ramasser 80 mètres cubes de pétrole par heure et travailler par force 6. C'est le seul à le faire, selon le patron d'Ecocéane.

Peu enclins à dédier une ligne de budget pour un engin uniquement destiné au nettoyage, les pétroliers devraient y trouver leur compte. Une première commande doit être officialisée dans les prochaines semaines.
UN PIED AUX ETATS-UNIS

Vendre ses bateaux à un prestataire de services de BP, l'été dernier, n'a pas été facile. Afin de pouvoir livrer ses navires de toute urgence dans le Golfe du Mexique, Ecocéane dû voir lever le Jones Act, une loi protectionniste qui interdit l'achat de navires non fabriqués aux Etats-Unis.

Depuis, Ecocéane a créé une filiale sur le sol américain. En effet, son mode de production permet de construire des navires sur n'importe quel chantier. "On travaille avec le logiciel Catia : on envoie des plans de découpe aux fournisseurs de tôle qui nous envoient des pièces. L'assemblage, on peut le faire partout", explique Eric Vial.

DU TRAVAIL POUR LES CHANTIERS NAVALS FRANÇAIS

D'autres chantiers navalsen France pourraient bénéficier du regain d'activité dont jouit la PME bretonne. "Le chantier de Paimpol ne va pas grossir. On va travailler avec d'autres chantiers français pour fabriquer des bateaux", prévoit le patron de la société. Ceux de la façade Atlantique, en particulier, manquent de travail, mais pas de compétences.

La manne espérée est considérable. Le chiffre d'affaires annuel d'Ecocéane s'élève aujourd'hui à 3 millions d'euros. La PME devrait le multiplier par 3 ou 4 cette année. "Il faut 5 à 6 mois pour fabriquer un bateau", explique Eric Vial. Un Cataglop, petit catamaran de nettoyage portuaire, se vend entre 100 000 et 230 000 euros, indique le chef d'entreprise. Son Workglop se vendra entre 400 et 1,4 million d'euros, tandis que le Spillglop, destiné au nettoyage en haute mer, affiche un prix compris entre 4 et 6 millions d'euros. Plusieurs commandes doivent tomber sous peu.

UN NOUVEAU MARCHÉ

Last but not least : la prise de conscience post marée noire sert l'activité du fabricant de navires. "La marée noire a montré qu'il n'y avait rien sur les plateformes pour les sécuriser en cas de catastrophe écologique. C'est comme s'il n'y avait pas d'extincteurs dans une station-service", explique Eric Vial.

Pour l'instant, aucune loi mondiale, aucune obligation n'existe quant au nettoyage des mers. "En 2000, tout le monde s'en moquait. C'est aussi pour cela que personne n'a fait de R&D", renchérit l'entrepreneur. Si personne ne voyait l'utilité à l'époque, le marché est selon lui en cours de création aujourd'hui. En mer Caspienne, et mer Noire et dans le Golf du Mexique, les pays limitrophes se regroupent pour faire pression sur les pétroliers.

Ecocéane répond d'ailleurs en ce moment aux appels d'offre de l'EMSA, l'Agence européenne pour la sécurité maritime. L'agence souhaite renouveler sa flotte. Mais les critères de l'appel d'offres sont basés sur des systèmes "vieux de trente ans", indique le chef d'entreprise. Il a encore du lobbying à faire.
CATAMAR VACUUM CLEANER, JULY 2009
Catamar, an innovative anti-pollution vessel designed to clean up floating ocean debris and oil spills, took to the seas of of western France in 2009. Designed and built by ecoceane, the ship employs new methods for both hydrocarbon and solid waste recovery.

Previous technology employs skimmers, built into outrigger booms at each side of the ship. The booms thicken the layer of oil sitting atop the water as the ship moves forward and the skimmers collect it. Speeds are generally limited to 1.5 knots, beyond which the wake created by the vessel's bow interferes with the ability of the side skimmers to function. This method of collection also tends to emulsify spilled oil, creating a mixture of tiny oil droplets suspended in a much larger volume of water.

Catamar works more like a vacuum cleaner, with booms mounted at the front of the vessel to thicken the layer of oil without interference from the bow wake. A turbine draws oil and water through the ship without creating an emulsion, thus making it easier to separate oil from water. This method allows the ship to work in recovery mode at a much higher 4.5 knots. According to ecoceane, Catamar can cover as much or more ocean area in one hour than earlier methods could cover in a day. Equipped with oil detection radar, the ship can work 24 hours a day.

For minor spills, the ship has internal storage for recovered hydrocarbons, For larger spills a separate, towed barge can add 1000 cu meters of hydrocarbon storage.
ECOCEANE PARIS, BUSINESS WIRE, MAY 2010
800 m3 of oil has been discharged each day into the Gulf of Mexico since 22 April 2010. BP has attempted to put a dome on the leaking oil to stem the oil spill. The device was to be removed on Saturday due to the formation of crystals similar to ice. On 4 May 2010, the Minister of State, Jean-Louis Borloo, suggested on France Inter that France would offer assistance by sending ships provided by Ecoceane.

This innovative company, supported by OSEO, FEDER, the Brittany Region and the French State will make available three oil-spill recovery vessels designed to skim oil from the sea if BP takes responsibility for the transportation, which would cost EUR 250,000: the Catamar, a prototype of the Spillglop SG180 ocean-going vessels, can work up to force 5 and recover oil without creating emulsions, 300m3/day/mm of hydrocarbons; and two Cataglop CG92 and CG66 to clean up the coastline.

Since 2007, Ecoceane has sold 50 Cataglop vessels around the world. The Catamar was unveiled in April 2009 by its sponsor Maud Fontenoy, Vice-President of "Conservatoire du Littoral", in the presence of a delegation from the Elysée and the Ministry of Ecology, Energy, Sustainable Development and the Sea.

"Our boats will be available free of charge if BP pays the transport"

"Over the past few days we have been meeting with the public authorities, namely the Ministry of Ecology, and we have met advisers from the Ministry of External Trade. We have the support of all the French authorities. We have made direct contact with the US authorities via the US embassy, the Consul in Houston and the French Ministry of Foreign Affairs, as well as the Secretary General of the Sea. We are offering three of our vessels free of charge if BP agrees to pay the transport costs of EUR 250,000", explained Eric Vial, President of Ecoceane.
THE FRENCH AUTHORITIES

Since June 2008, the company has been meeting the public authorities and participated in an exercise as part of the POLMAR plan in June 2009. Ecoceane also organized a demonstration of the Catamar at La Rochelle in June for the Secretary of State in charge of Transport, Mr. Dominique Bussereau. For more than one year we have also been in regular contact with Ms Valérie Létard, Secretary of State in charge of Green Technologies, Ms Michèle Pappalardo, Commissioner for Sustainable Development and Mr. Jean-François Tallec, Secretary General of the Sea.

Eric Vial added that: " Ms Valérie Létard, Secretary of State in charge of Green Technologies, invited us to a national conference on professions relating to green growth on 28 January. During the conference we demonstrated to the Minister of State, Mr. Jean-Louis Borloo, the enormous potential for job creation in the marine and river cleaning and anti-pollution sector".

Founded in 2003, the innovative company, devoted exclusively to research, the development and marketing of ships, which holds the patents for the collection of hydrocarbons and floating solid waste at sea, will be able to create nearly 5,000 jobs through its activity by 2015 on a market estimated at more than 300 ships per year.
THREE LARGE MARKETS

I. Maintenance and cleaning up of coastlines, ports, marinas and water surfaces: Cataglop range. The Cataglop CG92 can clean up a surface of 8,000m2/hour, or 8ha/day, recovering 80 m3/day/mm.

II. Services to oil and gas rigs: Workglop range. The Workglop WG128 works at 4 knots over a width of 4.5m and cleans up a surface of 25,000m2/hour or 25ha/day, recovering 25 m3/day/mm. The 1st Workglop will be commissioned at the end of 2010.

III. Offshore oil-spill recovery: Spillglop range (Catamar prototype). This sea-going vessel works at 4 knots up to force 5 over a width of 6 m. It cleans up an area of 30,000m2/hour, 30 Ha/day and recovers 300m3/day/mm. (600m3/day if the slick is 2 mm thick).
FRENCH TECHNOLOGY WITH AN INTERNATIONAL PATENT

As soon as the motor is started, the ECOCEANE boat begins filtering the water which passes through its tanks: solid waste is filtered through a mesh and the hydrocarbons are channeled into a separator where the hydrocarbons are stored floating.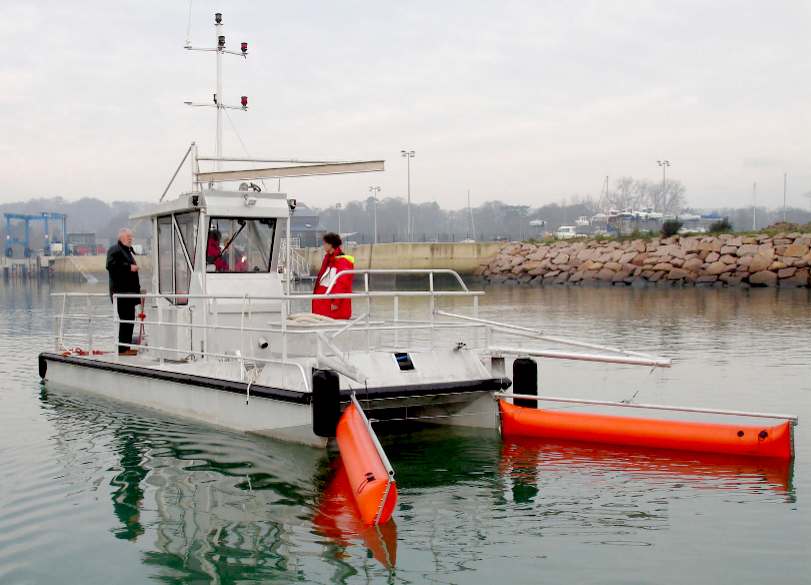 Cataglo, the baby of the Ecoceane range of surface cleaning machines
AN INNOVATIVE SME WITH HIGH POTENTIAL

ECOCEANE has its own engineering and design department and a shipyard specialized in aluminum construction. With this know-how, the whole industrial process is brought under control, making it possible to envisage large-scale production with subcontractors. ECOCEANE is striving to be the world leader of this market within the next five years. According to the company, the market is estimated at more than 300 boats per year, which over the next 10 years will represent 3,050 around the world for the maintenance and cleaning up of coastal ports, 620 for services to oil rigs and 270 for pollution control at sea and services.

Through its activities, ECOCEANE expects to generate around 4,200 jobs by 2015, excluding indirect and related jobs, which are estimated at more than 3,000.

The company relies on a unique concept in a market which is on course to develop over the next 10 years. At the time of the launch of the marketing campaign in 2007, ECOCEANE had sold more than 50 boats in the Cataglop range, of which 85% were for export. 28 orders were received in 2009. The innovative company is continuing to invest in research and development so as to move its projects, and all the logistics required, into the operational framework. This know-how will provide an opportunity for the aluminum ship construction sector in France. These new markets will help boost the activity in regions affected by the drop in orders in the shipbuilding sector.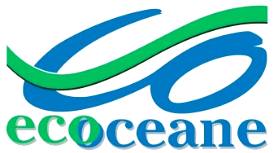 ABOUT ECOCEANE

ECOCEANE provides states, local government and councils with solutions for collecting and storing floating macro waste and hydrocarbons: on the open sea, in ports, on beaches, in estuaries, lakes, ponds, canals, rivers, etc.

With the support of OSEO Innovation and FEDER, ECOCEANE specializes in marine pollution control and improving water surface quality. The French Navy unit, CEPPOL, played a consulting role for ECOCEANE during the development of CATAMAR.

As soon as motor is started, the ECOCEANE boats start filtering the water that passes through the hull: macro waste is caught in a basket and the hydrocarbons are channeled into a separator where they are stored floating. The technology has been patented.

The company, founded in 2004, employs 30 staff, eight of whom are based at the Paris head office and around 20 at the shipyard in Paimpol, Brittany. Thanks to its network of agents, 85% of ECOCEANE's turnover is generated by exports. Pierre-Armand Thomas, Senior Vice-President of Technip, recently joined Ecoceane as Director of International Development oil and gas industry.

ECOCEANE boasts several references in France and abroad (Australia, Uruguay, Madeira, Angola, Congo, Côte d'Ivoire, Morocco, Nigeria, Kenya, Spain, Ireland, Italy, Montenegro, and Turkey). More than 50 boats have already been sold since the company was set up.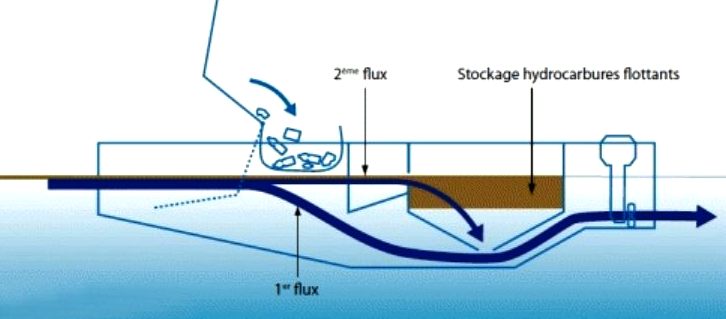 Diagram showing the 2 stages of water and oil separation
MARITIME JOURNAL FEB 2012

The latest versions of Ecoceane's catamarans, the Workglop range, are an extension of the original pollution clean up vessels but they are much more flexible and can double up as general supply boats, even having a crane.

Barrie Dannenberg of IAC UK explained that Ecoceane aluminium catamarans were designed from the start to be integrated pollution clean up vessels, able to deal with both oil spills and collect solid waste. However, the original Cataglops are 6m to 9.9m long and road-trailer transportable, so suitable for ports, harbours, estuaries, and other calm waters. The 9.9m version has an inboard diesel engine making it suitable for certification for oil spill clean up work. These Workglops can also take on open estuary work, coastal intervention and offshore duties, being able to handle force six wind conditions.

However, the Workglop range goes well beyond this first remit. These new designs run from 10.6m to 13m, and are not just pollution clean up craft but can also stand as multi-purpose supply vessels, able to run 1,000 nautical miles without support and stay on station for long periods. The Workglops have a crane, a fire protection system, and can be supplied with a bow landing platform. They can also be set up for grey water pump out and are able to carry diesel to supply offshore facilities.

Ecoceane claims its method of spill clean up is far more efficient than others and can work in harsher sea states. The Workglop simply sails into the spill and sucks in the oil, whether it is moving forward or astern or is stationary. It can get there quicker than other systems in practical terms, as equipment does not have to loaded and thus little preparation in port is needed.

All of Ecoceane's 'Glop' vessels have a funnel arrangement with a boom system to allow a wide area of oil to be sucked in. The turbine effect of the propeller sucks oil in, through a mesh basket that traps solid waste, and into a storage tank without pumping.

Water is sucked out of the bottom of the tank as oil comes in through a venturi, so there is no emulsification of the oil, which can be pumped ashore after the clean up. In case of a major spill, hydrocarbons can be pumped into floating flexible tanks or into a bunker barge, allowing continuous, fast and efficient spill clean up.

The solid waste trapped in the basket is lifted by a hydraulic mechanism and tipped into a deck container.

Workglop has a big sister, Catamar, an 18m version, and there are designs for a 25m as well as a 40m vessel suitable for arctic use.

Eight Cataglops were sold into the Gulf of Mexico as part of the response to the Deepwater Horizon incident, and the bigger 18m Catamar was sent there for three months.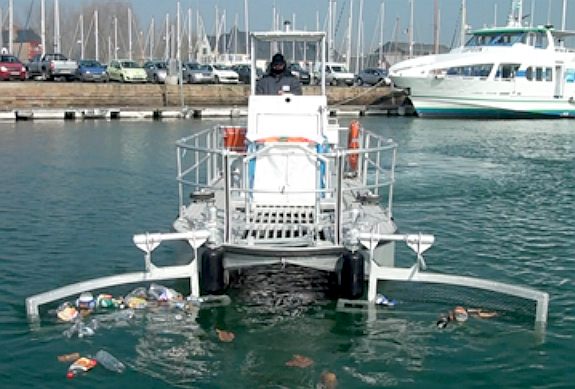 Scoops spread wide, the Ecoceane machine collects surface trash
SPILLGLOP SPECIFICATIONS
Designed to meet the requirements of the MCA MGN 280 Workboat regulations (Category 1) the Spillglop® is able to work up to 150 miles from a safe haven.
Propulsion is provided by twin 700hp engines in the Spillglop® (SG-250) with a cruising speed of 15 knots. Catamar® (SG-180) has twin 300hp engines and a cruising speed of 9 knots. The Spillglop® is fitted with 10t/m and 30t/m cranes (3t/m and 10t/m in Catamar®)
Internal oil recovered oil storage of up to 120m3 is provided onboard. This can be supplemented with a custom designed bunker barge.
Ecoceane boats have a patented oil separation system which recovers oil without causing further emulsification.
The bow collecting system is able to recover oil in heavy seas (up to Beaufort force 3). The surface layer carrying floating waste and hydrocarbons is first passed through a wire mesh basket to collect floating debris. The basket is emptied into a storage container on deck. The hydrocarbons are captured by an integrated oil interceptor and stored, the cleaned surface water is discharged at the stern.
The Spillglop® vessels are equipped for working in hazardous atmospheres and may be fitted with foam and absorbent delivery systems. Vessels have transfer pumps for loading recovered oil into barges or floating tanks.
| | | |
| --- | --- | --- |
| . | Spillglop SP250 | Catamar P SP180 |
| . | . | . |
| Length OA | 25.00 m | 18.00 m |
| Beam OA | 7 m | 7 m |
| Unloaded draught | 3.00 m | 3.20 m |
| Light displacement | 70 tonnes | 55 tonnes |
| Engines | 2 x 750 HP | 2 x 300 HP |
| Cruising speed | 15 knots | 9 knots |
| Working speed | 5 knots | 4 knots |
| Cleaned Surface/hour | 50,000 m2 | 40,000 m2 |
| Oil storage capacity | 120 m3 | 50 m3 |
| Payload | 30 tonne | 10 tonne |
| Telescopic crane capacity | 10t/m + 30t/m | 3t/m + 10t/m |
| Transfer pump | 100 m3/h | 100 m3/h |
| Fire fighting | yes | yes |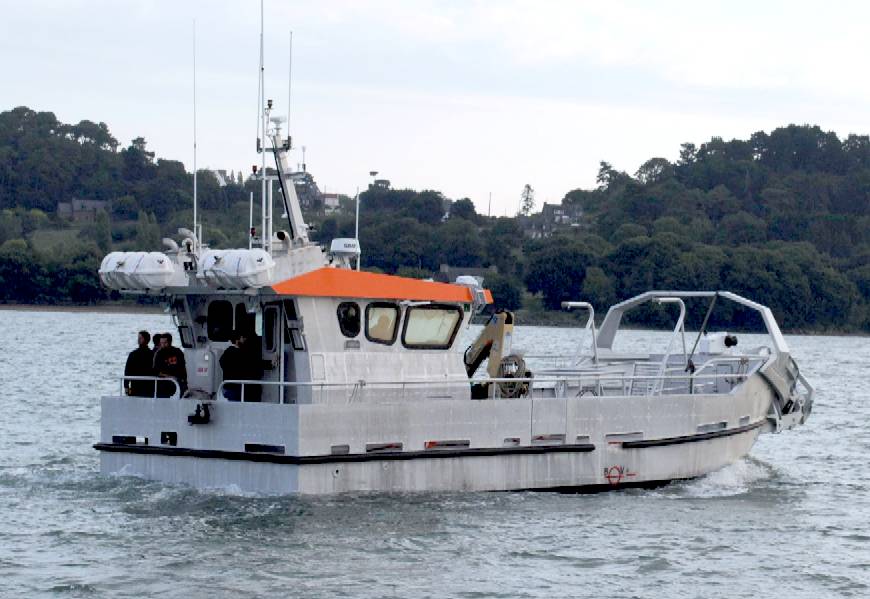 Ecoceane's Workglop, general purpose ocean cleaning boat
ARCTIC - ATLANTIC - BALTIC - BERING - CARIBBEAN - CORAL - EAST CHINA - ENGLISH CH - GULF MEXICO
INDIAN - MEDITERRANEAN - NORTH SEA - PACIFIC - PERSIAN GULF - SEA JAPAN - STH CHINA
LINKS & REFERENCE
Independent BP calls in Costners 26 million vacuum cleaners to mop up huge oil spill
SCMP inventor designs boats shape shifting hulls help clean oceans
National Geographic 2014 July ocean-plastic-debris-trash-pacific-garbage-patch
Plastic Soup News Blogspot 2014_July
Salon 2014/09/14 we_cant_strain_the_entire_ocean_the_horrifying_truth_about_where_our_plastic_ends_up
Un package me.whats wrong with plastic
Neuro research project 2013 death-by-plastic
Google opensailing maree noire un tremplin pour ecoceane
Ecology 2009 French vessel brings innovation and efficiency to ocean cleanup
Maritime Journal glops-put-the-stops-on-pollution
Nola gulf oil spill Kevin Costners oil skimmer
NY Daily News gulf-oil-spill-kevin-costner-donates-ocean-therapy-invention-clean-oil-sea-bp-tests
http://www.forbes.com/
http://en.nioc.ir/
http://www.saudiaramco.com/
http://www.shell.com/
http://www.rosneft.com/
http://www.exxonmobil.com/
http://www.gazprom.com/
http://www.petrochina.com.cn/
http://www.pemex.com/
http://www.chevron.com/
https://www.kpc.com.kw/
http://www.petrobras.com.br/
http://www.total.com/
https://www.qp.com.qa/
http://www.adnoc.ae/
http://www.bp.com/
http://www.lukoil.com/
http://www.statoil.com/
http://www.pdvsa.com/
http://www.nrc.oil.gov.iq/
http://www.sonatrach.com/
http://www.nola.com/news/gulf-oil-spill/index.ssf/2010/07/kevin_costners_oil_skimmer_to.html
http://en.wikipedia.org/wiki/Ocean_Therapy_Solutions
http://www.maritimejournal.com/news101/pollution-control/glops-put-the-stops-on-pollution
http://www.iacuk.com/ecoceane/spillglop.htm
http://ecoceane.com/
http://www.scmp.com/lifestyle/technology/article/1561227/inventor-designs-boats-shape-shifting-hulls-help-clean-oceans
http://unpackageme.com/whats-wrong-with-plastic/
http://neuroresearchproject.com/2013/02/21/death-by-plastic/
http://www.worldwildlife.org/threats/pollution
http://plasticsoupnews.blogspot.co.uk/2014_07_01_archive.html
http://en.wikipedia.org/wiki/Marine_debris
http://www.plasticoceans.net/the-foundation/
http://www.greatrecovery.org.uk/plastic-its-a-lovehate-thing/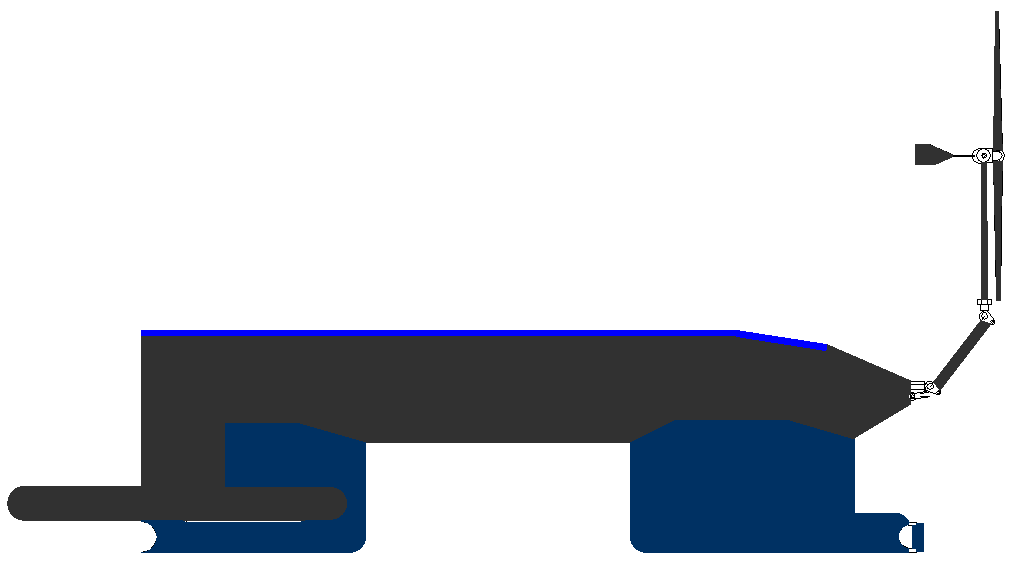 SEAVAX, THE WORLD'S LARGEST VACUUM CLEANER - A non-polluting vessel such as the SeaVax concept above could be an ideal base engine when it comes to filtering garbage from the world's ocean gyres. The SeaVax is a robotic ocean workhorse that is based on a stable SWASH hull. This design uses no diesel fuel to cruise the oceans autonomously (COLREGS compliant) at between 7-10 knots 24/7 and 365 days a year as required. With such awesome power generating capability, a ZCC can be adapted to extract plastic waste from ocean garbage patches. Several of these cleaners operating as Atlantic, Indian and Pacific ocean fleets could make such conservation measures cost effective, and even potentially attractive to governments around the world - for the health of the world. Recovered plastic could be processed to produce oil, energy or recycled products. Better than letting fish and seabirds eat the waste and kill themselves, and who knows how that may affect us, where seafood is an essential resource for mankind.