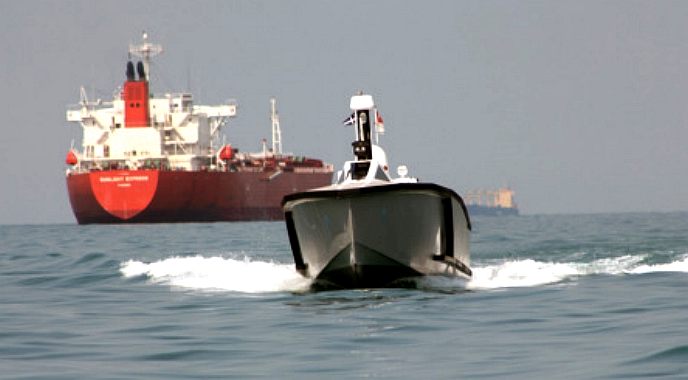 Zycraft Pte. Ltd., is registered in Singapore and specializes in the design and manufacturer of Unmanned Surface Vessels (UMVs) and special high speed manned boats using advanced nano composite materials. The company also develops unique security solutions for the maritime industry to counter the threat of piracy and sea theft.
James Soon, president of Zycraft, says the IUSV is big enough to operate independently for up to 30 days. Because ultra-strong, lightweight carbon nanotube composite materials are used throughout the boat, there's weight margin to carry a large supply of fuel – 5 ½ tons of it, representing 40 percent of the weight when fully loaded — for the two Yanmar diesels, which generate 480 HP and 370 KW each, with a total of 960 HP available. The 54-foot (16.5 meter) Vigilant also comes in a manned version, called the Shomari.
Soon said: "The IUSV is designed for open ocean missions to support a naval force or provide merchant ship escort through pirate-prone waters." "We have relatively small engines in a light hull." "Low fuel consumption gives long endurance." Even with personnel onboard, Vigilant uses a fly-by-wire control system. "It's built to run unmanned."
Zycraft claims that the vessel is controlled at an ops room in Singapore via Inmarsat and V-Sat satellite communications. "With the Internet, we can control the boat from anywhere around the world with the right program and the right access." The IUSV can also be controlled by an operator on a tanker controlling the UMV as an escorting vehicle. Vigilant can be disabled remotely to prevent unauthorized use, and has an auto tracker.
COLREGS COMPLIANCE
Soon is quoted as saying: "The IUSV is also capable of collision avoidance and can certainly take care of itself."

In order to provide enhanced situational awareness to a shore base, the unmanned system is fitted with radar, electronic support measures (ESM), and electro-optic sensors as well as automated identification system (AIS).
With AIS, charts, cameras and radar, the IUSV knows where most ships and boats in an area are. "If I have radar and AIS, I can make good sense of the situation." Satellite Communications is the method by which command and control is effected. allowing the IUSV to operate virtually anywhere around the world and be controlled from a shore base.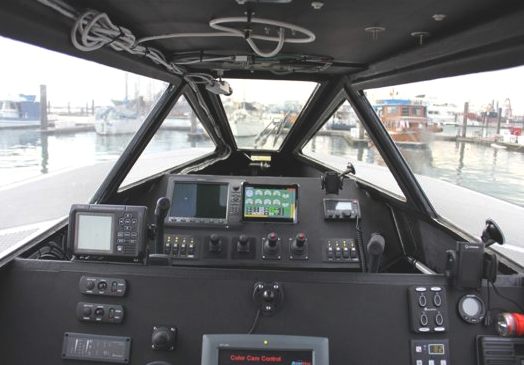 PHASE 1 COMPLETION 16 SEPTEMBER 2013

Zycraft successfully completed their phase one development of the Vigilant-class independent unmanned surface vessel (IUSV), LongRunner in September 2013. During the development phase, the LongRunner vessel successfully completed in-water testing off Singapore waters and traveled a total of 2000 nautical miles over 24 months.
The IUSV has also undergone several fleet battle experiments and validated continuous unmanned operations, exceeding 48 hours. Remotely commanded and controlled from Zycraft's headquarters ashore using satellite communications, the unmanned vessel travelled 100nm into the South China Sea during the phase one development period. Zycraft's president, James Soon, said that the Vigilant IUSV has been designed to be very effective in surface-water maritime surveillance and could be the nexus for widespread USV employment.

Zycraft revealed that it is now inviting potential customers to use its Vigilant IUSV for concept demonstrations. Soon added that the potential of USV can only be fully understood when it is deployed in an experimental setting equating to combat situations, or as part of real operations. Once customers see the results for themselves, they will appreciate the value proposition of using USVs compared to manned boats.

According to Zycraft, navies utilizing the IUSV concept will not need to construct bigger ships to carry small USVs, but instead can depend on the size of the bigger IUSV to have high endurance and carry the needed payloads, according to Zycraft.

Currently, Zycraft is working with several vendor partners to develop sensor technologies to further enhance the ability of the IUSV roles.
The Vigilant IUSV is offered for sale, or Zycraft can provide services. The Vigilant provides a cost-effective long range and endurance capability to for Maritime Surveillance, Logistics, Search and Rescue and Special Missions.
GYROSCOPIC STABILIZATION
The Vigilant IUSV is a state of the art multi-mission unmanned vessel that is constructed of an advanced materials using nano-technology. This unmanned, or Autonomous Surface Vessel (ASV) features a stabilization system called Seakeeper,™ which is claimed to provide exceptional seakeeping, especially at loiter speeds. These technologies enable the IUSV to remain effective at sea for extended periods of time (up to 30 days) making it a real force multiplier in littoral use. James Soon is quoted as saying: "Vigilant has the Seakeeper gyroscopic anti-roll device. "We are the only USV with active anti-roll stabilization."
The Vigilant IUSV can operate independently of a mother craft. Command and control is achieved via satellite communications systems, enabling the IUSV to operate anywhere in the world. Vigilant is offered for outright sale, or for hire as a service. Soon says Zycraft's business is offering a turn-key service, not selling equipment. "Users pay for the use of the IUSV for specific tasks and for a set period of time," he says. "We own, manage, operate and support the vehicle and its systems. Customers just get the service they need, as they need it."
ANTI SUBMARINE WARFARE
The Vigilant IUSV can tow a unique active passive sonar array (supplied by a technology partner) to provide a highly compact unmanned ASW solution. This capability enables the IUSV to replace many larger and more expensive naval vessels for detection of diesel electric submarines in littoral waters.
With its long endurance, the ASW IUSV provides a cost effective track and tag capability for navies wanting to deter and deny submarines in a particular area. Information obtained from the IUSV is sent to weapon ready naval forces to prosecute the submarine.

NANO TECHNOLOGY
Zycraft has developed and built the Vigilant Class, Independent Unmanned Surface Vessel™ (IUSV) and the Shomari™ Long Range Vessel (LRV) using an advanced nano composite material. For this reason the vessels have lightweight but extremely strong hulls and so can carry heavier payloads or provide longer endurance when compared to similar size vessels.
The IUSV and Shomari vessels are built from Arovex prepreg material developed by ZyvexTech Inc of the USA. It is believes that these two boats are currently the only vessels built using these advanced materials. The technology behind the Arovex prepreg is based on carbon nanotubes which are infused with resin to bind the carbon fibres. When properly integrated into composites, carbon nanotubes increase laminate strength. The hull's three-ply composite with honeycomb core construction provides additional buoyancy.
SPECIFICATIONS
Length: 16.5m
Beam: 3.6 m
Maximum Speed: > 30 knots
Cruise Speed: 12 knots
Payload Fuel and Cargo 7,000 kg
Full Load Weight: 13,000 kg
Lightship Weight: 6,000 kg
Range @ Cruise: 1,500nm (Standard Package)
Patrol Endurance: > 30 days
CONTACTS
James Soon
Zycraft Pte. Ltd.
10 Science Park Road | The Alpha #02-02
Singapore 117684
Telephone: +65 9008 5372
Email: info@zycraft.com
Wesite: http://zycraft.com/index.html



LINKS
http://news.silobreaker.com/zycraft-completes-phase-1-development-of-vigilant-unmanned-surface-vessel
http://www.defensenews.asia/zycraft-completes-phase-1-development-of-vigilant-unmanned-surface-vessel/
http://www.upi.com/Business_News/Security-Industry/Zycraft-completes-Phase-1-development-of-IUSV
http://www.international-maritime-rescue.org/244-zycraft-unmanned-search-and-rescue (download)
http://www.naval-technology.com/news/newszycrafts-vigilant-class-iusv-phase-1
http://www.wnd.com/markets/zycraft_completes_phase_1_development_of_vigilant_unmanned_surface_vessel
http://www.defensemedianetwork.com/stories/zycraft-independent-unmanned-surface-vehicle-iusv/