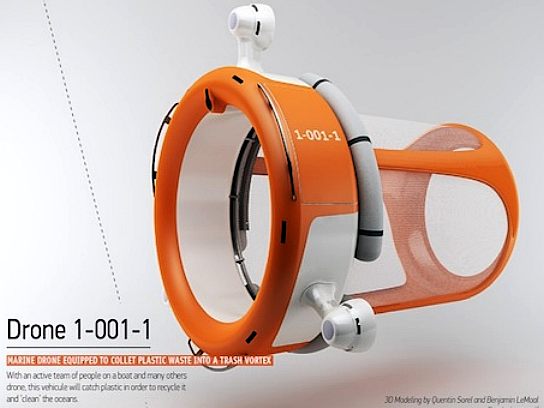 A 3D model of the Drone 1-001-1 from Elie Ahovi. The Drone 1-001-1 concept features a steel body construction with composite materials for strength and lightweight operation. Its battery-powered motors are quiet and efficient. Ahovi estimates the drone could remain submerged for about two weeks before needing a charge. The ocean drone uses an infrasound system to help it navigate away from schools of fish and larger underwater objects.
NEXT NATURE - FREE RANGE ROBOT FILTERS OUT OCEAN PLASTIC
Whale sharks are great at filtering; plastic needs to be filtered. For now, however, whale sharks only have an appetite for plankton. Industrial designer Elie Ahovi has jumped into the void with her Marine Drone, an autonomous robot that can dredge up the plastic junk that currently clogs our oceans. Roaming the ocean for two-week periods, Ahovi's drone can collect plastic in its attached net while scaring off any marine life with an irritating high-pitched tone. When its batteries run low, the robot returns to a home base where humans can collect the plastic and ship it off to a recycling plant.
GEEK MECCA
A new underwater drone concept could seek and destroy one of the ocean's most insidious enemies, while earning a profit for plastics recyclers. This marine drone can siphon plastic garbage, swallowing bits of trash in a gaping maw rivaling that of a whale shark.

Industrial design student Elie Ahovi, who previously brought us the Orbit clothes washer concept, now presents the Marine Drone, an autonomous electric vehicle that tows a plastic-trapping net. The net is surrounded by a circular buoy to balance the weight of the garbage it collects. It discourages fish and other creatures from entering its jaws via an annoying sonic transmitter, and it communicates with other drones and with its base station using sonar.

The system could stay underwater for two weeks, sipping tiny plastic shards and entire plastic bottles. As its batteries drain, it can return to an ocean base, where human crews will haul it up and empty the plastic for recycling. The project is a response to a challenge from France-based environmental services firm Veolia, which asked students to come up with ways to tackle the Great Pacific Garbage Patch.

Ahovi, Adrien Lefebvre and fellow students developed several schematics, including a concept that looks much like a whale shark. The main iteration is more cylindrical.

Along with cleaning the oceans, the trash drone could yield profits for companies seeking to reduce petroleum use and recycle plastics, Ahovi is quoted as saying: "Unless someone builds an island out of the Pacific patch, this cleanup concept could be a real solution."

Solid garbage also makes its way to the ocean. Plastic bags, balloons, glass bottles, shoes, packaging material – if not disposed of correctly, almost everything we throw away can reach the sea.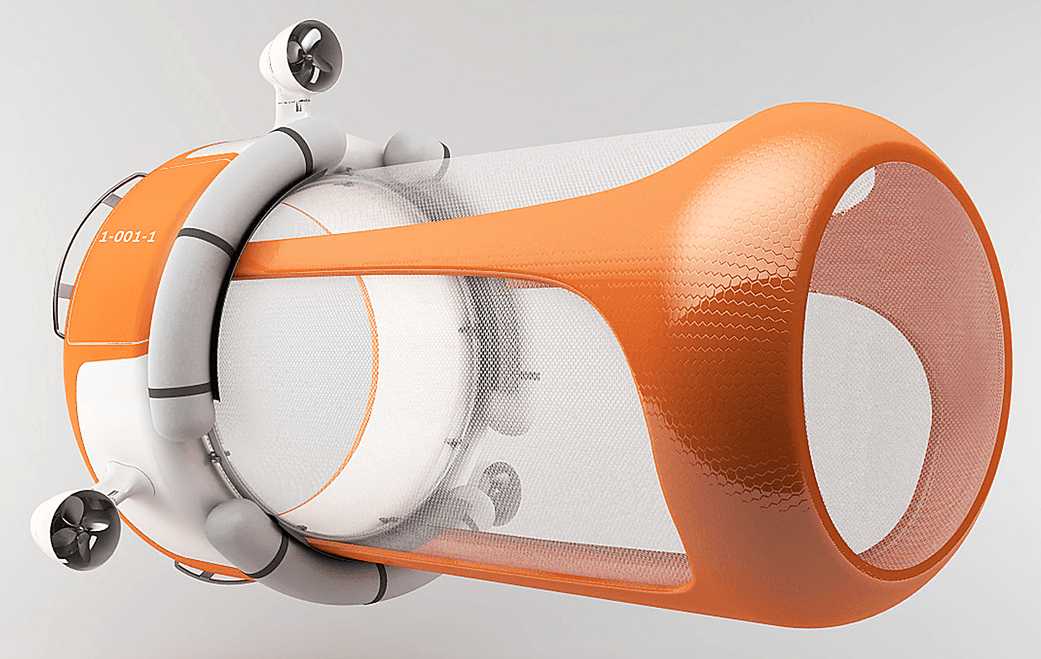 Looking somewhat like a fancy fishing net, the design uses three thrusters to swoop down and scoop up plastic trash. The drag from such a design would be tremendous. Mind you, almost every vessel that has to sift waste on this scale will have a higher resistance to forward motion, but more especially when fully submerged with the hydrodynamics of a brick. Submarines, on the other hand, have a low resistance when submerged pro rata. That is because they have smooth nose and tail entry and exit tapers and when submerged, do not have to deal with wave drag.
The Marine Drone concept created by Elie Ahovi and his team of collaborators is a perfect example of a way drone technology can have a positive impact on our world. The illustrations above show one of the giant robotic ocean going butterfly nets being recovered by humans onboard a medium sized ship.

Unlike the drones that have been causing so much controversy, this robot is designed to operate underwater, and instead of seeking out enemy targets, it will search for and destroy something equally sinister–ocean garbage.

Horrified by the size of the Great Pacific Garbage Patch, and its identical twins forming in oceans all over the world, Ahovi and his classmates from the French International School of Design decided to come up with a simple-yet-sophisticated solution. The Marine Drone would patrol the oceans autonomously, sucking plastic bottles and garbage into its maw like a butterfly net. Powered by water-proof batteries, the Drone would employ an electric motor to move silently through the water.
ARCTIC - ATLANTIC - BALTIC - BERING - CARIBBEAN - CORAL - EAST CHINA - ENGLISH CH - GULF MEXICO
INDIAN - MEDITERRANEAN - NORTH SEA - PACIFIC - PERSIAN GULF - SEA JAPAN - STH CHINA
LINKS & REFERENCE
Geek Mecca plastic-eating-underwater-drone-could-swallow-the-great-pacific-garbage-patch
5 Gyres - Understanding Plastic Marine Pollution
Wind Driven Surface Currents: Gyres
SIO 210: Introduction to Physical Oceanography - Global circulation
SIO 210: Introduction to Physical Oceanography - Wind-forced circulation notes
SIO 210: Introduction to Physical Oceanography - Lecture 6
Physical Geography - Surface and Subsurface Ocean Currents
North Pacific Gyre Oscillation — Georgia Institute of Technology
Education National Geographic ocean gyre
National Geographic 2014 July ocean-plastic-debris-trash-pacific-garbage-patch
Plastic Soup News Blogspot 2014_July
Salon 2014/09/14 we_cant_strain_the_entire_ocean_the_horrifying_truth_about_where_our_plastic_ends_up
http://www.nextnature.net/tag/plastic-planet/page/2/
http://geekmecca.com/plastic-eating-underwater-drone-could-swallow-the-great-pacific-garbage-patch/
http://www.worldwildlife.org/threats/pollution
http://plasticsoupnews.blogspot.co.uk/2014_07_01_archive.html
http://en.wikipedia.org/wiki/Marine_debris
http://www.plasticoceans.net/the-foundation/
http://www.greatrecovery.org.uk/plastic-its-a-lovehate-thing/
http://www.greatrecovery.org.uk/
http://seaplexscience.com/
http://abundantseas.org/
http://www.gyrecleanup.org/cleanup-plan/
http://education.nationalgeographic.co.uk/education/encyclopedia/ocean-gyre/?ar_a=1
http://www.plasticboards.com
http://jbiglobal.com/
http://www.gasification.org/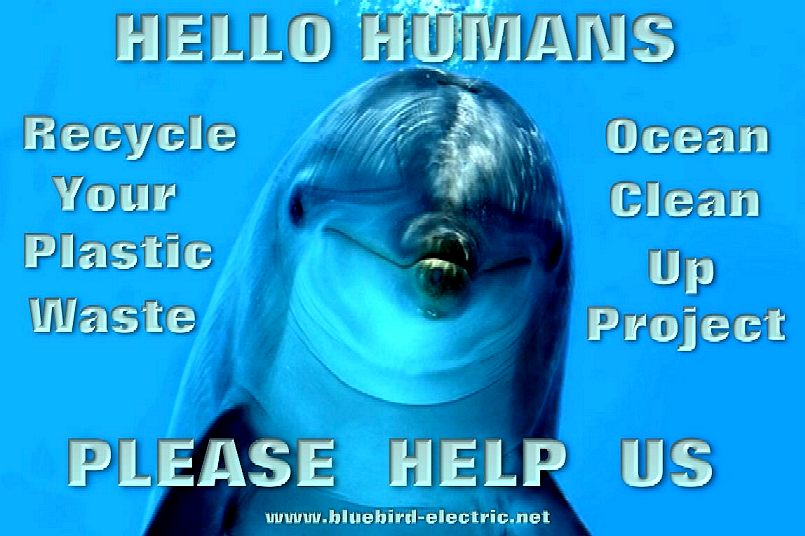 Flipper would hate the plastic that is making the oceans a dangerous environment for his mates. Dolphins often get caught up in plastic nets, bags and ingest the toxic waste when they eat fish that have themselves eaten small plastic bits.