Honolulu Harbor, also called Kulolia and Ke Awa O Kou, is the principal seaport of Honolulu and the State of Hawaii in the United States.

Honolulu Harbor is administered by the Hawaii State Department of Transportation Harbors Division. Honolulu Harbor handles over 11 million tons of cargo annually. The services that the harbor provides are crucial as Hawaii imports over eighty percent of its required goods.


HISTORY

Archaeological surveys show that the area around Honolulu Harbor was bustling with human activity prior to 1100. The first European vessel to enter Honolulu Harbor was a long-boat from the British merchant ship King George. The boat rowed into the harbor on December 12, 1786, commanded by a Mr. Hayward and piloted by Towanooha, servant of a friendly Hawaiian priest. In 1794, Butterworth, a British ship commanded by Captain William Brown, entered the harbor by "warping" in. The crew dubbed it "Brown's Harbor" to their captain's dismay. Captain Brown insisted that the harbor be called "Fair Haven", which is synonymous with the Hawaiian name Honolulu.

In 1850, Kamehameha III declared Honolulu to be the official capital of the Kingdom of Hawaii. With the proclamation came a series of investments to further develop the harbor to accommodate more vessels. Honolulu Harbor quickly became the chief port of call for the trans-Pacific sandalwood, fur and whaling industries. Foreign vessels that docked at Honolulu Harbor poured vast amounts of wealth into the kingdom's coffers and provided for the well-being of native Hawaiians.

ALOHA TOWER

On September 11, 1926, after five years of construction, the world-famous Aloha Tower was officially dedicated at Pier 9 of Honolulu Harbor. The tallest building in Hawaii at that time, the Aloha Tower became a guiding beacon welcoming vessels to Honolulu. Just as the Statue of Liberty greeted thousands of immigrants each year to New York City, the Aloha Tower greeted thousands of immigrants to Honolulu. By the time the Aloha Tower was dedicated, Honolulu was already a popular vacation destination for wealthy American and European families. They traveled on Matson steamers that docked at the Aloha Tower and were greeted by Hawaiian music, hula performers and lei.

When the attack on Pearl Harbor came on December 7, 1941, Coast Guardsmen from the USCGC Taney were ordered to take up defensive positions around Aloha Tower. The Aloha Tower was painted in camouflage colors so as to disappear at night.

RECENT DEVELOPMENT

In 1982, the Hawaii Maritime Center was opened near the Aloha Tower in an old royal pier to present the history of Honolulu Harbor and the relative industries it served. Falls of Clyde, a historic merchant ship, is docked at the royal pier. In 2002, the Hawaii Maritime Center became an incorporated institution of the Bishop Museum. In 1994, the Aloha Tower Marketplace opened making Honolulu Harbor the only harbor in the nation to combine a visitor attraction, retail and restaurant outlets, and working commercial harbor facilities at a single location.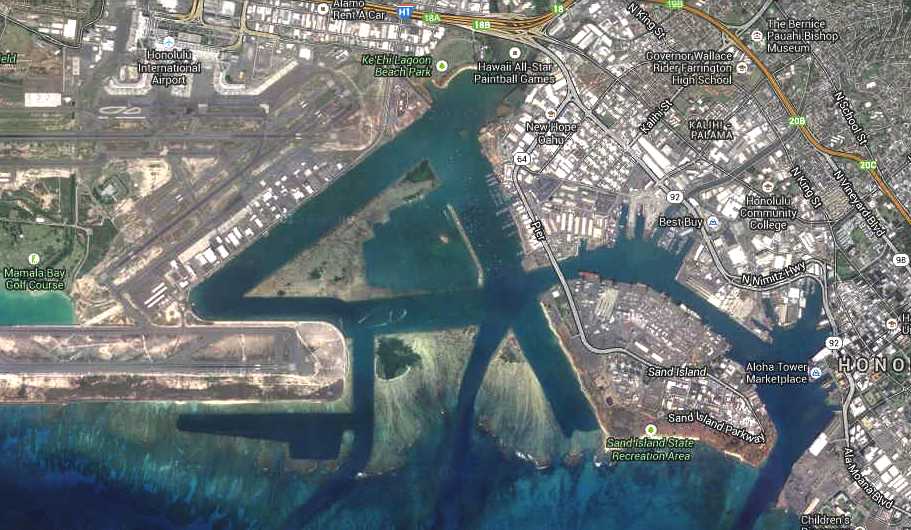 Map of Honolulu - International Airport left and Sand Island right

SAND ISLAND

Sand Island is a small island within the city of Honolulu, Hawaii, United States. The island lies at the entrance to Honolulu Harbor.

It was known as Quarantine Island during the nineteenth century, when it was used to quarantine ships believed to carry contagious passengers.

During World War II, Sand Island was used as an Army internment camp to house Japanese Americans as well as expatriates from Germany, Italy, and other Axis countries living in Hawaii. The camp was closed in March 1943, and most of the internees moved to the Honouliuli Internment Camp.

During the 1970s, over 100 homeless native Hawaiians cleaned up the garbage that filled the island, built homes and took up residence. In the early 1980s, 180 acres of the island were reclaimed by the State of Hawaii for industrial and recreational development. Those who had taken up residence were evicted without compensation.

According to the United States Census Bureau the island has a land area of 203.78 ha (0.7868 sq mi, or 503.55 acres), and a population of 184 persons as of the 2000 census.

Chapter 13 - SOLAR RACE 200 N, 1600 W Honolulu Harbor, Hawaii

(extract from: The $Billion Dollar Whale by Jameson Hunter © 2012)

SAND ISLAND – HONOLULU HARBOUR 7:00 am

"This is the Captain. Will all passengers please fasten your seat belts. We are beginning our decent….and remain seated until the seat belt warning signs go out. Thank you."

The familiar white lights came on immediately. Steve Green and Charley Temple were already buckled up, and looked at each others belt, then nodded to each other and smiled. They had been looking forward to this assignment for at least two years; a pollution free event of epic proportions – the first ever international World Solar Challenge for boats. The 'Green Team' as they were now known, had invested considerably in this world first. Steve had chartered a long-range Sea-King helicopter for a week from Pacific Wings, in the hope of getting superior aerial photographs of the boats and the Hawaiian Islands archipelago. Single engine aircraft, including helicopters were forbidden from flying below 500 feet near Hawaii due to a spate of accidents years back. If it's not possible to get close, then reporters could at least improve the odds of a decent shot, by being able to hover; fuel intensive, though that would be.

The Qantas United, Boeing Ecobird, banked right while losing altitude fast into a perfect ten degree approach to Honolulu International Airport. There was some buffeting from turbulence as the aircraft cleaved through layers of air at different temperatures and densities. The Ecobird was a highly advanced plane in it's time, a fuel efficient marvel, but was showing her age. It was introduced in the years after 2015, when dozens of airlines were bankrupted as cleaner burning fuel-oil prices rocketed and banks and the stock markets worldwide suffered near collapsed from a mix of lack of borrowing and wild speculation, causing a serious economic depression.

Flaps were deployed to slow the aircraft and undercarriage whine could be heard as electric motors pumped hydraulic fluid at 2000 pounds per square inch to powerful piston actuators to lower the wheel assembly's. They then thudded onto the runway suddenly screeching followed by a soft rumble as the wheels burned rubber accelerating from a standstill to well over 3000 revolutions per minute and the engines screamed back to full revolutions to provide reverse thrust for additional braking.

The Green Team had arrived three days earlier than the official start of activities, planning to interview contestants and island officials. Steve and Charley disembarked from the Ecobird at terminal two, to the west of Sand Island, after an uneventful passage. From there it was just three miles to Sand Island. For many years a group of like minded conservationists and sailors had dreamed of organising something spectacular, and what better than a race around the world, first proposed in 1995 by an English inventor as the ultimate test for any sailor. Steve had agreed they'd camp with a group of enthusiastic supporters, rather than hotel it – as a nice gesture in the spirit of environmentalism.

Being prepared like this was quite an event in itself. Reporters didn't have such luxuries as time to prepare, so it felt almost like a holiday.

"Okay then, let's get cracking," said Steve.

He grabbed their distinctive bags from the carousel and heading off to customs with a trolley, where their reporter's tags saw them outside hailing a minicab in minutes.

Casting his mind back, Steve remembered when solar sports consisted of cars that were little more than a row of off-the-shelf solar panels, stretched between bicycle wheels by hippies on pocket money budgets. Soon, these became low gleaming streamlined carbon fibre teardrops on finely machined alloy rims, driven by university undergraduates, financed by big business.

Racing solar vehicles competitively began in the 1980's with an astonishing 3000 miles course across the Stuart Highway and miles of unmade desert roads from Darwin in the North to Adelaide on the southern coast of Australia. Contestants battled sand storms and road trains (Australian trucks pulling several trailers) and each other, for the World Solar Cup – a somewhat misleading title, that many purists thought should be renamed the Australian Solar Cup.

In subsequent years solar car racing became popular with engineering students the world over, attracting generous sponsorship deals from high street names like Panasonic, Fuji, Hitachi, General Motors and Honda. With such an enthusiastic take up on this continent, other countries introduced their own version of the race, including Canada and the United States.

Boating enthusiasts soon decided to get in on the act, applying solar energy to water craft by literally strapping rigid panels to canoes. Competition events were local affairs to begin with, the most famous being in Amsterdam. Soon there were leisurely solar river cruises in Switzerland then Scotland, and island cruises in the South Seas, Indonesia and the Caribbean. Then in May of 2012 the first pure solar powered circumnavigation was completed by a boat converted from a sea going ferry design called PlanetSolar.

The boat was heavy and slow, but it managed to navigate the world without missing a beat..........

"Daydreaming again Steve," said Charley.

"You got me; it's just that I can't believe it's finally come true."

- * -
SCENE

DESCRIPTION

LOCATION

Chapter 1

Winds of Change (Prologue)

580 W, 750 N

Chapter 2

510 30'N, 00

Chapter 3

420 N,

880 W

Chapter 4

330 S, 1510 E

Chapter 5

270 30'S, 1530 E

Chapter 6

330 20'S, 1520 E

Chapter 7

500 N, 1700

W

Chapter 8

200 N, 1600 W

Chapter 9

420 N, 700 W

Chapter 10

330 N, 1290 E

Chapter 11

330 N, 1290 E

Chapter 12

330 N, 1290 E

Chapter 13

200 N, 1600 W

Chapter 14

130 S, 1310 E – 350 S, 1380 E

Chapter 15

200 N, 1600 W

Chapter 16

240 N, 1410 E

Chapter 17

240 N, 1400 E

Chapter 18

40N0, 1550 W (Whale Trust Maui)

Chapter 19

Sky High (deal)

380 S, 1450 E

Chapter 20

200 N, 1600 E (middle of Pacific)

Chapter 21

200 N, 1300 E (off Philippines)

Chapter 22

Open Season (water)

330 N, 1290 E

Chapter 23

470 N, 70 E

Chapter 24

250 N, 1250 E

Chapter 25

200 N, 1600 W

Chapter 26

140 N, 1800 E

Chapter 27

150 N, 1550 E

Chapter 28

100 N, 1650 E

Chapter 29

100 N, 1650 E

Chapter 30

100 N, 1650

E

Chapter 31

100 N, 1650 E

Chapter 32

100 N, 1650 E

Chapter 33

150 S, 1550 E

Scene 34

150 S, 1570 E

Chapter 35

230 S, 1550 E

Chapter 36

20 S, 1600 E

Chapter 37

20 S, 1600 E

Chapter 38

20 S, 1600 E

Chapter 39

170 S, 1780E

Chapter 40

200 S, 1520 E

Chapter 41

350 S, 1510 E

Chapter 42

Chapter 43

250 S, 1530 E

Chapter 44

Sweet Sorrow (epilogue)

250 S, 1530 E
LINKS & REFERENCE
http://en.wikipedia.org/wiki/Honolulu
http://en.wikipedia.org/wiki/Honolulu_Harbor
http://www.asdwire.com/press-release-8988/
http://www.maritimeaustralia.com.au/
http://www.pacific2013.com.au/innovation-awards/index.html
Kestrel Marine's Sentient object recognition system
tattoos fansshare.com sectasaur_antarctic_melt_john_storm_adventure_book_by_jameson_hunter