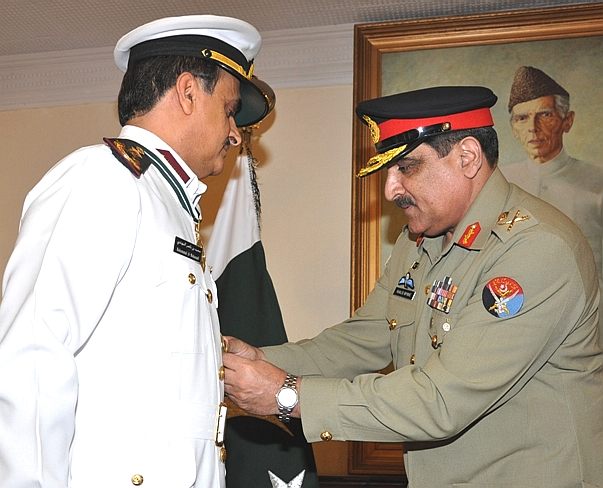 Qatar has a small 1,800-man navy, including its marine police force and coastal defence artillery. Since 1990 the Qatari Navy has increased its manpower.

Qatar's Navy headquarters is at Doha there is also a base at Halul island. The commander of the Navy is Commodore Mohammed Nasser al-Mohanadi.


BOATS

4 Vosper patrol boats – 120 tons full load United Kingdom

4 Vosper Thornycroft Vita-class Fast Attack Craft – 480 tons full load – 8 x MM40 Exocet missiles (+8 Mistral SAMs), 1 x Goalkeeper gun, 1 x 76mm gun. United Kingdom

3 Combattante III Fast Attack Craft – 430 tons full load – 8 x MM40 Exocet missiles, 1 x 76mm gun, 2 x 40mm guns, 4 x 30mm guns France

6 Vosper 110 ft. class PCs United Kingdom

6 Damen Polycat 1,450 class PCs

2 Keith Nelson type 44 ft.class PCs

2 Fairey Marine Interceptor class PCs United Kingdom

4 MV-45 class PCs

25 Fairy Marine Spear class United Kingdom

5 P-1500 class PCs

4 DV-15 class PCs

3 Helmatic M-160 class PCs

1 Robha class LCT (3x MBTs\100 men)


AUXILIARY

2 Halmatic (Vosper Thornycroft) Pilot craft

4 Rotrork craft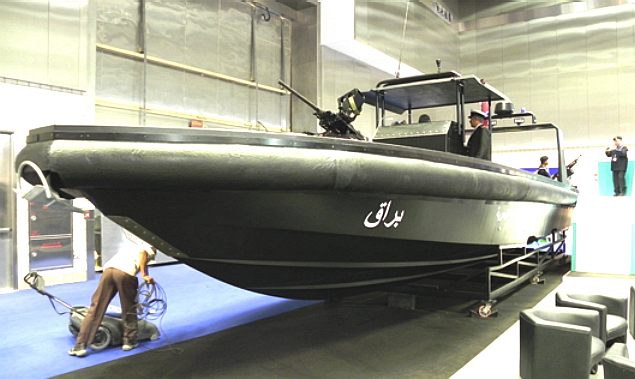 SPECIAL MARITIME FORCES

11 fast interceptor boats

Qatar


MISSILES and EQUIPMENT

MBDA Exocet MM40 Block-III (x70)\ MM-40 (x220)\ MM-38 SSMs (France)

MBDA Mistral SAMs (France)

4x Goalkeeper anti missile\aircraft gun (United Kingdom\ Netherlands)

4x Stingeo ship sensor (Netherlands)

4x Exocet coast defense batteries (France)

4x 76\72 Compact-weapon system (Italy)

4x MMR-3D Radar (France)



FUTURE ACQUISITIONS

The patrol boat program calls for the delivery of six patrol boats with the first unit beginning construction in 2012 and being delivered by 2014. Although the proposals for the corvette program are due in the near-term as well, AMI believes that the four corvettes may not begin construction for several more years as Damen/Nakilat may want to gain some experience with the smaller 62-meter patrol boat hulls prior to moving on the larger Sigma hulls. If the QENF wishes to move the corvette program forward to an earlier date, it could start some of the hull blocks at Nakilat and/or at Damen in the Netherlands much earlier.
TECHNOLOGY TRANSITION
In the past a great show of strength meant large ships and submarines cruising the oceans burning fossil and nuclear fuels at an alarming rate. Today, cleaner technology and persistent monitoring is seen as a better use of resources. In the future solar powered ships will ply the oceans at almost no fuel cost and may be fully autonomous - thus saving on crews and lives, should engagement become necessary.
The seeds of such technology are being planted in the development of the Bluefish/SNAV platform, a small ship that runs on energy harvested from nature. Navies may modify the core design for themselves under licence, or put forward a specification to meet their needs for development in the UK; for build by a contractor within Qatar under licence, which might include the right to build for other navies.
The future of naval warfare is not having a big ship, but knowing where the enemy's big ship is - so that it may be neutralized. A big ship is therefore not an asset, other than for fleet display and propaganda purposes. Whereas, the real problems of coastal control, charting and mine countermeasures, are everyday services that need to be done. An effective naval force is one that does its duty as well or better, for less than another navy.


CONTACTS
The New Port Project Steering Committee is committed to promoting respectful and constructive dialogue. If you have any questions or concerns about The New Port Project, please contact us.

New Port Project Steering Committee
PO Box 28333
Airport Road
Doha, Qatar

Telephone: +974.4406.4444
Fax: +974.4406.4420
Email: info@npp.com.qa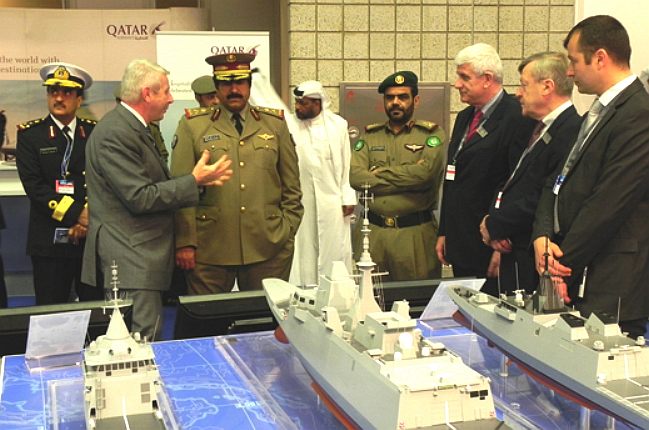 Qatar DCNS stand: Major-General Hamad Bin Ali al Attiyah views warship models
LINKS & REFERENCE
http://www.dimdex.com/en/warship-display.aspx
http://en.wikipedia.org/wiki/Qatar_Armed_Forces