Bluefin Robotics develops, builds, and operates Autonomous Underwater Vehicles (AUVs) and related technologies for defense, commercial, and scientific customers worldwide. We offer a full range of modular, free-flooded AUV platforms. Using a core set of building blocks, we have designed over 50 different configurations. This includes over 70 different sensors on over 80 AUVs, which at the time of writing is more than any other AUV manufacturer.
An autonomous underwater vehicle (AUV) is a robot which travels underwater without requiring input from an operator. AUVs constitute part of a larger group of undersea systems known as unmanned underwater vehicles, a classification that includes non-autonomous remotely operated underwater vehicles (ROVs) – controlled and powered from the surface by an operator/pilot via an umbilical or using remote control. In military applications AUVs are more often referred to simply as unmanned undersea vehicles (UUVs).

HISTORY

In 1997, Bluefin was founded by a core group of engineers from the MIT AUV Laboratory. Today, the Bluefin team brings a unique set of skills and experience to market. Bluefin is a full AUV lifecycle provider offering research and development, technology integration, full-scale manufacturing, platform training, and operations support. They have a depth and breadth of expertise and resources dedicated exclusively to AUV development and production that is difficult to surpass.
During the 1990s, engineers from the Massachusetts Institute of Technology AUV Laboratory recognized that their work had significant commercial potential. They set out to transition their innovations to a product line that would support a viable business in a yet-untapped market, and in 1997, Bluefin Robotics was founded with the objective of developing the technologies required to produce and sell AUVs. This newly formed company was soon awarded several contracts sponsored by the U.S. Office of Naval Research, through which Bluefin developed some of its core vehicles.
In 2010, Bluefin consolidated its headquarters and operations into a renovated 55,000-square-foot facility in Quincy at the Fore River Shipyard. This waterfront facility with direct ocean access houses three floors of engineering, manufacturing, marine operations and corporate administrative functions. Bluefin designs, builds and tests its systems all at this location, which has been designed to implement a lean manufacturing philosophy, as well as optimize flexibility and scalability to accommodate new platforms and expanded production lines. It includes a production-capable machine shop, a hydrostatic pressure testing room, a tank test area and an environmentally controlled molding room.

Bluefin's facilities also include a private 110-foot dock, where the company moors its RV Resolution, a 58-foot workboat catamaran. The vessel enables verification of at-sea performance of Bluefin vehicles during the development stage and in post-production. Bluefin's marine operations team, with decades of experience, provides feedback for product improvements to the engineering and manufacturing teams.

Since moving, the company has increased headcount by nearly 40 percent. As a result, Bluefin has expanded its skill set across the subsea industry and has matured its processes, receiving ISO 9001:2008 certification in December 2011. These efforts support Bluefin's objective to use standardized vehicle components and subassemblies that enable a flexible product line for configuring customized system solutions in a variety of applications.

BATTELLE
Bluefin became a wholly-owned subsidiary of the Battelle Memorial Institute in 2005. Battelle is a global science and technology enterprise that develops and commercializes technology and manages laboratories for customers. Battelle oversees a staff of 22,000 scientists, engineers, and support specialists and conducts $6.2 billion in annual research and development.
SUBSEA BATTERIES

One of the most critical needs that Bluefin encountered early on in its 15-year history was the lack of an effective subsea energy solution. Bluefin has addressed this by designing, testing and fielding different battery technologies.

With more than a decade of experience in subsea battery development, Bluefin now offers commercial-off-the-shelf 1.5-kilowatt-hour subsea pressure-tolerant batteries, which are integrated into most of Bluefin's vehicle products.

In addition, Bluefin offers custom power solutions for underwater applications such as profilers, subsea equipment, ROVs and other submersible platforms.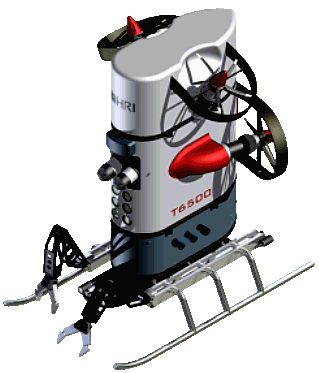 RECENT PROJECTS

Bluefin is working on research and development efforts as well as programs of record for the U.S. Navy. In 2011, Bluefin was selected, as part of the General Dynamics Advanced Information Systems (Fairfax, Virginia) team, to develop and manufacture a specialized Bluefin-21 AUV, named Knifefish, for the Surface Mine Countermeasure UUV program for the U.S. Navy. Knifefish will be part of the littoral combat ship mine warfare mission package to provide mine-hunting capabilities in high-clutter environments.

Bluefin is also working on the Defense Advanced Research Projects Agency Deep Sea Operations program as part of the Applied Physical Sciences Corp. (Groton, Connecticut) team. This program is designed to reverse the asymmetric advantage of the diesel-electric submarine threat through the development of advanced standoff sensing from unmanned systems. Bluefin is designing an AUV that incorporates a sonar developed by Applied Physical Sciences Corp., allowing it to operate as a very deep-ocean sonar node capable of detecting submarines across a wide field of view.

Bluefin is also under subcontract to Ultra Electronics Ocean Systems (Braintree, Massachusetts) to develop components of a 3-inch-diameter, expendable device under the Naval Sea Systems Command Acoustic Device Countermeasure MK5 program. The acoustic device countermeasure can be employed as a static or mobile device.

At the other end of the size spectrum, Bluefin is collaborating with The Columbia Group (Washington, D.C.) and Battelle to develop the next-generation large submersible vehicle. Named Proteus, the vehicle is 5 feet in diameter, 25 feet long and weighs 8,200 pounds. It is capable of operating in either unmanned or manned mode. For this vehicle, Bluefin is supplying mission-planning capabilities and the power solution, as well as autonomy and navigation for use in unmanned missions.

Beyond new vehicle development, Bluefin recently participated in the search for Amelia Earhart's lost Lockheed Electra plane. The expedition was led by The International Group for Historic Aircraft Recovery, or TIGHAR, (Wilmington, Delaware) in the summer of 2012 to explore the waters around Nikumaroro, a remote island in the South Pacific, to look for signs of aircraft debris. TIGHAR contracted Phoenix International Holdings Inc. (Largo, Maryland) to provide their Bluefin-21 AUV to search the designated area, and Bluefin marine operations personnel accompanied the expedition to support vehicle operations.

The area turned out to be much more challenging than initially anticipated, with previously unmapped search areas having slopes of up to 45 degrees and jagged coral cliffs jutting out vertically; yet the AUV successfully completed a search of more than 1.2 square miles to a maximum depth of more than 4,000 feet.
THE FUTURE

Bluefin Robotics has developed subsea robotic technologies for more than 15 years and continues its heritage in engineering solutions to subsea challenges. Having started off focusing primarily on the development of naval systems, Bluefin products are designed for ease of use in rugged environments, a quality that has also found appeal in the commercial marketplace.

Today, the company's growth into various market sectors has helped cement Bluefin's position as a leading commercial AUV manufacturer, as well as an engineered solutions provider.


PARTNERSHIPS
Bluefin holds several partnerships or agreements with several renowned organizations :
Corporate Memberships
Bluefin is a corporate member with the following organizations:
HOMELAND SECURITY
There has been dramatic development of autonomous systems in the last two years to address specific issues in port and harbor security. The need for security transcends national boundaries, as the global economy is dependent on ports remaining open and commerce flowing in an uninterrupted fashion.

AUVs employed for port security must provide hull, pier, and harbor bottom inspection using exceptional sonar imagery, autonomy, and the ability to operate in confined areas. AUVs such as the Bluefin Hovering Autonomous Underwater Vehicle (HAUV) and the Bluefin-9 are two-man portable systems with complementary capabilities and components. Bluefin successfully demonstrated both systems to the U.S. Department of Defense and other worldwide organizations and delivered each to the US Navy.
The small Bluefin-9 with an articulated thruster and the HAUV ability to maneuver in all axes are designed for operation in restricted spaces where larger systems cannot operate.

Unmanned undersea and surface vehicles, buoys, and emplaced sensor systems and networks provide a capability to deal with threats against shipping, port infrastructure, or deployed naval assets. They provide a method to observe and control piracy and smuggling. The technology is designed to mitigate the threat of seaborne or hullborne IEDs, swimmer attacks, or the introduction of dangerous contraband.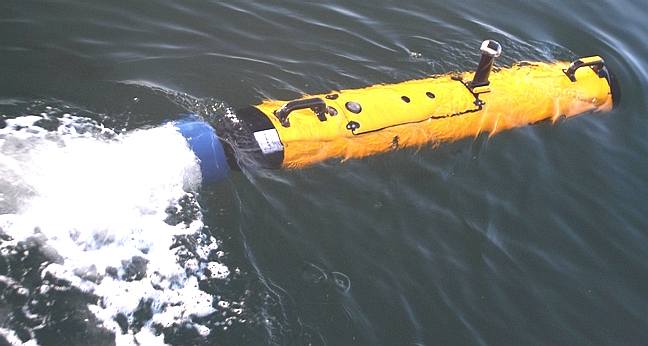 PRODUCT REVIEW - BLUEFIN 9
The Bluefin-9 is a lightweight, two-man-portable autonomous underwater vehicle with a mission turnaround time of less than 15 minutes. Equipped with a side scan sonar and camera, the Bluefin-9 provides the performance of much larger AUVs in a convenient and rapidly deployable package.
ACCURATE NAVIGATION – Bluefin's navigation software combines information from the IMU and multiple other sensors – including GPS, a DVL, a CT sensor and a compass – to provide high-accuracy navigation with an error of less than 0.3% of distance traveled, yielding high-quality data without a costly INS.
Diameter

9.375 in (24 cm)

Length

69 in (175 cm)

Weight (Dry)

133.5 lb (60.5 kg)

Buoyancy

2 lb (0.9 kg) net positive

Lift Points

2 (located fore and aft)

Depth Rating

650 ft (200 m)

Endurance

12 hours @ 3 knots with standard payload

Speed

Up to 5 knots

Energy

1.5 kWh of total energy
One 1.5 kWh battery pack
Lithium-polymer, pressure-tolerant

Propulsion

Gimbaled, ducted thruster forpropulsion and control

Navigation

Real-time accuracy < 0.3% of D.T. CEP 50
IMU, DVL, CT sensor, compass and GPS

Antenna

Integrated — GPS, RF and strobe

Communications

RF and acoustic; Ethernet via shore power cable

Safety Systems

Fault and leak detection,
acoustic tracking transponder,
strobe and RDF (all independently powered)

Software

GUI-based Operator Tool Suite

Data Management

4 GB removable data storage module (RDSM)

Standard Payload

Marine Sonic Technology 900/1800 kHz dual-frequency side scan sonar
Deep Sea Power and Light MultiSeaCam 1060
YSI 6560 CT Probe
YSI 6136D Turbidity Probe

CONTACTS

BLUEFIN ROBOTICS CORPORATION

553 South Street
Quincy, MA 02169, USA
T. +1 (617) 715-7000
F. +1 (617) 498-0067

LINKS
http://www.sea-technology.com/features/2012/1112/bluefin_profile.php
http://www.battelle.org/
http://www.bluefinrobotics.com/
http://en.wikipedia.org/wiki/Autonomous_underwater_vehicle
http://en.wikipedia.org/wiki/Bluefin_Robotics
http://www.naval-technology.com/news/newszycrafts-vigilant-class-iusv-phase-1
http://www.wnd.com/markets/zycraft_completes_phase_1_development_of_vigilant_unmanned_surface_vessel
http://www.defensemedianetwork.com/stories/zycraft-independent-unmanned-surface-vehicle-iusv/