THE SLOW LANE - We all live fast lifestyles. Waiting 30 minutes for rapid charging, even with smart technology, potentially strains the grid, damages batteries, and strains relationships. When the battery of your EV breaks down, how will they service it by the roadside? At the moment, they will tow your car to the nearest garage for repair. With the SmartNet system, a battery cartridge may be replaced in minutes by the roadside - and you are ready to go. Many OEMs have not thought that far ahead yet - but 2030 is looming fast. Just nine years to zero carbon.
There are faster ways of refuelling an electric vehicle, in just a couple of minutes. Battery swapping could be the solution, provided that it is properly thought out and developed with collaboration from all concerned. Hydrogen is also in the running despite inefficiencies in the conversion chain, with development of liquid hydrogen and high pressure hydrogen containers likely in the next 3-5 years, giving us hydrogen batteries.
A - Z of CARS and MOTORCYCLES
Please click on the links above to find out about these famous automotive makers. If your company is not included and you would like to be listed, please let us know.
UK CABINET POLICY MAKERS - APRIL 2021
Chancellor Exchequer

Alok Sharma

Business & Energy

Transport

George Eustice

Environment

Robert Jenrick

Housing, Local Gov.
THE AUTOMATED and ELECTRIC VEHICLES ACT 2018
EUROPEAN EV AUTO MANUFACTURERS INCLUDE:
- Audi
- BMW
- Citroen
- Fiat
- Ford
- Lotus
- Mercedes
- Peugeot
- Renault
- Seat
- Smart
MAKES OF ELECTRIC TRUCKS
- DAF
- MAN
- Renault
- Volvo
MAKES OF ELECTRIC BUSES & COACHES
- BDY
CANCER - Many of the compounds released during burning of hydrocarbons are associated with cancer and often cause short irritation of the respiratory tract and eyes.

Motor vehicle emissions contribute to air pollution and are a major ingredient in the creation of smog in some large cities. A 2013 study by MIT indicates that 53,000 early deaths occur per year in the United States alone because of vehicle emissions. According to another study from the same university, traffic fumes alone cause the death of 5,000 people every year just in the United Kingdom.
SOME OF THE BIGGEST ELECTRICITY POWER COMPANIES A - Z
Duke Energy Corporation, DUK, N. Carolina, USA
Dominion Energy Inc., Richmond, Virginia
Exelon Corporation EXC, Chicago, USA
KEPCO Korean Electric Power Corporation
National Electric Grid & Central Electricity Authority (India)
National Energy Board (Canada)
National Grid plc (formerly Central Electricity Generating Board UK)
Next Era Energy Inc. Florida, USA
Scottish & Southern Energy
Southern Company, Atlanta, Alabama, Georgia, Mississippi, USA
State Grid Corporation of China
TEPCO Tokyo Electric Power Company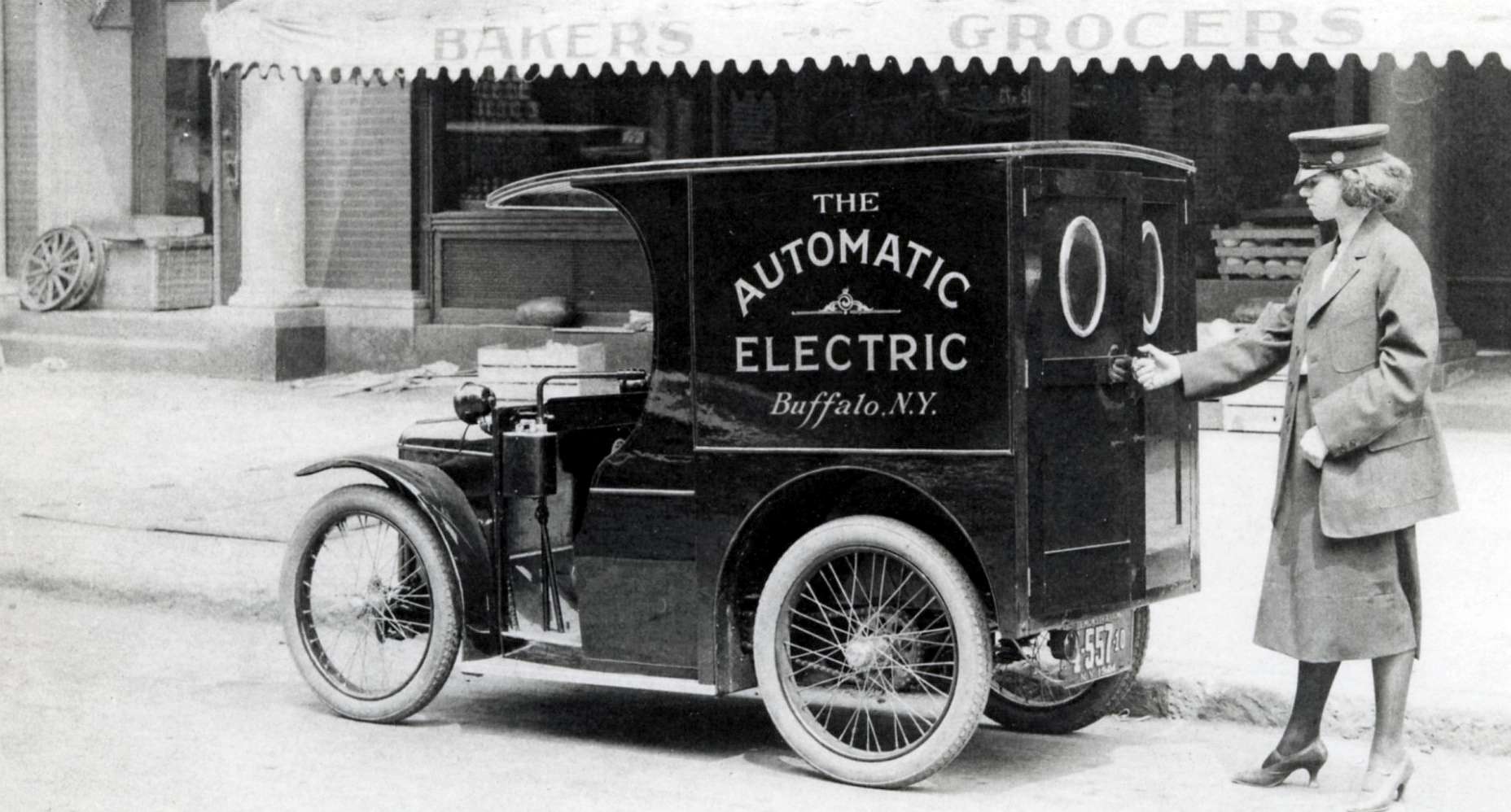 1921 - A chain driven electrically powered van in Buffalo, N.Y. It was called an automatic, because there was no gearbox. They were easier to drive and did not need starter handles that most women could not manage, hence this picture advertising a lady operator. Professor Ferdinand Porsche invented battery cartridge exchange in the early 1900s. This was for his electric cars. He also even invented the hybrid, where a petrol generator charged the onboard batteries that powered electric hub motors.