PLASTIC POLLUTION IS CHOKING OUR OCEANS: If you worried about the plastic waste that is poisoning our fish stocks you are in good company - so are many heads of state. The techies at Bluebird Marine Systems (BMS) are also worried. BMS is pioneering what we believe to be the quickest potential Clean Up Solution (5-10 years) based on a proven filtration principle - and is in need of additional support to develop the system. Please use the links below to see why it will pay the world to help us get SeaVax in the water.
BIG PROBLEMS CALL FOR BIG SOLUTIONS - With 7 billion+ of us on the planet, roughly 10% percent of us depend on the ocean for food. Sustainable fish supplies may be a thing of the past if we do not act to rid our seas of toxic plastic waste, halt over-fishing and tackle climate change. Can you afford not to invest in SeaVax?
WHAT KIND OF SOLUTION: The demonstration vessel seen below is our 'Proof of Concept' boat that shows we can harvest plastic and other waste from the 5 garbage Gyres in the Atlantic, Indian and Pacific Oceans and (via third parties) recycle that waste into clean diesel fuel for shipping and new plastic products. Anything we can build small, we can scale up. We need top up funding for 2017 to go from Phase II to Phase III and construct a full size 44m (140ft) prototype ship. At the moment we are scouting for a launch site. Having built a test tank and nearing completion of our robot development lab in 2016, we need to run a series of tests on SeaVax and the launch and recovery sequence using our 1/20th scale models of the SeaVax and AmphiMax vehicles, details of which you can see on our active timetable page. Please help us develop an international rescue plan if you can.
THE FUTURE OF OCEAN CLEANING - SeaVax shreds fishing nets to help stop marine mammals suffering. A modification of the SeaVax could cleanse river water without adding to climate change. This clean-tech could improve social conditions in (for example) India manyfold, by targeting hotspots and the mouth of the great river Ganges, before the water exits into the Bay of Bengal and the Indian Ocean. Building a vessel this size economically represents a challenge that we think we have found a solution to. As a small entity, we cannot afford to place an order with a shipyard that would constitute an unacceptable commercial risk to us. For this reason we are starting small as constructors. That does not mean SeaVax will not be built, it just means that while funding is limited (and it always will be for a not-for-profit) we are looking for ways to stretch the money that we have.
THE BIGGER PICTURE: Typically, a boat like this would need to be built in a shipyard at considerable cost. With this in mind we've had to develop a modular system to eliminate the overheads that come with conventional ship building. Car makers do not produce all the parts for their cars, they are bought in from specialist parts suppliers. We've adopted a similar plan.
In working this plan through we've catered for periodic haul outs and other servicing such as hull cleaning and antifouling treatment. Our aim is to assemble the SeaVax for as little as possible in large numbers, so making ocean plastic cleanup operations more cost effective. Indeed, that is the key to cleaning our oceans - the economics of the solution. We also want third parties in developing regions to benefit from cleaner fishing grounds, where the route to this is to allow SeaVax to be built locally with quality control assurance by way of international cooperation.
OUR BIG SOLUTION: is a Self Propelled Production Jig (SPPJ) that can double as a launch vehicle and portable dock. Having conceived the SPPJ we then conducted a feasibility (financial) study and found that we'd recover the cost of this rig several times over in the savings made on assembling just one modular SeaVax design. As more SeaVax are assembled and launched, the savings multiply - at this point we named the SPPJ the AmphiMax. We are presently looking for suitable beaches to effect our first launch. We need a beach that is isolated and unsuitable for building development (so of low value), where wildlife will be unaffected if we launch once or twice a year. If you know of such a beach that we might borrow, hire or buy, please let us know?
HOW THE TECHNOLOGY WORKS - MOST POPULAR QUESTIONS & ANSWERS MARCH 2016 :
1. SEAVAX AVOIDS FISH & PLANKTON - It can see ahead underwater, adjust parameters selectively to target microplastics in a plastic soup, or shut down if necessary to protect marine life, until it is safe to resume cleanup operations.
2. RECOVERED PLASTIC IS RECYCLED - Giving 80% MARPOL grade clean diesel or other products, so conserving oil reserves.
3. LOGISTICS - Emptying SeaVax ships at sea in rotation & delivering harvested plastic waste to treatment plants on land.
4. SEAVAX IS STORM RESILIENT - It monitors conditions, can stow wings & turbines & employ sea anchors automatically.
5. FACTORY SHIPS - Harvested waste might be treated at sea on dedicated vessels, then sent to factories for new products.
6. OIL RECOVERY - SeaVax ocean cleaning dustcarts could be diverted to major oil spills for emergency recovery.
UP TO THE 21ST OF MARCH YOU COULD HAVE CONTRIBUTED TO OUR PROJECT AT: AVAAZ.ORG THIS CALL CLOSED HAVING ACHIEVED OVER 50,000 DONATIONS IN TWO WEEKS. IN JUNE WE RECEIVED OUR GRANT TO ACCELERATE DEVELOPMENT. THANKYOU, THANKYOU, THANKYOU.
YOU MAY BE WONDERING WHAT WE HAVE ACHIEVED SINCE JUNE 2016? WELL:
JUNE - JULY: WE CONVERTED A DISUSED GARDEN AREA INTO A SMALL TEST TANK AND EQUIPPED IT WITH CIRCULATION PUMPS AND FILTERS.
JULY - OCTOBER: WE REBUILT A DERELICT COURTYARD TO MAKE ROOM FOR A SMALL ROBOTICS LABORATORY TO HELP SPEED UP DEVELOPMENT.
AUGUST - SEPTEMBER: WE EXPANDED OUR STORAGE AND WORKSHOP CAPACITY TO MAKE READY FOR PRODUCTION.
SEPTEMBER: WE LAUNCHED SEAVAX IN OUR TEST TANK AND FILTERED PLASTIC FROM THE WATER WITH OUR PROOF OF CONCEPT MODEL.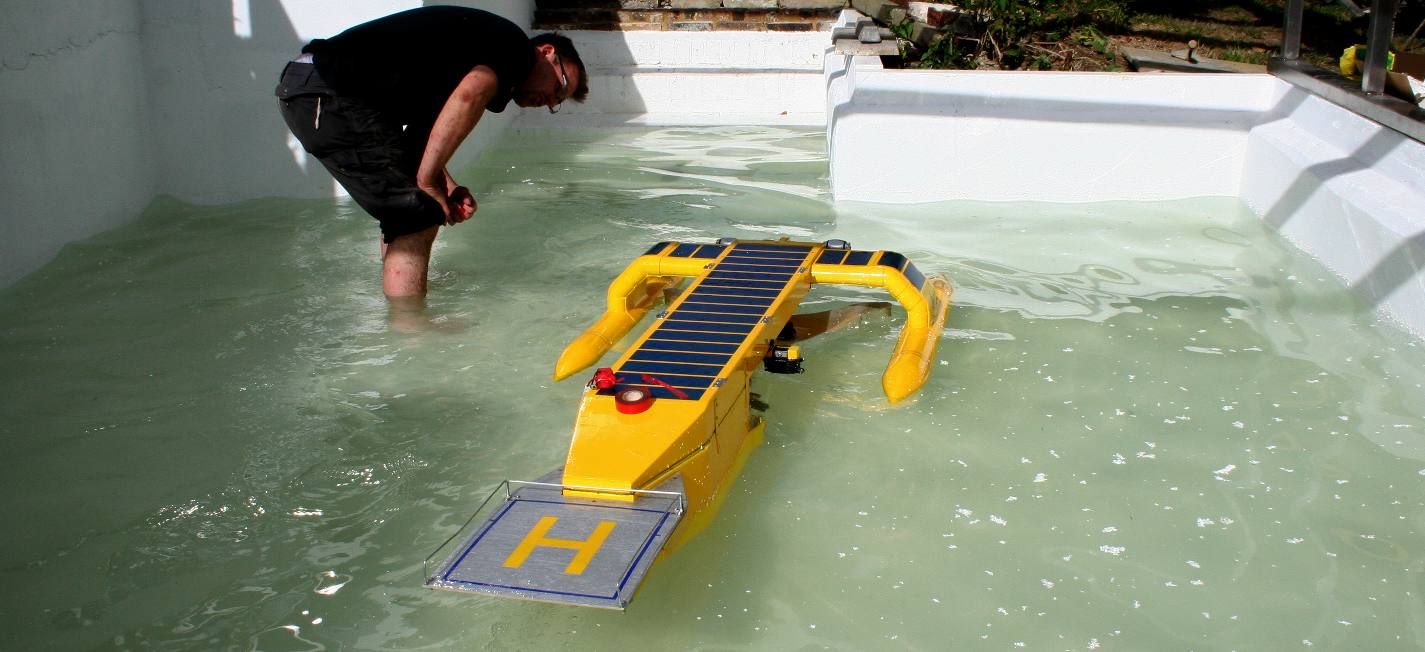 FRIDAY 29th JULY 2016 - Chris Close, watches plastic and water being sucked into the SeaVax development model. This was an experiment in controlled conditions to prove that hydrocyclones are the way to go for small plastic particles. Without funding from Avaaz we would not have our test tank to undertake such experiments. Copyright © July 29 2016, all rights reserved. You will need the permission of Bluebird Marine Systems Ltd to reproduce many of the picture on this website except for educational use in schools, colleges, universities, or for private study or research.
MISSION ACCOMPLISHED - [LEFT] In these pictures we can see the hydrocyclonic water filters in action. We scattered plastic fragments onto the surface of our test tank and allowed the SeaVax to trawl slowly for a couple of minutes. You can see the plastic spinning in the twin chambers as water passes through. [RIGHT] Out of the water, we can see the solid plastic waste we have collected at the bottom of the chambers. Copyright © July 29 2016, all rights reserved. You will need permission from Bluebird Marine Systems Ltd to reproduce these photographs.
AUGUST - OCTOBER: WE DESIGNED A GIANT AMPHIBIOUS VEHICLE TO BE ABLE TO LAUNCH AND RECOVER THE SEAVAX COST EFFECTIVELY.
SEPTEMBER - OCTOBER: WE COSTED AND SOURCED PARTS FOR THE FULL SIZE AMPHIMAX, TO INCLUDE WELDING EQUIPMENT AND A GENERATOR.
SEPTEMBER: WE STARTED WORKING ON VIDEOS TO SHOW HOW WE CAN DO IT.
OCTOBER: WE SOURCED PARTS FOR THE 1/20th AMPHIMAX PROOF OF CONCEPT MODEL AND BEGAN MAKING IT.
OCTOBER: - WE BEGAN WORK ON OUR EVENT TOUR BUS.
THAT IS A LOT OF WORK AND A BIG ACHIEVEMENT IN A SHORT TIME. WE COULD NOT HAVE DONE IT WITHOUT YOUR SUPPORT. WE RELISH THE CHALLENGE AND HOPE TO RAISE TOP-UP FUNDING TO BE ABLE TO KEEP UP THIS CRACKING PACE.

WE REALLY MUST EXPRESS OUR DEEPEST GRATITUDE TO ALL OF YOU WHO CONTRIBUTED VIA THE MARCH 2016 CAMPAIGN AND TO THE ORGANIZERS AT AVAAZ WHO SET THE WHEELS IN MOTION.
WE ARE NOT FUNDED BY THE UK OR ANY OTHER GOVERNMENT. WE ARE NOW EXPANDING OUR SEARCH FOR BACKING TO INCLUDE RESPONSIBLE CORPORATIONS WHO MIGHT LIKE TO JOIN WITH US IN THIS IMPORTANT WORK AS ASSOCIATES OR PROJECT PARTNERS. PLEASE HELP US IF YOU CAN.
LOGISTICS - It is interesting to compare old and new transport as we are gear up for our next round of events and displays for 2017. The electric i3 above left is one of our project support vehicles. Like the SeaVax that it is helping us to build, it is powered by clean electricity to help contain our carbon footprint and is very economical to operate - so saves us money. This EV technology is not that different to SeaVax except that the i3 has no solar panels to harvest free energy from nature. The body of a car does not provide enough area to drive directly from solar panels, but can top up a battery when parked. Car ports and parks with solar roofs are becoming more popular for charging electric vehicles. Every little helps in the battle against climate change.
The black Golf MK IV on the right tows our 20kva diesel powered generator to provide mobile power for our MIG and TIG, single and 3-phase welding machines and a plasma cutter. It is cheap to buy but pollutes the planet. Like most people on the planet, sometimes we have to compromise our ideals, sacrificing pollution for affordability. Please note that at this time no car company assists with logistics though we would welcome a long-term project partner. Copyright photographs November 2016 Bluebird Marine Systems Ltd, all rights reserved.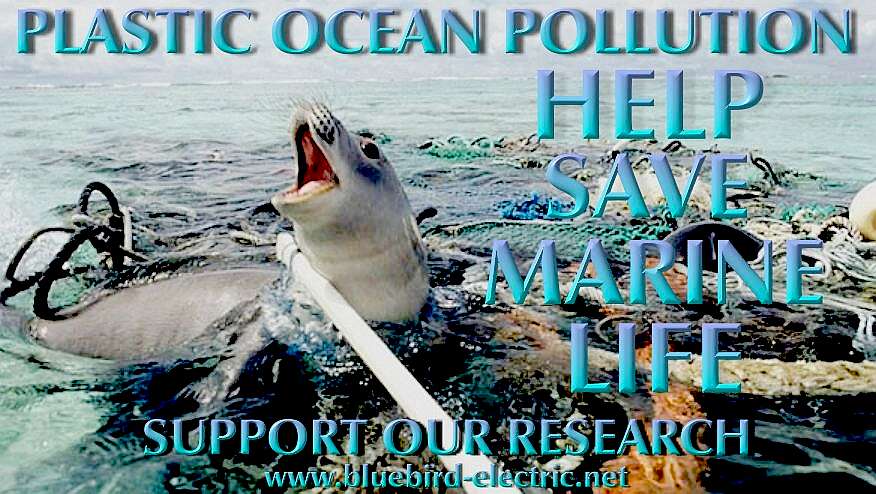 YOU CAN'T JUST FLUSH THE OCEANS - PLASTIC WASTE IS KILLING FISH AND DROWNING MARINE MAMMALS
Our research offers a potential blue growth solution where none exists at the moment. The ocean is the 7th largest economy valued @ $24 trillion, yielding $2.5 trillion annually, but it's going downhill fast according to a WWF report published in April of 2015 - marine life has declined by 39% since 1970 - that is a 0.85% fall per year with no sign of slowing. Another report in January 2016 reveals that there will be more plastic in the oceans than fish by 2050. Using a multi-pronged attack, the trend could be reversed if we act now. See our show stand at Innovate 2015 above and follow us through 2016 into 2017 as we steer a course to production. Can you afford not to help us get a SeaVax demonstrator in the water? We plan to be exhibiting at the Marine & Coastal event in 2017, along with other venues.