IF YOU ARE WORRIED ABOUT THE PLASTIC WASTE THAT IS POISONING OUR OCEANS - READ ON
WITH 7 BILLION+ OF US ON THE PLANET, WE DEPEND ON THE OCEAN FOR FOOD. SUSTAINABLE FISH SUPPLIES MAY BE A THING OF THE PAST IF WE DO NOT ACT TO RID OUR SEAS OF TOXIC PLASTIC WASTE. OUR RESEARCH OFFERS A BLUE GROWTH SOLUTION WHERE NONE EXISTS AT THE MOMENT. THE OCEAN IS THE 7TH LARGEST ECONOMY VALUED @ $24 TRILLION, YIELDING $2.5 TRILLION ANNUALLY, AND IT'S GOING DOWNHILL FAST ACCORDING TO A WWF REPORT PUBLISHED APRIL 2015.
PLEASE HELP US - Terry, (left - our test pilot) and Chris (right- our project manager) say: "Our pioneering research is helping to lay the foundations for sustainable merchant fleets, cruise liners and plastic ocean cleaning ships of the future. But we cannot do it alone - we need your support to put a full size demonstrator on the water." "Unlike other projects just talking about a call for action, we are doing it."
THE DEMONSTRATION VESSEL BELOW IS OUR 'PROOF OF CONCEPT' THAT WE CAN HARVEST PLASTIC FROM THE 5 GARBAGE GYRES IN THE ATLANTIC, INDIAN AND PACIFIC OCEANS, AND RECYCLE THAT WASTE INTO CLEAN DIESEL FUEL FOR SHIPPING. ANYTHING WE CAN BUILD SMALL SCALE, WE CAN BUILD LARGER - MORE EASILY.
WE ARE SEEKING FUNDING TO PROCEED TO THE NEXT STAGE AND BUILD A FULL SIZE PROTOTYPE VACUUM SHIP.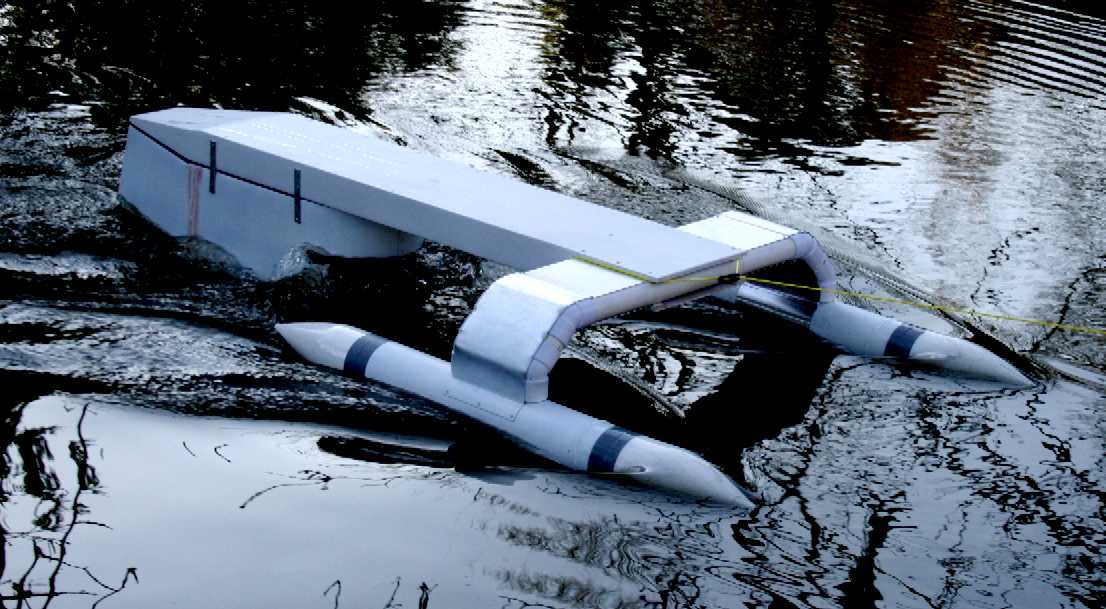 SEAVAX - OCEAN CLEANING VACUUM ROBOT FEASIBILITY STUDY - TRIALS MARCH 2015 - AUTONOMOUS TECHNOLOGY IN ACTION - SEEING IS BELIEVING.
SEALS CAUGHT IN FISHING NETS COULD BE A THING OF THE PAST WITH SEAVAX
HELP POLAR BEARS STAY PLASTIC FREE
Click a link or picture to navigate this site, or see our SITE INDEX