FORD FLATHEAD BLOCK ENGINE
The FlatFire project is the brainchild of Chatsworth, California based steel contractor turned record breaker, Ron Main. At 60 Ron considers himself to be a recycled teenager and his engine an antique - but hold on that cannot be so! Although, Ford ended its flathead engine production around 45 years ago, when the overhead valve became popular, it just goes to show what can be achieved with a rethink of an old design and some modern technology to boost performance.
The Bonneville Salt Flats, Utah, provides the ideal proving ground for Ron's objective to one day break the 300 mile per hour barrier. On a beautiful day and ideal driving (salt surface) conditions, Ron recorded the best run of 302.203 mph in a long list of record achievements, raising the record for a Flathead engine to a 296 mph average. Even on this best run FlatFire was still accelerating past the timing lights.
The Flathead, introduced as Ford's first V8 in 1932, is considered an "old tech" relic at best in modern racing circles. A 50's rock-and-roll fanatic with a passion for period films, Main's 1946 cast-iron engine block produces a whopping 700 plus horsepower and runs in Blown Fuel Streamliner Class. The "overnight success" took only 14-years to realize in the hand crafted streamliner.
Ron says: "We broke 300, what I consider to be the sound barrier for the Ford flathead," remarked driver Main, "The car handled like a boulevard cruiser and it was still pulling hard when I shut it off. Most people may find it hard to believe that the payoff is nothing more than a tiny piece of paper with a few numbers printed on it, but for me it represents a lifetime achievement and without my dedicated crew it never would have happened." Nice one Ron and very many congratulations from Bluebird Marine Systems.

The Flatfire Racing Team:
Owner/Driver: Ron Main
Team Manager: Vanessa Main
Electronics-Motech: Ian Mann
Engine: Dick & Mike Landy (Dli)
Engineering: Paul Green
Chassis: Rich Manchen
Body Aerodynamics: A. J. Smith—Aerosmith Engineering
Video: Joe Mustacchi
Crew Chief: Russell Russ
Crew:

John Aitken
Phil Anderschat
Steve Burke
Val Goelz
Paul Green
Ed Horton
Dick Landy
Mike Landy
David Main
Vanessa Main
Ian Mann
Louise Ann Noeth
Gary Quesada
Ed Rachanski
A.J. Smith
Bobbie Walden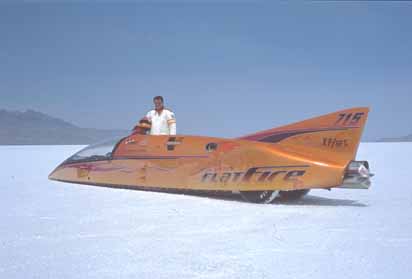 Certified Land Speed Records:
Speedweek 1996 - Certified Record: 204.724 mph
Class: XF/FL
Unblown Fuel Lakester
Driver: David Green

Speedweek 1991 - Certified Record: 187.639 mph
Class: XF/GL
Unblown Gas Lakester
Driver: Ron Main

Speedweek 2001 - Certified Record: 270.440 mph
Monday, August 13, 2001
Class: XF/BFS
Blown Fuel Streamliner
Driver: Ron Main

Speedweek 2001 - Certified Record: 287.820 mph
Thursday, August 16, 2001
Class: XF/BFS
Blown Fuel Streamliner
Driver: Ron Main

Top Speed to date - one-way -- 295.305 mph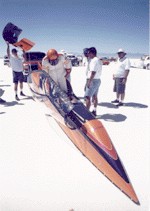 FlatFire Specs:
Engine:
301 cubic inch Vortech supercharged 1946 Ford flathead block
Bore 3.307 inches, stroke 3.750-inch
Vortech V-1 T-Trim H. D. supercharger
Dli reversed intake and exhaust ports
Ross domed forged 6.8:1 aluminum pistons
Crower steel billet rods
Manley 2.02-inch titanium valves
K-motion valve springs, 295 lbs open, 165 lbs. Closed
Crower "inverse radius" roller cams
Moldex billet 4.375 inch stroker crankshaft
Tony Barron finned aluminum heads
Motec M48 digital fuel injection
Motec CDI8 ignition computer
Motec ADL (advanced data logger)
Individual Cobra R coil per cylinder
MSD 96 pounds per hour injectors
Two spark plugs per cylinder
Avaid dry-sump 70-psi oil system
Drive Train:
Jerico air shifted 5-speed transmission
Tilton triple-disc racing clutch
Speedway Engineering mini-quick change rear end with rifle drilled axels
Chassis/Body:
Carbon Fiber body designed by Aerosmith Engineering
Rich Manched chrome molly tubing chassis with custom designed tandem front steering
Length: 26 feet 4 inches, Height: 3 feet 2 inches, Width 3 feet 8 inches
Goodyear Bonneville racing tires
GVW: 3,100 pounds
Sponsors:

Abstract Fiberglass
Aviaid competition oil systems
Baron Racing Heads
Cap's Brite Hot Coatings
Crower Motorsports
Dli—Dick & Mike Landy
Duttweiler Performance
ERC Racing Fuels
Jerico Transmissions
LandSpeed Productions
Mann Instrumentation
Jack Miles
Patterson Enterprises
Rebar Machine Service
Rich Manchen Welding
Ross Racing Pistons
Speedway Engineering
Vortech Engineering—Jim Middlebrook
Walden Speed Shop
Winners Circle Kustom Paint
ZMax Micro Lubricants
LINKS:
Flatfire Appearance Schedule
Vortech Engineering -- Super Chargers
HotRod Memories
Roadsters
Hot Rodders
FSRA -- Bonneville Album
Seahorse Magazine
Pro Blend -- 2001 Bonneville Land Speed Records
SCTA -- Bonneville Speed Week Records (Certified)
http://www.peterrenn.clara.net/l.s.r.html (http://www.peterrenn.clara.net/l.s.r.html)
Autoracing speed records (http://dmoz.org/Sports/Motorsports/Auto_Racing/Speed_Records/)
Landspeed record history (http://phyvax.ir.miami.edu:8001/curtright/lsr_history.html)
ARTICLES:
Flatfire Appearance Schedule
Old Cars Weekly April 4, 2002, Volume 31, Number 14
Flathead Hits 295 mph
Flathead Breaks 300 mph Barrier
Bonneville 2002 Apocalypse
Contact Email: flatfire@flatfire.com