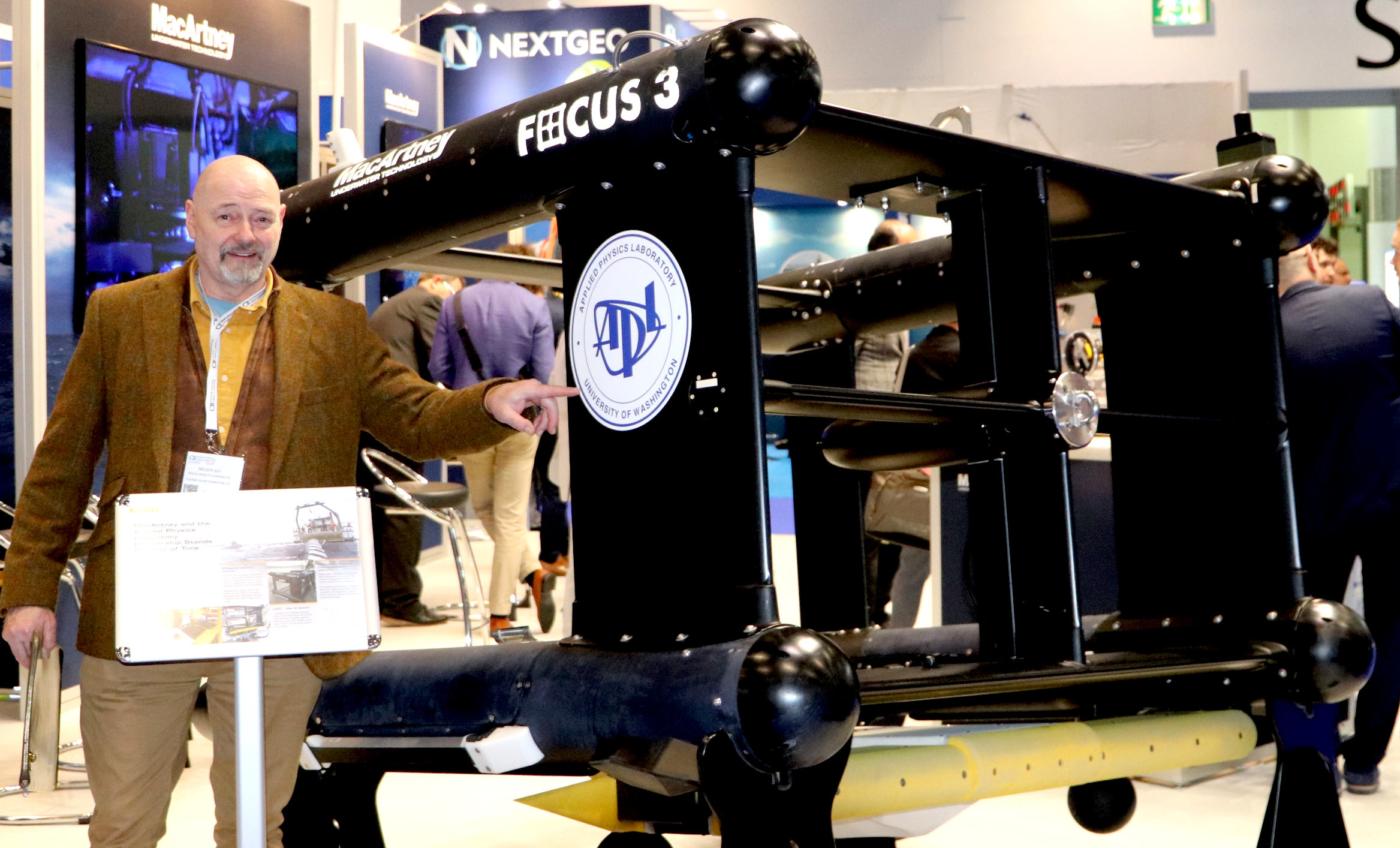 A Cleaner Ocean Foundation volunteer in London, at the Oceanology International 2022 event, ExCel. ROVs from dozens of manufacturers were on display, covering almost every aspect of marine conservation, surveying and inspection. This one is a ROTV, a towed vehicle from MacArtney. ROVs can be tethered, battery operated with a data umbilical, and there is a special modem option, that is under development. Treasure hunters and archaeologists use ROVs to map sunken lost civilizations and explore wrecks at the bottom of the ocean.
Oi A - Z EXHIBITORS (416)

1st Line Defence Ltd - United Kingdom - Provides a wide-range of Unexploded Ordnance (UXO) risk mitigation services to protect marine projects from the risk of explosive ordnance and chemical contamination – from Minefields, Naval Conflicts, Aerial bombing, Military shipwrecks, Military training and dumping of munitions / explosives. Our specialists offer vast experience working in a wide-range of marine environments and we can support your projects independently or in collaboration with Developers, Contractors, Local Authorities, International Mine Action Agencies or Joint Military Operations. We combine leading industry technologies and methods with highly-experienced personnel to locate, recover and dispose of UXO and Explosive Remnants of War (ERW) from rivers, lakes, docks, beaches, intertidal zones and offshore – safely and efficiently – whilst also understanding our clients deadlines to deliver a project on time and in budget. We offer services for following industry sectors: Oil & Gas Industry, Offshore Renewables, Cables, Dredging & Infrastructure / Port Development.
3D at Depth Inc. - United States of America - Provides advanced subsea LIDAR (SL) laser systems, survey support services, 3D data collection, and visualization and analysis solutions to help clients optimize marine, underwater and offshore survey campaigns.
3D RESEARCH SRL - Italy - 3D Research was founded in 2008 as a spin-off company of the University of Calabria. Since its inception, the company is a powerful combination of technological innovation and cultural dissemination, a bridge between academic research and Cultural Heritage. Today, 3D Research focuses part of its research and business activities in the Blue Economy sector by providing innovative solutions for the sustainable management of the underwater cultural heritage. It offers ICT and XR services and products designed to enhance the visitors' experience both in-situ (i.e. helping divers during the exploration of an underwater archaeological site or tourists visiting a museum) and ex-situ, to promote CH destinations and revitalize tourism attractions, but also mechatronic and robotic systems addressed to help professionals working in Blue Economy sector by providing cutting-edge devices specifically built to cope with clients' and partners' needs. A multidisciplinary approach is the hallmark of the 3D Research team composed of 17 specialists including mechanical, electronic, software engineers, graphic designers, and 3D modellers.
4D NAV - United States of America - The premier survey, engineering and software development company specializing in real-time spatial data solutions for the offshore industry. Expertise includes AUV/ASV mission planning, optimization and monitoring, remote survey operations, construction survey and seismic node deployment and QC.
A.P. van den Berg Ingenieursburo bv - Netherlands - Designs and supplies CPT technology for seabed soil investigation at shallow to ultra-deep water, including the ROSON seabed system, WISON-APB wireline system and Seabed Sampler XL. A.P. van den Berg supplies proven technology and is well-known for its innovative strength.
A2 PHOTONIC SENSORS - France - Is an expert manufacturer of innovative measurement instruments for water, ice, snow and liquid/gas analysis. Their core products embed laser and optical micro-technologies while taking advantage of a strong expertise in harsh environment applications.
aae technologies - United Kingdom - Specializes in the design and development of a wide range of subsea navigation, positioning and marine seismic survey products.
Aanderaa, a Xylem brand - Norway - Offers state-of-the-art instrument solutions for oceanographic monitoring and measurements. As we celebrate over 50 years in the industry, the Aanderaa reputation for data quality and reliability continues to serve the global need with smart and robust sensor and systems.
Abyssens - France - Is an engineering office specialized in underwater acoustics : equipment manufacturing (recorders), software development and data analysis. Our line DORI of low power underwater acoustic recorders have large storage capacities (up to 16 TB) and high acoustic performances (dynamic range up to 110 dB - sampling rate up to 500 kS/s). They are made for deployments at sea from 2 weeks to 6 months of continuous recording in coastal environment.
ACSM Agencia Martima SLU - Spain - "Supply Survey and ROV services for offshore projects worldwide, operating and providing Support Vessels, Survey equipment and personnel , ROV vehicles and pilots for WROV, inspection ROV, and subsea Cable Ploughs Established 2001, ACSM's key personnel has more than 25 years experience "
Action Air Environnement - France - Specialists in marine airborne survey and assessment of natural resources and marine biodiversity.
Advance Global Recruitment - United Kingdom - "Are a dynamic agency who will push boundaries to guarantee we deliver on our promise. Specialising in supplying skilled personnel to the International Energy Sector, our consultants are highly trained to ensure that we assist both our clients and candidates to realise their goals and objectives.
Advanced Navigation - Australia - Is an Australian company that specialises in the development and manufacturing of navigation technologies and robotics. The company has specialised expertise across a broad range of fields including sensors, GNSS, inertial navigation, RF technologies, acoustics and robotics.
Aegir Technologies - United Kingdom - Was founded in 2012 and initially provided engineering and technical services to companies in Norway, the UK, and USA. We have recently expanded with the introduction of several marine connector and cable termination product developments. Unique patent pending features differentiate these new designs from similar looking products, thereby bringing familiar 'old' technology into the 21st century. Our unique Marine D Series Connector range incorporates features that Generic 55 series connectors should have, but don't. Visit us on stand #Q10 to discover more.
AIRCOAT - Belgium - AIRCOAT stands for AIR-induced friction reducing ship COATing. AIRCOAT is a Horizon 2020 EU funded project promoting a passive air lubrication technology with the potential to revolutionise the ship-coating sector. Our technology is aiming to reduce energy consumption and ship emissions, as defined by the EU Green Deal looking to reduce gas emission for the ship industry by 40% by 2030. The air barrier created by the AIRCOAT foil further limits the attachment of fouling and consequent invasive species translocation.
AIRMAR Technology Corporation - United States of America - AIRMAR pushes the boundaries of ultrasonic technology to develop advanced products that withstand the harshest ocean environments while reliably facilitating data gathering from surface to full ocean depth. Our comprehensive suites of WeatherStation® instruments and marine, oceanographic and survey transducers deliver performance that meets the most challenging mission requirements.
Alba Ultrasound - United Kingdom - Design and manufacture high performance sonar transducers and arrays for both defence and commercial applications. The Company specialises in developing bespoke array systems to meet our customers specific requirements
AlphaGeo Limited - United Kingdom - Is a distributor of various products designed for the surveying and monitoring of infrastructure and marine life conditions either above or below the water level.
ALSEAMAR - France - Designs and manufactures innovative technologies and solutions for Offshore Oil & Gas and Ocean science markets. - SEA-EXPLORER - Low logistics & Innovative glider - BMTI foams - Advanced buoyancy solutions Find out more details in "Products section"
AML Oceanographic - Canada - Has been a manufacturer of high performance hydrographic and oceanographic equipment in Canada since 1974. AML's mission is to raise industry standards by providing premium service that keeps going, long after the initial purchase. From multiparameter instruments and sensors to underway profilers, AML Oceanographic has proven to be the vendor of choice for a broad spectrum of marine survey organizations and oceanographers. AML ensures quality support regardless of user location or language by working closely with a global network of agents and distributors.
Amokabel - Sweden - Is a Swedish cable manufacturer with a proud history in producing custom designed cables with high quality, for demanding applications. We are a leading company in our industry when it comes to short lead-times, high service level and flexibility to meet our customer needs. Focusing on environmentally friendly production to maintain a sustainable development, we are today self-sufficient on energy produced from 100 percent renewable sources.
ANB Sensors - United Kingdom - ANB Sensors, a leading scientific technology company, have developed revolutionary, calibration free, pH sensors for ocean monitoring. These innovative pH sensors do not require any calibration, have a small footprint and can be readily deployed on any survey system.
Applanix - Canada - Applanix, a subsidiary of Trimble, designs, builds, delivers, and supports products and solutions designed specifically for the hydrographic survey industry. With over 20 years of established leadership in the marine sector, POS MV has become the "industry standard" in positioning for hydrographic vessels. Our products and solutions provide robust, reliable, and repeatable positioning and motion compensation solutions from vessels.
Aquatec Group Ltd - United Kingdom - We are expert creators of innovative instruments, services and solutions for measurement, monitoring and communication underwater. We provide solutions for offshore structures and pipelines; oceans, estuaries, rivers and lakes; and marine mammals and fisheries.
Aratellus - United Kingdom - Aratellus provides seabed geotechnical investigation using SWORD (Sonic Wireline Offshore Remote Drill) and the trenching of cables and pipelines using the 1,600hp Leviathan cutting / jetting system. Our assets operate faster, at lower cost and with a lower carbon footprint as well as providing a better project outcome in challenging offshore conditions.
Arctic Rays - United States of America - Arctic Rays is a specialist in the design and manufacture of deep sea lighting and imaging products for use on AUVs, but also prove ideal for manned vehicles and other underwater, surface vehicles or platforms. Our designs feature the smallest possible size and lowest power consumption available.
Argeo - Norway - Transforming the ocean surveying and inspection industry using autonomous vehicles and unique sensor and imaging technology.
Argus Remote Systems - Norway - Manufacturer of electric ROVs for 30 years. Ranges from Argus Mini to Argus Worker for ultra deep water. Development of client-specified systems. Equipment: Pan/tilt, tilt, compensators, mini-manipulators, AC/DC thrusters including controllers, connectors, HD cameras, LED-light.
Armada Rig Builders Pte. Ltd - Singapore - "We design and build heave-compensated marine drilling rigs and seabed sampling systems for: - Geotechnical site investigation - Geo-hazard pilot holes - Coring applications - Scientific exploration of the seabed
Ashtead Technology Ltd - United Kingdom - Established in 1985, Ashtead Technology has grown organically and through strategic acquisitions to become one of the leading providers of equipment rental solutions, advanced underwater technologies and support services to the global offshore energy sector. With a proven track record spanning 36 years, we offer unrivalled technical know-how, experience and in-house engineering capability. We also boast one of the largest rental fleets in the industry with over 17,000 subsea assets and continue to invest to ensure we can offer the broadest & most technologically advanced equipment available.
Atlantas Marine Ltd - United Kingdom - Atlantas has represented VideoRay in the U.K. for over 21 years. An Approved Service Centre, Atlantas offers the full range of VideoRay products including maintenance, training and repair services. The kit range includes sonars and other ROV sensors, manipulators, for sale or hire. Atlantas designs and manufactures their own rage of equipment including the Storm HD camera, Breeze HD camera and Cyclone CP for measuring and displaying CP data.
ATLANTIS SCRL - Italy - Atlantis was founded in 1997 by a group of experts in the maritime, diving and hyperbaric sectors. today is a specialist in the provision of nearshore services. The experience soon matured, has allowed the progressive expansion of the interests of the company also in the field of Underwater Archaeology and maritime works. We mainly carry out Public Works, maritime and underwater services, geophysical surveys. In addition, in order to want improving the quality of services to customers, has been certified in accordance with the requirements of UNI EN ISO 9001:2018 by SGS Italia Spa and Certificates Iso 14001:2015 - Iso 45001:2018. Rina qualification for underwater inspections and NDT testing. Suppliers and installers of low environmental impact anchors. Suppliers and installers of floating systems and port furniture. Registration at the Prefecture of Palermo (WHITE LIST) and at the Register of Experts and Experts of the Court of Palermo. The jobs assigned to Atlantis are carried out in compliance with all the laws in force regarding health and safety at work. The administration office is in Palermo, two operative bases at the Port of Palermo and at the Port of Termini Imerese.
Atlas North America - United States of America - Marine Sonic Technology (MST), an Atlas North America company, is a leader in underwater imaging systems for the defense and commercial sector. MST designs and builds side scan sonars and other accessories for underwater imaging. These systems can be towed from a boat or embedded into an AUV.
Atlas Professionals - United Kingdom - Atlas Professionals is an international leading recruitment company. Since 1982, Atlas has played a major role in the provision of professionals to the Energy, Marine and Renewables industries worldwide and has grown to become a no-nonsense, dependable HR service provider.
AutoNaut - United Kingdom - AutoNaut is an Unmanned Surface Vessel propelled by the motion of the waves. A range of sensors onboard are powered by solar energy to collect valuable oceanic data during long duration missions. Operating independently in hazardous marine environments AutoNaut is overseen from the safety of shore.
AXYS Technologies, Inc - Belgium - AXYS Technologies, are experts in the design, manufacturing and maintenance of remote environmental data acquisition, processing and telemetry systems. AXYS is an international leader in environmental technologies for marine, hydrological, and wind energy resource assessment applications.
B Marshall Marine - United Kingdom - "B Marshall Marine Ltd owns & operates DSV Curtis Marshall, a multi role support vessel with an integrated dive control system and decompression chamber. The 18 berth accommodation, 12.5 tonne crane and 6 tonne A frame make the vessel the perfect platform for ROV, Survey and Diving support"
B-scope l.c. FFT - TPP develop - Japan
Bay Energy Co., Ltd - China - Bay Energy is a leading provider of Li-Ion Battery Energy Storage System. Its core product is sub-sea storage, which has high-reliability, high-density, scalability on demand (dimension and capacity), full voltage range(12/24/36/48/375V), full water depth, intelligent management (default BMS).
BeamworX - Netherlands - BeamworX is a software engineering and consultancy company focused on the Hydrographic Surveying and Offshore market. We are specialized in the acquisition, processing and integration of single/multibeam echosounder and laser data.
BEC Plastics - United Kingdom - BEC Plastics are a Precision Engineering company machining Engineering Plastics components for Oil & Gas / Underwater use. We offer a wide-ranging service, including CNC Milling, CNC Turning, CNC Routing, and Fabrication.
BIOCEANOR - France - "BIOCEANOR has developed the first underwater weather station for real time and predictive monitoring of water quality. We have built an innovative and unique offer on the market using IoT and Big Data (machine/deep learning) with multiple applications : Aquaculture and Environmental monitoring.
BIRNS, Inc. - United States of America - BIRNS is an ISO 9001:2015 certified global leader in the design and manufacturing of high performance lighting and connector systems. Since 1954, BIRNS has provided solutions trusted in the planet's most demanding environments--from deep ocean and marine science applications to military programs.
Blue Robotics Inc. / Water Linked - United States of America - Blue Robotics makes low-cost, high-performance components for marine robotics to enable the next generation of ocean exploration! Based in Torrance, CA, we are a young and innovative company with a diverse and international customer base.
Blueprint lab - Australia - Blueprint Lab develops advanced robotic arms for harsh subsea environments. Our end-users include militaries, oil and gas service providers, and researchers. We help people do more with their ROV including remote inspection and complex intervention.
Blueprint Subsea - United Kingdom - Driven by innovation, Blueprint Subsea's leading range of compact, robust, intuitive and affordable underwater acoustic products have been meeting the rigorous demands of the global subsea, offshore and defence markets since 2006. We specialise in two-dimensional imaging sonars, acoustic positioning beacons and diver navigation systems. Designed, manufactured and tested in-house in the UK, we deliver high-quality, low-cost, innovative solutions, which come with extensive technical support and comprehensive customer service.
Blueye Robotics AS - Norway - Blueye has its roots in the highly renowned Centre for Autonomous Marine Operations and Systems (AMOS) at NTNU in Norway. Exceptional ease of use and robustness has been the overarching design goals since the beginning. We believe millions could be saved, accidents reduced, marine life improved, and knowledge enhanced if underwater inspections were made more frequently. Drawing on competence from world-leading marine engineers, software developers, and award-winning industrial-, mechanics- and electronics designers we have created what we believe are the world's best underwater ROVs.
Boston Engineering Corporation - United States of America - "Boston Engineering's Advanced Systems Group (ASG) provides contract R&D and has a strong track record establishing new capabilities for U.S. government and commercial organizations. ASG works closely with end users, partners, and teammates (industry and academia) to address critical capability gaps. "
Br. Hukkelberg AS - Norway
Braveheart Marine BV - Netherlands - Braveheart Marine is a maritime company specialized in: hydrographic studies, crew transfers, diving support and sub sea oil spill detection services. The fleet is operating worldwide.
Briggs Marine Contractors - United Kingdom - Briggs Marine is a leading provider of marine and environmental services, specialising in port and marine operations, subsea, cable and environmental support and vessel charter. The Company's strengths lie in delivery of safe, high quality, cost-effective, multi-discipline marine-based solutions in diverse and challenging environments, on time and budget.
Business France - France - Business France is the national agency supporting the international development of the French economy, responsible for fostering export growth by French businesses, as well as promoting and facilitating international investment in France. Business France has 1500 personnel in 58 countries.
C R Encapsulation Ltd - United Kingdom - Since 2002 CRE has provided a service to support its client's operations in one of the planet's most demanding environments – the deep ocean. We are a company that supports an industry that expects products to be manufactured to short delivery schedules without any compromise on quality.
C-MAX Ltd - United Kingdom - Since 1992 C-MAX have been developing innovative sidescan sonar systems and associated accessories. The Vigo underway profiling winch, our latest product, builds on the experience gained from building compact winches for our sidescan systems. This innovative product combines ease of use and rugged construction in a portable, self contained package.
Campus mondial de la mer - France - Campus mondial de la mer is the first French community dedicated to the knowledge and development of marine resources. Our strength lies in the synergy between our network of academic, scientific, economic and institutional stakeholders working across marine science and technology and the wider maritime economy. We aim to promote innovation and convert the existing concentration of marine science and technology expertise in Brittany into the creation of more companies and more jobs, and the development of strong international collaborations.
Canada Pavillion - Canada - Canada is a world leader in Ocean Technology. The Canada Pavillion will be host to innovative companies from across the country, from British Columbia, Quebec, Prince Edward Island, New Brunswick, Newfoundland and Labrador and Nova Scotia. Stop by to learn about our exciting Ocean Tech capabilities!
Canada's Ocean Supercluster - Canada - Canada's Ocean Supercluster is a national network of close to 500 members focused on the digital, sustainable, and inclusive growth of the ocean. With 68 projects approved to date with a total value of $360M CAD, together with its members the Ocean Supercluster is helping solve some of the world's biggest challenges in ocean.
Castle Ship Management - United Kingdom - Castle Ship Technical Management Ltd is a UK based ship management business which primarily manages and operates a fleet of large offshore specialist vessels for charter in the renewables and subsea sectors. The company also operates the subsea I-GRAB and I-RAKE systems. The business employs a management team and crew of up to and over 150 dedicated professionals operating vessels in the specialist areas of offshore wind, subsea operations, construction, survey and platform support, primarily in the renewables sector.
Cathx Ocean Ltd. - Ireland - Cathx Ocean design and manufacture advanced subsea imaging & precision measurement systems for Machine Learning. Our products include advanced still imaging, colour laser point cloud and video systems, designed to deliver precision data in a way that allows automation for subsea vehicle operations.
Cavidyne, Inc. - United States of America - The CaviBlaster® employs a revolutionary technology known as ultra-cavitation for underwater cleaning using much lower pressures than conventional equipment. These systems are significantly more effective, efficient and ergonomic than traditional systems.
CEIIA - Portugal - CEIIA operates in marine robotics, maritime structures and control systems, as well as, digital solutions for science and industry. CEIIA's expertise focuses on mechanics, CFD, electronics, autonomous systems, software development, systems integration, prototyping, testing and operation.
Cellula Robotics - Canada - Cellula Robotics is a world-leading engineering solutions company that specializes in the turnkey design and production of subsea robotic systems. Through Cellula's dedicated team of highly-skilled engineers, designers, and technicians based in Vancouver, Canada, Cellula has extensive experience in projects that require integrated mechanical, electrical, hydraulic, and software elements in a subsea environment. Cellula focuses on developing autonomous vehicle technologies, such as the hydrogen fuel-cell powered Solus-LR Autonomous Underwater Vehicle (AUV).
Charpie Intelligence Technology Co; Ltd, - China - AUV ROV USV TOOLS
CHC Navigation - China - CHC Navigation is a global provider of GNSS navigation and positioning solutions covering a wide range of professional applications, including marine, land and airborne surveys, conventional GNSS surveys, 3D mass data acquisition, precision farming, real-time GNSS infrastructure, and more.
Chelsea Technologies - United Kingdom - With a demo of innovative new detection capability at the show, Chelsea Technologies at stand E55 designs and manufactures environmental monitoring technology to make the world safer, cleaner and smarter. Across shipping, marine science, water quality, defence and industrial process control, our best-in-class sensor and system solutions are trusted by environmental researchers, scientists and plant managers for their sensitivity, accuracy, reliability and sophistication. Chelsea's specialist expertise has been built up over 50 years, introducing pioneering technology to monitor water quality, gauge shipping emissions, explore the oceans and monitor climate change. Come and catch up with the team, have a chat, stop by for a coffee and see the new innovation we've been busy developing at stand E551!
Chesapeake Technology Inc - United States of America - CTI has been offering sonar mapping software & thought-leading consulting services to the marine geophysical & geological survey industries for over 20 years. Our flagship product, SonarWiz, provides leading sonar data acquisition & processing software, being used by hundreds of clients worldwide.
Clinton Marine Survey AB - Sweden - We bring smart and cost effective solutions to the market by pushing the boundaries together with you. We are focusing on geophysical services and are creating a company which can focus on our projects to be able to develop and deliver our projects at specifications or above.
CLS - France - "CLS, subsidiary of the French Space Agency & CNP, an investment firm, is a worldwide company and pioneer provider of monitoring and surveillance solutions for the Earth. Its mission: deploy innovative space-based solutions to understand, protect our planet, and to manage its resources sustainably. "
CMS GeoScience Ltd - United Kingdom - We specialise in Vibrocoring and Environmental Grabs using our proven robust equipment and drawing on our extensive experience in geotechnical surveys We operate in the UK and Europe with our own fully equipped 24m survey vessel and a full suite of proven and robust geotechnical sampling equipment, enabling us to react quickly and cost effectively when you need support.
CMSourcing - United Kingdom - CMSourcing is a hydrographic and geophysical survey services company providing personnel and data processing to clients globally. With offices in UK & Europe and North East USA, we are set up principally to deal with offshore renewable energy.
Coda Octopus Products Ltd - United Kingdom - At Coda Octopus, we pride ourselves on being a global leader in underwater technologies including holding a number of significant patents including our patent for our real-time 3D sonar, the Echoscope®. Our team of experts design innovative solutions for a wide variety of tasks including subsea surveys, marine construction, ROV operations, port security and diver management. Our expertise in supplying leading-edge software and hardware solutions within our 3D, Geophysical, and Motion range of products, provides us with the means to continuously shape the future of subsea operations.
CODAR Ocean Sensors - United States of America - Technology leader CODAR Ocean Sensors Ltd specializes in HF radar systems for ocean current measurement, wave monitoring, and tsunami detection. SeaSonde® captures ocean response to extreme weather events and provides data useful in operational scenarios such as search and rescue and spill response.
Concept Cables Ltd - United Kingdom - An independent, established company specialising in the customised design and manufacture of harsh environment cable for marine, offshore and terrestrial applications. Power, data, signal and optical solutions including high performance, textile or metallic strain member and armour packages.
Copenhagen Subsea AS - Denmark - Is trendsetting in Thruster and Remotely Operated Vehicle (ROV) technology. The ROV uses 8 powerful and innovative Copenhagen Subsea thrusters which gives the ROV the ability to be reliable and robust and keep its position in strong currents and harsh & demanding environments.
COUSIN TRESTEC & KLEY FRANCE - France - Located in the North of France, we manufacture innovative ropes and braids for industry and leisure markets. With over 170 years of know-how and expertise we have the ability to combine all the technologies and to control perfectly the thermic treatments (stretch, shrinkage, stabilization, waterproofing) and coatings. Our textile cables are used on a variety of winches, including the ones of Kley France, and we are a historical supplier for Ifremer and IPEV for core extraction cables. Our partner Kley France is the expert in customized lifting and handling solutions.
COVE - (The Centre for Ocean Ventures and Entrepreneurship) - Canada - COVE is where ideas become solutions, technologies become ventures and opportunities become careers. We connect people, ideas, resources, and assets to propel solutions and sustainable growth for Canada's ocean sector.
CREOCEAN - France - Marine Environment, Coastal Development and Oceanography : CREOCEAN provides multidisciplinary expertise, in France and worldwide, to enable a better understanding of coastal and offshore marine environments. As a former operating subsidiary of IFREMER (French Research Institute for Exploitation of the Sea), CREOCEAN is closely connected with the world of science through links with the French National Centre for Scientific Research (CNRS), universities and engineering schools, and is constantly involved in research and technological innovation.
CSignum Ltd - United Kingdom - CSignum is the only wireless communications provider that enables transmission of data through the water-air boundary, water column, seabed and subsea structures using HydroFi technology. Our patented solutions help ocean industries at every stage of technology adoption digitally transform how they deploy, protect, operate, update, integrate, automate and manage near real-time remote communications. We give customers peace of mind that information is getting to the right place at the right time to process for their applications.
Cygnus Instruments Ltd - United Kingdom - Cygnus manufacture reliable and simple to use ultrasonic testing equipment which includes thickness gauges - used for detecting metal thickness, through coatings, to determine the levels of corrosion. We offer a selection surface based and subsea based thickness gauges, including: the diver wrist-mountable thickness gauge which provides an invaluable free hand while performing ultrasonic thickness measurements and; the all NEW Cygnus ROV UTM deep water thickness gauge that is depth rated to 3,000 m, with live A-scan and piezo-composite probe!
D-2 Inc. - United States of America - We are the global leaders in liquid conductivity measurement.
Dartmouth Ocean Technologies Inc. - Canada - Dartmouth Ocean Technologies Inc. offers instrumentation platforms for ocean and freshwater data collection work.
Datawell - Netherlands - Datawell is manufacturer of the well-known Waverider which is considered to be the standard in wave measurement. On display will be the Directional Waverider DWR4 with Acoustic Current Meter in a 70cm version. A new feature this year will be the Compact Air Temperature antenna (CAT4).
Deck Marine Systems - Estonia - DECK Marine Systems provides innovative solutions and equips professionals in the marine industries with Winches, Launch and Recovery Systems (LARS) and Instrument Deployment Units (IDU). Our products are used for handling of underwater equipment. Visit us at Stand number N654 to learn more.
DECO Geophysical SC - Russian Federation - RadExPro is a dedicated software solution for advanced processing of HR/UHR marine seismic data: single- or multi-channel, 2D/3D, any source type. Processing includes efficient demultiple, deghosting/broadband processing, marine statics, advanced denoising, pre-stack migration and more.
DEEP B.V - Netherlands - Deep is a survey company specialising in hydrography, geophysics and oceanography. Areas of operation include inshore, harbours, coastal zones and offshore. Services are carried out worldwide for governmental, coastal engineering, dredging, port construction, salvage and offshore energy projects.
Deep Ocean Engineering, Inc - United States of America - Deep Ocean Engineering, Inc. provides integrated robotic solutions and products for various underwater applications in diverse and harsh operating environments. We design, build and test all our remotely operated vehicles (ROVs) at our plant in Silicon Valley, California, USA. For over thirty years, we have provided more than 600 ROV systems in over thirty countries worldwide supporting operations in scientific research, education, offshore oil and gas, fisheries, broadcast filming, nuclear inspection, military, security, law enforcement and many more.
Deep Trekker Inc. - Canada - With a decade of proven performance, Deep Trekker is one of the largest underwater robotics manufacturers in the world. Delivering cutting edge vehicles to industries including aquaculture, defense, search and recovery, shipping, infrastructure, municipalities and energy, Deep Trekker's portable robotic solutions are built to conquer complex missions. Renowned for innovation, precision engineering and quality products, Deep Trekker's product ranges include remotely operated vehicles (ROVs), pipe crawlers and utility crawlers that solve a suite of environmental and industrial issues.
DeepSea - United States of America - DeepSea is excited to return as an exhibitor at Oceanology International. They will be displaying high-quality subsea products backed with over 30 years of engineering excellence including LED Lights, Cameras, Lasers, and Pressure Relief Valves.
DeepVision - Sweden - DeepVision AB is a company specialising in the development of high performance sonar systems. We are widely known for having high value for money equipment. We are manufacturing Side Scan Sonars, bathymetric systems, AUV and ROV sensors as well as our own ASV's.
DeepWater Buoyancy - United States of America - We create subsea buoyancy products for oceanographic, offshore oil & gas and technology companies around the world. Customers have relied on our products for over forty years, from the ocean surface to depths exceeding six thousand meters.
Del Mar Oceanographic (DMO) - United States of America - DMO produces the Wirewalker, a vertically profiling instrument-platform powered by ocean waves. Through the Wirewalkers rapid profiling and ability to integrate a wide variety of sensor payloads, it brings new life to typical one-dimensional sensor time-series as a 2-D depth-time image where an enormous increase in information and intuition is achieved. Attached to a free-drifting or moored buoy, the Wirewalker is incredibly versatile. Contact us to learn more; we'd love to assist you in radically increasing your information content and enhancing your observations.
DEREGT - Netherlands
Derinsu - Turkey - Derinsu, Turkey`s leader Offshore Engineering and Survey Company. Almost 20 years of experience at Turkish offshore survey business, Derinsu became a major service supplier for Offshore Energy, Marine Environment, Offshore Engineering and Subsea Defense.
Develogic Gmbh - Germany - Develogic develops and manufactures turnkey system solutions for subsea data collection and transmission for marine monitoring applications. Our in-house manufacturing capabilities and a staff of experienced engineers enable us to provide cost-efficient, high quality solutions for complex problems.
Dutch Ocean Group - Netherlands - Our members offer a complete range of Oceanographic solutions. Hydrography and Geophysical Services, CPT equipment, Marine geotechnical site investigation and advice, Sea Data and Information, hydrographic and environmental systems, Shipbuilding Shiprepair Maintenance, Oceanographic Instruments Monitoring Solutions and Services, Level, Tide and Wave Monitoring, Hydrographic courses and Telemetry solutions.
DWTEK Co., Ltd - Taiwan - As the first marine equipment manufacturer & supplier in Taiwan, DWTEK has devoted its full effort to the enhancement of the subsea industry since 2008. We focus on development of ROV and related components including subsea connector, propulsion system, cameras, LED lights, navigation sensor, etc.
Dynamic Load Monitoring UK Ltd - United Kingdom - DLM are leading Designers and Manufacturers of Load Cells, Load Monitoring Systems and Specialist Offshore equipment. Successfully trading for over 20 years and with a proven track record in supplying high quality and reliable products.
DYNASET OY - Finland - Dynaset is the global leading manufacturer of hydraulic generators, power washers and compressors. Dynaset hydraulic equipment converts the mobile machine's hydraulic power into electricity, high pressure water, compressed air, magnet and vibration.
Dynautics - United Kingdom - Our vision is to open up the marine world through intelligent technology. As co-authors of the MASS – UK Code of Practice, we are actively helping to define the route towards marine vehicle autonomy. We thrive on enabling your mission's success and delivering strong commercial results. Your requirements are our starting point and together we rigorously drive for a rapid and reliable solution. Dynautics hardware can be installed or retrofitted in any uncrewed or autonomous vessel. We simulate, design, test, verify and deploy, enabling you to accomplish your mission safely and successfully.
e-BO Enterpises - Belgium - e-BO Enterprises offers a total solution for offshore wind farms and substations related to telecommunication systems, cybersecurity, safety and security solutions and data integration services. The e-BO specialists provide communication systems for wind farms throughout their entire lifespan (engineering, construction and maintenance) and continuously ensure optimal integration of different systems, including 24/7 operations and maintenance services. e-BO Enterprises has a wide variety of customers and is active in a major part of European wind farms in different critical operations. With over 10 years of operational expertise in offshore IT & OT, e-BO Enterprises built one platform for every business activity in your offshore wind farm, Offshare.
ECA GROUP - France - ECA Group offers a comprehensive range of innovative robotic solutions, unmanned & remotely operated vehicles to carry out deepwater exploration, pipeline inspection seabed surveys, or aquaculture missions. Supported by high-performance unmanned-based tools for seafloor mapping with bathymetric, side scan, subbottom systems, or manipulator' arms, you can make the most of the data collected through the mission.
ECHOLOGGER - Korea, South - Echologger's echosounders and imaging sonar products are optimally designed and manufactured with state-of-the-art features and essential functionalities to match your needs in affordable price. Our primary goal is to deliver a one-stop purchasing capability, outstanding customer support and provide the technical knowledge and expertise to solve even the toughest challenges of our customers. It is no wonder that Echologger devices are widely implemented in both scientific and industrial projects globally by top-end organisations.
Edgetech - United States of America - EdgeTech is a leading manufacturer of underwater technology solutions. The company is known worldwide for its high quality products which include: side scan sonars, sub-bottom profilers, bathymetry systems, AUV and ROV-based sonar systems, combined and customized solutions. In addition to the full line of underwater survey products, EdgeTech provides reliable USBL systems, transponder beacons, deep sea acoustic releases, shallow water and long life acoustic releases, MRUs and customized underwater acoustic command and control systems. Please stop by and talk to us about EdgeTech's newest pro
eDNAtec Inc. - Canada - eDNAtec Inc. are specialists in environmental genomics – dedicated to transforming how to assess, characterize and monitor ecosystems using DNA sequencing and supporting environmental stewardship of our planet's marine and terrestrial ecosystems. Since 2015, eDNAtec has delivered hundreds of remediation and ecological genomics projects for clients around the world. CEGA , eDNAtec's R&D centre, is fully dedicated to the application of genomics to environmental characterization and monitoring. eDNAtec is working closely with the world's ocean industries, including energy and fisheries.
EGS International Ltd - United Kingdom - EGSi is a leading provider of geophysical, hydrographic, geotechnical and metocean survey services in Europe, Africa and the Middle East, delivering solutions to the Oil & Gas, Telecomms, Offshore Renewables, Utilities and Marine Engineering sectors.
Eiva A/S - Denmark - EIVA is an engineering company with more than 40 years' experience in the offshore construction and survey industry. We provide software, equipment, integrated system solutions, rental services, 24/7 support and training to a wide range of segments, covering virtually any subsea task.
ELEMENTS WORKS SRL - Italy
Elements Works is an Italian SME which develops the netH2O platform, which includes the netH2O Buoy for aquatic sensing and the netH2O Power for marine energy conversion.
ELEVATE OFFSHORE - Singapore - Provision of Survey, ROV and Inspection personnel, as well as other specialist trades to the offshore Renewables, Oil and Gas, Telecoms and power cable industries. Vessel recon, System audit, logistics and visa support.
Elwave - France - Buried pipe/cable, UXO tracking + obstacle avoidance and relative navigation by active electric sense, a compact an low power consumption sensor
Enginuity Inc - Canada - Enginuity provides broad-based experience in delivering full-scale engineering services and project engineering. With recognized expertise in harsh operating environments, Enginuity has built an enviable reputation in the marine operations, fisheries, ocean-tech, agriculture, aerospace, oil and gas, high-tech, manufacturing, medical and transportation sectors. Influenced by its Maritime environment, Enginuity has developed a line of connectors for marine activity. The SEA-Stab, SEA-Lift, and SEA-Snap provide a range of capabilities to suit your needs regardless of environment.
English Braids - United Kingdom - English Braids is a service focused, UK based, rope manufacturer specialising in high-tech ropes ranging from 0.8mm to 120mm,. Our products are made to order, or often, serviced from UK stocks. As a proud Dyneema partner we are able to offer ropes made from all grades of Dyneema including SK78.
Enviros - Belgium - ENVIROS is a specialist, independent geoscience survey company operating in both the offshore and coastal environment, providing worldwide marine geochemical, geophysical and geotechnical services.
EOMAP GmbH & Co. KG - Germany - Rely on the leading company for aquatic Earth Observation. Remote mapping and monitoring of shallow waters is what we focus on. For coastal and offshore activities, EOMAP's satellite-derived data and software products allow better and safer decision making. Benefit from new technologies, such as Satellite-Derived Bathymetry (SDB) and Water Quality Monitoring. Our international team will gladly share experience out of 100+ projects a year - from all over the world. For example: We were the first to deliver SDB for the British Admiralty Charts and mapped the entire Great Barrier Reef.
eSonar Inc. - Canada - eSonar specializes in acoustic data telemetry, persistent, low-power, battery operated subsea equipment with a focus on underwater acoustic technology and provides custom product development and software services to associated marine and subsea industries. Our acoustic telemetry gear is used by fishing companies globally to harvest their quota, reduce bycatch and save fuel. We're deploying our acoustic technology to help vessels track and avoid right whales and other marine species, protecting them through monitoring of underwater radiated noise.
Eurotech Computer Services Ltd, trading as ET Works - United Kingdom - ET Works is a leading supplier of integrated IT services for the Energy and Geoscience sectors. We specialise in IT solutions, services, HPC storage, processing and consultancy that assists our customers in making better, more informed and more efficient business decisions. We have nearly 30 years' experience and domain knowledge across seismic, subsurface and oceanographic data acquisition and our client base includes some of the world's largest energy and acquisition companies. Come and speak to us about our latest partnership with Seagate and where we can support you in your journey.
EvoLogics GmbH - Germany - EvoLogics (DE) are experts in underwater communication and positioning and develop innovative technologies for maritime and offshore industries. The smart product range includes several lines of underwater acoustic modems, positioning systems (USBL, LBL) and novel robotic solutions.
Exploration Electronics Ltd - United Kingdom - A proven partner for your projects requiring all types of seismics, heavy duty seabed profiling with deep tow sparkers, deep tow boomers, mini airguns. Seabed proving with CPTs, vibrocorer and piston corers. All supplied with first class service and in-house technicians. Rent reliable, rent EEL
Falmat Cable - United States of America - Falmat (A Winchester Interconnect Company) is an innovative designer and manufacturer of high-performance cables for use in harsh and demanding environments meeting our valued customers' challenging requirements. We provide solutions for ROV tethers and umbilicals as well as cables for sonar, communication, towed array and instrumentation applications. Our well-recognized Xtreme brand cables are known and preferred worldwide for superior reliability and durability in commercial and military projects. Falmat offers an extensive list of stock cables specifically designed and produced for subsea
Falmouth Scientific, Inc - United States of America - "FSI designs & manufactures oceanographic instrumentation and systems such as Acoustic Seismic & CHIRP Sub-Bottom Systems; Side Scan Sonar Imaging; Current, Wave, & Tide meters; Custom Acoustic Transducers; Acoustic Beacons & Tracking Systems; Engineering Design, Support, and Field Services. "
FIBERPRO, Inc. - Korea, South - FIBERPRO offers single or double axis gyroscope and IMU(Inertial Measurement Unit) based on fiber optic technology. FIBERPRO has a variety of products, which are applicable to a wide range of industries.
Fibron BX Ltd - United Kingdom - Fibron provides а wide variety of custom designed and bespoke product solutions for a diverse range of end user applications. Design, manufacture, testing and termination are completed in-house, maintaining technical integrity and reliability at all times. We offer an industry leading selection of subsea cables and umbilicals. Whatever your particular challenge Fibron welcomes the opportunity to solve it. Our goal is to engage with you, our customer, at an early stage to allow the Fibron engineers to collaboratively work with your engineering, technical, operations and procurement teams. In this way we can work together to complete the project on time and within the agreed budget. This early phase teamwork allows us to address the functional and safety aspects of the design. Our service doesn't end with product delivery, we continue to follow the product through its life cycle with our dedicated after sales services. We believe passionately in the power of change. Together let's go deeper and further, changing attitudes and shaping the future of our industry.
FIELAX Gesellschaft für wissenschaftliche Datenverarbeitung mbH - Germany - FIELAX offers scientific-technical services and products for research and shipping. These are operation and production of marine technology, installation and maintenance of research platforms, processing and upvaluation of scientific datasets as well as customized software development. Our clients are major national and international research institutes, universities, operators of research vessels, public authorities and offshore-/exploration companies. Read our brochure for detailed information
FORCE Technology - Norway - FORCE Technology Norway is a leading technological consultancy company, built on years of experience with innovative development and problem solving. We specialise in understanding how materials and structures work and respond under any given circumstance, onshore, offshore and subsea. Globally, we represent approximately 1 500 employees, serving customers in more than 60 countries. In Norway, we specialise within: Corrosion & materials Asset integrity management Inspection & testing Structural analysis & engineering Structural health monitoring Training & certification of personnel
Foreshore Technology Ltd - United Kingdom - Foreshore Technology design, manufacture and install software and hardware solutions for our Dredging and Marine Construction Customers throughout the World. We have dedicated Dredge Master products which are powerful and easy to use focussing on machine control and instrumentation.
Forum Energy Technologies - United Kingdom - Forum's Subsea Technology Division is a leading provider of subsea related products and services. Forum's extensive product line focuses on remote intervention technology with the capability to provide everything from a complete trencher to tooling and individual components.
Fraunhofer IPM - Germany - Fraunhofer IPM serves the entire 3D data process chain – from robust systems capturing three-dimensional geometries and the location of objects on to data analysis and data visualization. We present an underwater laser scanning system for the efficient analysis of underwater infrastructure.
Fugro - United Kingdom - Fugro, the world's leading Geo-data specialist; We unlock insights from geodata, to help you design, build, operate and, ultimately decommission, your offshore assets safely and sustainably. Every day, and all over the world, our team of dedicated experts are working with clients to unlock insights from earth and infrastructure data. We acquire, analyse and advise on this data using cutting edge digital solutions providing an invaluable resource for our clients.
G-NOUS S.R.L. - Italy - Fishalytics is the digital platform for precision aquaculture that provides an integrated solution to monitor and manage offshore aquaculture farms, supporting producers in everyday decision making (i.e. feeding, harvesting time, inspections, pharmacy) through the analysis of operational data and environmental parameters acquired through Satellite Earth Observation. Data are analysed by AI algorithms to infer suggestions for the optimisation of farm management, the reduction of risks, the increase of productivity and the assessment of the environmental impacts. Main benefits are: - Real-time monitoring and prediction of environmental variables, allowing to avoid damages caused by adverse weather conditions, monitor changes in relevant water parameters and predict fish growth and the proliferation of harmful algae. - Digitalisation of operations thanks to the integration of farm management modules within a single platform, simplifying managerial activities and improving productivity through AI. - Computation of environmental impacts of operations on the surrounding environment, through analysis of correlations between production activities and variations in parameters of water quality. Fishalytics is a g-nous project. g-nous is an innovation-driven company skilled in deep tech and space businesses. Bridging the gap between the most advanced technologies and their business needs, we support companies in their innovation journey through a dynamic and flexible offering structure based on business development and technological services. The company has a consolidated expertise in the space sector with a focus on downstream projects and on sustainability-oriented applications. g-nous is a member of the Cluster BIG (Blue Italian Growth). Through its Venture division, it fund and invest in startups, working on the origination of new ideas and new business models, innovating industries through business creativity and application of disruptive technologies. g-nous assess market opportunities, validate the business case, create a vertical team, develop and launch the product, acquire the first customers, scale the business, raise funds and grow the team.
Gardline Limited - United Kingdom - Gardline is a best-in-class provider of geophysical, geotechnical and environmental marine surveys. We offer a comprehensive package of experienced staff, dedicated vessels and state-of the art equipment to empower the ongoing transformation in the offshore energy market.
General Cable - United Kingdom - "General Cable is one of the top three global leaders in cable manufacturing. In an Industry that requires highly specialised products, General Cable offers a comprehensive line of cabling solutions to meet the needs of Oil, Gas and Petrochemical (OGP) customers around the world. "
GEO Marine Survey Systems - Netherlands - "Ultra Hi-ress seismic & geotechnical equipment Acquisition, processing & interpretation software "
Geo Plus B.V. - Netherlands - "We offer services in charter facilities and hydrographic knowledge. Our commissioned built survey vessels are fully equipped with hull mounted survey systems. Our specializations are shallow water survey operations and working under extreme environments. "
Geo-4D Ltd - United Kingdom - Geo-4D is an independent geoscience consultancy and survey specialist based in Oxfordshire, UK, with experience of airborne, land-based and marine data acquisition, interpretation and modelling.
GeoAcoustics Ltd - United Kingdom - Located in Great Yarmouth, UK, GeoAcoustics Ltd is a leading manufacturer of high-quality sonar equipment for bathymetry, side scan and sub-bottom profiling applications.
Geocap AS - Norway - We extend the ArcGIS platform with subsurface modeling and visualization tools, effectively bridging the gap between the subsurface and GIS.
Geomares Publishing - Netherlands - Growing your business?!
Geomatrix - United Kingdom - Supply of exploration geophysical survey equipment for offshore, transition zone and on-shore site investigation
Geometrics Inc - United States of America - Geometrics Inc., a subsidiary of OYO Corporation, develops and manufactures magnetometers, seismic and EM instruments for a variety of land, sea and air investigations.
Geomil Equipment B.V. - Netherlands - Geomil engineers and manufactures equipment focusing on Cone Penetration Testing (CPT) for geotechnical site investigations. We have over 85 years of experience and were the first to patent and produce Cone Penetration Testing technology during the 1930s. Today we service our clients globally assisting them with their geotechnical requirements.
Geoquip Marine - Switzerland - Geoquip is a leading offshore geotechnical data acquisition company. We provide offshore and nearshore geotechnical site investigations and engineering services to clients worldwide. The company designs, builds and operates offshore heave compensated drillrigs, sample and in-situ testing equipment.
GeoSpectrum Technologies Inc. - Canada - GeoSpectrum Technologies Inc. specializes in underwater acoustic transducers and systems. For over two decades, we have been meeting the needs of our customers as designers and manufacturers of hydrophones and sound projectors as well as consultants on the integration and testing of acoustic systems. Whether it is from our existing product line or a custom design, our experience can help you define your needs and find a transducer that best meets them.
GEOTEC - France - Géotec is a geotechnical and environmental engineering firm that offers advice to all parties involved in building activities: Contractors, Project Managers, Companies, Technical Inspection Agencies, Experts. The firm provides all related services, from geotechnical surveys to the engineering of the most complex projects, including in-situ and laboratory tests as well as the design and manufacture of drilling rigs. It has thus successfully developed technical expertise in both soil surveys and project engineering. Founded in 1973 by F. Barnoud, and today managed by his son Olivier Barnoud
GEOxyz - Belgium - "GEOxyz is an independent company specialising in hydrographic, geophysical & geotechnical surveys, site investigations, offshore renewable energy support, UXO surveys, Cable and pipe tracking, DOB surveys, and O & M support. Please contact: sales@geoxyz.be to arrange a meeting."
GISMA Steckverbinder GmbH - Germany - GISMA Steckverbinder GmbH designs and produces high performance underwater connectors that are deployed deep sea down to 10.000 m. The actual production line comprises more than 14.000 different electrical, coaxial, fibre-optical, hybrid connectors and penetrators for Offshore, R&D, Renewables and defence applications. Connectors are available with up to 265 contacts, suiting to maximum current rating of 1.000 amps and 10.000 V working voltage.
Glenair UK Limited - United Kingdom - Glenair is a leading supplier of interconnect solutions to the Offshore and Subsea Industry. We specialise in providing and developing harsh environment connectors, penetrators, cable assemblies, connector accessories and sealed harnesses for a wide range of high reliability applications.
Global Dynamix Inc. - United States of America - "Global Dynamix, Inc. represents leading manufacturers of underwater equipment and marine technology. The products that we provide are used by oceanographic researchers, commercial and military divers, hydrographic surveyors, environmental engineers, defense contractors and the offshore industry. "
Government of British Columbia - Canada - Trade and Invest B.C. works with international enterprises to help them build strong links to the resources, skills and businesses that make British Columbia (B.C.), Canada, an attractive place to work, live and invest. We support international businesses and investors who want to do business in B.C. by pairing sellers with buyers, investors with opportunities, and companies with talented employees, whether they're selling products or services to the people of B.C. or working with our local communities to export products worldwide.
GPA SEABOTS - Spain - "GPASEABOTS was born to give technological response to various problems that we currently find in the marine environment. TECHNOLOGY & R+D FOR THE KNOWLEDGE, PRESERVATION AND RESTORATION OF SEAS AND OCEANS"
Greensea - United States of America - Greensea is revolutionizing the future of ocean robotics by providing an open architecture platform, OPENSEA®, with access to the OPENSEA API through the OPENSEA Enterprise Partnership. OPENSEA enables more intelligent autonomy in any marine vehicle, which will disrupt current marine operations and lead to substantial leaps in new vehicle capabilities. Software makes all robotics processes possible. Developers can jump start their innovative technologies by building upon a platform that more than 2,000 robotic vehicles trust.
GUIDOTTI SHIPS SRL - Italy - The Guidotti Ships vessels are designer for pipelines surveys, submarine cables, offshore platforms services and submarine structures other than geophysical and environmental monitoring. The major ability of our vessels is the way to follow tracks near the coast and in deep-sea thanks to our equipments. Through our partners the Guidotti Ships can provide hardwares softwares and technical personnel.
Habia Cable AB - Sweden - Habia Cable is a custom design and production partner for specialised cable and connectivity needs all over the world. Together with our customers, we discover better connections for a smarter future. Visit habia.com to find out more.
Haiyan Electronics Co. Ltd - China - "Qingdao Haiyan Electronics Co. , Ltd is committed to the research and development of Marine monitoring equipment, production and service in one of the high-tech enterprises. Mainly engaged in buoy products, such as wave buoys, which are equipped with sensors independently developed by our company."
Hampidjan Offshore - Iceland - This year Hampidjan will launching Hampidjan´s Optical Fiber Dyneema rope, a revolutionary fiber rope suitable for for winching, lifting, mooring and general purpose applications, with coax and fiber optic included with the strength member! The future is now....
Hangzhou AOHAI Marine Engineering Co., Ltd - China - AOHI Ocean is a fast-growing innovative ocean technology enterprise, aiming to provide advanced and reliable ocean technicians. Cost-effective product and system solutions.
Harvest Technology Group Ltd. - Australia - A dynamic market leader in optimised real-time video streaming and data technology, Harvest Technology develops in-house proprietary network protocols and hardware solutions to enable the secure high-quality transfer of real-time high-definition video, voice and data to and from anywhere in the world over any network, with a dedication to ultra-low bandwidth consumption and quality of service.
Hawboldt Industries - Canada - Hawboldt Industries is a designer and Manufacturer of Marine winches and Deck hardware located on the east coast of Canada. Our products include Scientific Winches, Trawl Winches, ROV LARS, AUV LARS, CTD LARS, Anchor Windlass, A-Frames, Tow winches, Mooring winches, and Propellers. All our products are custom designed by our engineering department to meet or exceed our customer's needs
Hefring Engineering - United States of America - Hefring Engineering is re-imagining one of the most versatile tools in ocean observation and research. Gliders offer unparalleled access to ocean measurements on large scales. However, they can be large, slow, and complex to maintain and operate. Hefring aims to enable scientists and others to view more of the ocean on larger scales with a smaller, low-cost, autonomous ocean glider. Beyond the vehicle itself, we also aim to improve operations and controls so that institutions can decrease their cost of ownership and program maintenance.
Hemisphere GNSS - United States of America - Building on a powerful intellectual property portfolio, Hemisphere GNSS is a leader in the high-performance satellite positioning and heading marketplace with a robust technology foundation and a relentless focus on innovation. Hemisphere holds 37 patents and other intellectual property and sells globally with several leading product, service, and technology brands including Athena™, Atlas®, Crescent®, Eclipse™, Outback Guidance®, and Vector™ for high-precision positioning and heading applications. Hemisphere's innovative GNSS-based solutions are focused on agriculture, construction & mining
Hexagon | NovAtel | Veripos - United Kingdom - Hexagon | VERIPOS pioneers assured positioning solutions for the offshore oil and gas industry with multi-constellation GNSS positioning services and the GAJT®-710MS anti-jam antenna. Hexagon | NovAtel® provides solutions for assured autonomy and positioning for near-shore marine applications.
High Tech, Inc. - United States of America - Experts in rugged marine sensor systems utilized in geophysical surveys, anti-submarine warfare, marine mammal monitoring and downhole applications. Products include data acquisition systems, hydrophones, array cables, pressure vessels and peripherals related to marine systems.
HUNTINGTON INGALLS INDUSTRIES - United States of America - Unmanned Systems, a business group within Huntington Ingalls Industries' Technical Solutions division, creates advanced unmanned maritime solutions for defense, marine research and commercial applications. Serving customers in more than 30 countries, HII provides design, autonomy, manufacturing, testing, operations and sustainment of unmanned systems, including unmanned underwater vehicles (UUVs) and unmanned surface vessels (USVs).
Hydramec Offshore Hydraulic Systems Ltd - United Kingdom - Having been established for 30 years, Hydramec have become world leaders in the design and manufacturing of Launch and Recovery Systems (LARS). We also specialise in bespoke marine equipment
Hydro Bond Engineering Ltd - United Kingdom - Hydro Group are global leaders in bespoke subsea connectivity solutions for the defence, oil & gas and marine renewables sectors. At our base in Aberdeen in Scotland, we design, manufacture and test a range of electrical, optical and ethernet subsea cables and connectors up to 66kV.
HYDROCONSULT - France - Available and highly qualified personnel assures and assists you in technical study, equipment installation and calibration, on-site surveys, positioning, data processing and training.
Hydromea - Switzerland - An emerging leader in high-speed wireless underwater communication and portable robotics, Hydromea automates submerged asset inspections with a unique drone platform, reducing the carbon footprint, cost and safety risks associated with the existing technologies.
HydroSurv Unmanned Survey - United Kingdom - HydroSurv is an innovative designer, builder and operator of Unmanned Surface Vehicles for hydrographic, geophysical and environmental data collection within inland and coastal waters.
Hypack - United States of America - HYPACK, A Xylem Brand has been developing HYPACK®, HYSWEEP®, and DREDGEPACK® software solutions since 1984. With over 30 years' experience, and over 10,000 users, HYPACK is a leading provider of hydrographic and dredging software worldwide, supporting over 400 different sensors and devices! It provides the Surveyor with all the tools needed to design their survey, collect data, process it, reduce it, and generate final products. Whether you are collecting hydrographic survey data or environmental data, or just positioning your vessel in an engineering project, HYPACK provides the tools needed.
I-SEA - France - i-Sea is a french company offering satellite-based geo-information products for the coastal engineering and monitoring markets. In a couple of years, the company has become a European leader in Earth Observation x Digital supporting public authorities and industrials with their environmental issues.
i2S - France - i2S is at the cutting edge for over 40 years of image capture and processing, integrated into complete solutions, from photon to cloud. i2S is specialized in underwater imaging systems, thanks to Orphie solution, a breakthrough technology that significantly increases the viewing distance of its underwater cameras. Our underwater imaging systems are plug and play and can be easily integrated to every ROV/AUV/USV or professional divers. They provide actionable images making possible and simplifying visual underwater inspections.
Ictineu Submarins S.L. - Spain - Design, build and operate new generation submersibles like ICTINEU 3 (1.200m rated and 20 miles autonomy) and provide high power & energy pressure-tolerant lithium battery systems. Expertise service on design and engineering, composites, pressure tolerant electronics, pressure testing laboratory.
IFREMER - France - As an integrated marine sciences research institute, IFREMER contributes to national research and innovation, as well as to the European research. It conducts research and innovation, proposes expertise to in exploring, understanding and predicting the ocean, and shares its knowledge and data to create new opportunities for marine-friendly economic growth. To strengthen its position, Ifremer settle a collaboration with Centrale Nantes, a French Engineering school, and other strong academic partnerships within the Carnot MERS label.
Igeotest S.L. - Spain - Igeotest Geoscience is a group of companies specialising in the study of soils and subsoils, whose experience spans a period of over 30 years. We operate worldwide.
IM-Solutions (France) - France
Imagenex Technology Corp. - Canada - Imagenex Technology Corp. was founded in 1988 by pioneers in the development of high resolution sonar. As Imagenex continues to bring new products to market, it adds variations and improvements to existing equipment. The company's products include multibeam, mechanical scanning, and sidescan sonars.
IMarEST - United Kingdom - The Institute of Marine Engineering, Science & Technology is the only membership body bringing marine professionals from all disciplines together, into one international organisation. We support their professional development and uphold professional excellence across the sector.
Imenco Uk Ltd - United Kingdom - Imenco has been a supplier of "Smart Solutions" to the Ocean Industries for more than 40 years. Our sales team works out from Aksdal, Stavanger, Voll, Bergen, Aberdeen, Lafayette and Singapore with agents in many other areas. Imenco employs a well-qualified staff of more than 300 employees.
Impact Subsea Ltd - United Kingdom - Impact Subsea offers a portfolio of underwater technology encompassing Sonars, Altimeters, Depth Sensors, Attitude & Heading Reference Systems, Flooded Member Detection Systems and bespoke Pressure Housings.
In-Situ Inc. - United States of America - "In-Situ Inc. designs and manufactures water quality, water level and flow monitoring instrumentation as well as telemetry and data services for coastal waters, surface water, and more. In-Situ products provide accurate results and reliable operation in harsh monitoring conditions. "
Inertial Labs - United States of America - Since 2001, Inertial Labs has brought custom, mass produced position and orientation products ranging from Inertial Measurement Units to Optically Enhanced GPS-Aided Inertial Navigation Systems to over 20 countries on 6 continents for commercial/industrial and aerospace/defense applications.
INNOMAR Technologie GmbH - Germany - INNOMAR provides parametric sub-bottom profilers and associated software, which are perfectly suited for high-resolution sub-seabed visualisation in water depths from less than one meter to full ocean depth. Applications include, but are not limited to, dredging and to geological surveys, mapping of buried pipelines, cables and UXO or reconnaissance and route surveys at prospective offshore building sites, such as windfarms.
Innovatum Ltd - United Kingdom - Innovatum Ltd manufactures a variety of proven survey systems for the submarine cable and pipeline industry, heavily linked with the growing global offshore Renewable Energy Sector.
INNVOTEK - United Kingdom - InnoTecUK specialises in the development of innovative and novel robotic systems that help customers overcome complex inspection, control, and measurement challenges. It is a dynamic, fast growing, and progressive robotics and automation solutions provider.
Inspire Environmental - United States of America - INSPIRE's innovative Sediment Profile Imaging (SPI) is used to conduct rapid site assessment of benthic environments for offshore energy and ports. We mobilize our equipment across the world delivering same day results using cutting-edge technology deployed by INSPIRE staff for 30 years. INSPIRE Environmental is a leading environmental sciences firm in offshore energy development. We provide key information on marine resources for decision-making support throughout project lifespans. Our unique interactive visual display of integrated data provides location intelligence to de-risk projects.
International Ocean Science & Technology Industry Association (IOSTIA) - United States of America - Welcome to IOSTIA at Oi22! Oi22 marks the launch of our digital resources designed to strengthen our virtual network to build real-world teams and trade. In proud partnership with ReelMaritime, we're offering priority access to marketing, sales, and recruitment solutions to build your own pipelines for success. Visit our stand to learn about our community, as we emerge stronger and smarter, with a heightened appreciation for the people we need in order to thrive.
iPS | Nautech Services (Jersey) - United Kingdom - iPS | Is a ONE-STOP-SHOP service to Global HR/Crewing, Payroll, Project Management. We have experience on thousands of survey projects on a global arena with companies and contractors of diverse nationality, size and experience. What makes us unique: 1) 30 years of experience, operating since 1992; 2) Office team includes professionals with specific survey industry knowledge; 3) Customer focus with a personal touch; 4) Reputable portfolio of clients; 5) 24/7 availability; 6) +80,000 qualified candidates worldwide; 7) 45+ payroll solutions; 8) Open book policy.
Iqua Robotics - Spain - IQUA Robotics manufactures Autonomous Underwater Vehicle (AUV) systems which can be adapted for a wide range of research and professional applications. IQUA Robotics currently commercializes in exclusivity the Girona 500 and the Sparus II, two lightweight and versatile vehicles which can be easily configured for any task thanks to its open conception from both the software and hardware points of view. The company also commercializes hardware and software solutions for the underwater exploration market.
iSURVEY Offshore Limited - United Kingdom - iSURVEY is a leading provider of survey and positioning services to the global oil and gas, telecommunications and offshore renewable energy sectors.
Italian Trade Agency - United Kingdom - ITA - Italian Trade Agency is the Governmental agency that supports the business development of our companies abroad and promotes the attraction of foreign investment in Italy. With a motivated and modern organization and a widespread network of overseas offices, ITA provides information, assistance, consulting, promotion and training to Italian small and medium-sized businesses. Using the most modern multi-channel promotion and communication tools, it acts to assert the excellence of Made in Italy in the world.
ITER Systems - France - ITER Systems is a start-up company created in 2013. It specialises in the development and manufacturing of bathymetric sonar systems.
ITIC (Thomas Miller) - United Kingdom - ITIC's comprehensive professional indemnity insurance is tailored to suit the specific needs of offshore and hydrographic surveyors and consultants. ITIC is the mutual insurer for the transport industry with no external shareholders or underwriters to take a profit from the business.
iTP Ltd - United Kingdom - We are specialists in many areas of technology and engineering training, including electronics, test and measurement, telecommunications, Radar/EW, SONAR, simulation software, and TiePie engineering PC data acquisition instruments. iTP Ltd. will be showcasing our Acoustic Systems Trainer (AST) at Oceanology International 2022, which has been designed and manufactured for underwater studies. For more information before the exhibition, please visit our website for futher details at www.itp101.com or email info@itp101.com
IVM TECHNOLOGIES SAS - France - IVM Technologies is a leading global provider of products and systems that contribute to quality enhancement and cost efficiency within subsea asset inspection industries. Based on high accuracy photogrammetry, in comparison to conventional technologies, our products help to reduce subsea inspection durations and costs.
iXblue - France - Is a high-tech company recognized worldwide for delivering advanced navigation and marine autonomy solutions. The company develops innovative systems and solutions for inertial navigation, subsea positioning and subsea imagery. Leveraging cutting-edge expertise in the fields of shipbuilding and robotics, iXblue also designs autonomous maritime platforms that are increasingly efficient, economical and environmentally friendly. iXblue critical technologies meet customers demanding requirements for successful missions in the most challenging environments, from the deep sea to outer space.
JASCO Applied Sciences (Canada) Ltd - Canada - JASCO Applied Sciences provides consulting and research services for assessing and mitigating underwater noise. Since its origin in 1981, JASCO has been developing and implementing acoustic technologies ranging from advanced acoustic recorder design to complex acoustic modelling algorithms to comprehensive field monitoring and data analysis.
JIFMAR OFFSHORE SERVICES - France - Jifmar Offshore Services is a French shipowner operating modern and versatile DP vessels & ROV. We provide turnkey solutions for all the parties involved in development, installation, and maintenance.
Just a Drop - United Kingdom - Just a Drop is an international water charity that brings sustainable safe water, sanitation and hygiene projects to communities, transforming lives. We started at World Travel Market in 1998 and have since helped travel companies to give back to 1.8 million people across their destinations.
K.U.M. Umwelt - und Meerestechnik Kiel GmbH - Germany - For the past two decades, K.U.M. has supported leading academic centres around the world by developing bespoke subsea technology. Today, we are established as the leading provider of subsea data acquisition systems delivering an end-to-end service from conception through to manufacturing.
KELLER Pressure Sensors - United Kingdom - A Swiss pressure sensor manufacturer – offering a lower cost alternative to Quartz pressure sensors, with comparable performance of 0.01%FS precision. Pressure ranges from 5mbar up to 2000bar, corrosion resistant materials, digital or analogue outputs, -40°C... 200°C. ISO 9001 certified. Modern advanced production techniques enable KELLER to offer competitive pricing for medium and high volume production orders. Market leaders in OEM pressure sensors, we have modular designs that can easily be adapted to your requirements at little or no extra cost. Pressure Measurement... Our Business.
KLEY FRANCE - France - Within a long partnership with major oceanographic research institutes and research vessel owners, KLEY France has developed high-standard and tailor-made solutions for demanding operations at sea. We develop deep sea winches with outstanding performances, fully dedicated to scientific operations and adapted to vessel characteristics. Our patented Annular™ traction winch technology is the world reference as far as synthetic rope deployment is concerned. We also offer CTD and ultra-clean CTD winches, A-frames and handling systems, piston corers, sub-hull sensor deployment....
Knudsen Engineering Ltd - Canada - Knudsen manufactures high performance single beam echosounders used in numerous diverse applications including survey, navigation, dredging, sub-bottom profiling and ocean research. Visit Booth A300 to learn more on the SOUNDER and CHIRP series echosounders along with our Shallow Water SBP Pinger.
Kognitiv Spark - Canada - Kognitiv Spark is a Canadian technology company and Microsoft Gold partner in mixed reality and cloud platform recognized for its competency in the secure, reliable, and network agnostic AR/MR/XR technology for industrial remote support. Its flagship solution, RemoteSpark, is an industrial-grade MR communication platform that allows a remote worker to establish a low-bandwidth, secure audio-video call with a subject matter ex while concurrently accessing images, digital files and task-relevant 3D assets. This enables that operator to connect with an expert anywhere in the world when they need help solving a complex problem or to resolve issues quickly.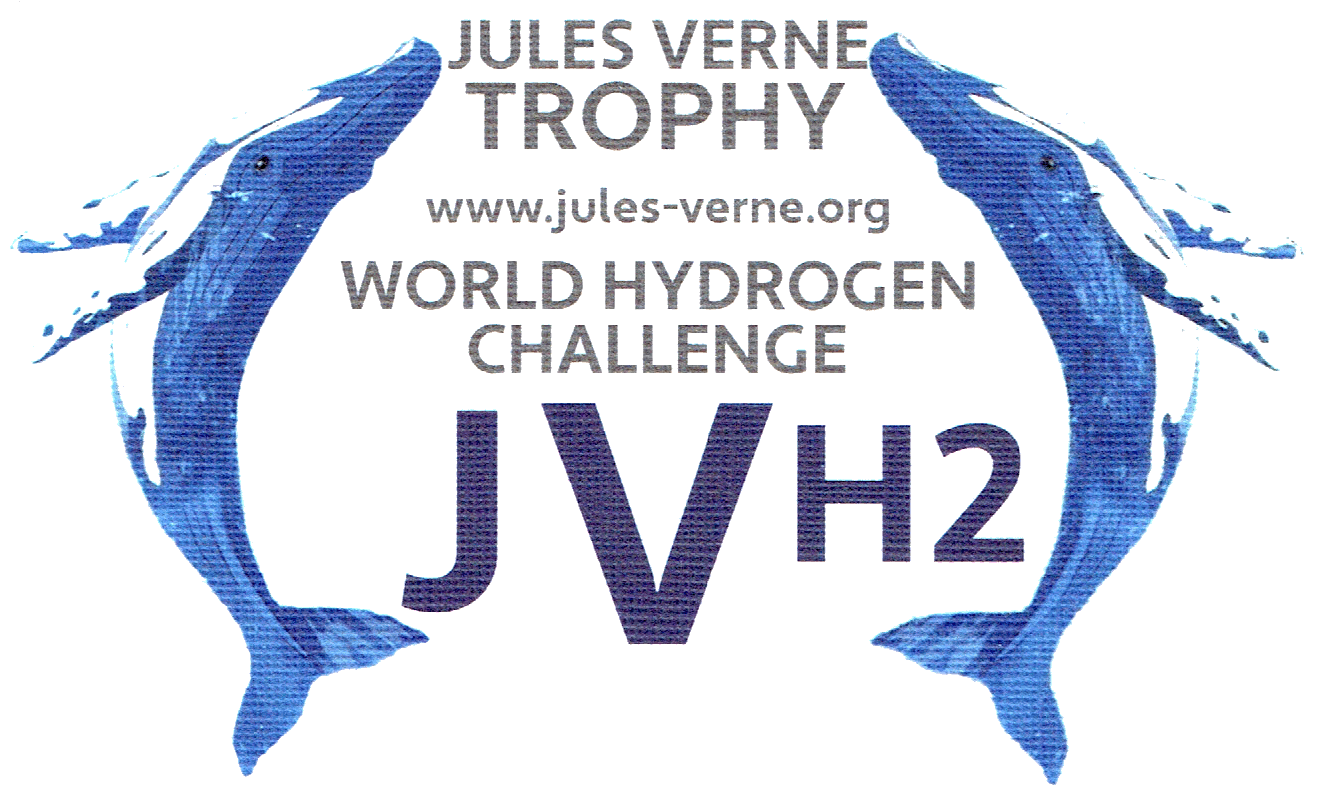 Kongsberg Maritime AS - Norway - Kongsberg Maritime is a world leader in marine technology. With an extensive portfolio of innovative and integrated products and solutions, Kongsberg Maritime delivers efficiency, reliability, flexibility, and environmental sustainability to enhance the business of its customers. Our approach to product design maximise performance by providing THE FULL PICTURE.
Kraken Robotic Systems Inc. - Canada - Kraken Robotics Inc. is a marine technology company engaged in the design, development and marketing of advanced sensors for Unmanned Underwater Vehicles used in military and commercial applications. We are recognized as world leading innovators of Synthetic Aperture Sonar (SAS).
KVH Industries Inc - United States of America - KVH makes high-performance gyros and inertial systems for navigation, stabilization, positioning, orientation, pointing & guidance systems. Based in the USA, KVH's fiber optic-based sensors are integrated into a broad range of demanding autonomous and manned commercial and military applications.
KW Group Ltd - United Kingdom - Automated high pressure testing systems with data logging and reporting capabilities. Integrated tools to manipulate, mate/ de-mate or mechanically strain the test component whilst agitating the test media. Environmental and pressure testing facility and services for qualification, type approval and FAT along with assisting new product development.
Kystdesign AS - Norway - Supplier of ROV's and subsea equipment
L3Harris Technologies - United Kingdom - L3Harris is at the forefront of the autonomous revolution and redefining the way the world works at sea, using man-portable UUVs, ROVs and all sizes of ASVs.
Lankelma - United Kingdom - Lankelma is a marine geotechnical contractor specialised in CPT and nearshore investigations. We have our own jack up platform, drill rigs (including Sonic), top push, seabed and wireline CPT and carry out investigations all over the world off our own platform or off client provided platforms in water depths up to 60 metres
LAPP Muller - France - We are your partner for all of customized cable systems, and short lengths integrating electrical, pneumatic, optical, hydraulic or support functions: Umbilicals : drilling loops – Subsea welding umbilicals; Diving activities : Bell umbilicals – Divers umbilicals; ROV tether – Main ROV cables
Laser Diagnostic Instruments AS - Estonia - At the cutting-edge of fluorescence based optics, Laser Diagnostic Instruments manufactures non-contact, sensor technologies for the purposes of water monitoring: specifically hydrocarbon detectors.
Lidan Marine AB - Sweden - We develop and design customized winch and handling systems. Lidan Marine supplies LARS for ROV's, a vast range of umbilical winches, overhead travelling systems and A-frames proven to complete reliability. Welcome to our world, a world in which only the strongest survive.
Linden Photonics, Inc. - United States of America - High strength optical/hybrid/electrical cables. Specializing in thin & strong cables, buoyant cables. Linden's fiber optic & hybrid cables are optimized for underwater use as well as use in larger umbilical. Combining high strength, low weight and small size we produce the ideal optical cable.
MacArtney Underwater Technology Group - Denmark - Being a global supplier of underwater technology solutions, MacArtney specialises in design, manufacture, sales and service of a wide range of systems to offshore operators, surveyors, the renewable energy sector, ocean sciences, security forces and navies across the world. Visit us at stand D 201.
MacGregor Norway AS - Norway - Leading supplier of load handling systems for fisheries, oceanographic, and polar research vessels worldwide.
Magellan Limited - United Kingdom - Magellan are an independent global specialist in deep and ultra-deepwater site investigation, subsea intervention and seabed mapping. We are proficient in operating in harsh and remote environments and acquiring data in some of the most challenging locations around the world.
MAPPEM - France - MAPPEM Geophysics is leader in electromagnetic imaging for marine site investigation. We provide new insights in geophysical imaging, filling the gap of other techniques to derisk your projects and reduce the overall costs. Our geology imaging services concern MRE, dredging, cable routes or civil engineering. Using our innovative tools, we can image complex geologies (hard rocks, cavities, gassy sediments), detect ferrous and non-ferrous buried objects (UXO, cables, pipelines) and measure ambient electromagnetic fields for environmental studies.
Marine Advanced Robotics / OPT - United States of America - WAM-V® is a unique class of autonomous surface vessels with proven effectiveness to support multiple marine industries. WAM-Vs can be easily deployed and disassembled for economical shipment anywhere in the world. OPT provides intelligent maritime solutions and services that enable safer, cleaner, and more productive ocean operations for offshore industries. Our PowerBuoy® platforms provide clean, reliable electric power and real-time data for remote maritime and subsea applications. OPT and Marine Advanced Robotics solutions increase capabilities, decrease risk, lower cost and save time.
Marine AI - United Kingdom - Marine AI's Guardian Vision platform provides computer vision-based sensor analytics for unmanned surface vessels. Built around powerful IBM and NVIDIA deep learning and edge computing technologies, Guardian uses AI-based object identification and hazard analysis to aid manned and unmanned vessel control and safety management. It provides multi-platform, scalable, TLS-encrypted secure CV capabilities that can be deployed on a variety of vessels to provide real-time risk assessment and actionable information transmission to land-based teams.
Marine Institute - Ireland - Marine Ireland is the collective brand of the Irish Marine Business offering, supported by the national development agencies across all Marine Sectors. The Marine Ireland stand provides a focal point for making contact with Marine Businesses and Agencies in Ireland.
Marine Magnetics - Canada - Seek, and ye shall find. Magnetometer technology that allows you to do less seeking and more finding.
Marine Sampling Holland - Netherlands - Specialist in offshore geotechnical investigations Marine Sampling Holland B.V. (MSH) is specialist in offshore geotechnical, geological and environmental research. We have dedicated seabed Cone Penetration Test systems (CPT) for in-situ testing and a variety of dedicated equipment for seabed sampling.
Marine Technology Reporter - United States of America - Marine Technology Reporter is the industry's largest circulating magazine dedicated to the underwater technology and ocean science markets. MTR provides unbiased news and information from around the world and delivers it to a powerful and highly responsive audience of more than 25,000 recipients. MarineTechnologyNews.com is where the underwater technology and ocean science community get their news online. Marine Technology News offers numerous unique marketing opportunities, such as: site takeovers, sponsored content marketing, white papers, executive video interviews and a comprehensive com
Marine Technology Society - United States of America - The Marine Technology Society promotes awareness, understanding, and the advancement and application of marine technology. Incorporated in 1963, the international society brings together businesses, institutions, professionals, academics, and students who are ocean engineers, technologists, policy makers, and educators.
MARIS B.V. - Netherlands - Specialist in development and operation of internet-based marine data & information management infrastructures and electronic publishing. Leading partner in EU infrastructures: SeaDataNet, EMODnet Bathymetry and Ingestion, Eurofleets, and Blue-Cloud. Electronic publisher of TDM and OGEL for oil & gas industry.
Maris Subsea Ltd - United Kingdom - Maris Subsea is a leading supplier of High Quality, Specialist, Subsea-oriented Personnel to Energy markets Worldwide. After more than three decades, we continue to operate in our core areas of expertise to provide a wide variety of qualified and experienced personnel, equipped with the competence and skills required for a wide variety of project requirements. Headquartered in Aberdeen, Maris Subsea operates a professional and transparent personnel supply service that is centred around quality of service, both to our representatives and our clients equally.
Maritime Robotics AS - Norway - With technology developed in close collaboration with both civilian, governmental and military partners, Maritime Robotics focuses on delivering high-quality system solutions and products that are cost-efficient, reduce HSE risk exposure and are highly deployable, in any conditions.
Maritime UK South West - United Kingdom - Brings together the place, research and business assets of the South West ocean economy.
Marlink Group - Norway - Marlink is the world's leading provider of smart network solutions. As the trusted expert in fully managed hybrid networks, combining satcoms (GEO, LEO) with terrestrial services (Wi-Fi, 4G/5G, fibre etc.) as well as IT, IoT and CyberSecurity solutions in a transformative, flexible NaaS model, we offer the highest levels of scalability to support specific use cases and applications. We enable the most prestigious energy, seismic, surveying and research institutes, as well as global passenger and container vessels, to run their remote operations in ever smarter, profitable and sustainable ways.
McLane Research - United States of America - McLane manufactures time-series in situ oceanographic instrumentation for scientific deployments in the open ocean, and freshwater environments. Three main oceanographic product lines are: profilers, samplers and flotation.
MEDITERRANEO SEÑALES MARITIMAS, S.L. - Spain - Mediterraneo Señales Maritimas (MSM) has developed a range for Oceanography and Meteorology for scientific purposes and monitoring of sea conditions. It includes data buoys that integrate sensors through our datalogger so the data can be transmitted to a remote station and displayed on our software.
Meller Optics - United States of America - The Masters of Sapphire Meller Optics has been providing high quality optics to defense, medical, laser and industrial markets for nearly a century . Specializing in grinding and polishing of hard, durable materials such as Sapphire and Spinel, and other ceramics. Meller Optics has developed a high-speed, low-cost finishing process for faster delivery and greater value. We fabricate sapphire domes, lenses, windows, and prisms. We deliver on time and meet or exceed specifications.
MetOcean Telematics - Canada - Track, monitor, and explore without limits. MetOcean Telematics is a global telemetry leader offering innovative voice, data and web-based solutions tailored for applications in transportation, maritime, environmental research, personal safety, and safety at sea supported by end-to-end telematics products and services on the global Iridium® satellite network.
MEWO S.A. - Poland - We are an independent family-owned company operating in the European offshore market for more than two decades. Our service portfolio includes comprehensive geophysical and geotechnical surveys, environmental surveys as well as inspections of underwater infrastructure. We have the world's leading specialist test and measurement equipment at our disposal, relying on cutting-edge technologies. Our key assets include a highly skilled test and measurement team, in-house technical facilities and close collaboration with universities and scientific institutions.
MGB-Tech - Belgium - Environmental measurement products that work closely together to provide meaningful access to real-time hydrological data. A game changing ecosystem to solve your metocean monitoring puzzle.
Microfine Materials Technologies - Singapore - Microfine specializes in Ultra-Broadband Chirp-ready UW transducers (UBCT), cost-effective single crystal miniature hydrophone (mHY), compact vector hydrophone (vHY) and acoustic vector sensor (AVS). We offer standard products and custom-made devices, including array design and fabrication.
MIND Technology, Inc. - United States of America - MIND TECHNOLOGY provides technology to the oceanographic, hydrographic, defense, seismic and security industries. Headquartered in The Woodlands, Texas, MIND has a global presence with key operating locations in the United States, Singapore, Malaysia, and the United Kingdom. MIND will be showcasing our latest in Sonar Acoustics and Survey equipment, Passive Arrays, the MA-X View 600 integrated single beam side scan and gap filler sonar along with our 3D Ultra-High Resolution products.
Miros AS - Norway - Miros is a technology company that specialises in measuring the ocean surface in real-time. Our portfolio of dry-mounted, IoT-sensors provides accurate, sea state data for weather-sensitive operations offshore. Miros has been a trusted provider of reliable ocean surface measurements to some of the world's largest offshore players for more than 35 years. We offer input to asset integrity systems and coastal monitoring, support the burgeoning offshore wind industry and aid offshore operations' decarbonisation. We aim to drive safety, efficiency, and performance in a range of maritime markets
Moga Software s.r.l. - Italy - Moga Software is a software house that works with passion and enthusiasm for new technologies. With MOSAIC we introduced concepts like true high-resolution mosaicking, flexible interpretation workflows (picking contacts from the map, 3D view or waterfall), interactive mosaic editing, and more. SeaView SBP provides attribute analysis to sub-bottom profilers, a new contact picking workflow (pick contacts on profiles in 2D or 3D), a comprehensive set of reflector auto picking tools, and a flexible metadata database. SeaView MAG completes the offering allowing tighter integration of raw mag data.
Moog Focal - Canada - Focal Technologies is a Moog Inc. company, a worldwide designer, manufacturer and integrator of precision control components and systems. Focal Technologies specializes in providing electrical slip rings, fiber optic rotary joints, hydraulic utility swivels and fiber optic multiplexer solutions for the worldwide marine industry including ROV, seismic, FPSO turret and oceanographic applications. For more information visit: www.moog.com/focal.
Moog Inc. - United States of America - Moog Inc. is a worldwide designer, manufacturer, and integrator of precision control components and systems. Moog's high-performance systems control military and commercial aircraft, satellites and space vehicles, launch vehicles, missiles, automated industrial machinery, marine and medical equipment. Additional information about the company can be found at www.moog.com.
MSI Transducers Corporation - United States of America - MSI Transducers specializes in custom transducers and arrays for both commercial and defense markets. MSI's broad design and manufacturing capabilities has enabled us to build everything from state-of-the-art synthetic aperture sonars….to low cost commercial arrays. From design to production, MSI is here for your transducer needs.
MTE Instruments - Canada - MTE Instruments has designed and manufactured instruments for the oceanographic research community for over 20 years. Our products include the well-known Aural series underwater acoustic recorders and the unmatched Viking Oceanographic Buoy.
N-Sea - Netherlands - N-Sea is an integrated subsea service provider in Survey and IRM (Inspection Repair and Maintenance). We deliver effective and cost-efficient solutions for subsea infrastructures and assets that meet the needs of the international oil, gas- and renewable industry. Delivering subsea: from inspections and pre-installation surveys through to construction support and maintenance management to decommissioning, working in challenging conditions without compromising on safety.
NATIONAL INSTITUTE OF OCEANOGRAPHY AND APPLIED GEOPHYSICS (OGS) - Italy - OGS is a public research institution that operates in the European Research Area and internationally, prioritizing the research fields of Oceanography, Marine Geology and Experimental Geophysics. Counting on its own vessel and other infrastructures of excellence, OGS works for the safeguarding of the natural resources, contributing to the spread and widening of knowledge. The ECCSEL-NatLab Italy of Panarea (Aeolian islands) is a component of ECCSEL-ERIC an initiative aiming to create a network of top quality research laboratories to develop CCS techniques and to combat global changes enabling low to zero emissions.
National Oceanography Centre - United Kingdom - The National Oceanography Centre (NOC) is the UK's leading institution for integrated coastal and deep ocean research. The NOC undertakes and facilitates world-class agenda-setting scientific research and technology development to understand the global ocean by solving challenging multidisciplinary, large scale, long-term marine science problems to underpin international and UK public policy, business and societal outcomes.
NatureMetrics - United Kingdom - NatureMetrics is an established provider of DNA-based biodiversity assessment services having been providing commercial services since 2015, and moved into our industry leading new laboratory in 2022. We have broad experience in delivering marine and terrestrial projects worldwide, including extensive work in Europe, Africa, Latin America and South-East Asia. We are playing a leading role in the development of the standards and best-practice guidance for this new industry, working in collaboration with academic researchers, policy makers and industry collaborators.
Nautikaris BV - Netherlands - Nautikaris is your best address for your needs for Hydrographic and Oceanographic Systems, Meteorological instrumentations and system solutions, Acoustic 3D Imaging Systems, Subsea communication, Positioning Equipment, Underwater Connectors, Rugged Data Collectors, Marine LED Navigation Lights and Wireless Small band Radio telemetry networks.
Nautilus Marine Service GmbH - Germany - Manufacturer of VITROVEX® glass products, i.e. deep sea glass spheres and tubes for buoyancy and instrument housings incl. accessories, hard hats for protection, storage, and ease of handling; glass spheres mounting framework, optical domes for image acquisition, submersible antenna housings.
Neptune Sonar Ltd - United Kingdom - A world leader in the design and manufacture of monolithic and piezo-composite acoustic transducers for military & commercial applications. A wide range of Transducers and Hydrophones for Echo-Sounder, Side Scan & Comms systems. Acoustic calibration & testing services including a floating laboratory
Next Generation Shipyards - Netherlands - NG Shipyards designs and builds as well as maintaining and repairing work boats up to 30 metres. An important issue for us is the continuing search for durable applications and technologies to reduce our ecological footprint. We find it a challenge to apply all our specialist knowledge and for that reason we spend time and energy in various initiatives and projects. The further development of the yacht Ecolution is one example of this commitment.
Next Geosolutions - Italy - Next Geosolutions (NextGeo) is an international marine geoscience and offshore construction support service provider operating primarily in the energy sector. Part of the Marnavi Group, and with a fleet of 15 state-of-the-art DP class 1 and 2 vessels and a multi-national blend of around 230 skilled and experienced professionals (our biggest asset), NextGeo offers a variety of services from specialised consultancy to marine geophysical, geotechnical, environmental and archaeological surveying, and from UXO survey, removal and relocation to offshore construction support services.
NKE Instrumentation - France - nke Instrumentation designs, manufactures and sells instruments and systems for water measurements and environmental monitoring. Our fields of application: ocean, deep sea, coastal. Our range of products includes: data loggers, autonomous buoys, deep floats, sediment sensors, profilers of all kinds.
NORBIT Subsea - Norway - NORBIT manufactures wideband multibeam sonars for hydrographic, forward-looking and subsea leakage detection applications. Our new concept can integrate any combination of bathymetric sonar, forward looking sonar, and LiDAR into one hardware platform with a single LAN connection to survey computer.
Nortek A/S - Norway - Nortek excels in the development and manufacture of acoustic Doppler instrumentation. Our Doppler Velocity Logs (DVLs) are used for subsea navigation, while our Acoustic Doppler Current Profilers (ADCPs) are used to understand physical processes in the ocean, rivers, lakes and laboratories.
Norwegian Subsea - Norway - We deliver high performance Motion Reference Units (MRU) and motion sensors for marine, subsea and land use. Our products combine MEMS sensor technology and sensor fusion algorithms to give accurate and reliable motion, velocity and acceleration measurements for control and monitoring applications.
NOTILO PLUS - France - Notilo Plus simplifies the collection and processing of underwater data with the latest technologies. Thanks to Seasam, its intuitive and modular underwater drone, non-specialists can easily collect data, and locate them on a map. Our secure and customizable Notilo Cloud platform offers a simple way to manage the collected data: from viewing videos to annotating observations and generating reports. Using advanced aquatic drone and a comprehensive online data platform, remote and thorough operations (hull inspections, bathymetric surveys, etc.) can be performed at a fraction of your costs.
Novacavi Srl - Italy - Specialist in custom cables design and manufacturing since 1975. Sound experience in specialized cable solution for subsea, harsh and demanding environments. Proven materials expertise, engineering versatility & production flexibility to match customers' requirements. ISO 9001 certified since 1995.
NOVELTIS - France - NOVELTIS helps answering important questions: what is the maximum wind, waves and current that we might face ? Our Hindcast data is ideal for a preliminary information for offshore activities, floating wind engineering, commissionning and decommissioning. How much work shall we be able to perform next week? Our Forecasting delivers key information for shipping, marine insurances and offshore O&M: floating wind turbines, cable laying, towing, heavy lifting, maintenance on CTVs … And also : modelling submersion, coastal erosion, drifting of various pollutions ( oil, plastic…)
NTD AS - Norway - NTD AS offers package solutions for handling equipment for underwater vehicles and installations (launch and recovery system) for the offshore and maritime industry. We handle project management, production, mobilization and maintenance for our customers.
OARS GROUP - United States of America - OARS specializes in supporting all aspects of marine-based survey, geoscience, and infrastructure projects. Provides Personnel and Data Services globally. Reputation for quality, cost-effective results that keep your projects in motion. Proud to be North American partner of EIVA a/s.
Observator Instruments b.v. - Netherlands - Our product range includes anemometers, wind systems, helideck monitoring systems, rain gauges, weather monitoring systems, road condition sensors, water level and quality sensors, data buoys, and many more. In brief, when meteorology and hydrology have priority, Observator Instruments has the best solution. From important meteorological factors – like wind, visibility, temperature and precipitation – to hydrological factors such as wave and current. Regardless of the application area: shipping, container terminals, airports, oil platforms, offshore wind farms etc.
Ocean Business - United Kingdom - Ocean Business is a free exhibition on 18 - 20 April 2023 at the National Oceanography Centre, Southampton UK. Established as one of the most important international events in the ocean technology calendar, Ocean Business attracts more than 5,000 visitors from 60+ countries.
Ocean Floor Geophysics Inc. - Canada - OFG provides solutions to address our clients' subsea surveying challenges across a range of markets including the renewables, oil and gas, defense and minerals markets. We bring together engineers and geoscientists to design, integrate, and operationalize complex sensor systems deployed from AUV (Autonomous Underwater Vehicle), ROV (Remotely Operated Vehicles), USV (Uncrewed Surface Vessel) and surface vessels. We collect rich multiphysics datasets and interpret these to meet and exceed survey objectives in an efficient and safe manner, with minimal environmental impact.
Ocean Marine Group - United Kingdom - Ocean Marine Group is the umbrella trading brand for the independently owned companies ETPM, Pirie & Smith and Underwater Contracting ("UCO"), specialising in the provision of services in the Marine, Energy & Aquaculture industries. ETPM is a specialist Marine, ROV & Subsea recruitment company; Pirie & Smith are Marine & DP Surveyors and UCO is an ROV Company which has developed patented technology for use in the Aquaculture industry. Headquartered in Aberdeen, Scotland the group provides services worldwide to a range of clients including Contractors, Vessel Owners, Operators and Flag States.
Ocean Modules Sweden AB - Sweden - Hundreds of V8 ROV systems have been sold to prestige customers worldwide since the first prototype was demonstrated to the US Navy over a decade ago. The ROV platform, the SPOT.ON Survey Management Software and the integrated containerised LARS/TMS now form the Ocean Modules V8 Ecosystem Concept.
Ocean Sonics - Canada - Ocean Sonics designs and builds the icListen Smart Hydrophone, the most effective tool for underwater listening and environmental monitoring. icListen provides high quality, real-time data delivered directly to a PC or smart phone. Use icListen as for real-time listening or as an acoustic recorder.
OceanAlpha Group Ltd. - China - OceanAlpha's products are redefining the way how we collect data, life-saving, auto-piloting and swam controlling in marine industry. OceanAlpha helps professionals in, for example, water sampling, hydrography survey, patrol & drowning rescue accomplish their work safer, faster and with greater efficiency than ever before.
Oceanbotics Inc. - United States of America - RJE has been providing subsea asset recovery equipment for military and commercial customers worldwide since 1991. We are a leader in providing quality acoustic relocation systems for equipment moorings, AUVs and ROVs that include acoustic beacons/transponders and a full line of acoustic receivers.
Oceaneering International - United States of America - Oceaneering pushes the boundaries of what is capable subsea with next-generation vehicles and remote operations capabilities. From survey to intervention and repair, we offer full life-of-field services to our diverse offshore energy partners. Our robust hardware solutions are engineered to keep your asset running safely past their design life. Our Freedom™ AUV offers reliable inspection and pipeline survey capabilities while delivering increased autonomy and endurance.
Oceanology International - United Kingdom - For all those involved in exploring, protecting and sustainably operating in the world's oceans and waterways. Oceanology International delivers access to comprehensive, innovative solutions, content and expertise, all unified by the use of ocean technology. - Bring together ocean professionals - Facilitating ocean connections - Showcasing ocean innovation & technology
OceanPact GEO - Brazil - OceanPact is a leading marine contractor especialized in a range of services including: Marine Survey, SubSea Services, MetOcean Studies, Shipping, Oil Spill Response, Emergeny Management, Offshore Logistics, Environmental Permitting, Risk and HSE consultancy. OceanPact employs a team of +2200 full time staff and owns a fleet of 34 offshore vessels. Company headquarters are in Rio de Janeiro and has offices and operational bases in Mexico, Uruguay, United Kingdon, Netherlands and Norway.
Oceanscan - Marine Systems & Technology LDA - Portugal - The LAUV is a rugged, cost-effective, Lightweight Autonomous Underwater Vehicle, designed to be simple to deploy, operate, and recover by one person. The open source software, makes easy the integration of new payload and algorithms. The LAUV is used worldwide by Navies and R&D institutions.
Oceanscan Ltd - United Kingdom - Oceanscan is a leading international rental and personnel company providing the latest technology to the oil and gas, petrochemical, renewables and nuclear industries. GeoForce provides in-depth experience to the Geotechnical market, supplying high quality equipment and experienced personnel.
Oceanweather Inc - United States of America - Established 1977, Oceanweather provides the coastal and ocean engineering communities with definitive metocean design data. Product locations include the Gulf of Mexico (GOMOS2014), Persian/Arabian Gulf (PERGOS), West Africa (WANE), and Global (GROW2012). Daily marine forecasting available.
Oceanwise Limited - United Kingdom - OceanWise provides applications, services and tools that enable safer and smarter management of marine operations We specialise in marine environmental monitoring; are the leading provider of marine mapping data worldwide; and are the experts in marine data management Your data from anywhere to anyone!
OE Test Sharer - United Kingdom
Okeanus - United States of America - Okeanus provides the latest oceanographic and marine scientific research equipment to the international community. As the exclusive provider of SOSI and DT Marine products, Okeanus can provide a solution through lease or sale that can suit any project no matter the depth or location.
OmniAccess - Spain - OmniAccess provides industry-leading Communication solutions, including maritime VSAT with ultra-high speeds of up to 450Mbps, complemented by our nextGen iO 5G and Iridium Certus. We are specialists in remote locations such as Antarctica, high upstream Internet speeds for science and survey, controlled latency comms, cybersecurity and NaaS (Network as a Service). Our services are the perfect fit for remote operations such as Unmanned Surface Vehicles (USV´s), ROVs, etc. Our customers include the most reputed Oceanography and Research institutions and leading Survey and USV companies.
Open Ocean Robotics - Canada - Open Ocean Robotics is a marine robotics company dedicated to protecting oceans using remote uncrewed data collection. Zero-emission, quiet, and capable of anywhere anytime operations, our solar powered uncrewed surface vehicles (USVs) provide safe, affordable, and sustainable ocean monitoring solutions. Based in Victoria BC, we offer services in marine mammal monitoring, environmental monitoring, and security in oceans around the world.
ORCA Hub - United Kingdom - The ORCA Hub is a multimillion-pound R&D programme aimed at addressing the offshore energy industry's vision for autonomous and semi-autonomous offshore energy fields. ORCA brings together internationally leading experts from 13 world-class research institutions and over 30 industry partners to create a multi-disciplinary robotics, artificial intelligence and autonomous systems consortium with unique expertise in: Mapping, Surveying and Inspection; Planning, Control and Manipulation; Intelligent Human-Robot Interaction with Explainable AI; Robot and Asset Self-Certification.
OSIL - United Kingdom - Global experts in data buoys, integrated monitoring systems, water column and seabed sampling. OSIL design, implement, install and support systems worldwide. OSIL also operates the IAPSO Standard Seawater Service and supply, calibrate and support a variety of marine instruments.
OTAQ Group Ltd - United Kingdom - OTAQ is a highly innovative underwater technology company. We design products using our specialist team of mechanical, electronic and software engineers all with decades of combined experience in marine technologies. We design, manufacture and develop high technology products and solutions primarily
Outland Technology - United States of America - Outland Technology, based in Slidell, Louisiana, designs and manufactures a broad range of high quality video and audio products worldwide to customers in the marine, military and industrial markets. You can browse our product line and download spec. sheets at our website
Parkburn Precision Handling Systems - United Kingdom - Parkburn is a specialist marine engineering company which designs, manufactures & installs offshore handling systems, worldwide. Parkburn provides quality work deck equipment, drive & control systems to markets, including; Renewables, DSV, Telecoms, O&G, Naval, Deepwater-Heavy Payload & Others
Peli Products (UK) Ltd - United Kingdom - The Peli™ range of rugged, corrosion proof cases offers watertight protection, including the 0450 Tool case, designed for the tough, offshore environment. Peli Products UK specialise in protective packaging solutions, we offer an in-house bespoke foam design and manufacturing service. Custom foam is highly durable, ensuring the contents are well organised, secured in place and fully protected. A wide range of safety approved lighting products is available,each torch in the Peli™ range is certified to current requirements for Zone 0 or Zone 1, ideal for industrial and offshore use.
PeriPlus - Netherlands - The Periplus Group is a Dutch-based consultancy firm providing services in the fields of hydrographic data management, underwater archeology and client representation. We deliver GR:Dit, a web-based data platform to visualise and analyse subsea data for offshore planning and maintenance purposes.
Planet Ocean - ecoSUB Robotics - United Kingdom
Plymouth Marine Laboratory - United Kingdom - Operating at the forefront of marine technology development and the delivery of advanced monitoring systems, PML provides expertise and access to first class facilities for its extensive international network of innovative businesses. Facilities include state-of-the-art laboratories, UK's largest supercomputer of its kind dedicated to AI applications utilising Earth Observation, well-equipped autonomous systems and marine technology workshops, offshore assets e.g. large moored platforms, a fleet of sub-surface autonomous platforms, autonomous surface as well as crewed vessels.
PMI Industries - United States of America - Unfortunately, PMI will not be in attendance at this year's event - we are however available for virtual meetings for any cable management needs! We specialize in designing, manufacturing, and testing underwater cable hardware and assemblies. Over many decades we have earned a global reputation for providing the right products at the right time, which ultimately reduces costs by increasing productivity and equipment service life.
Pôle Mer Bretagne Atlantique - France - The Pôle Mer cluster covers the greater maritime region of Bretagne Pays de la Loire and also connects with French territories overseas. It brings together companies, laboratories, research centres and education and training establishments that share a common goal: promoting and prioritising the maritime economy. The Pôle Mer cluster supports projects at every level: it's unique added value lies in identifying innovation, networking skills and resources and facilitating external interventions. Collaborative initiatives are at the heart of the Pôle Mer's existence.
Pôle Mer Méditerranée - France - The ambition of the Pôle MerMéditerranée, innovation sea cluster, is to sustainably develop the maritime and coastal economy in the Mediterranean sea and throughout the world by developing innovative projects and supporting development of companies. In the South Provence-Alpes-Côte d'Azur, Occitania and Corsica regions, the cluster brings together scientific and economic actors around maritime and coastal themes while keeping in mind the high stakes of security and sustainable development.
Popoto Modem - United States of America - Located on beautiful Cape Cod in Massachusetts, Popoto Modem (a brand of delResearch LLC) is made up of seasoned professionals in acoustic communications, embedded hardware and software, and digital signal processing. Drawing on years of experience in the ocean technology and telecommunications industries, Popoto Modem creates highly reliable ocean communications systems.
Precise Consultants Ltd - United Kingdom - Precise Consultants has been providing experienced Survey, ROV, Marine and Inspection personnel to its global client base since inception back in May 2013. We understand everything there is to know about life offshore because we've been there ourselves.
Prevco Subsea Housings - United States of America - We are a subsea engineering company, specializing in subsea pressure vessels and related accessories. We design, manufacture and test a range of custom and off-the-shelf housings made from different materials and for different depth and duration capabilities. The company has been specializing in this field for the last 20yrs and is solely focused on producing the most robust, reliable and cost-effective solutions for our customers. Our products have been in use worldwide for many years and we're always happy to discuss new and individual requirements, whether as a one-off or prototype.
Pro-Oceanus Systems - Canada - Pro-Oceanus provides a wide range of dissolved CO2, CH4 and Total Dissolved Gas Pressure sensors to suit any application, from the highest accuracy submersible sensors to low-cost, rugged instruments. Our team understands the complexities of measuring dissolved gases in a range of environments.
Probotic AS - Norway - Probotic is a Norwegian technology company under NORMS group that develops game-changing underwater technology for automating the sea stage of Atlantic salmon fish farming. We design our technology for a future driven by big data and insights. We believe that data will not only drive tomorrow's companies but the way we live our lives. We use underwater drones as a platform for inspection, cleaning, and data harvest. Using artificial intelligence like machine Learning on Neural Networks, we automate processes and make our technology self-learning.
PyroScience GmbH - Germany - PyroScience is a manufacturer of innovative opto-chemical sensors for fast oxygen and temperature monitoring and accurate pH measurements with most flexible underwater AquapHOx sensor technology. The AquapHOx products comprise long-term loggers for stand-alone operation during long monitoring approaches and transmitters with real-time data transmission for ultra-fast water column profiling in open ocean, the deep sea (down to 4000m) and coastal areas. They are compatible to diverse optical O2, pH, and temperature sensors (screw cap, fiber-based & contactless sensors) for multiple applications.
PYTHEAS Technology - France - PYTHEAS Technology is a French company specialized in design and manufacturing of underwater acoustic transducers and antenna. From low-frequency projectors to high-frequency sonar arrays, including wideband hydrophones and acoustic communication transducers. PYTHEAS T. has a large portfolio of products and solutions and is able to carry out developments on specifications. From piezoelectric materials to impedance matching and power amplifiers. Our know-how covers the entire sonar hardware. We support our partners from specification and design to integration and series production.
Quality Positioning Services (Q.P.S.) B.V. - Netherlands - QPS are experts in maritime geomatics software and services and has offices in the Netherlands, Canada, USA, and the UK. QPS solutions are used across a variety of industries, including hydrographic surveying, offshore construction, dredging, oil and gas, chart production, and piloting. Services include on-site training, setup, and support. With the highest capabilities and industry-renowned stability, QPS keeps even the most complex jobs running smoothly.
QYSEA Technology - United Kingdom - Established in 2016, QYSEA Technology is a high-tech enterprise focused on the R&D, production, and sales of underwater robotics. As a company, QYSEA has broken numerous industrial barriers to establishing a leading market position with its compact ROV technologies, proudly garnering global recognition for its innovations (CES, Future Maker, GIC) and functionalities (iF Design, Good Design). QYSEA is committed to developing solutions that combine underwater robotic systems, artificial intelligence, and big data for a more comprehensive and environmental exploration of the oceans.
R2Sonic LLC - United States of America - R2Sonic designs and manufactures shallow water multibeam echosounders. R2Sonic brings value to its customers by providing technical features that help them meet their goals, whether it is high resolution, high accuracy or reliability. The portfolio is simple while technologically advanced: 4 multibeam echosounders that differentiate themselves by their depth range and beamwidth. It is also modular: you can update any multibeam sonar with the technical features of your choice.
Radac - Netherlands - We are Radac. Technology leader in measuring waves by radar. Since 1996, we develop highly accurate wave radars suited for the harsh conditions offshore. We are proud that our professional systems are trusted across the offshore wind, offshore oil and maritime industry.
RBR - Canada - Since 1973, RBR has been designing and manufacturing oceanographic instruments in Ottawa, Canada. From the ocean abyss to the polar ice cap, our sensors track water parameters: temperature, depth, salinity, dissolved gases, pH, and many others.
Resinex - Italy - Monitoring elastic beacons, data buoys, support buoys for wave energy converters, syntactic foam modules, umbilical cable floats and others: Resinex manufactures the widest range of products up to 11,000 m WD and guarantees high reliability, quality and versatility.
Rhode Island Commerce Corporation - United States of America - We're on a mission to help you achieve yours. We work with public, private and nonprofit partners to create the conditions for businesses in all sectors to thrive and to improve the quality of life for our citizens by promoting the state's long-term economic health and prosperity. We offer business assistance, access to funding and red tape reduction for companies of all sizes. Our strategic location, port infrastructure, skilled labor, and novel training programs supplying the workers of the future, make Rhode Island an ideal location for offshore wind industry growth.
Richter @ Wiese / Omega 3D - Germany - Production of Niskin type Water samplers, Xternal Closure Water samplers/metall free , Special type water samplers, related accessoires, Trace Metall water samplers, Easy Flow samplers 3D printing specialized in Carbon printing. Customized 3D Printing up to 500x500x500mm parts
RIEGL - Austria - RIEGL is an international leading provider of cutting-edge Waveform-LiDAR technology in airborne, mobile, terrestrial, UAV-based, and bathymetric laser scanning solutions and has been producing LiDAR systems commercially for more than 40 years. RIEGL's innovative hardware and software products provide powerful solutions for multiple applications in surveying. Worldwide sales, training, support and services are delivered from RIEGL's headquarters in Austria; main offices in the USA, Japan, China, Australia, Canada and the UK; and a worldwide network of representatives.
RIVAGES / WAVES'N SEE - France - Each WaveCams® system is specifically designed to fit the specifics of your coastal zone by our engineers in our technical laboratory, located at the Météo France national innovation centre. Camera systems are installed on the beach tops and shoot the surf zone. Data is transferred to our servers and automatically treated. After extraction, the data is analyzed by our oceanographers to extract several scientific measures and parameters depending on the site particularities and observation needs. A customised dashboard provides real-time access to processed images and data.
RJE International Inc - United States of America - RJE has been a leader in quality acoustic navigation and relocation products for divers and subsea vehicles since 1991. We supply diver navigation platforms and underwater acoustic relocation products for military and commercial customers worldwide.
Romica TIE Group - United Kingdom - ROMICA ENGINEERING is a global leader in the design, manufacture of winches, lift equipment and marine deck machinery for the offshore oil and gas, marine and renewable energy industries. Specialist areas of supply and expertise :- oceanographic research and marine survey
Rovco Limited - United Kingdom - Rovco is the number one organisation for ROV 3D computer vision technologies and applied artificial intelligence underwater.
Rowe Technologies - United States of America - Rowe Technologies designs and manufactures state-of-the-art, industry leading, Acoustic Doppler Current Profilers (ADCPs) and Doppler Velocity Logs (DVLs), applicable to an array of oceanographic current measuring and navigational deployments from the ocean surface to a depth of 6000 meters.
RS Aqua Ltd - United Kingdom - RS Aqua is the UK's largest distributor of marine science equipment We work with a global network of partner companies who design and manufacture cutting edge technologies. Our main areas of work are marine science, offshore resources, hydrography, fisheries and aquaculture.
RTS TEST COMPANY - EU BASED - France - TEST
RTSYS - France - RTSYS designs and manufactures manned and unmanned systems run by underwater acoustics: -Underwater recorders, buoys, stations and defense acoustics (sonar retrofit, sonar calibration) -AUVs -Diverheld sonar and navigation systems RTSYS addresses scientists, offshore consultants and Navies.
Rutter Inc. - Canada - OceanWaveS/ Rutter radar systems fulfill marine safety, security, and environmental monitoring applications. The company offers products like sigma S6 WaMoS® II, Ice Navigator™, Small Target Surveillance, Oil Spill Detection, WaveVision. sigma S6 systems improves detection and tracking capabilities.
Saab Seaeye Ltd - United Kingdom - Saab Seaeye is the world's leader in electric underwater robotic systems. Our elite technological environment inspires pioneering developments that lead the industry with innovative solutions trusted to perform complex tasks in some of the most hostile environments on the planet. Key to our success is the reliability and capability of our systems and the renowned support and service we offer our customers in helping find solutions to their special requirements - and afterwards being available for every moment of every day throughout the life of their vehicle, wherever it is in the world.
Saderet Ltd - United Kingdom - Saderet is the European Marine Distributor for Hemisphere GNSS, and since 1998 has provided equipment from stock, technical support, and spares as required. The company also represents other complimentary industry leading manufacturers including Teledyne Marine, QPS, Chesapeake Technology, Satel, Edgetech, Seafloor Systems, and Deepwater Buoyancy.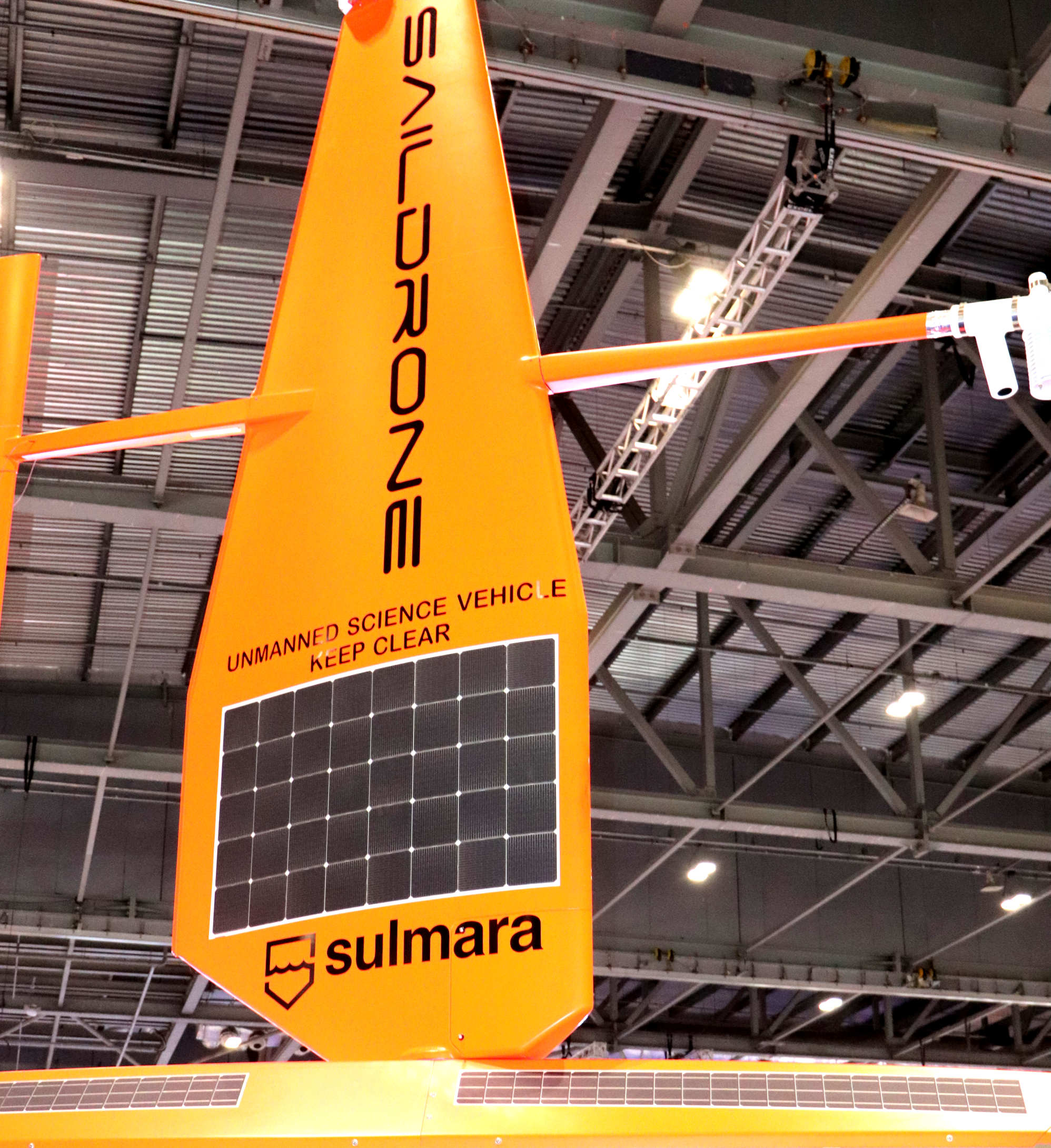 Saildrone - United States of America - Saildrone is the world leader in oceangoing uncrewed surface vehicles (USV), providing unrivaled payload, range, and reliability. Saildrone USVs collect data above and below the ocean surface and deliver unprecedented intelligence for climate change, ocean mapping, and maritime security applications. Saildrone can operate autonomously 24/7/365 in the world's harshest oceans with a zero or minimal carbon footprint and have sailed over 500,000 nautical miles spending more than 15,000 days at sea.
SAIV AS - Norway - Manufacturer of oceanographic instruments: Salinity/Conductivity/Temperature/Pressure/Oxygen/Turbidity/ Fluorescence/PAR/Sound Velocity/Density. CTD/STD model SD204/SD208 w/ wireless com. C: 0.02/0.002 mS/cm, T: 0.01/0.002ºC Tide/Pressure/Depth/Water Level recorders. Automatic Profiling Buoy APB5
Saltwater Stone - United Kingdom - Marine PR and marketing agency delivering high-quality campaigns for international clients. Ask us about public relations, advertising and digital.
SBG Systems SAS - France - SBG Systems is a leading supplier of miniature, high performance & cost-effective inertial motion sensing solutions. Our Motion Sensors and Inertial Navigation Systems are ideal for ship motion monitoring; SONAR, LiDAR, and Buoy orientation & position; ROV & AUV control,... Qinertia, our new INS/GNSS post-processing software completes the solution.
Scantrol AS - Norway - Scantrol is developing class-leading control systems for monitoring, control and vision systems. More than 1000 marine, offshore and research vessels are using Scantrol systems. Scantrol has developed an AHC controller with integrated MRU that makes AHC affordable also for smaller vessels.
Scorpion Oceanics Ltd - United Kingdom - Scorpion Oceanics is a leading manufacturer and supplier of connector technologies. Providing products, services and support to key offshore and harsh environment markets including, defence, oil, gas, nuclear and renewable energy, ROV, diving and oceanography. Please visit us at stand F400.
Sea Machines Robotics - United States of America - Is the leader in the development of autonomous command and control technology and long-range computer vision perception for the maritime industry. By leveraging sensor expertise, artificial intelligence and machine learning we have created technology at the forefront of groundbreaking advancements in the maritime space. We are aggressively deploying systems on vessel operating around the world. Sea Machines also operates the world's most active test fleet for validation of these advanced technologies.
Sea-Bird Scientific - United States of America - Sea-Bird Scientific is the world's largest developer and manufacturer of products for the measurement of salinity, temperature, pressure, dissolved oxygen, fluorescence, nutrients and related oceanographic parameters in marine waters. These tools are used around the world by ocean researchers, resource managers, and key industries engaged in offshore exploration and ocean resource utilization.
Seabed BV - Netherlands - Our unique combination of technical knowledge, practical experience and broad sales network results in the perfect balance in sales, support and engineering. Our team of qualified professionals put their precise thinking to work by developing and producing products for the off/onshore industry.
Seaber - France - We focus on single task "off-the-self" micro-AUVs reliable that can be deployed just after being received. Easily identifiable with their pink bio-inspired design, the YUCO micro-AUVs measure less than 1m long, weigh less than 10 kg and can operate for hours at depth down to 300 m with great maneuverability. Our revolutionary AUVs addresses searchers, scientists and offshore industries. We worked hard to make in order that AUV technology is now made accessible to all type of users. Come to discover our full range!
Seafloor Systems Inc. - United States of America - Seafloor Systems, Inc. provides total solutions for the hydrographic survey industry. We carry a full spectrum of equipment, software, and personnel to ensure the success of our customers. Specializing in the geophysical sector, we support survey companies worldwide. We develop, manufacture, and sell turnkey, portable solutions including: • HydroLite-TM and HydroLite-DFX portable singlebeam and dual frequency survey systems • HydroLite-MB multibeam echosounder pole kit • HyDrone Unmanned Survey Vessel (catamaran platform) • EchoBoat 160 & 240 Unmanned Survey Vessels (mono-hull platform)
Seamor Marine Ltd. - Canada - SEAMOR Marine are pioneers in the global inspection class underwater ROV market, tracing our roots back to the first prototype, developed in 1989. Proven time and again in the toughest environments worldwide in the commercial, government and science sectors, our hyper modular ROV systems are expandable, reliable, adaptable, and easy to use and service. SEAMOR vehicles offer exceptional value, durability, and portability and come with industry trusted world class support.
Seaplant Exchange International Ltd - United Kingdom - Find the products and services you require for the offshore and commercial marine industries at www.seaplant.com the ONLY dedicated worldwide industry directory with monthly trade magazine in both print and digital formats. Free profile for every company, enhanced profiles for only £325 for the entire year.
SEAPOWER SCRL - Italy - SEAPOWER is a non-profit consortium of applied research, participated by the University of Naples "Federico II". We have more than twenty years of experience in developing projects in the field of renewable energy, with a particular focus on tidal stream and wind energy. We work on aero/hydrodynamic and mechanical design, manufacturing management, installation, lab (towing/wave tank, wind tunnel) and on-field testing. Currently, we are mainly focused on GEMSTAR, an innovative and patented tidal stream energy converter, developed over the past 15 years and almost ready for commercialization.
SeaTrac Systems, Inc - United States of America - SeaTrac Systems manufactures, sells & leases cost-effective solar powered USVs. The sensor agnostic SP-48 is designed for real-time ocean observation, data collection, intelligence & surveillance missions, and can operate from near shore to open ocean supporting research, commercial and defense applications. Designed by MIT naval architects, our boats are intentionally sleek, easy to use, and hit the sweet spot of versatility, power, persistence and price. Custom sensor integrations & mission support also available.
Seatronics Ltd - United Kingdom - Seatronics, an Acteon company, supplies specialist subsea solutions pursuing excellence both in engineering capability and customer support. We provide full service capability on demand encompassing rental, sales, service and repair, calibration, personnel and asset management.
Sector Exhib Global - United Kingdom
SeeByte - United Kingdom - SeeByte provides clients in the global maritime industry with the most advanced software solutions to enhance the capabilities of their uncrewed systems. Compatible with any systems, our technology supports routine operations right through to the most challenging and dangerous of missions.
Seequent, a Bentley Company - United Kingdom - Seequent's Oasis montaj software solution provides robust capabilities for visualizing and analysing geophysical, geological, and geochemical data. When using Oasis montaj UXO Extensions, you can improve effectiveness and accuracy in the detection and analysis of buried land and marine UXO.
Sensor Technology Ltd - Canada - Sensor Technology is a global leader in piezoelectric acoustic tools and systems. With over 35 years of experience, we specialize in working with our clients to provide innovative, customized solutions that provide repeatable results. Our market penetration is global in scope, and we specialize in these Industry Sectors – Defense, Aquaculture, Energy, Oceanography, Hydrography.
SERCEL - France - As the world's leading designer and manufacturer of innovative seismic equipment , Sercel provides leading-edge technologies for exploration in marine and seabed environments: streamer data acquisition systems, impulsive sources, navigation software and underwater acoustics.
Severn Marine Technologies - United States of America - Severn Marine Technologies are the manufacturers of the ClearSignal biofouling control solution. ClearSignal is the worlds leading biofouling control system for oceanographic instruments and specialized platforms.
SH Group - Denmark - With more than 20 years of experience in delivering high-quality handling equipment and product certification by any desired 3rd party (DNVGL, ABS, CCS, etc.), we ensure to provide LARS-systems which will meet any requirements whether the research vessel is on a seismic or hydrographic survey, construction or dredging job or oil exploration.
Sidus Solutions LLC - United States of America - SIDUS Solutions' innovative design and advanced technology has positioned us to be a global leader in pan & tilt and rotator manufacturing. Our subsea cameras, lights and lasers are designed put eyes wherever you need them. We are also proud to be your complete service provider of robust security
Silicon Sensing Systems Ltd - United Kingdom - Silicon Sensing's MEMS gyros, accelerometers and IMUs combine precision performance with low size, weight and price. All use sensors from the company's wafer foundry in Japan. Suited to all marine requirements, the latest IMUs match the performance of heavier, more expensive FOG-based products.
SMC Ship Motion Control - Malta - "SMC Ship Motion Control is the manufacturer of the IMU Motion Sensor range and producer of Marine Monitoring Software Systems. SMC sensors and software systems support clients in the Hydrographic, Offshore Oil & Gas, Dynamic Positioning, Winch & Crane (Active Heave Compensation) and Marine sectors."
SMD Ltd - United Kingdom - For 50 years, SMD has partnered with pioneers in industry and science to take technology and engineering to places that people have never been. We specialise in the design, manufacture and deployment of remotely operated and autonomous power and control solutions. They help our partners around the globe to harness the potential of the most challenging subsea environments with maximum safety, efficiency and sensitivity.
Society for Underwater Technology - United Kingdom - The Society for Underwater Technology (SUT) is a multidisciplinary learned society that brings together organisations and individuals with a common interest in underwater technology, ocean science and offshore engineering.
Society of Maritime Industries - United Kingdom - Society of Maritime Industries (SMI) is the voice of the UK's maritime engineering and business sector promoting and supporting companies which design, build, refit and modernise ships, and supply equipment and services for all types of commercial and naval ships, ports and terminals infrastructure, digital technology, maritime defence and security, marine science and technology, maritime autonomous systems and marine renewable energy. SMI's Marine Science and Technology Group represents oceanographic and marine environment interests of our members.
SOCOTEC Italia Srl - Italy - SOCOTEC Italia is part of the SOCOTEC group, one of the leading operators in the ICT sector (Testing, Inspection and Certification - construction and infrastructure). Marine Business Unit provides support at every phase of the marine infrastructure project, backed by the best data analysis and control systems. SOCOTEC Italia provides a wide range of services for quality control and safety maintenance of the work, producing information on the characteristics of oceans, seas, coastal areas, lakes and rivers.
Soloon Controls (Beijing) Co.,Ltd - China - The company is located in the National Economy and Technology Development Zone in Beijing ETown, China, where has its own headquarters office building and production base. With comprehensive and independent R&D , production and quality control system.it holds 25 exclusive patents and has been officially certified as a National High-Tech Enterprise. Soloon actuator series products are sold all over the world and are widely used in central air conditioning (HVAC), subway, high-speed rail trains, ventilation, heat exchange, fire smoke , petroleum and petrochemical industries,metallurgy, power pla
Sonardyne - United Kingdom - We make underwater work for you; to navigate, position, communicate, monitor and measure in any water depth, for any duration; and from any platform. Offshore energy has been the core of our business for over five decades so we can help you on your path to sustainability, in wind, wave, tidal or floating solar. Capable, modern, effective, our industry-trusted portfolio of undersea technologies are transforming missions in the underwater battlespace. And from the littoral zone to the deepest oceans, we work with science organisations like yours, remotely gathering and delivering information.
Sonotronics Inc - United States of America - "Since 1971 Sonotronics has pioneered the way of ultrasonic tracking Sonotronics is a leader in the manufacturing of ultrasonic tracking equipment related to underwater tracking of marine animals, equipment marking, and other applications."
SonTek, a Xylem brand - United States of America - Advancing environmental science in over 100 countries. Manufactures affordable and highly reliable Acoustic Doppler instrumentation for water velocity measurement in oceans, rivers, lakes, canals, harbours, estuaries, and laboratories. Our instruments use sound waves to tell you how fast water is moving, where it is moving, and even if it is not moving at all. Our customers are scientists, engineers, hydrologists, research associates, water resource planners and anyone that needs to collect velocity data in every kind of body of water imaginable.
SOUND METRICS CORP. - United States of America - Sound Metrics (Bellevue, WA, USA) is a leading manufacturer of high-resolution acoustic lens-based compact imaging sonar systems. SMC's imaging sonars provide the detail required for critical decisions. They are the tool of choice for underwater inspection, identification, recovery and classification of targets.
SOURIAU - SUNBANK - France - "SOURIAU Connection Technologies is a world leader in the harsh environment interconnect solutions market. With 50 years of experience in marine interconnect solutions, we supply civil and military ship and underwater applications. Since December 2019, the company is a part of Eaton Corporation."
Souriau-Sunbank by EATON - France - "SOURIAU Connection Technologies is a world leader in the harsh environment interconnect solutions market. With 50 years of experience in marine interconnect solutions, we supply civil and military ship and underwater applications. Since December 2019, the company is a part of Eaton Corporation."
Specialist Underwater Brokerage Ltd - United Kingdom - We are a market-leading broker of used ROV and underwater survey equipment and have been supporting the global subsea industry for over 20 years. Formerly known as MaRE Trans Ltd, we supply DEEPSEARCH and SURVEYSEARCH - the largest listings for second-hand ROV and survey equipment located worldwide.
Spectrum Offshore Limited - United Kingdom - Spectrum Offshore is an independent group specialising in the provision of hydrographic, geophysical and aerial survey as well as crew transfer services throughout NW Europe. Our aim is to combine a client-centric emphasis to our activities with a focus on providing high quality service delivery.
Star-Oddi - Iceland - Manufacturer of miniature data loggers including sensors as salinity/conductivity, temperature, depth, tilt angle and compass direction. High performance in small size. Ideal for use on moorings, underwater equipment or subsea gear. Besides stand-alone loggers an online CTD version is available.
Steatite Limited - United Kingdom - "Steatite Ltd is a market leader in the design, production and supply of rugged and industrial computers, custom lithium battery packs, MANET radio systems and advanced wideband antennas, all ideally suited to harsh operating environments. Steatite is part of the Solid State Plc group of companies "
STS Defence - United Kingdom - STS Defence designs and manufactures highly-specialised, bespoke subsea connectors, electrical umbilicals, cables and antennas designed for use in under-sea or harsh environments. We specialise in adapting commercially available products for use in subsea and harsh environments, tailored to specific customer needs. This allows us to offer a very wide range of connectors at a very competitive cost and lead times when compared to traditionally manufactured subsea connectors.
Subc Imaging - Canada - Our mission is to continuously create the most technologically advanced and intelligent subsea imaging equipment and software for marine research, offshore oil and gas, aquaculture, fisheries, and other industries. Driven by a philosophy of continual improvement and innovation, SubC is built on the promise of delivering reliable, versatile products with high customer satisfaction.
SubCtech GmbH - Germany - "SubCtech offers underwater power solutions and ocean monitoring systems. We find solutions in close collaboration with our clients. Li-Ion batteries, pCO2 analyzers and system solutions are our core products. Our reliable and precise "Made in Germany" products are easy to handle and efficient."
Subdron GmbH - Austria - Subdron develops close range navigation for AUVs, to operate in confined environments and generate high-resolution 3D point cloud data of Port Infrastructure, Ship Hulls, Hydro Power Dams or Offshore Installations. We are currently offering high-resolution underwater inspection services and data processing for Port Infrastructure.
Subnero - Singapore - "Our underwater modems provide a flexible platform for a variety of underwater networks and applications. With substantial computing power packed into a compact form factor, users are able to implement and deploy complex algorithms in the modem."
Subsea Supplies Ltd - United Kingdom - Subsea Supplies is an independent company supplying equipment to the ROV, AUV, oil & gas, oceanographic and defence arenas. Our industry-respected partners include Eaton Interconnect (Burton Subsea®), Nexans Norway A/S, Masto Wire-Service A/S and Sun-Star Electric.
SUBSEA TECH - France - Subsea Tech specializes in marine and underwater technologies : R&D: bespoke solutions to address specific measurement, observation or intervention needs above or under water. Manufacturing: Inspection-class and Observation-class ROVs, USVs, underwater video/audio systems Services: inspection, modelling, bathymetry, etc. Sectors addressed: Offshore O&G, Marine Renewables, Hydraulic infrastructures, Defense, Civil Security, Ships and Harbours, Aquaculture, Yachting
SUBSEA TECHNOLOGY & RENTALS LTD - United Kingdom - Subsea Technology & Rentals is a specialist technology company providing rental and sales services globally to the offshore marine sectors.For over 20 years, STR has delivered mission critical solutions to support offshore survey, ROV, IRM, positioning, environmental and subsea construction sectors.
Sulmara Subsea, Inc. - United Kingdom - Sulmara is a carbon negative, international survey services contractor providing quality personnel, responsiveness, and an innovative approach to services across the offshore services sector within a strong and committed QHSE culture.
Surfbee - Australia - A marine survey robot platform that is low cost, backpacked and transported anywhere in the world.
Svarog Llp - Russian Federation - Full range of engineering, geological, geophysical, hydrographic, geodetic, ecological surveys in Russia and abroad, post processing and reporting of survey results and field data provided by the clients, the high accuracy positioning services using of the Starfix global differential system
T T Surveys Limited - United Kingdom - T.T. Surveys Ltd. (TTS) is an independently owned company, specialising in the hire and operation of high resolution seismic equipment all over the world. Formed in 1984, TTS was created to provide specialised data acquisition services for the seismic site survey industry.
Tarka-Systems BV - Netherlands - TARKA-SYSTEMS B.V. provides client-specific, easy-to-use, monitoring tools and data-acquisition systems for field applications. TARKA-SYSTEMS is the one-stop solution to monitor your offshore project based on: knowledge of sensors, data-acquisition hardware and visualisation software.
TDI-Brooks - United States of America - TDI-Brooks are a scientific data acquisition services company specializing in multi-disciplinary oceanographic projects covering; offshore geotechnical field services, environmental baseline surveys, geochemical "seep hunting" exploration and heat flow for oil and gas, offshore survey projects including oil & gas, wind farm, metocean, seabed mining, dredging, LNG and multi-disciplinary oceanographic and high-end environmental chemistry, renewables and marine sciences.
Tech Markets Media Ltd. - United Kingdom - We are a publisher of the Ocean Robotics Planet Magazine (both online and printed) and a product catalogue. We also offer a range of promotional services.
Tecnadyne - United States of America - Since 1985, Tecnadyne has been a leader in the worldwide subsea robotics industry, manufacturing underwater thrusters, propulsion systems, rotary & linear actuators, HPUs, controllers, position sensors, and pressure compensators for use on ROVs, AUVs, manned submersibles and other subsea platforms.
Tecnikabel - Italy - TECNIKABEL has been designing and producing special electrical and optical cables since 1978. Owing to our solid experience in high tech sectors, we are today an established leading company in the cable market. Our production includes an extensive range of product families, all fully compliant with national and international standards and all suitable for applications ranging from underground to overhead and submarine cables. Advanced technologies enable us not only to develop standard cables but also projects that meet our customers' stringent technical and economic requirements.
Tecnoambiente S.L - Spain - Is a survey company which provides wide range of nearshore and offshore services as well as consultancy services focused on marine environment. We bring extensive experience on delivering geotechnical, geophysical, hydrographic, base line surveys, and other environmental services.
Teledyne Geospatial - Canada - Teledyne CARIS & Teledyne Optech have united to form the new Teledyne Geospatial offering holistic solutions to seamlessly map land and sea through the integration of industry-leading lidar sensors and world-renowned software workflows. This collaboration empowers customers with a competitive edge in mapping and delivering data products inside of one complete workflow. Ease of collection and processing through to final products is enhanced with efficiency-driving AI noise classifying algorithms and real time quality control. Discover the NEW Teledyne Geospatial and visit us during Oceanology.
Teledyne Marine - United States of America - Is a world class Marine Systems business that is part of Teledyne Technologies Incorporated. Teledyne Marine has become the market leader in Imaging, Instruments, Interconnect, Seismic, and Vehicle technologies by providing innovative and highly reliable total solutions to our customers. Teledyne Marine is committed to providing premium products backed by a dedicated service and support team.
Terradepth - United States of America - Terradepth is an ocean data-as-a-service company focused on scaling ocean data collection and dissemination, enabling everyone to explore our planet's underwater environment like never before. This is accomplished via a revolutionary autonomous maritime system designed to efficiently collect high resolution ocean data, combined with an immersive, web browser-based geospatial portal for ocean data management and analysis. These capabilities, uniquely combined, support better informed decision-making about our ocean environment.
ThayerMahan - United States of America - We design, manufacture, and operate systems to autonomously detect, monitor, and report acoustic data in maritime areas of interest around the world. Our principal objective is to provide highly scalable acoustic surveillance capacity at dramatically lower cost compared to traditional, capital-asset-intensive approaches. Our technology and operational approach will enable significantly more effective and efficient maritime domain awareness in support of naval undersea warfare, homeland security, and protection of borders, natural resources, and undersea infrastructure.
The Hydrographic Society UK - United Kingdom - We are a not-for-profit organisation offering a local, national and international focus for hydrography. We provide a range of relevant support and specialist publications, services and events. We also raise awareness of the hydrographic profession and champion relevant education and training.
The Hydrographic Society UK & Ireland - United Kingdom - We are a not-for-profit organisation offering a local, national and international focus for hydrography. We provide a range of relevant support and specialist publications, services and events. We also raise awareness of the hydrographic profession and champion relevant education and training.
TianJin HaoYe Technology Co.,Ltd - China - We was founded in 2013. Specializes in R&D, manufacturing and selling of underwater thruster. Besides, we have professional test equipment, experimental environment and standards have been simulated to create, which is to guarantee of the precision, service life and stability of the products.
TMI-ORION - France - TMI-Orion specializes in embedded measurement systems for harsh environments and now also offers complete solutions for measurement and operations in submarine environments with a ROV platform and modules: Electrical Manipulator Arm, Gripper, Depth & AHRS sensor, full HD IP cameras...
TOPVIEW SRL - Italy - TopView S.r.l. is a UAS Engineering SME specialized in the integration of drones into business processes. Born in 2013, TopView constantly seeks use cases in which drones can represent an important added value and currently is part of several European R&D projects in strategic sectors such as search & rescue, agriculture, environment, and cultural heritage. Since 2016 TopView contributes to the U-space, supporting the safe integration of a large number of drones in the European airspace.
Transmark Subsea - United Kingdom - Over the years we have jointly developed subsea solutions in close cooperation with our customers, delivering equipment that has been installed at subsea sites of many major end users. Tailor-made monitoring and surveillance systems and smart connection solutions are a few of the many developments we contribute to our customers' success. Transmark Subsea designs, produces and performs thorough testing which eliminates costly and complex production challenges and ensures a working, qualified end-product ready to be installed.
Trelleborg Applied Technologies - United States of America - Trelleborg manufactures a range of high performance, low density syntactic foams for deep sea buoyancy applications called Eccofloat®. These composite foams provide ultra-low densities by selecting only the highest specification hollow glass microspheres and combining them within a rigid, high strength resin system. The syntactic foam is typically cast into standard blocks.
Trimble Inc - United States of America - Trimble solutions provide robust deliverables allowing customers to improve productivity. By integrating GNSS positioning and inertial technologies with application software and wireless communications - Trimble solutions allow users to collect and process data that enhance quality and lower costs.
Trinity House - United Kingdom - Trinity House delivered a unique range of buoy, beacon and vessel services. We use our knowledge to deliver and manage a wide range of projects for customers in renewables, utilities, scientific research and local ports and authorities. We are an acknowledge maritime specialist operating UK registered purpose built vessels equipped to the highest technical standard and manned by professionally qualified merchant marine officers and crew. Our vessels have platforms for deployment and recovery of scientific equipment. They can support hydrographic surveys including bathymetry and side scan.
Tritech International Ltd - United Kingdom - Tritech International Limited [Tritech], a Moog Inc Company, is a high-technology business dedicated to providing the most reliable imaging and ancillary equipment for use in underwater applications and remains an industry leader in the provision of sensors and tools for ROVs and AUVs.
TSK - United States of America - TSK products include a wide range of instrumentation designed to support the study of the water environment, including the 4,000m Deep NINJA Argo float. They include expendable probes and probe autolaunchers, water quality monitors, wave height meters, CTDs, and mechanical oceanographic equipment.
UK Hydrographic Office - United Kingdom - The UKHO is a world-leading centre for hydrography, specialising in marine geospatial data, ranging from seabed to surface. We make this data available through our world-leading portfolio of ADMIRALTY Maritime Data Solutions which can be found on board over 90% of ships trading internationally.
UK Research and Innovation (UKRI) - United Kingdom - UKRI's Robotics for a Safer World challenge is delivered by Innovate UK and the Engineering and Physical Sciences Research Council (EPSRC). The challenge has funded over 150 projects that aim to tackle key problems in extreme environments in order to make these environments safer.
Unique Group - United Kingdom - Unique Group is a leading integrated solutions provider across the global oil and gas, renewables, subsea and defence markets.
University of Exeter - United Kingdom - University of Exeter has over 20 years' experience in offshore renewable energy, incl. wave analysis; marine hydrodynamics; resource modelling; moorings; testing; reliability engineering; offshore installation, monitoring, operations & maintenance; bridging numerical models and field applications.
University of Plymouth - United Kingdom - Our mission is to advance sustainable use of the marine environment through our systems-thinking approach to research, education and innovation. With one of the largest marine and maritime portfolios of any institution in Europe, we have a long-held and outstanding international reputation for conducting world-leading, transdisciplinary research. Through this, with our partners and collaborators, we are developing and optimising positive interventions in response to global challenges, while training the scientists and business leaders of the future.
Unmanned Survey Solutions - United Kingdom - Unmanned Survey Solutions Design, build and operate Unmanned Surface Vessels (USV's) For application in marine, scientific, commercial and environmental industries across the globe
UNSEENLABS - France - The new radiofrequency detection system developed by Unseenlabs is currently the only one that enables the localization and the attribution of a unique signature to any vessel at sea. Moreover, Unseenlabs' data answers several limitations inherent to others maritime surveillance systems. Yet as the global fleet keeps growing, the lack of precise and up-to-date location data on ships leads to environmental and security issues in both public and private sectors. Unseenlabs' objective is to collect a new type of data in order to help overcome these maritime challenges.
UTM Consultants Ltd - United Kingdom - "Providing bespoke personnel solutions to global offshore services companies and working closely with the very best technical freelance consultants in the industry, UTM Consultants is a trusted Recruitment, HR and Project Partner to the Renewable Energy, Hydrographic Survey, ROV and Underwater Inspection sectors."
Valeport Ltd - United Kingdom - Valeport are the UK's leading manufacturer of Hydrographic and Oceanographic instrumentation which include Sound Velocity Probes / Sensors, Altimeters, Radar Level Sensor, Current Meters, Tide Gauges, Fluorometers, Wave Recorders, CTD's, Multi-Parameter CTD's and GPS Echo Sounders.
VectorNav Technologies - United States of America - VectorNav Technologies is the worldwide leader of embedded navigation solutions using the latest inertial sensor and GNSS technology. Since its founding in 2008, VectorNav has provided systems integrators in the military, aerospace, marine, and robotics industries worldwide with SWaP-C optimized, high-performance navigation systems. VectorNav applies the aerospace heritage of digital filtering and sensor calibration techniques to the state-of-the-art in inertial and GNSS technology, redefining what's possible in today's inertial navigation technology. Headquartered in Dallas, TX, USA, VectorNa
Videoray LLC - United States of America - VideoRay is the largest volume producer of Underwater ROVs in the world. Established in 1999, VideoRay has developed ROVs for a wide range of applications. VideoRay ROVs work every day underwater finding and retrieving objects, as well as inspecting infrastructure both inland and offshore.
Voyis - Canada - We provide versatile optical solutions to expand your underwater capability and enhance understanding of remote, challenging environments.
Vrt Ltd - Finland - GISGRO online platform offers an efficient and easy way to share 3D survey data of different formats with the clients. The platform automatically converts the survey data into easy-to-understand visuals and offers various easy-to-use tools for utilization of the data. Delivering data in GISGRO is simple and enables your clients to use the data to improve the everyday operations of the asset without special software or expertise. This way you can build stronger relationships with your clients. Do your job faster with GISGRO's easy-to-use analysis and reporting tools.
WASSP - New Zealand - The WASSP Multibeam Echo sounder can easily be adapted to meet many different roles in the maritime environment. WASSP ease of use allows for use in fishing boat crew through to scientists on very technical projects. We have worked with our customers to introduce this technology to many different fields come and talk to us about how this could work with you.
Water Linked AS - Norway - Robust through water communication design has resulted in the development of high-quality products for ROV and AUV users. The Underwater GPS, Short Base Line (SBL) positioning system, provides stable and highly accurate positioning. While the worlds smallest Doppler Velocity Log (DVL) allows any underwater vehicle to benefit from increased position control.
Wavefront Systems Ltd - United Kingdom - Our Vision is to make the underwater world visible to our customers. We apply engineering excellence to the problems of underwater detection and navigation. Our operationally proven world-leading sonar systems are reliable, easy to use and designed to provide real-world solutions.
WAVENERGY.IT SRL - Italy - WAVENERGY.it S.r.l. is a SME, set up in September 2005. The company is at present an academic Spin-off of the University Mediterranea of Reggio Calabria. It is partner in "The Blue Growth Farm" project, funded by the program Horizon2020 (GA 774426), which aim is developing and demonstrating a multi-functional platform for open sea farm installations, which integrates wave energy converters. At present WAVENERGY.it has been working on the installation of REWEC3 in the Port of Salerno (Italy).
Weihai Langfeng Technologies Co., Ltd. - China - Langfeng technologies is the Leading Manufacturer of ROV Underwater cleaning Robot in China. We have our own strong R&D team, focusing on artificial intelligence high-end marine industry, Main products have underwater AUV ROV USV WG acoustic sensors, etc. 2,000 square meters of R&D space, 1,500 square meters of robot assembly and debugging workshop, many test vessels and convenient sea test conditions. We cooperate with shipowners and marine service companies and Ports. Mature core technology, independent and controllable, with guaranteed follow-up services
WSENSE srl - Italy - Is a high tech SME specialized in monitoring and communication systems with pioneering patented solutions in the Internet of Underwater Things (IoUT).The company has offices in Italy, Norway, UK and has contracts in different Blue Economy sectors (Aquaculture, Defence, Energy, Environment).
Wuxi Haiying-Cal Tec Marine Technology Co Ltd - China - Is the world's leading high technology company which is owned by China State Shipbuilding Corporation. Established in 1958, Haiying Marine has always enjoyed a well-known reputation with expertise in design, manufacture and sale of oceanographic electronic instruments.
Xeos Technologies Inc. - Canada - Is a leader in designing and manufacturing low-power telemetry tracking equipment, solutions, and service. From state-of-the-art beacons and flashers to data relays, wave height sensors, remote head beacons, asset trackers, current drifters, and accessories, the Nova Scotia based business provides highly reliable products for tracking, monitoring, and controlling assets at Sea.
XOcean - Ireland - Using Uncrewed Surface Vessels (USVs), XOCEAN provides turnkey data collection services to surveyors, companies and agencies. From mapping the seabed to environmental monitoring, their platform offers a safe, economic and carbon neutral solution to collecting ocean data.
Xylem Environmental Solutions - United Kingdom - Is a major global manufacturer of market leading brands including aanderaa, HYPACK, SonTek & YSI. The groups success is built on innovation & application expertise with water quality & oceanographic instrumentation and survey.
Zunibal S.L. - Spain - Developers of innovative technological solutions for oceanographic & marine-based applications, Zunibal offers a complete service including design, manufacturing, distribution & after-sales service. Among its solutions, Zunibal will be displaying its Anteia Wave Buoy for precision wave measurements.



CONTACTS
Reed Exhibitions Limited - Company No: 678540
Gateway House, 28 The Quadrant
Richmond, Surrey, TW9 1DN
United Kingdom