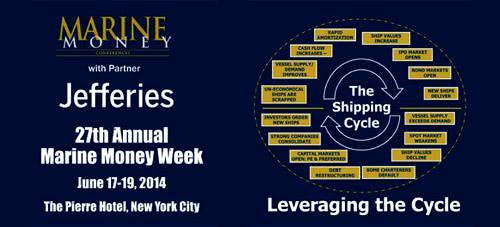 CONCEPT

Attended by more than 1,000 shipping and offshore owners, investors and lenders, our 27th Annual Marine Money Week "Leveraging the Cycle", June 17th-19th at The Pierre Hotel in New York City, is not only the world's largest ship finance conference - it is also a unique combination of serious business development and pure fun.
The brutal freight market over the past several years has left shipping companies struggling to meet their debt obligations. In many cases, the market value of their vessels is not enough to repay total outstanding debts, leaving little value for their shareholders. Witness what happened with Excel Maritime's proposed Chapter 11 reorganization, or the bankruptcy filings for STX Pan Ocean and TMT.

Some shipping companies have fared better than others, having charted a more conservative route. They relied less on borrowed money during the boom years and/or they employed their vessels in long-term charters with first class charterers. These companies have a different issue to address: How to modernize their fleets for their long-term prosperity, taking MARPOL into consideration.

To achieve these goals, shipping companies are looking to raise fresh capital. If they are publicly traded, they have the advantage of tapping capital markets for their funding requirements. Wall Street is there to offer a wide array of suitable products: for example high-yield debt, convertible notes, preferred securities, or even plain vanilla common shares.



REASONS TO ATTEND MMW:

· Determine which capital markets are open today – and will be open tomorrow.
· Learn how you can participate in the coming wave of consolidation
· Discover how you can benefit from trends in shipping restructuring.
· Uncover distressed investments and off-market deals - From bank loans to vessels.
· Mingle with the new "non-bank" lenders to shipping - Understand what they're looking for.
· Raise Private Equity – using structures that have proven successful.
· Explore the Norwegian bond and KS markets - A key source of ship finance for international companies.
· Find Jones Act and U.S. Flag investments - Benefit from US domestic oil production, coastwise trade and export.
· Examine sources of vessel leasing.
· Connect with Family Offices and Pension Funds - That like shipping.
· Network with EXIM Banks - Meet key players from around the world.


PANELISTS:

Albert C. Stein, Managing Director, AlixPartners UK LLP
Philip Clausius, CEO, Transport Capital Pte. Ltd.
Oliver Faak, Managing Director & Global Head of Shipping, NORD/LB
A. Aadel Shaaban, Sector Head, Distressed Shipping, Candlewood Investment Group
Evan D. Flaschen, Partner, Bracewell & Giuliani LLP
AUDIENCE PROFILE:
Venture Capitalists, angel investors, corporate VCs, CEOs, CFOs and other senior management of early stage and emerging growth ventures, technology transfer professionals and premium services firms.
AGENDA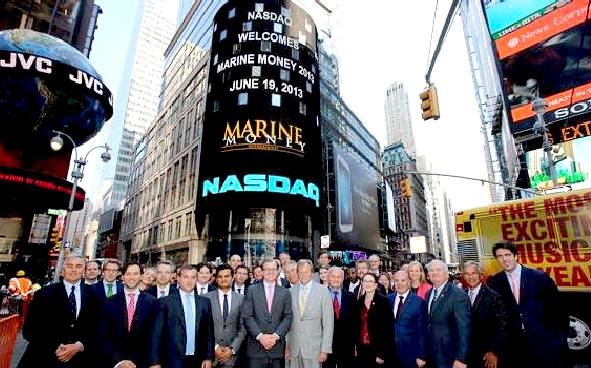 MARINE MONEY CONFERENCE - COMMENT: SEATRADE 2014
The New York ship finance scene is always busy in late June; this year, rainfall is rivaling historical records. At this year's Marine Money conference (18 - 20 June), and other events, attendees will be discussing yet another bankruptcy filing that's in the works.

Excel Maritime, the New York listed drybulk owner (with 38 vessels) with a small office in suburban Westchester, announced that it was in discussions, working with its debtors towards a pre-packaged bankruptcy filing. Debtors will be voting on a proposed restructuring, which, if agreed, will for the basis of an actual Chapter 11 bankruptcy filing. In "pre-packs", where a proposed financial re-organization is agreed in advance before the actual filing is made, the business continues to operate, with trade creditors continuing to be paid. Some guidance on the timeline can be found in the case of General Maritime (also a "pre-pack). The debtor company emerged from the bankruptcy in March, 2012- five months after its Chapter 11 filing, with a new owning structure, after an approval by a bankruptcy court.

For Excel, where the mountain of debt exceeds the value of the company; the centerpiece of the proposed re-organization is the restructuring of $771 million of syndicated bank debt. Bankers talk about extending runways; the new debt will be paid down through 2018, two years later than the major chunks of the pre-filing debt. Ownership will be in the hands of a new company, owned 40% by the lending syndicate and 60% by the Panayotides family (which owns approximately 55% of the equity prior to a filing)- which will be infusing $30 million of cash into the deal. The family has the ability to increase its stake to 75% by putting in $20 million more, over the next 18 months. Under the plan, two 2005-built Supramaxes will be sold to partially satisfy obligations under one smaller lending facility. Unsecured creditors (including investors in a $150 issue of convertible bonds due 2027), and common equity holders, get little or nothing back.

Excel's announcement did not surprise anybody around New York. Possible filings by other listed drybulk outfits headquartered in midtown Manhattan continue to provide fodder for conversations at the many gatherings of New York bankers and lawyers. However, one bankruptcy filing does not necessarily portend a whole wave; Jefferies & Co. analyst Doug Mavrinac told listeners on a Capital Link web broadcast that "...we don't expect filings among the companies that we cover." In his overview of the drybulk market, Mr. Mavrinac, based in Houston but a frequent visitor to New York, acknowledged that conditions are currently "challenging", but pointed to a situation where demand growth could begin to outstrip the fleet's growth by late 2013 and into 2014. If the stars align properly, fleet growth could be reduced to 2% annually, in the face of demand growing at a 6 % - 7% annual rate. With only nine ships on period charters (and six of these coming off in late 2013 / early 2014), the re-organized Excel (and its peer companies) could have an opportunity to bask in the sunshine of rising period rates, if the market does begin to pick up later this year.
PARTNER

PRIME SPONSORS
CORPORATE SPONSORS - In alphabetical order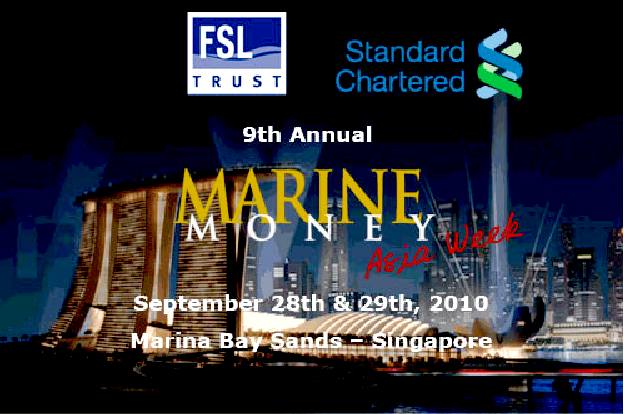 Alternative venue: Singapore - for 2010
ABOUT NEW YORK
New York is the most populous city in the United States and the center of the New York metropolitan area, one of the most populous urban agglomerations in the world. The city is referred to as New York City or the City of New York to distinguish it from the State of New York, of which it is a part. A global power city, New York exerts a significant impact upon commerce, finance, media, art, fashion, research, technology, education, and entertainment. The home of the United Nations Headquarters, New York is an important center for international diplomacy and has been described as the cultural capital of the world.

On one of the world's largest natural harbors, New York City consists of five boroughs, each of which is a county of New York State. The five boroughs - The Bronx, Brooklyn, Manhattan, Queens, and Staten Island - were consolidated into a single city in 1898. With a census-estimated 2012 population of 8,336,697 distributed over a land area of just 302.64 square miles (783.8 km2), New York is the most densely populated major city in the United States. As many as 800 languages are spoken in New York, making it the most linguistically diverse city in the world. By 2012 census estimates, the New York Metropolitan Area's population remains by a significant margin the United States' largest Metropolitan Statistical Area, with approximately 19.8 million people, and is also part of the most populous Combined Statistical Area in the United States, containing an estimated 23.4 million people.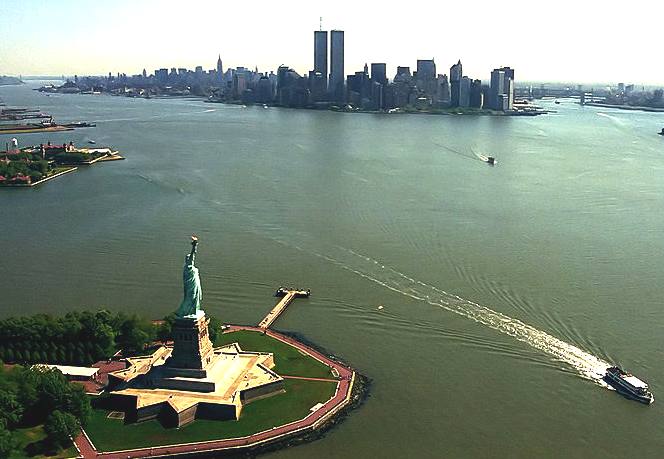 Statue of Liberty, New York - National Monument and lower Manhattan


New York traces its roots to its 1624 founding as a trading post by colonists of the Dutch Republic and was named New Amsterdam in 1626. The city and its surroundings came under English control in 1664 New York served as the capital of the United States from 1785 until 1790. It has been the country's largest city since 1790. The Statue of Liberty greeted millions of immigrants as they came to America by ship in the late 19th and early 20th centuries and is a globally recognized symbol of the United States and its democracy.

Many districts and landmarks in New York City have become well known to its approximately 50 million annual visitors. Several sources have ranked New York the most photographed city in the world. Times Square, iconified as "The Crossroads of the World", is the brightly illuminated hub of the Broadway theatre district, one of the world's busiest pedestrian intersections, and a major center of the world's entertainment industry. The names of many of the city's bridges, skyscrapers, and parks are known around the world. New York City's financial district, anchored by Wall Street in Lower Manhattan, has been called the world's leading financial center and is home to the New York Stock Exchange, the world's largest stock exchange by total market capitalization of its listed companies. Manhattan's real estate market is among the most expensive in the world. Manhattan's Chinatown incorporates the highest concentration of Chinese people in the Western Hemisphere. Providing continuous 24/7 service, the New York City Subway is one of the most extensive rapid transit systems worldwide. Numerous colleges and universities are in New York, including Columbia University, New York University, and Rockefeller University, which have been ranked among the top 35 in the world.
IP TOP INNOVATIONS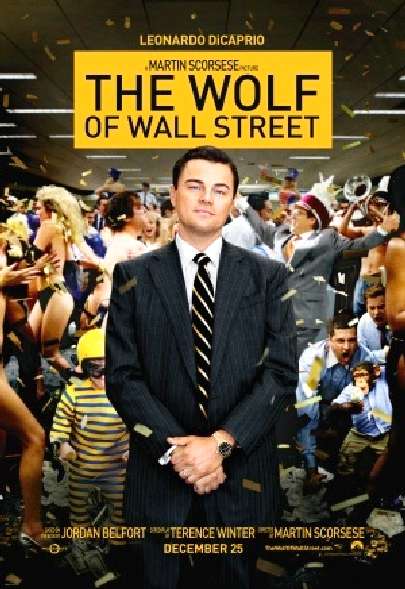 LINKS
Marine Money Week Past Presentations
http://www.marinemoney.com/forums/presentations.htm
http://www.marinemoney.com/
http://www.ipfinance.us
http://www.youngstartup.com/newengland2013/sponsors.php
http://www.seatrade-global.com/news/americas/rainy-june-in-new-york-prior-to-marine-money-week.html
http://gcaptain.com/insiders-perspective-marine-money-week-part-1/
http://www.premiercercle.com/sites/ipsummit/2013/paris2013/
http://en.wikipedia.org/wiki/New_York_City
ew-york-prior-to-marine-money-week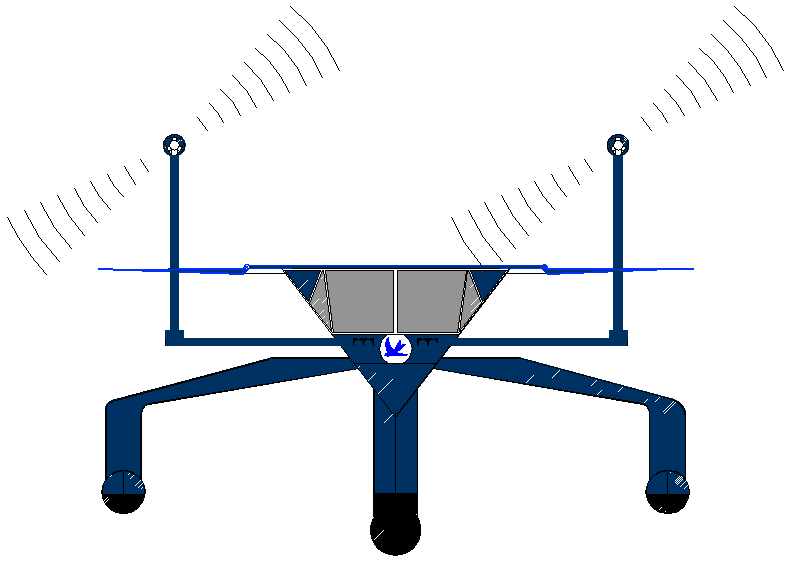 MONEY FINDER