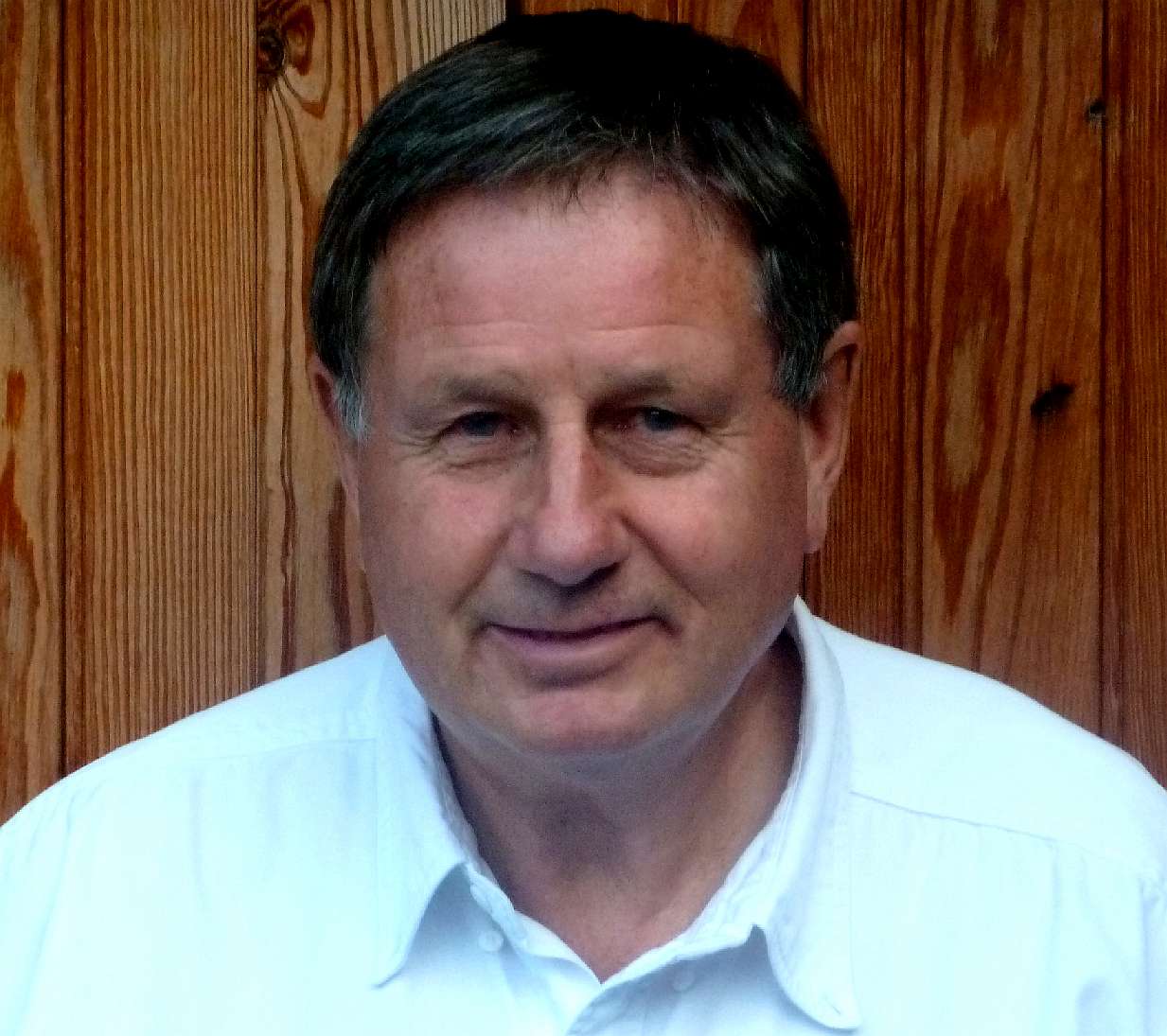 Nigel Irens is a leading yacht designer. He is perhaps best known as designer of the Cable and wireless Adventurer, a 35m trimaran motor yacht which completed a record-breaking circumnavigation in 1998, and of the record-breaking trimaran used by Ellen MacArthur to break the world record for solo circumnavigation in 2005, of which see more below.
His design portfolio is wide-ranging, from record-breaking yachts to innovative cruising designs such as Roxane, syntheses of traditional design such as the Westernman cutters – designed in association with Ed Burnett – or the launch Rangeboat, a 12m meter power craft of traditional appearance. Irens is perhaps particularly noteworthy for the simplicity, the efficiency, the essential elegance of his designs, something that we also value.
Nigel Irens has been involved in many exciting boat projects, including ENZA and the CABLE & WIRELESS ADVENTURER. See the short history below for other boats.
We feel that there is nonetheless a common link between them in that they are all boats designed for very specific purposes for owners who are very exacting in their requirements.
Nigel is quoted as saying: "There is no shortage of mainstream production boats available in the world but if you are looking for something original and different then he would like to hear from you".
Nigel Irens has been a pioneer in the field of racing multihull design since 1979 having been responsible for many successful boats such as 'FUJI' (3 times winner of the UK's Single-Handed Transatlantic), FLEURY MICHON (winner of the French 'ROUTE du RHUM') and B&Q-CASTORAMA in which Dame Ellen MacArthur beat the single-handed Round the World Record in 2005. That record is currently was subsequently held by Frenchman Francis Joyon, again in an Irens designed trimaran.
Irens has also been responsible for the design of successful powerboats such as the 43 metre trimaran OCEAN EAGLE class. Commissioned by the French shipyard CMN as a highly efficient Offshore Patrol Vessel – three of which have so far been built. Irens has also maintained a strong interest in cruising boats – again both power and sail driven. The 19 metre (63ft) wooden schooner MAGGIE B, completed a 38,000 mile circumnavigation over a two year period.
The Irens office is also heavily committed to the development of semi-displacement motor vessels that offer a more pleasurable and ecologically satisfying alternative for cruising under power than their ubiquitous planing-hulled counter-parts.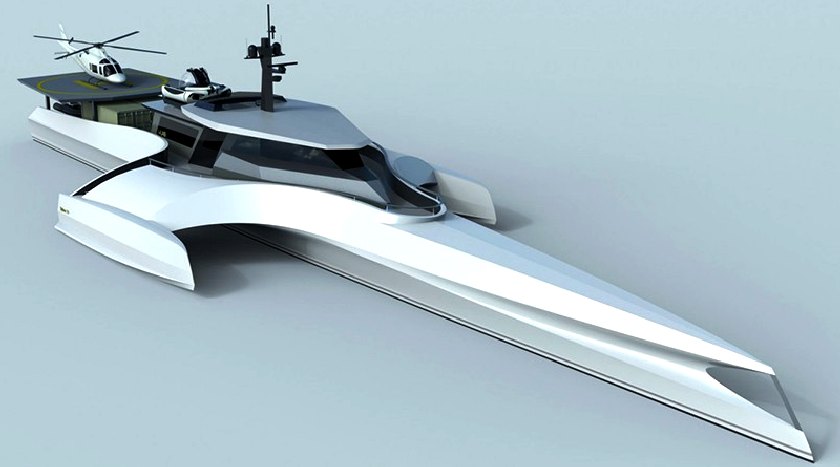 MAKEOVER - A dramatic contemporary style of explorer yachts has been created by Nigel Irens design and CMN shipyard, joined by French designer and fellow long term collaborator Christophe Ghedal-Anglay. The group came together to work on the development of a pair of trimaran expedition yachts, designated the 'origin 575' and 'xplore 70'. The partnership emphasizes comfort, speed and ocean crossing capability, with a trimaran configuration that is significantly more efficient than a conventional monohull.
'Having applied what we had learned through the development of offshore racing trimarans to their motor-driven equivalents some 25 years ago, it's exciting to see how successfully that technology has now been passed on to the three ocean eagle 43 patrol vessels produced by CMN,' comments designer Nigel Irens. 'I have had the pleasure of traveling many thousands of miles in powered trimarans and am passionate about sharing that experience with owners who want to be part of this exciting development.'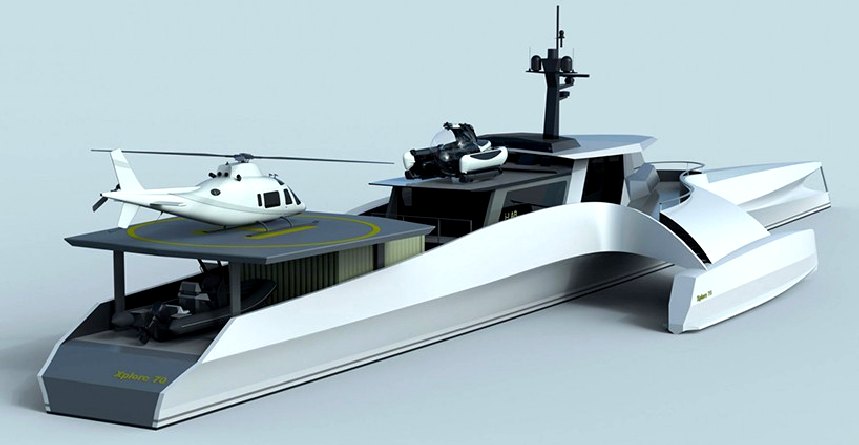 Performance is impressive with a top speed of 28 knots (52 km/h) and a range of between 7,408 and 9,260 kilometers at 18 knots (34 km/h). the interior arrangement of the 'origin 575' (57.5 meter design) can be customized to suit an owner's requirements, but each can accommodating 10 guests and eight crew. there is deck space for a mini-submarine and a 4.5 meter tender while the stern garage offers storage for a six meter tender and personal watercraft.
The yacht features a helicopter deck, as well as space for larger tenders and a mini sub. the extra deck space is able to board containerized units ideal for rapid role enhancement whether it's a research laboratory, aquarium or a dive-centre. this unique capacity to cross oceans at speed and in comfort combines the pleasure of the voyage itself with the excitement of arriving at new destinations in such a way that they blend into a single seamless experience.
Sailing into an ocean sunset, the Cable & Wireless Adventurer sets a cracking bio diesel powered pace.
LINKS & REFERENCE
https://www.designboom.com/technology/nigel-irens-cmn-trimaran-explorer-yachts-01-13-2016/
http://www.yachtracingforum.com/forum/team/nigel-irens/
http://www.solarnavigator.net/nigel_irens.htm
http://solarnavigator.net/history/cable_and_wireless.htm
https://en.wikipedia.org/wiki/Nigel_Irens
http://www.nigelirens.com/