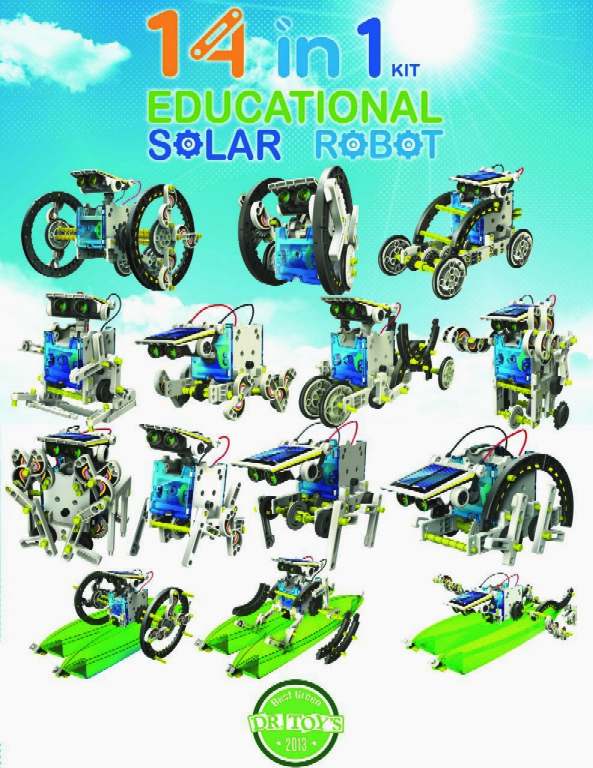 DR Toys 14 in 1 solar powered robot kit
14 in 1 ROBOT KIT

The solar powered robot can be transformed into 14 different robot modes which include a multitude of comical and functional movements. The user can easily change from a wagging-tail dog -> running beetle -> walking crab -> surfer -> speedster -> zombie chaser… The robot kit provides unique accessories (included) and parts that make the robot move on land and water.


With alternative energy playing such a pivotal role, there is no better time than now to start children on the path to learning basic concepts behind these technologies. Fortunately, this product is powered by the sun, so there are no batteries required. The robot moves in the direct sunlight and allows children to create and use their infinite imagination.

There are two levels in building the robot kit. Level one includes: Turtle-bot, Beetle-bot, Quadru-bot, Boat-bot, Walker-bot, Dog-bot, and Wheel-bot. After they amuse themselves with the entry level, can challenge their manipulative skills with second level: Roly Poly-bot, Auto-bot, Slither-bot, Surf-bot, Zombie-bot, Crab-bot, and Row-bot. Additional features includes: adjustable polarity on the solar panel to change direction of motor rotation, retractable robot head which can be quickly stored in the upper body, the robot head can be installed in the front, top or rear of the gearbox, and a transparent housing to see the movements of the gears.

As the saying goes, "Our children are the future." And if anything is certain about that future, it is that renewable energy sources and green technologies will play a major role in our children's lives. With 14 in 1 Educational Solar Robot Kit, let them learn about their future and have fun doing it with.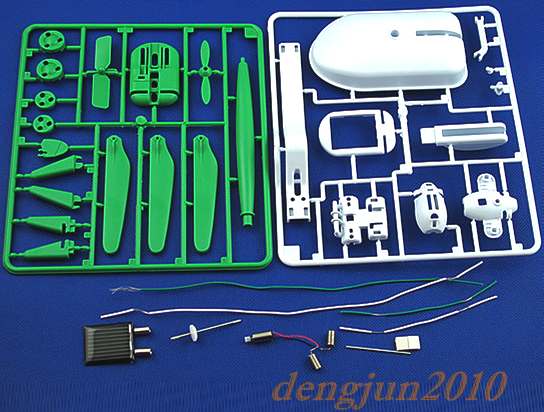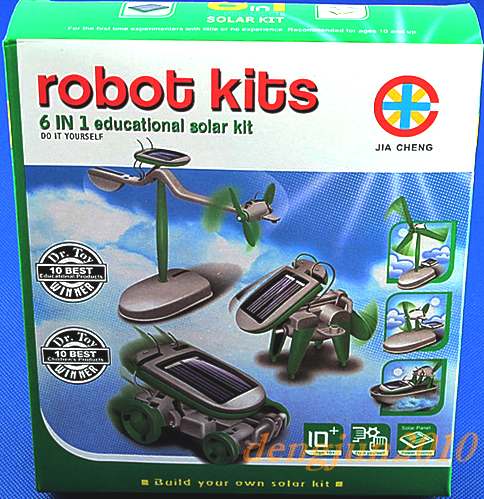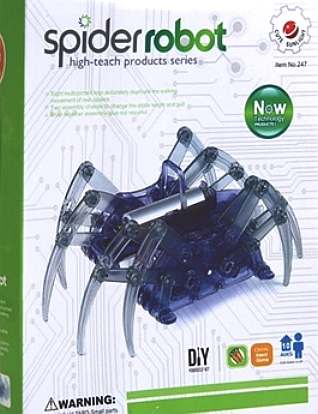 LINKS & REFERENCE
http://www.pouted.com/robo-bugs-look-like/
http://www.owirobot.com/14-in-1-educational-solar-robot-kit/
http://www.dpaonthenet.net/article/59076/Robot-mimics-the-articulation-of-a-running-cat.aspx
EARLY ROBOT TOYS

Toys have advanced significantly with the advent of electronics. The collection of pictures below demonstrates the children and adults were fascinated by robots in the 1950s. Robot boats seems to have been a popular theme.