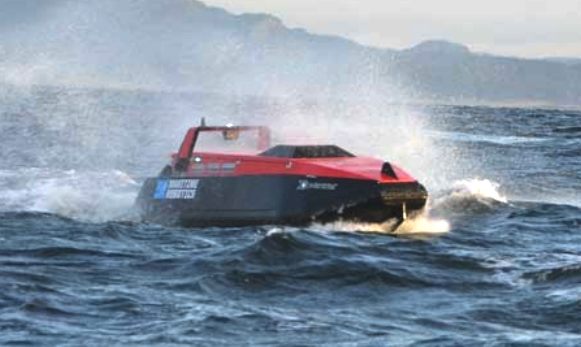 Mariner robot, waterjet diesel power - 50 hours duration
ABOUT MR
MR's headquarters is situated in Norway's technology capital, Trondheim. They are a provider of innovative unmanned solutions for maritime operations in harsh environments. They develop their vehicles in collaboration with civilian, governmental and military partners. Their objective is to deliver high-quality data using products that are cost-efficient, reduce risk exposure and are deployable in all conditions.
Unmanned Surface Vehicle systems is a way of reducing risk saving costs, a useful method of maritime data acquisition in the surface zone.
They are are currently looking at military/govermental applications as well as geophysical exploration and environmental monitoring.

MARINER USV

The Mariner USV is a multipurpose unmanned vehicle built for a partner within the geophysical exploration industry. The vehicle is based on the successful PolarCirkel workboat and offers a very stable, unsinkable and near maintenance-free polyethylene hull. The Mariner can be built in a size that will make the vehicle fit into a standard 20 feet container for easy cargo shipping.
The Mariner is typically delivered with an inboard diesel engine with waterjet propulsion. The standard diesel tank of 250 liter gives the Mariner an endurance of more than 50 hours in typical survey speed. The USV operator monitors the Mariner and its installed payload from the Vehicle Control Station (VCS) which features electronic charts, engine and navigation info. The operator can monitor the surrounding sea areas from AIS, video and radar a information.

The Mariner is equipped with a large payload room of more than one cubic meter and can be equipped with a variety of surface and sub-surface sensors/payload types such as: EO/IR camera, radars, oceanographic instruments, hydroacoustic positioning systems, echo sounders (single and multibeam) and sonar systems etc. The sub-surface sensors can be mounted through a 300mm moon-pool in the mid area of the craft, and an elevator mechanism for sinking and lowering the sensor under the hull can also be installed.

CONTACTS
Maritime Robotics AS
Brattørkaia 11- Pirterminalen,
7010 Trondheim, Norway

Tel: +47 73 40 19 00
Emails: info@maritimerobotics.com and sales@maritimerobotics.com

LINKS & REFERENCE
ASTM Committee F41 on UUV Standards
Autonomous Undersea Systems Institute
Autonomous Vehicles in Support of Naval Operations
Florida Atlantic U's Advanced Marine Systems Lab
Heriot-Watt University (Scotland) Ocean Systems Lab
Marine Advanced Technology Education (MATE) Center
Monterey Bay Aquarium Research Institute
Passive Sonar System for UUV Surveillance Tasks
Research Submersibles and Undersea Technologies
The Navy Unmanned Undersea Vehicle (UUV) Master Plan
Woods Hole Oceanographic Institute
U.S. Navy's Naval Undersea Warfare Center UUV Programs
Federation of American Scientists
National Defense Industrial Association (NDIA)
Remote Control Aerial Photography Association
Robotic Industries Association
Society of Automotive Engineers
U.S. Department of Defense Science Board Report on Autonomy
Systems Engineering for Autonomous Systems (SEAS) Defence Technology Centre (DTC)
Electro-Magnetic Remote Sensing (EMRS) Defence Technology Centre (DTC)
http://www.auvsifoundation.org/foundation/competitions/roboboat/
http://www.auvsi.org/
http://research.stevens.edu/index.php/SD-unmanned-vessel
http://research.stevens.edu/index.php/SD-unmanned-vessel