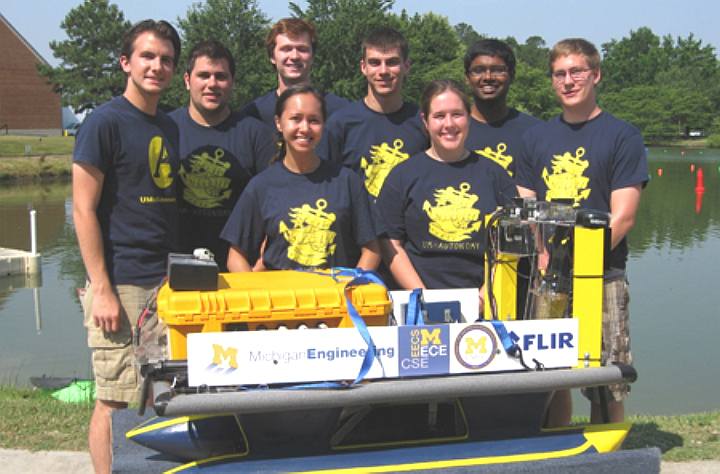 UM UNIVERSITY OF MICHIGAN - The team was anything but calm when Serenity, UM::Autonomy's robotic boat, took first place for the second time in its four years of competition at the RoboBoat competition, formerly known as the International Autonomous Surface Vehicle Competition, held June 20-24, 2012.

The interdisciplinary team went into the competition this year with a new electrical and vision system, and an advanced control system. So while the competition is in water, it takes a heavy dose of EECS know-how to pull off a win.

The RoboBoat Competition "challenges student teams to design and build autonomous surface vehicles (ASVs) that operate under rules of the waterway. This includes littoral area navigation, channel following and autonomous docking. This is typically done with computer vision, multi-sensor fusion techniques, proactive and reactive path planning, and machine learning approaches using embedded systems within the vehicle." It is sponsored by the Association for Unmanned Vehicle Systems International Foundation and the Office of Naval Research.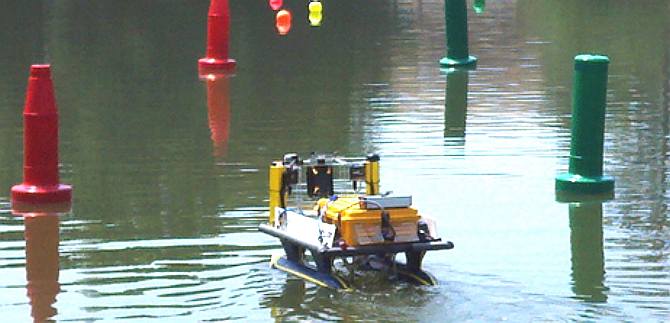 Last year, the team was awarded the "Edge of the Envelope" award in recognition of its innovative computer system. An important improvement in this year's design was the use of a Fiber Optic Gyro (FOG).

"One of the greatest challenges of being on the water is having your boat drift around," said electrical engineering major Michelle Howard. "It makes it very difficult to navigate when your boat has to account for motion that it cannot control. This FOG helps us with that problem." ["Student robotic boat Serenity going for gold," by Jennifer Judge Hensel, June 6, 2012]

The students also designed a Simultaneous Localization and Mapping system, which allowed the boat to navigate the bouys in the water with ease, even in difficult lighting conditions.

Team UM::Autonomy was the only competing team to attempt two of the four available challenges, and the feat was so impressive they were being cheered on to victory by the other teams.

ABOUT AUVSI - COMPETITIONS
Established by the Association for Unmanned Vehicles Systems International, the AUVSI Foundation is a non-profit organization that provides students with hands-on robotics activities designed to fuel and sustain their interest in science, technology, engineering and math (STEM).
Each year the AUVSI Foundation offers a series of educational programs as well as robotics competitions that allow students to apply their STEM education outside the classroom. The experience is ideal preparation for entering the workforce, which is why participating students are frequently offered coveted internship and employment opportunities while still in school. Since the competitions began in 1991, more than $1.3 million has been awarded in prize money.
National SeaPerch Challenge
May 16-18, 2014
University of Southern Mississippi, Hattiesburg, MS
www.auvsifoundation.org/seaperch or www.seaperch.org
Each year, middle and high school students from across the country gather to compete in the National SeaPerch Challenge. During the National SeaPerch Challenge, student teams must demonstrate the capabilities of the SeaPerches they have built as they navigate through an underwater obstacle course. Teams also display posters and deliver oral presentations about their design philosophy and construction challenges before a panel of judges. SeaPerch is an easy to assemble, underwater ROV (remotely operated vehicle) which is built from a kit, making it a great entry point for students interested in robotics.
Intelligent Ground Vehicle Competition (IGVC)
June 6-9, 2014
Oakland University
Rochester, MI
Created in 1993, the IGVC challenges student teams to develop an autonomous ground vehicle that can navigate a complex list of mobility, design, and interoperable architecture requirements. Based on product realization, it is multi-disciplinary, theory-based, hands-on, team implemented, and outcome assessed. It encompasses the very latest technologies impacting industrial development and taps subjects of high interest to students. Design and construction of an Intelligent Vehicle fits well in a two-semester senior year capstone course or an extra curricular activity earning a design credit.
Student Unmanned Air Systems (SUAS) Competition
June 18-22, 2014
Webster Field
Patuxent River, MD
The SUAS Competition, aimed at stimulating and fostering interest in unmanned air systems, technologies and careers, focuses on engaging students in a challenging mission. It requires the design, integration, and demonstration of a system capable of conducting air operations which includes autonomous flight, navigation of a specified course, and use of onboard payload sensors. The event has been held annually since 2002.
International RoboBoat Competition
July 8-13, 2014
Founders Inn and Spa
Virginia Beach, VA
The International RoboBoat Competition was first held in 2008. In it, student teams race autonomous surface vehicles (ASVs) of their own design through an aquatic obstacle course. This includes littoral area navigation, channel following, and autonomous docking. It is typically accomplished with computer vision, multi-sensor fusion techniques, proactive and reactive path planning, and machine learning approaches using embedded systems within the vehicle. The competition provides an opportunity for students to develop skills in system engineering by accomplishing realistic missions with autonomous vehicles in the maritime environment.
International RoboSub Competition
July 28- August 3, 2014
SSC Pacific TRANSDEC
San Diego, CA
Since 1998, the RoboSub competition has advanced the development of autonomous underwater vehicles (AUVs) by challenging a new generation of engineers to perform realistic missions in a demanding underwater environment. The primary emphases of the competition are education and career preparation. Students gain an appreciation for the trade-offs inherent in any system design as well as lessons learned in transitioning from working bench prototype to operating reliably in the real world.

International Aerial Robotics Competition (IARC)
Early August, 2014
Beijing, China
and
Early August, 2014
Grand Forks, ND
www.foundation.org/iarc

The AUVSI International Aerial Robotics Competition, now in its 22nd year, involves the development of sophisticated aerial robots attempting a never-before-achieved mission to fly indoors to covertly search for and retrieve a specific target. Key to the Competition mission is that these flying robots are fully autonomous "thinking" machines. There will be no humans controlling the robots. They must avoid obstacles, navigate, and search for the target item without any human intervention or use of GPS navigation aides. Currently there is no aerial robot in existence that can perform the mission goals as stated in the Official Rules. The first team to achieve these behaviors will be moving the state of the art in aerial robotic behavior forward while providing validation of a militarily-significant mission.

Maritime RobotX Challenge
October 20-26, 2014
Marina Bay, Singapore
www.RobotX.org

Maritime RobotX Challenge (RobotX), sponsored by the U.S. Office of Naval Research and run by the AUVSI Foundation, has two primary objectives: to create a pinnacle STEM student outreach event and promotion of interest among Pacific national partners in the science and technology of autonomous systems.
Approximately 15 teams of students from five Pacific Rim countries – U.S., Singapore, Australia, South Korea and Japan – will use a standardized boat that will be provided by the competition organizers and compete October 20-24, 2014 in Singapore in the first-ever Maritime RobotX Challenge. By providing the teams with a standard platform (boat), the Competition will focus on sensors, software and propulsion.
LINKS
http://www.auvsifoundation.org/competitions
http://eecs.umich.edu/eecs/about/articles/2012/UM-Autonomy-2012.html
http://www.auvsifoundation.org/foundation/competitions/roboboat/
https://twitter.com/ScoutTRANSAT
https://www.facebook.com/ScoutTransatlantic
http://www.wpri.com/on-air/green-team/ri-students-design-solar-powered-boat
http://www.solarracing.org/2013/06/10/autonomous-solar-powered-boat-to-cross-the-atlantic/
http://letsmakerobots.com/node/38270
http://www.kickstarter.com/projects/601285608/scout-the-autonomous-transatlantic-boat
http://www.kickstarter.com/help/school#defining_your_project
http://www.kickstarter.com/start?ref=footer
http://www.gotransat.com/tracking/
http://makezine.com/magazine/transatlantic-drone-takes-to-the-sea/
http://www.behance.net/gallery/SCOUT-Transatlantic/10153015
The 2013 Microtransat Map - the French École Navale boat on it's way
The Microtransat Challenge for competition details
http://international.findmespot.com/