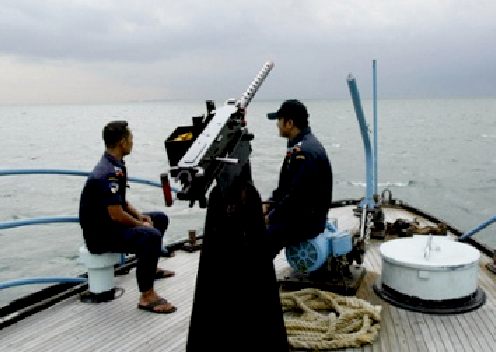 Indonesian anti-pirate patrol in the Malacca Strait
APRIL 2014

The Malaysian maritime police are quoted as saying that armed pirates raided a Japanese oil tanker in the Malacca Strait, pumping out much of its cargo and taking three crew away.

According to Abdul Aziz Yusof of the maritime police, in April of 2014 six pirates in a speedboat boarded the Naninwa Maru 1 at 1am local time on Wednesday the 23rd off the coast of west Malaysia.

The pirates are said to have pumped out more than half of the 5m litres of diesel carried by the tanker into two waiting vessels and left taking three crew members with them. Domestic media said the crew taken away were Indonesians.

The Japanese tanker had been headed for Burma from Singapore and had Indonesian, Thai, Burmese and Indian crew members.

Regional security officials have previously said armed gangs working the Malacca Strait may be part of a syndicate that can either have links to the crew on board the hijacking target or inside knowledge about the ship and cargo. Such hijacks involved seizing tankers and stealing petroleum cargo to be sold on the black market.

Attacks by gangs armed with guns and knives on shipping in the Malacca Strait ranged from 12 to 20 incidents a year over the last three years, according to the Singapore headquarters of the Regional Co-operation Agreement on Combating Piracy and Armed Robbery against Ships in Asia (Recaap). Most of these incidents involved the theft of ship's stores, cash and assaults on the crew.

A peak of 220 recorded attacks took place in 2000, according to the Kuala Lumpur-based International Maritime Bureau, which tracks pirate activity.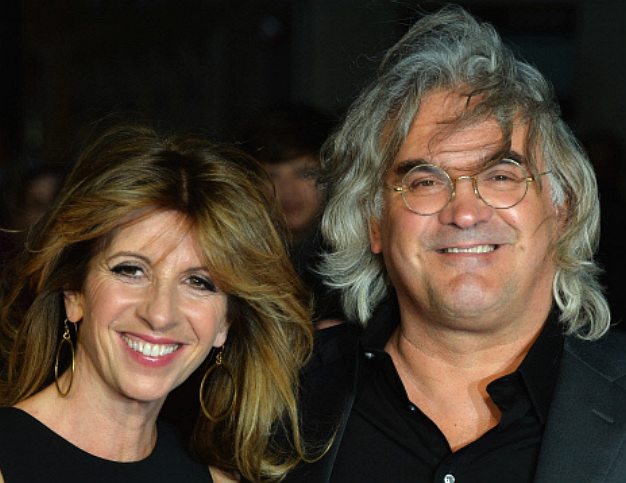 Director Paul Greengrass and his wife Joanna at the London premiere of Captain Phillips in 2013. Paul also directed two of the 'Bourne' action movies. Nice one.

CAPTAIN PHILLIPS 2013 MOVIE - TOM HANKS

Captain Phillips is a 2013 American action thriller film directed by Paul Greengrass and starring Tom Hanks and Barkhad Abdi. The movie is inspired by the 2009 Maersk Alabama hijacking, an incident during which merchant mariner Captain Richard Phillips was taken hostage by pirates in the Indian Ocean led by Abduwali Muse.

The screenplay was written by Billy Ray, and is based on the book A Captain's Duty: Somali Pirates, Navy SEALs, and Dangerous Days at Sea (2010) by Richard Phillips with Stephan Talty. Scott Rudin, Dana Brunetti and Michael De Luca served as producers on the project. The film received six Academy Award nominations including Best Picture and Best Supporting Actor for Barkhad Abdi. The film premiered at the 2013 New York Film Festival, and was released on October 11, 2013. Faysal Ahmed portrayed Najee as a major villain in the plot.

Modern day piracy stories from different countries
LINKS

http://www.theguardian.com/world/2014/april-pirates-hijack-oil-tanker-and-steal-millions-of-litres
http://en.wikipedia.org/wiki/Pirates_of_the_20th_Century
http://en.wikipedia.org/wiki/A_Hijacking
http://junkee.com/captain-phillips-a-hijacking-and-cinemas-somali-pirates-moment/21983
http://uk.eonline.com/news/468750/captain-phillips-reviews-are-in-tom-hanks-in-top-form-with-hijacking-thriller
http://edition.cnn.com/2013/10/08/showbiz/captain-phillips-movie-controversy/
http://en.wikipedia.org/wiki/Captain_Phillips_(film)
http://en.wikipedia.org/wiki/Maersk_Alabama_hijacking
http://www.imdb.com/title/tt1535109/
http://aco.nato.int/page272201419.aspx
http://en.wikipedia.org/wiki/Operation_Ocean_Shield
http://www.un.org United Nations
http://europa.eu European Union
http://www.osce.org Organization for Security and Co-operation in Europe
http://www.imdb.com/title/tt2216240/
http://www.rottentomatoes.com/m/a_hijacking/
Captain Phillips& A Hijacking - Youtube
A Hijacking (Danish: Kapringen) is a 2012 Danish thriller film written and directed by Tobias Lindholm. The cargo ship MV Rozen is heading for harbour when it is hijacked by Somali pirates in the Indian Ocean. Amongst the men on board are the ship's cook Mikkel (Pilou Asbæk) and the engineer Jan (Roland Møller), who along with the rest of the seamen are taken hostage in a cynical game of life and death. With the demand for a ransom of millions of dollars a psychological drama unfolds between the CEO of the shipping company (Søren Malling) and the Somali pirates.