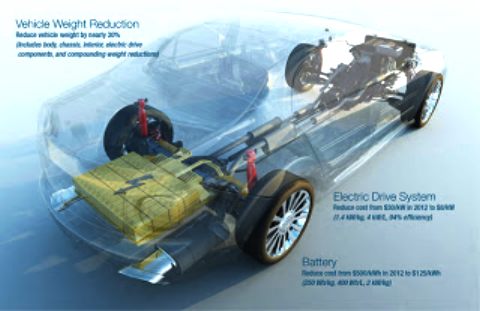 MARCH 19 2013
The Energy Department on March 8 announced more than $50 million in funding for new projects that will accelerate the development of advanced plug-in electric vehicle (PEV) technologies to improve vehicle fuel economy and performance. This new funding supports the Energy Department's EV Everywhere Grand Challenge, which aims to make PEVs as affordable to own and operate as today's gasoline-powered vehicles within the next 10 years and will help to advance the technology goals outlined in the EV Everywhere Grand Challenge.

The Department will select new research projects that focus on lowering the cost and increasing the efficiency of PEV components and develop models and tools to predict these vehicles' performance and help improve fuel economy. The Department will fund projects that cover 12 areas of interest across five major areas of research and development, including: advanced light-weight and propulsion materials; battery development; power electronics; heating, ventilation, and air conditioning systems; and fuels and lubricants.
http://www.electric-vehiclenews.com/2013_03_01_archive.html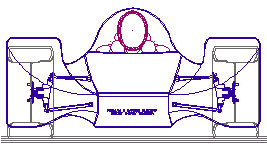 Head on view of a prototype Formula E design with the Bluebird™ instant
refueling system incorporated. (see plan and side views below)
INSTANT PIT STOP RECHARGING FOR FORMULA E CARS
A high speed development of patent GB2253379 has yielded a chassis design for Formula E cars that does not radically change the aerodynamics, seating or weight distribution of a Formula E racing car. In fact the weight distribution can be improved over Formula 1.
CURRENT PRODUCTION BATTERY CAPACITY EXAMPLES

.

.

.

.

.

MAKE

MODEL

ENERGY kW

TYPE

MASS Kg

.

.

.

.

BYD

e6

48.00

LiFePO4

- -

Ford

Focus

23.00

Li-ion

272.00

Mitsubishi

MiEV

16.00

Li-ion

- -

Nissan

Leaf

24.00

Li-ion

300.00

Renault

Fluence

22.00

Li-ion

250.00

.

.

.

.

.

.

.

.

.

.
Li-ion SPECIFICS Ref: Wikipedia
Formula E teams and motor manufacturers may avail themselves of a free developer License from Bluebird Marine Systems Ltd, for the purpose of evaluating the technology.

Side view of a prototype Formula E design with the Bluebird™ instant
refueling system incorporated.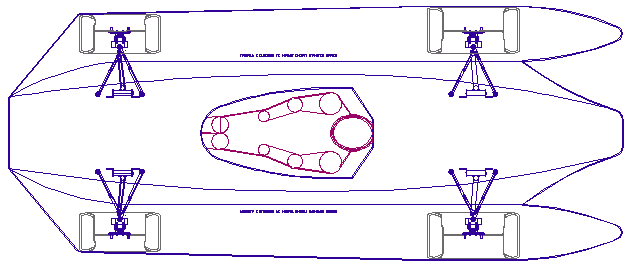 Plan view of a prototype Formula E design with the Bluebird™ instant refueling system
incorporated. Please note that these designs are © Bluebird Marine Systems Ltd 2013.
UTILITIES
Bluebird Marine Systems (BMS) is looking to conduct a feasibility study on high speed cartridge refueling in cities, side by side with a distribution supply network. BMS is looking for collaborative risk share partners and academic institutions interested in reducing pollution. Enquiries from energy generation companies are particularly welcomed, with a view to increasing profitability via load-leveling.

Contact BMS Design:

or phone UK:

Contact Licensing:

+44 (0) 1323 831727
+44 (0) 7842 607865

Intelligent Battery Support System
ENERGY LINKS:
| | | | | |
| --- | --- | --- | --- | --- |
| AFRICA | AMERICAS | AUSTRALIA | CHINA | EUROPE |
| | | | | |
| | NextEra LLC | | | |
| | | | | |
| | | | | |
| | | | | |
FORMULA E LINKS:
Birmingham Super Prix return and the Formula E series
Bluebird™ FE instant pit stop recharging system for Formula E cars*
Pit Stops - servicing and history of the sport
* Note, there is no connection between the Bluebird™ FE system and the Bluebird GTL team
The world's fastest electric circuit racers need a system to recharge batteries instantly during pit stops. The Formula E concept design above incorporates the patent Bluebird™ instant energy transfer system - allowing EV refuelling in around 10 seconds. Get your free developer License from Bluebird Marine Systems Ltd.