Born in London in 1917, Vera Lynn started her singing career as a young girl and became one of the most famous voices of World War II. She hosted a BBC radio show called "Sincerely Yours" from 1939, and her morale-boosting songs were a favourite among all British servicemen. Vera's most popular song was "We'll Meet Again", however she also put Dover firmly on the cultural map with her spirit-lifting ballad "There'll be Blue Birds over the White Cliffs of Dover", a song which is known the world over. In 1976, Vera Lynn was made a Dame.
Vera Lynn, the 'Forces Sweetheart'
Vera Lynn was born Vera Margaret Welch on 20 March 1917 in East Ham, in what was then the county of Essex, now East London. When she began performing publicly at the age of seven, she adopted her grandmother's maiden name (Lynn) as her stage name. Her first radio broadcast, with the Joe Loss Orchestra, was in 1935. At this point she was being featured on records released by dance bands including those of Loss and of Charlie Kunz. In 1936 her first solo record was released on the Crown label, "Up the Wooden Hill to Bedfordshire". This label was absorbed by Decca Records in 1938. After a short stint with Loss she stayed with Kunz for a few years during which she recorded several standard musical pieces. In 1937, she moved to the aristocrat of British dance bands, Bert Ambrose.

In 1939, during the Phoney War, the Daily Express asked British servicemen to name their favourite musical performers: Vera Lynn came out on top and as a result became known as 'the Forces' Sweetheart'.

In 1941, during the darkest days of the Second World War, Lynn began her own radio programme, Sincerely Yours, sending messages to British troops serving abroad. She and her quartet performed songs most requested by the soldiers. Lynn also visited hospitals to interview new mothers and send personal messages to their husbands overseas.
DOVER'S WHITE CLIFFS
The 100-metre high White Cliffs of Dover require no introduction. These icons of England have been the sign of home for travelers over the centuries, immortalized during the Second World War in Dame Vera Lynn's song 'There'll be Blue Birds over the White Cliffs of Dover'. Both Shakespeare and Wordsworth wrote about the cliffs, their beauty and their role in the nation's identity.
There'll be blue birds over
The white cliffs of Dover,
Tomorrow, just you wait and see.
There'll be love and laughter
And peace ever after
Tomorrow, when the world is free.
The shepherd will tend his sheep,
The valley will bloom again
And Jimmy will go to sleep,
In his own little room again.
There'll be blue birds over
The white cliffs of Dover,
Tomorrow, just you wait and see.
Words - Nat Burton
Melody - Walter Kent
Published - 1941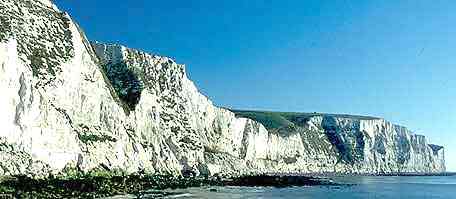 The White Cliffs look better from a distance. Indeed, the greater the distance the better it would seem. Nat Burton, the lyricist of their most celebrated song, who improbably put 'blue birds over the white cliffs of Dover', was an American who had not been within 3,000 miles of the place. But reality never bothered a good myth. The cliffs loom larger, whiter, and sturdier in the imagination than they do in fact.
'(There`ll Be Bluebirds Over) The White Cliffs of Dover' is one of the most famous of all the World War II era pop classics. It became a sensational hit in 1942, as it reflected the feelings of all the Allies towards the British people in their brave fight against Hitler. Originally released in the U.S. by bandleader Kay Kyser, four other artists also hit the top 20 with this song that year: Glenn Miller, Sammy Kaye, Jimmy Dorsey and Kate Smith. The most well known version of the song on this side of the Atlantic is probably the one recorded by Vera Lynn in 1942. Other artists who've recorded this standard include: Connie Francis, Bing Crosby, Jim Reeves, and The Righteous Brothers. In June 1995 Robson and Jerome's version went to No. 1 in the UK in a medley with "Unchained Melody".
Vera Lynn started to sing by Joe Loss, but started her real career by Charlie Kunz. In her autobiography she said: "After a few weeks after my radio broadcastings with Charlie Kunz, I made also a few records with the Casani Club-orchestra directed by Charlie. The first one "I'm in the mood for love", a beautiful song of Jimmy McHugh and Dorothy Fields from the movie called "Every Night at Eight" (1935). It was not a top hit, but it stays a evergreen".

This record was her first commercial record. In the beginning of 1935 she made her first non-commercial record with the orchestra-Howard Baker on the Tele-disk label. A label that made records for private persons. You couldn't buy them in record shops.

She said too: "Charlie Kunz was a friendly shy person. In spite of his popularity in those days, he was really shy. Charlie was a nice person to work with".
Vera Lynn, the 'Forces Sweetheart' - Album cover and Autobiography
Her most famous song must be "We'll meet again", which was written by Ross Parker and Hughie Charles in 1939 and sung in the movie of the same name, in which Vera starred in 1942. She first sang the song in 1939 while touring with the Ambrose Orchestra. The movie was produced by Ben Henry and his associate, George Formby. George was a singer and movie actor and comedian in his own right.
Vera Lynn made two more movies, Rhythm Serenade (1943) and One Exciting Night (1944). While the first movie was basically her own lifestory, of a dancer who becomes a radio star, in Rhythm Serenade she played the 'girl next door' in a comedy, while One Exciting Night sees her in a dramatic role about art thieves. She sings in all three films.
In 1989, together with Robin Cross and Jenny de Cress, Dame Vera Lynn published a 'personal and social history of World War Two' (softback 1994, ISBN 0-283-06233-9), from which these pictures and some quotes have been taken. The book may be a bit hard to find, try Amazon UK.
WE'LL MEET AGAIN
We'll meet again,
Don't know where,
Don't know when,
But I know
We'll meet again
Some sunny day.
Keep smiling through
Just like you
Always do
Till the blue skies
Drive the dark clouds
Far away.
So will you please
Say hello
To the folks
That I know
Tell them,
I won't be long.
They'll be happy to know
That as you saw me go
I was singing this song.
The audio file downloading will take some time (about 300 k) The song was featured on the Pink Floyd LP "Another Brick in the Wall". If you can't hear the embedded .wav file please click here, or to listen to a midi version click here.
DAME VERA LYNN'S DIAMOND DAY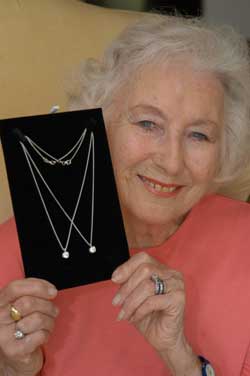 SECOND WORLD WAR forces sweetheart Dame Vera Lynn helped the Army Benevolent Fund (ABF) promote its latest fundraising event by modeling a specially commissioned diamond necklace that must be won.
To mark D-Day and the ABF's 60th anniversary, two specially commissioned diamond necklaces worth £10,000 each will be won by two lucky people who attend "Music on Fire!" the ABF's latest fund raising event to be held at the Royal Military Academy, Sandhurst on the 9th and 10th July.
Produced by Major Sir Michael Parker KCVO CBE who organised HM The Queen's Golden Jubilee Celebrations outside Buckingham Palace, "Music on Fire!" is his latest event, which he says will be the "Greatest Show of Them All."

Using the special effects, techniques, projections and fireworks perfected for the Golden Jubilee celebrations at Buckingham Palace, "Music on Fire!" will be an awe inspiring musical extravaganza that will take the audience on a melodic and magical journey through the "20th Century" – "A Century on Fire", nearly finishing with the "Apocalypse" and Armageddon!" However Sir Michael says it will include some more fun things in between!
The one carat diamonds are fully certified and have been donated by an anonymous benefactor and tickets will be sold at the event on both nights.
The Army Benevolent Fund, the Army's National Charity, was founded in 1944 shortly after D-Day when it provided support for the 4.5 million men and women who had served their country during the Second World War as they returned to civilian life. Its objective in its 60th year is to raise the profile of the organisation, as well as raise much needed funds in order to continue providing assistance to serving and retired members of the Army.
Today the Fund remains strongly committed to the welfare of soldiers, former soldiers and their families, providing substantial grants to those in times of real need. Last year it helped more than 150,000 people.
Although those for whom the Army Benevolent Fund was originally set up for are getting older, there are still more than 300,000 war widows and pensioners eligible for assistance from the Fund.
18 FEBRUARY 2009
The 91-year-old is said to be 'furious' after the BNP used the song, and another of her classics 'All Alone in Vienna', on the CD.

The 'White Cliffs of Dover' album, which sells for £4.95 and features a Spitfire on the front, states 'Vera Lynn, Glen Miller and others produced the music by which the English-speaking world went to war from 1939 to 1945.

'Here, recaptured in re-mastered glory, are the songs the soldiers sang from the deserts of North Africa to the beaches of Normandy. An unforgettable trip down memory lane.'

But Dame Vera has told her solicitor that the BNP had not approached her for approval for using two of her most famous songs on the album - proceeds of which help boost the BNP's coffers.

Dame Vera Lynn, who lives in Ditchling, East Sussex, is in talks with her legal team about the album which is on sale at Excalibur - the BNP's trading arm.
Vera Lynn with Field Marshall (Monty) Montgomery in 1963 and in 2011, wearing the diamond brooch (lower right)
25 NOVEMBER 2011 - DIAMOND BROOCH GOES MISSING
Studded with diamonds, the brooch was presented to Dame Vera Lynn by Field Marshal Montgomery as a thank you for her efforts in boosting his troops' morale.

The Forces' sweetheart has worn the distinctive piece of jewellery at every military event she has attended ever since.

But as she was returning home from the 2011 Festival of Remembrance, the 94-year-old singer realised the cherished memento had gone missing.

Despite searches by staff at the venue, no sign has been found of the brooch, which commemorates her close link to the 8th Army. Now her family are offering a £150 reward for its safe return and have said the finder can have tea with Dame Vera. Last night the Royal British Legion added £500 to the reward.

Dame Vera, who boosted morale during the Second World War with her popular recordings, said: 'Field Marshal Montgomery had it specially made for me so it is unique.

'It means a great deal to me. I wear it whenever I am at a military event where people will be wearing their medals. I am so sad to have lost it and would really like it back.'

She last wore the brooch during the Royal British Legion Festival of Remembrance at the Royal Albert Hall on Saturday, November 12.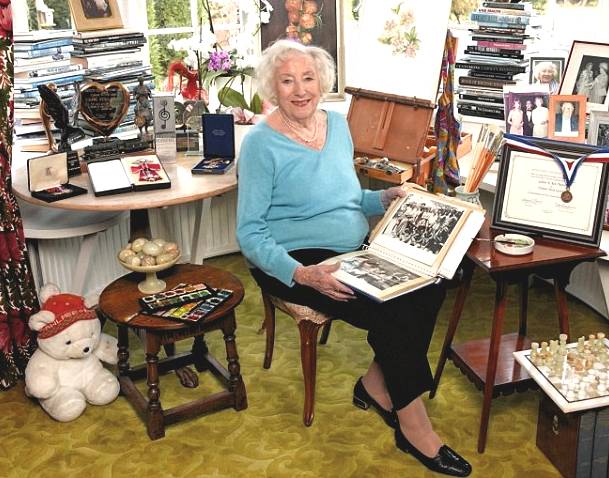 Dame Vera at home in her 'painting' room aged 94, Ditchling, Sussex
RECORDING CAREER
Vera Lynn made her solo recording debut with the song "Up The Wooden Hill To Bedfordshire" in February 1936. The 9" 78rpm single was issued on the Crown Records label, which went on to release a total of 8 singles recorded by Vera Lynn and Charles Smart on organ. Early recordings include "I'm in the Mood for Love" and "Red Sails in the Sunset".

In 1938 the Decca label took over control of the British Crown label and the UK based Rex label, they had also issued early singles from Lynn in 1937, including "Harbour Lights". In late September 1939 Vera Lynn first recorded a song that continues to be associated with her: We'll Meet Again was originally recorded with Arthur Young on the Novachord. Throughout the 1940s and 1950s the Decca label issued all of Vera Lynn's records, including several recorded with Mantovani and His Orchestra in 1942 and with Robert Farnon, from the late 1940s. Firstly they were only available as 78rpm singles, which only feature two songs an A and a B-side. In the mid-1950s Decca issued several EP singles, which featured between two and four recordings per side, such as Vera Lynn's Party Sing Song from 1954 and singles were issued on two formats the known 78prm 10" and the recently introduced 45rpm 7" single. In the late 1950s Lynn recorded four albums at Decca, the first; Vera Lynn Concert remains her only live recording ever to be issued on vinyl.

In 1960, after more than 20 years at Decca Records, Lynn signed to the US based MGM Records, in the UK her recordings were distributed by the His Masters Voice label, later EMI Records, several albums and stand alone singles were recorded with Geoff Love & His Orchestra, Norman Newell also took over as Lynn's producer in this period and remained with her until her 1976 Christmas with Vera Lynn. Recording at EMI Records up until 1977, Lynn released thirteen albums with material as diverse as traditional Hymns, pop and country songs, as well as re-recording many of her known songs from the 1940s for the albums Hits of the Blitz (1966), More Hits of the Blitz and Vera Lynn Remembers - The World at War (1974). In the 1980s two albums of contemporary pop songs were recorded at the Pye Records label, both included covers of songs previously recorded by such artists as Abba and Barry Manilow.

In 1982 a stand alone single "I Love This Land" (Falklands War song) was issued and in 1984 Horatio Nelson Records issued Vera Lynn's last recordings made before her retirement. The album Vera Lynn Remembers, produced by Harry Lewis, Lynn's husband, features 17 re-recordings of songs known and associated with Vera Lynn over her 50 year recording career.
On 13 September 2009 Lynn became the oldest living artist to make it to No. 1 in the British album chart, at the age of 92, passing such veterans of music as American jazz trumpeter Louis Armstrong and French singer Charles Aznavour. Her collection We'll Meet Again: The Very Best of Vera Lynn entered the chart at number 20 on 30 August, and then climbed to number 2 the following week, before reaching the top position, outselling both the Arctic Monkeys and the Beatles. In its third week the album went gold with sales of over 100,000.
LINKS
http://www.dailymail.co.uk/femail/article-2098670/Dame-Vera-Lynn-94-relaxes-painting-room-Sussex-home.html
http://en.wikipedia.org/wiki/Vera_Lynn
http://www.telegraph.co.uk/news/politics/4687730/Dame-Vera-Lynn-takes-on-BNP-over-White-Cliffs-of-Dover.html
http://www.hellomagazine.com/celebrities-news-in-pics/07-09-2009/52206/
Devastation-Dame-Vera-Lynn-loses-brooch-given-Field-Marshal-Montgomery
Bertelsmann | SonyBMG | BMG Strategic Marketing Group | BMG Music Service | CDNow
bertelsmann.com | click2music.com | sonybmg.com