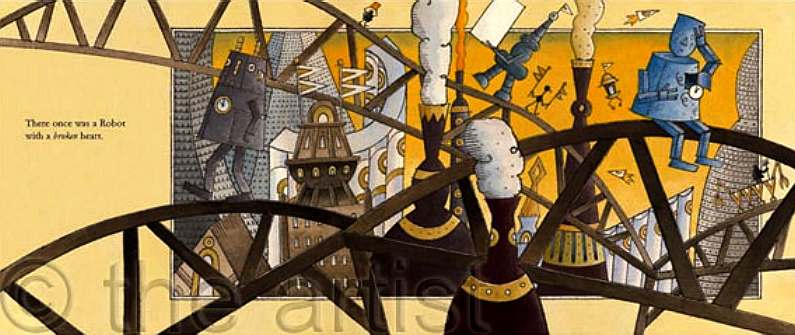 High atop a pile of rubbish sits a lonely Robot with a broken heart. Then one winter's day, a Bluebird appears, fighting against the freezing wind. When the Robot offers her a home in the empty space where his heart used to be, neither of them can predict what astonishing things will happen. Together the newfound friends set off on a memorable journey that will change them both.

This fable-like tale, bursting with bright, winsome illustrations, is a fresh take on the timeless themes of friendship and second chances.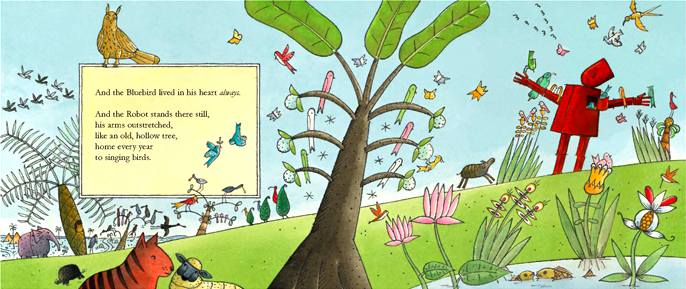 REVIEWS

"A Tin Man — like robot with a broken heart finds purpose in one of two books this fall by Lucas (Halibut Jackson) to feature an ingenuous creature navigating an uncertain world (the other is Candlewick's Peanut, about a confused monkey). In a depersonalized factory, working robots attempt to fix what remains of the central character's heart — two springs and an open door — before sending him to the scrap heap with 'all the other old machines.' When snow falls, a bluebird lands on his shoulder, and the robot builds her a nest in the space where his heart used to be. Rejuvenated, the robot carries the bluebird south across industrial wastelands to rejoin her multicolored flock. In characteristically elaborate, warmly lit illustrations, Lucas uses sharp geometrical forms as the basis for his urban scenes; against this backdrop, the bird's more organic form is a welcome contrast. Even with a corny line or two, this book's genuine sweetness will easily win over readers. Ages 4 — up." (Publishers Weekly Starred Review)
Lucas produces his most meditative work to date in a tale that reads like a mechanical improvement on Oscar Wilde's "The Happy Prince." When a robot's heart breaks unexpectedly he is sent to the scrap heap to wait out his days, until one cold night a bluebird lands on him. She can go no further on her journey south and takes up residence in the robot's empty chest. The robot offers her a permanent home there, and when she explains that she must travel south he offers to take her. The trip proves too much for the old robot, however, and when they finally make it, his last words to her are, "Make your home in my heart," which she does, along with her fellow birds. A quiet beauty permeates this old-fashioned story. The illustrations convey the robot's simple dignity, color, perspective and sequencing neatly choreographing the tale's emotional trajectory. (Kircus Review)

SYNOPSIS

A lonely robot befriends a bluebird in this fable-like tale, bursting with bright, winsome illustrations. Lucas's book is a fresh take on the timeless themes of friendship and second chances. Full color.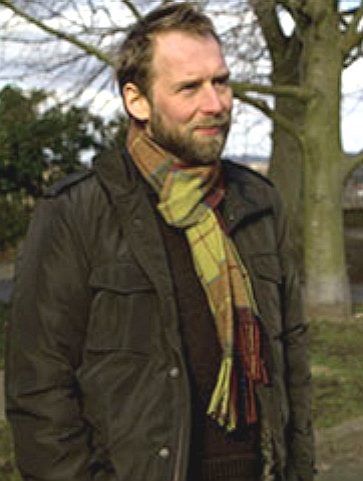 ABOUT THE AUTHOR

DAVID LUCAS studied illustration at the Royal College of Art in London, England. He has written and illustrated several picture books, including Halibut Jackson, a Publishers Weekly Best Book of the Year. He lives in London.


REVIEWS and PRAISE for The Robot and the Bluebird

"This book's genuine sweetness will easily win over readers." —Starred, Publishers Weekly

"Lucas uses color effectively to reflect the protagonist's emotions, with black and whites giving way to color washes."—School Library Journal

"Lucas, a master at quirky and imaginative premises, gives us one of his finest books in this touching, perfectly simple tale about true devotion." —Rocky Mountain News

"This is an adorable book!" —Sacramento Book Review

"Readers own hearts will soar after reading this story of true devotion." —Rocky Mountain News

"Lucas produces his most meditative work to date . . . A quiet beauty permeates this old-fashioned story." —Kirkus Reviews

"Colorful, folk-art birds on the endpapers draw readers into this fairy-tale-like story." —Booklist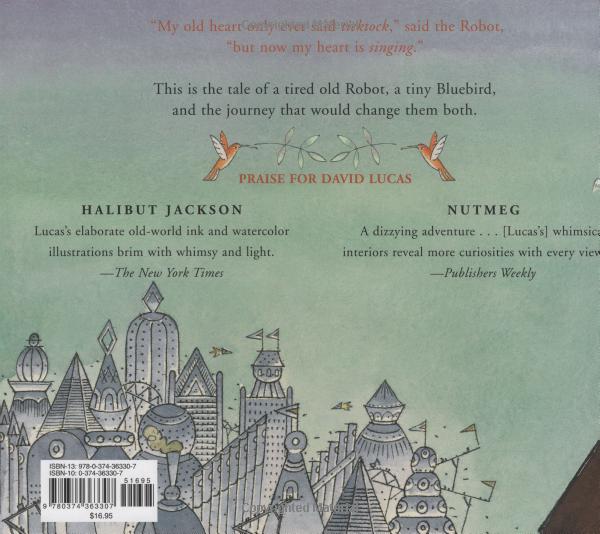 By babyhippoface (Oklahoma City, OK) August 06, 2010
Very sweet, and I think, sad story. Broken-hearted Robot finds a new sense of purpose when he finds Bluebird in need. This one should be discussed, not just read: Why did Robot do what he did? Did he "die" happy? (Did he die at all?) Why do people need a sense of purpose? Is it more important to... ...more
By Joseph (Columbia, MD) June 13, 2012

We got this book through the library because we asked the librarian for any robot-themed children's books they might have. Jacob loves robots and can watch endless streams of video on the Internet. Reading stories is also fun. This story is not exactly fun, but is very warm and touching. A robot...


By Betsy (New York, NY) August 18, 2008
It took a second or third reading of this to truly get to me, but once I fell in love with this title I fell hard. A very simple, very lovely tale. Lucas is one of those guys with pictures too subtlely beautiful to ever garner the attention he deserves.


By Boni (Houghton, MI) December 23, 2008
This is a beautiful book. It is a lovely story, the illustrations and design are stunning and the simple spareness of it will stay with you long afterward. Lucas keeps getting better and better.


By Hye (The United States) April 09, 2011
This book is kind of gloomy but happy and deep. The robot doesn't have a heart but gives a shelter to a bluebird. The robot at the beginning just sat there heartless but once bluebird came into his heart, robot felt much better and loved. When the bluebird has to leave, the robot offers to take t...


By Cassie (Lansing, MI) May 05, 2009
From my first look at the cover of the book, I thought "tin man" from the Wizard of Oz. I don't know if it's my mood or what, but the message in this book seems too blatant and "in your face". I love the illustrations, and the whole idea of the bird giving life to this robot who is missing his he......


By Lucius September 10, 2011
A very simple story with a profound message. The metaphors within this book are numerous and none of them are forced. I would read this book with any child between the ages of one and ten and I think they would find the beauty in the text. In my opinion, this is one of the best picture books to b... ...


By Tatiana (Pasadena, CA) January 06, 2011
A strange yet satisfying story of an odd friendship, a tale of love and sacrifice. I think it will take a couple more reads to wrap my head around this unique book, but I was moved by the robot and what he does for the bluebird, and the fourth grade students listening were affected as well. ...


By Logan February 05, 2010
Why: I've heard this is a beautifully-written story and I want to keep it on the to-read list for later. I think it's a bit too sad for Logan now, but it might be just the thing when we suffer a loss. Someone said "it's the new The Giving Tree." I'll read it myself first. ...


By Laura (The United States) November 03, 2012
A discarded robot offers a home to a cold bluebird. He finds his own value and worth, along with a new heart, by helping the bird migrate to a warm home. A sweet and touching story that students in Kindergarten and first grade will easily understand. ...
The Blue Bird was the inspiration behind many works of art, literary, graphic and otherwise to do with happiness. We are sure it will inspire other likewise for many years to come.
BOOK DETAILS

ISBN: 9780374363307
Author: Lucas, David
Publisher: Farrar, Straus and Giroux (BYR)
Subject: Birds
Subject: Robots
Subject: Social Issues - Friendship
Subject: Social Issues - Emotions & Feelings
Subject: Animals - Birds
Subject: Situations / Friendship
Subject: Social Issues/Emotions
Subject: Feelings
Subject: Children s Young Adult-Social Issue Fiction-Friendship
Subject: Children s Young Adult-Social Issue Fiction
Edition Description: Picture Book
Publication Date: 2008 10 28
Binding: Hardback
Grade Level: from P up to 3
Language: English
Illustrations: Full-color illustrations throughout
Pages: 32
Dimensions: 9.03 x 11.17 x 0.4 in
Age Level: 04-08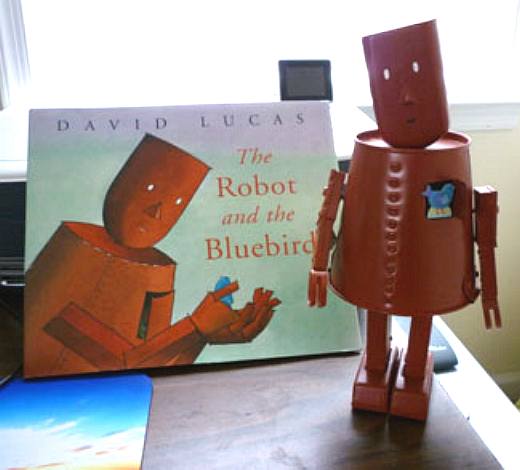 LINKS
http://www.amazon.co.uk/The-Robot-Bluebird-David-Lucas/dp/1842706233
http://www.goodreads.com/author/list/232960.David_Lucas
http://www.booktrust.org.uk/books/view/27228
https://www.kirkusreviews.com/book-reviews/david-lucas/the-robot-and-the-bluebird/
http://www.powells.com/biblio/9780374363307
http://us.macmillan.com/therobotandthebluebird/DavidLucas
http://davidlucas.org.uk/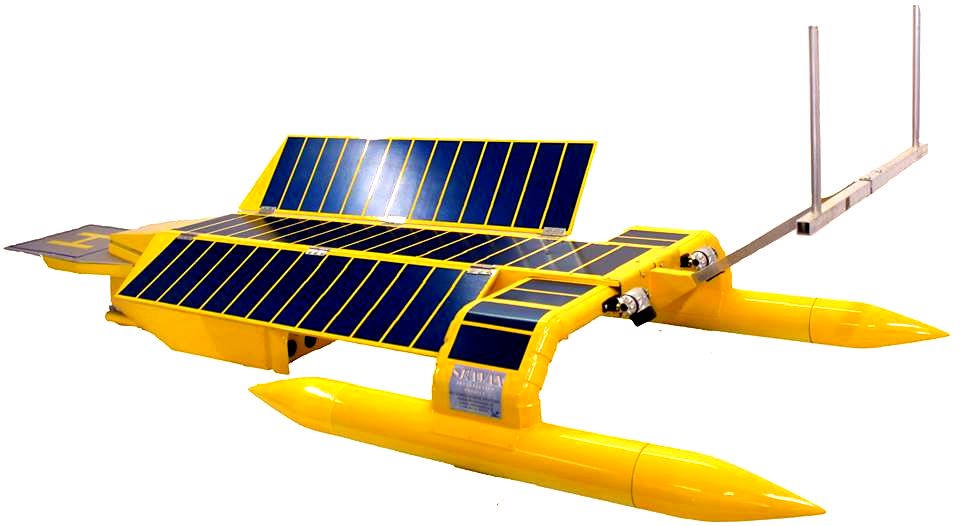 SEAVAX: A REAL ROBOT by BLUEBIRD MARINE SYSTEMS