Added: Sep 30, 2013 2:35 pm
The Naval Sea Systems Command is issuing solicitation N00024-14-R-4102 (formerly N00024-13-R-4102 and N00024-12--R-4100) for Worldwide Rapid Response Undersea Search and Salvage Operations in support of the Director of Ocean Engineering, Supervisor of Salvage and Diving (SUPSALV). The solicitation will be available on Federal Business Opportunities (FBO) web site located at http://www.fbo.gov on or about 01 November 2013. This effort involves the operation, storage and maintenance of SUPSALV search, salvage and rescue assets including Remotely Operated Vehicles (ROV), side scan search systems, and the Towed Pinger Locator system, etc. The successful offeror may also be tasked to provide commercial search, salvage and rescue equipment to supplement SUPSALV assets, as well as, engineering, technical, and software services related to ocean engineering and undersea systems. The solicitation closing date will be 14 November 2013. Please direct all responses to the attention of Mr. Fred M. Pohlmann (SEA 02413), e-mail address: fred.pohlmann@navy.mil
FICTION Operation Neptune - An advanced nuclear submarine is hijacked by environmental extremists intent on stopping pollution from the burning of fossil fuels. The extremists torpedo a number of oil wells as part of a campaign to cause energy chaos, with bigger plans to come. If you enjoyed Under Siege or The Hunt for Red October, this is a must for you.
LINKS & REFERENCE
https://www.fbo.gov/opportunity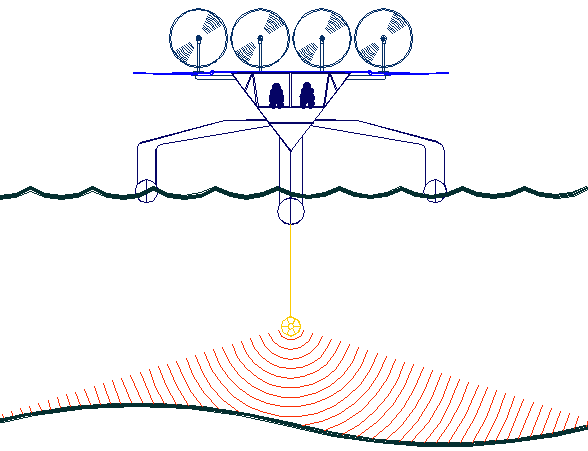 The key to accurate hydrographic mapping is continuous monitoring, for which the Bluefish ZCC platform, presently under development, is a robotic ocean workhorse. Based on a stable SWASH hull this design is under development by a British company. The robot ship uses no diesel fuel to monitor the oceans autonomously (COLREGS compliant) at relatively high speed 24/7 and 365 days a year - only possible with the revolutionary (patent) energy harvesting system. The hullform is ideal for automatic release and recovery of ROVs or other salvage and rescue equipment. This vessel pays for itself in fuel saved every ten years.