The 2019 Seawork Conference will focus on the significant developments made in the Unmanned Surface Vessels (USVs) and Hybrid Propulsion sectors.

Both areas have seen major progress since 2018 when the Seawork Conference first explored these fast-moving areas.

The USV market is expected to reach around $US1billion by 2022. USVs can be used across a wide range of applications from bridge and dam monitoring, augmenting and even replacing divers in salvage, port security, fish farms surveillance to research and education.

At Seawork 2018 delegates at the Hybrid Propulsion Conference agreed that hybrid is no longer a concept, it is a reality. At the same time the Port of London placed their order for the UK's first hybrid pilot boat from Goodchild Marine Services Limited and Volvo
Penta unveiled a hybrid concept for its IPS propulsion system. By June 2019 there will no doubt be more tangible demonstrations of hybrid propulsion in the commercial marine sector, provoking lively debate on the growth of the sector at the Conference.

Submissions are now being invited for the Unmanned Surface Vessels Conference and for the Hybrid Propulsion Conference. For more information visit 2019 USV call for papers or 2019 Hybrid call for papers.

THINKING OF EXHIBITING
91% of Seawork visitors authorise or influence the purchasing decisions for the companies they represent. These are high-calibre, high-spending professionals who recognise the wealth of innovation and expertise Seawork International provides. Seawork is a 'one stop shop' for buyers.
Visitors to the exhibition know they can source everything they need from the multitude of equipment, knowledge and skills showcased by more than 600 exhibitors and ensure that they are up to date with all the latest developments via the comprehensive conference programme.
VISITOR STATISTICS FROM 2016
Seawork visitors by job function:
* Company Director, Owner, Proprietor or CEO – 41.3%
* Engineering, Technical Manager or Superintendant – 25%
* General Purchasing / Sales – 21.3%
* Marine Operations Manager, Harbourmaster or Pilot – 5.2%
* Consultant - 3.4%
* Diver / Crew / Skipper - 2.4%
* Press – 1.4%
Seawork visitors by company activity:
* General Marine Equipment & Services Supplier - 19.9%
* Vessel Builders / Repairers - 8.6%
* Military, Police, Defence, Border / Fisheries Protection - 7%
* Marine Civil Engineering, Hydrographic Surveyor, Consultant - 6.6%
* Propulsion & Engine Systems – Build, Supply, Repair - 6%
* Vessel Design, Operator, Manager - 5.9%
* Maritime Organisation, Government Agency, Classification Agency - 5.5%
* Renewable Energy / Offshore Wind / Environment - 5.5%
* Safety & Training - 5.3%
* Media - 5.2%
* Naval Architect, Vessel Surveyor, Consultant - 5%
* Port, Harbour Authority, Wharf / Terminal Operator - 4.8%
* Finance, Insurance, P&I, Legal - 4.6%
* Other - 4.2%
* Diving - 3.4%
* Shipbroker - 2.5%
For more information about exhibiting? Contact Kate, Lorraine or Michelle on +44 1329 825 335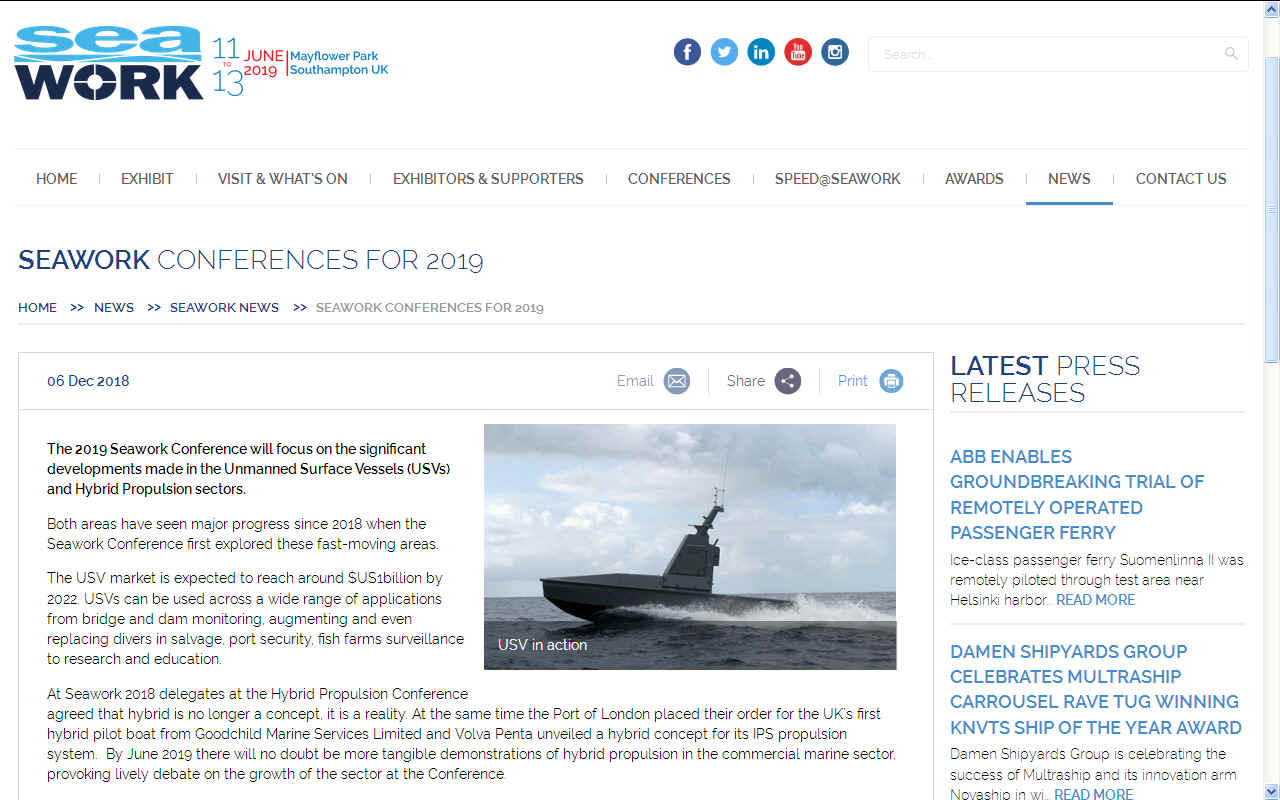 EVENT REGISTRATION
Online registration for Seawork
SEAWORK CONTACTS
Senior Sales Executive: Lorraine Curtis
Tel: +44 1329 825 335 lcurtis@seawork.com

Sales Executive: Kate Didymus
Tel: +44 1329 825 335 kdidymus@seawork.com

Sales Executive: Michelle Williams
Tel: +44 1329 825 335 mwilliams@seawork.com

PR & Social Media Team:Tel: +44 1329 825 335 press@seawork.com
Seawork is organised by: Mercator Media Ltd
Spinnaker House
Waterside Gardens
Fareham
Hampshire
PO16 8SD
United Kingdom

Tel: +44 1329 825335
Fax: +44 1329 550192

sales@seawork.com
info@seawork.com
www.seawork.com
http://www.seawork.com
Registered office address: c/o Shoosmiths, Witan Gate House
500-600 Witan Gate West, Milton Keynes, MK9 1SH, UK
Registered in England
Company Number 2427909
LINKS
http://